The Best Soundbar for 2023
Completely immerse yourself in a world of high-quality audio from all of your top entertainment sources.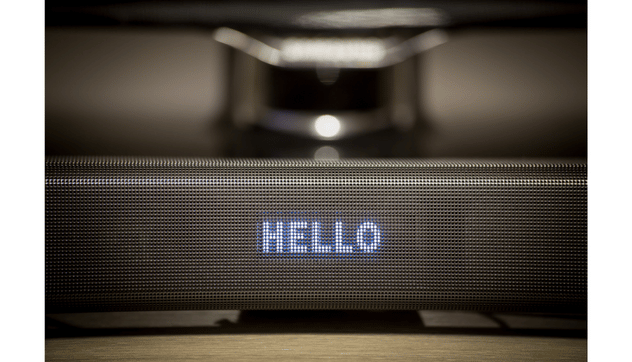 Despite having big displays, modern TVs sometimes have relatively tiny inbuilt speakers that provide a distant, thin sound. The answer is to get a second TV speaker, which will transform your setup into a true home theater.
Thanks to their sleek aesthetics and ease of use, soundbars have become considerably more popular than large home theater speakers. A soundbar is usually a good choice as it provides clear sound without a high price tag and equalizer modes that help improve audio clarity. There is a model out there for everyone; whether you want a soundbar that supports Dolby Atmos or one that's compatible with your MP3 player.
However, some soundbars provide a better listening experience than others, and some are more expensive than others. Whether you prefer streaming directly from your smartphone or hooking it up to your smart TV, it's important to choose one that sounds good and is compatible with your existing gadgets.
How We Picked
Sound Quality

A good soundbar should sound natural to your ears and with a balanced tone. A decent way to assess speakers is to listen to various forms of music before making a final judgment.

Active or Passive

A passive sound bar does not have a built-in power amplifier and must be used with a receiver or amplifier to work. Active sound bars include amplifiers to power all of the speakers as well as channel processors to separate the left, right, and center channels.

Size/Placement

It's best to make your new sound bar the same width as your TV if you want an even look. Nevertheless, a sound bar can be paired with TVs of any size. In other words, use your discretion when it comes to size.

Cost-Effectiveness

There is a broad pricing range for soundbar speakers. If you simply want to use the soundbar to listen to TV, you can pick a budget-friendly, no-frills model with acceptable sound quality. But pick a model that has excellent sound quality if you want to use the soundbar for music in addition to TV.
Our Top Picks
Best Pick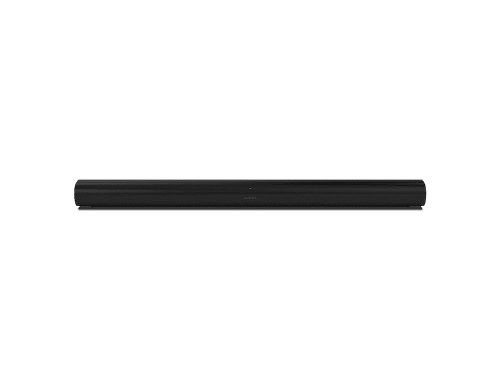 Trueplay tuning technology tailors the sound to the particular space acoustics.
With Dolby Atmos, the sound is mapped in space to create a 3D experience. You can hear planes overhead, hear footsteps throughout the room, and even feel the score throughout the room. With Trueplay tuning technology, the sound is adapted to the unique acoustics of the room, and the height channels are calibrated to ensure accurate localization.
The brilliantly realistic sound will bring all your entertainment to life. Thanks to Speech Enhancement in the Sonos app, you can now enjoy even more clarity when actors whisper or the action picks up. This soundbar is fitted with 11 speakers to help fire sound in every direction for exceptional clarity and depth.

Runner Up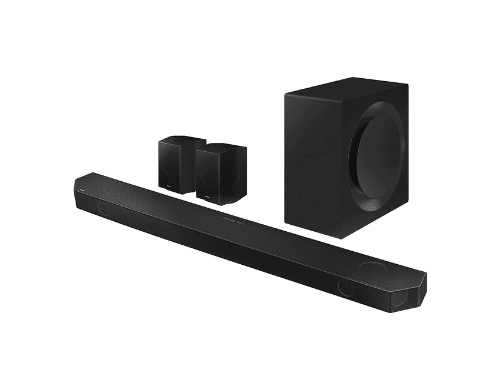 You get 11 channels, 1 subwoofer, and 4 upfiring channels to provide immersive sound.
Featuring 11 channels, 1 subwoofer, and 4 upfiring channels immerse yourself in surround sound from all angles. To create a realistic listening experience, the soundbar analyzes the room and calibrates the audio, including the bass, automatically.
Ensures that your space is filled with room-filling sound. You will no longer need to purchase HDMI cables in order to enjoy Dolby Atmos surround sound. This smart soundbar also scans the environment and automatically calibrates the music to provide a realistic listening experience.
Most Cost-Effective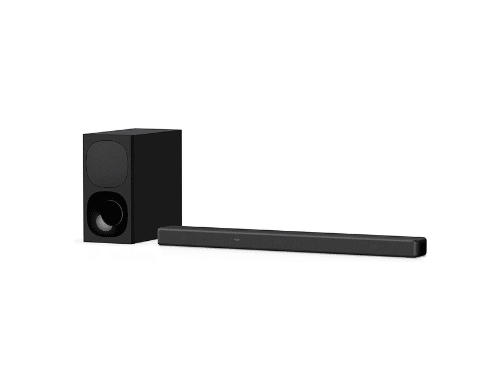 Multiple easy connections so you can enjoy all your media.
Enjoy powerful, immersive surround sound with crystal clear dialogue with this 3.1ch Dolby Atmos®/ DTS: XTM sound bar. Sound is projected vertically through Sony's virtual surround technology, so you don't need in-ceiling or up-firing speakers to enjoy a more realistic, multidimensional sound experience.
It delivers powerful bass sound through a wireless subwoofer. If you are looking for a soundbar to combine with your TV, the Sony HT-G700 is the way to go. This 3.1-channel soundbar packs a punch with powerful audio that will make your movies and shows come to life. The Sony HT-G700 is a sound bar that combines the power of Sony with Dolby Atmos and DTS:X sound technology.
Who This Is For
This soundbar buying guide was created to assist you in selecting the ideal model for your needs, TV, and space. Many sound bars are available on the market today, but some aren't worthy of the bubble wrap surrounding them. There are a lot of features to consider when buying a sound bar — some of which are more important than others. Is there enough HDMI input to support all of your devices? Can music be streamed via Bluetooth? There are certainly a lot of options, and we are ready to help you.
What is a soundbar?
Soundbars are typically slim, oblong-shaped speaker systems with several individual speakers located side by side. Your TV's built-in speakers can be enhanced by mounting them on the wall beneath it or by placing them flat on the TV stand.
How best to set up/place/hang a soundbar?
Ideally, your soundbar should be situated at ear level in front of you. Ensure your soundbar is unobstructed before mounting it so you don't block any sound. Not interested in drilling and screwing? Put your soundbar on top of your TV stand, and there you have it.
Why You Should Trust Us
Over the years, we have provided consumers with sound advice to enable them to make informed purchasing decisions about all types of audio technology. Our team covers headphones, wireless speakers, soundbars, and all things audio, and we love connecting with our audience and sharing the benefits that listening to music can bring.
How We Picked
Sound quality
Sound quality is a very subjective matter. Each individual has their taste, so what sounds superb to one person may be underwhelming to another. The "best" speaker does not exist, and different kinds may appeal to different ears equally.
Volume control
Typically, soundbars come with a remote control that can be used to operate them from your seat, and some remotes can also control your TV. With HDMI ARC, you may be able to control your soundbar using your TV's remote, or you may be able to download an app to your mobile device. Various voice control systems are also available, such as Amazon Alexa, Google Assistant, and Siri. Do these matter? You'll have to consider your needs and how accessible you want your soundbar to be when you give it commands.
Bluetooth connection
Bluetooth is now available on more soundbars, allowing you to send music wirelessly from your mobile device (tablet, phone, or computer). In some devices, near-field communication (NFC) is available, which allows quick initial Bluetooth connections. Some soundbars support two-way Bluetooth, so you can send music from the soundbar to Bluetooth-enabled speakers and headphones.
Active or passive
There are two types of soundbars: active and passive. Active soundbars don't need an amplifier – they can be plugged directly into your TV. Passive soundbars require a separate amplifier but may deliver better sound quality. It is best to get an active soundbar, which is most of what you will come across anyway.
Size
Generally, choose a soundbar that roughly matches your TV's width, but you don't have to be precise, so don't worry about it. Larger soundbars usually have larger speakers and more power, so they'll work better in large rooms or if you're seated further away from the TV. A simple stereo soundbar should suffice if you just want better sound than what your TV speakers produce.
Weight
The weight of a soundbar determines how well a compact home cinema works. The soundbar's weight dictates whether it will be mounted or placed in front of a TV.
Placement
Choosing where to place the soundbar will play a major role in your buying decision. Will it fit on a TV stand or rack if you intend to place it there? It is best not to hang the soundbar over an edge since its feet may not be in contact with the surface. This is because the bar won't be supported properly, and the sound will be compromised. Be sure the soundbar comes with a wall-mounting kit or is available as an option if you intend to wall-mount it. Keep in mind that the soundbar might come with a subwoofer as well. Subwoofers can make or break a system, and we've found they sound better when they are placed near the soundbar. The integration will suffer if it is too far away, and low frequencies will sound out of place.
Price vs. quality
Soundbars are available in numerous price brackets, so setting a budget limit is the fastest way to narrow your selection. Budget versions often have fewer connections, are smaller and less powerful, and may just be stereo. To get better sound quality, more speakers, and additional features, however, you will have to spend more money. Putting a strict limit on your budget will narrow your options quickly.
Style/Design
Since soundbars are placed in front of your TV, they should be well-designed. You shouldn't have to strain or put your body in an uncomfortable position to reach any button on the Soundbar to adjust settings or switch audio sources.
Care and Maintenance
An essential component of your entire music system is the speaker. Great speakers can significantly enhance the quality of your sound output. However, quality does not come cheap, so when your loudspeakers and speakers break down, you rue the fact that you did not take care of them properly.
Be sure to keep them away from dust so that it doesn't get inside the net or the interior of the speakers. Performance is negatively affected by dust. Clean out the dust occasionally with the vacuum cleaner. Using the blower, you can also remove dust from the inside, but compressed air is best. Regularly clean them and don't use liquid cleaners on them since liquids may damage them
If possible, place your soundbar in front of your TV for the greatest results so that its sound can directly hit your earshot. It's best to place both on a flat surface, like your TV stand, if you have space. Additionally, with a separate bracket, you can mount the soundbar to the wall to save space.
All speakers must have a good footing to do their jobs correctly. They're likely to move if they're on unsteady ground because of the back-and-forth motion of the drivers. Fortunately, most soundbars come with rubber feet so you can stand them up.
Most of the time, you should use the wall fixings or feet that came with the package. Make sure that all of the feet of your soundbar are in contact with the same solid surface if you're placing it on a shelf or cabinet.