The Best Snow Shovel for 2023
With our list of the best snow shovels available on the market, clearing snow from your walkways will be a snap.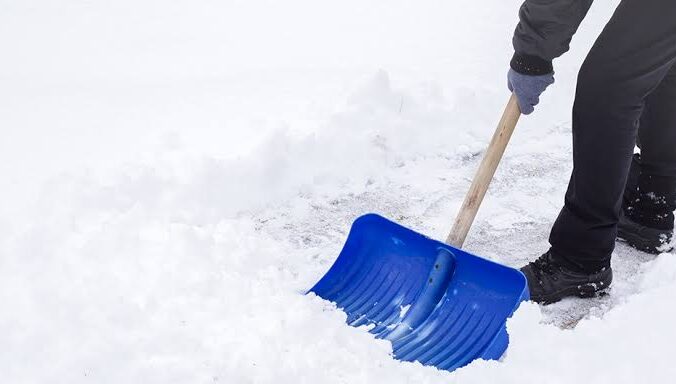 Snow may appear beautiful in photographs, but clearing a snow-covered driveway or walkway is far less appealing. However, if you invest in a reliable snow shovel, this laborious work will become less stressful. You don't have to worry about scratching your deck or hurting your back.
Snow shovels are particularly helpful for clearing freshly fallen snow from sidewalks and other areas that snow blowers and throwers cannot access. If the snow is a little compacted, you can easily break it up as you scoop and throw. Wondering what to take into account before buying a shovel? We went above and beyond to bring you this fantastic review, complete with some excellent picks.
How We Picked
Size and Length

The size and length of a snow shovel determine how comfortable a shovel is while shoveling. As individual heights vary from one another, it's advisable to pick a compatible shovel length to reduce the risk of lower back pain and aches.

Shovel Type and Shape

Snow shovels range from ergonomic to telescoping options, all with different shapes of blades. The type or shape determines the task it can achieve. Therefore, you have to know what you hope to achieve with your snow shovel before purchasing one.

Durability

Snow shoveling is a difficult task that necessitates the use of a sturdy shovel capable of performing basic functions. The quality of the materials used in the construction of a shovel determines its strength and durability. For durability, we only looked at well-made shovels.

Cost-Effectiveness

While a snow shovel is a seasonal tool that is only used during winter, you don't want to purchase a flimsy one that breaks soon after. It is advisable to spend a little more and purchase a quality unit.
Our Top Picks
Our Top Pick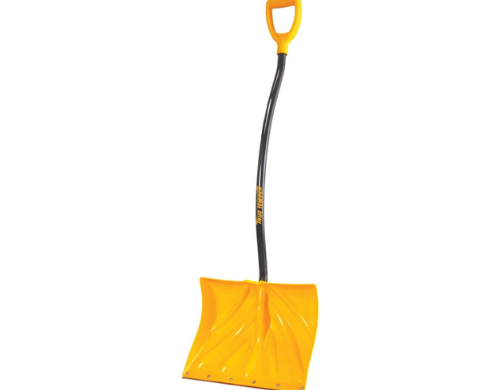 The True Temper is a versatile snow shovel with an aluminum finish that keeps the snow from piling up on the shovel.
The True Temper is a well-built snow shovel with an ergonomic handle design. It is a versatile all-in-one snow shovel that can be used for plowing, scrapping, scooping, and also scrap-packed snow ice while at the same time lessening the strain on your back. It is also comfortable to use.
It's easy to use and causes little to no back strain.
Our Runner-Up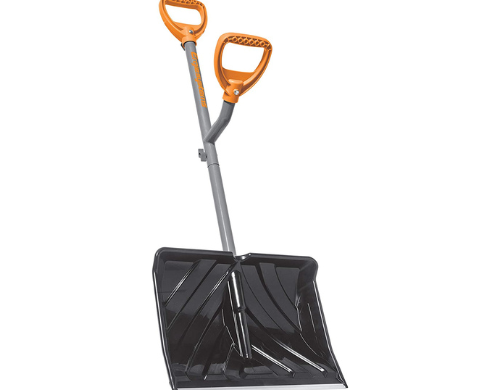 The Ergie Shovel is a sturdy double-hand snow shovel that gives support to the lower back.
The Ergie shovel has an ergonomically designed dual handle that allows you to scoop and throw more while shoveling. Ergie shovels are sturdy enough to hold a lot of snow, which makes it easier to shovel more in a short period. The metal tip makes it convenient to break up packed snow before scooping.
It's a narrow scoop shovel that moderates the amount of snow you scoop at once.
Most Cost-Effective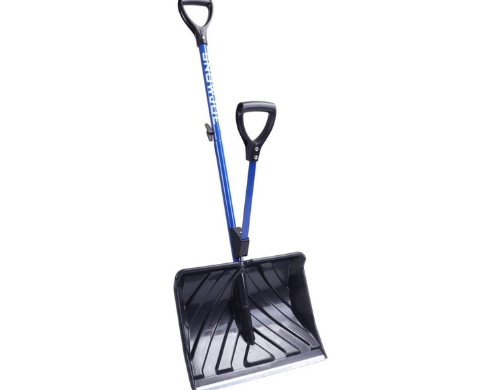 Snow Joe is a lightweight snow shovel with an aluminum wrap edge that makes it easy to scoop snow.
Snow Joe is a unique concept, a dual-handle shovel that serves as an aid for ease of use. The second handle helps reduce the need to bend over while shoveling to reduce backaches. It is also effective for scooping large quantities of snow at once.
Snow Joe has a great ability to scoop, throw, and return.
Everything We Recommend
Our Top Pick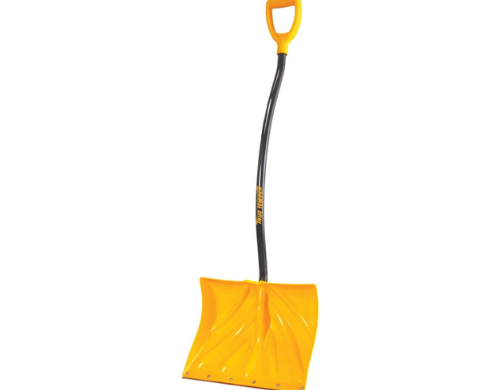 The True Temper is a versatile snow shovel with an aluminum finish that keeps the snow from piling up on the shovel.
Our Runner-Up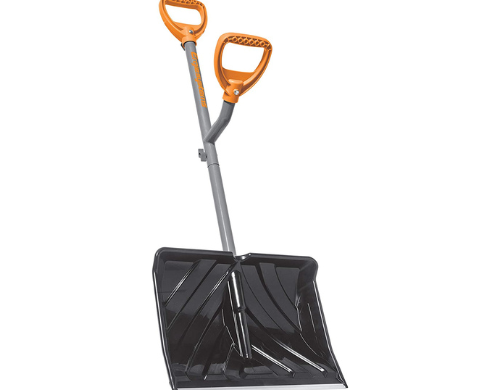 The Ergie Shovel is a sturdy double-hand snow shovel that gives support to the lower back.
$41.99
Most Cost-Effective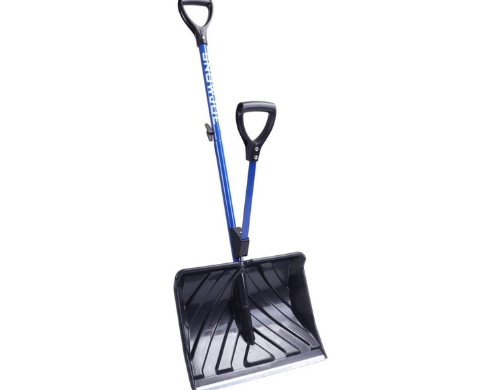 Snow Joe is a lightweight snow shovel with an aluminum wrap edge that makes it easy to scoop snow.
$43.99
Who This Is For
The product advertised here is for anyone who needs a snow shovel to help clear their walkway, driveway, or yard during winter.
Shovels vs. ice scrapers
A snow shovel is a type of shovel designed for snow removal. They come in different sizes and shapes to fit your snow removal needs. While some snow shovels serve as scooping shovels, some serve as pushers or cross-overs that get both jobs done. However, choosing the right one depends on which one is most comfortable for you.
An ice scraper is a handheld tool that aids in removing frost, ice, and snow from windows or cars. Ice scrapers are made of plastic or metal blades with ridges to break up ice chunks.
Different types of snow shovels
Snow scoop shovel: This shovel is made with a scoop, which allows them to scoop a lot of snow at once and makes it easier to clear snow from your patio or deck faster. The handles are ergonomically designed to take on the weight of the snow without breaking or exerting extra energy.
Snow push shovel: Snow can also be cleared by pushing them, which seems less exhausting than scooping them. Snow push shovels are made to push snow effectively. It tends to be easier if it's fresh and fluffy snow, but the downside of the shovel is that it tends to get caught in concrete or stop on uneven floors.
Snow sleigh shovel: A snow sleigh shovel is similar to a snow pusher shovel in function. The little difference is that it is bigger, wider, and can accommodate more snow at once. However, to experience the full functionality of a sleigh shovel, you need to use your legs to push the shovel deeper and faster. which may not be helpful for those who can't explore its full functionality.
Telescopic snow shovel: A telescopic snow shovel is important for those who want to maintain certain postures while shoveling. Telescopic shovels are adjustable in size and length, which proves to be useful for individuals' heights. And it can also be a good tool to lessen back pain while shoveling.
Collapsible snow shovel: If you are a big fan of telescopic shovels, then you will also be interested in collapsible shovels. Collapsible shovels have the feature of being able to collapse down to the top of the blade, which makes it a portable shovel to conveniently use and also a mobile one.
Why You Should Trust Us
Shoveling during winter does not have to be so taxing to the extent of making your arms and back sore. As such, we have carefully selected the right snow shovel to make shoveling an easy task as they compete in durability, size, comfort, and shape.
How We Picked
It's not easy to find the right snow shovel for you, as height and shoveling vary from one individual to another, along with the various intimidating brands and features available to them. To make it easier in your search, we have scoured through reviews of previous customers with different brands of snow shovels and compared their users' experiences over time of usage, accumulating their opinions on the comfort of the handle for grips and how effectively they perform their functions.
These experiences range from the ability of the snow shovel to scrape and plow snow to the ability of the snow shovel to be durable enough to scoop snow without having to exert extra energy. With all these unfiltered opinions given by a range of homeowners and snow removal agents, you can trust our process to find the right snow shovel for you.
We searched through a variety of snow shovel brands made with plastic, aluminum, or metal just to find high-quality and effective snow shovels for you. When making our picks, we looked at snow shovels with ergonomic handles and firm edges for durability, and lengths of the shovel to lessen the strain on the lower back. In our evaluation, we ensured our picks displayed qualities of comfort and durability.
Care and Maintenance
Shoveling ice vs Shoveling snow
Shoveling snow can be strenuous work to do. However, it is an unwanted chore you have to consistently do during the winter season. While snow shoveling, you have to get it done as soon as possible to avoid some health complications. To get the most out of it, you have to use the right shovel that is compatible with your size and your yard size. While snow shoveling, ensure to work at a steady pace to avoid getting out of breath. To conserve your energy, it is advisable to push the snow rather than the scoop and throw method. Take frequent breaks to avoid exhaustion.
Shoveling ice can be more dangerous compared to snow shoveling as you are prone to sustain injuries if certain precautions are not observed. Before ice shoveling, use a salt-free deicer to soften the ice, add traction to avoid sliding down, and spread cat litter. And before attempting to shovel, wear protective gear on body parts that are liable to be injured quickly.
How to shovel (thick) snow without damaging your back
Snow shoveling remains one of the many chores that contribute to lower back pain and injuries. Consider the following secret to reduce the risk of damaging your back and help your body function well while shoveling.
Prepare your body for shoveling with a basic exercise routine that will help loosen the muscles, prepare the spines and improve blood flow. Dress warmly to keep the body warm by wearing layers of clothing, comfortable clothes to move in, proper footwear to maintain balance, and thick gloves to keep your hands warm and free of blisters. Take breaks in between shoveling to rehydrate often. Spread sand or salt to improve traction and avoid slipping.
Select the right shovel for yourself. Shovels vary in size, so individual needs vary from one another. Choose a shovel with sturdy hand grips and an adjustable length for the shaft to prevent it from constantly bending. Choose a lightweight shovel that requires no extra energy or force to use. And lastly, a pushing shovel is recommended as it makes shoveling easier and requires little to no bending.
Technique to follow without hurting your back
Hand placement in the shovel is important to take note of. Do not grip the shovels close to one another; create some space between the hands. This will make it easier to lift snow. To maintain control, place your feet apart, minimize arm movement, and keep the shovel close to your body. For easier shoveling, shovel fresh snow as soon as possible. Wet and dense snow tends to weigh more and require extra effort.