The Best Snow Blower for 2023
Clear your driveways, walkways, and runways from even the crunchiest of snow using the easiest, hassle-free means available!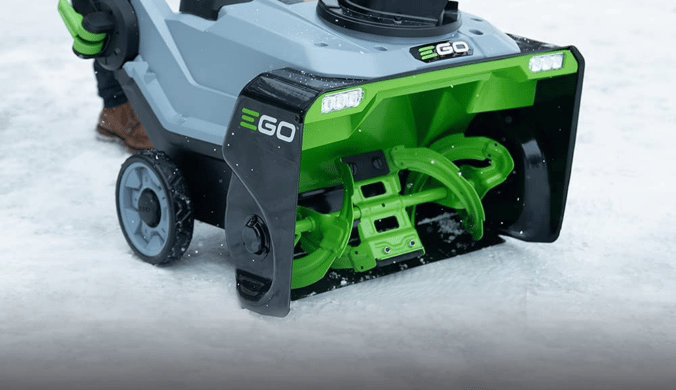 Winter comes around every once a year and brings along low temperatures and snow. Therefore, you must be prepared to handle the situation and get through the season comfortably. Snow blowers come in handy when you need to blow and throw snow off your pavements and walkways.
The market is a wash with various snow blowers from different manufacturers. Some are gas-powered, others electric, while others are battery-powered. They also have different cool features and power output rates. As such, some will serve you better than others.
We have compared different snow blowers and come up with a list of the best. Read on to find useful information and insights to help you make an informed choice when buying one.
How We Picked
Multiple Speeds

A snow blower with multiple speeds gives you better control over all types of snowfalls. You get to set the blower to blow at a comfortable speed, saving you time and energy.


Ease of Use

Having compact snow on your walkways is bad enough. You, therefore, do not need a complex snow blower that will add salt to that injury. The ideal blower should be easy to use to enable hassle-free blowing.

Heated Handles

Winter is characterized by cold. Every tool you use to make the situation better should be comfortable. Therefore, the ideal snow blower has heated handles to enable you to handle and use it with no discomfort.


Cost-Effectiveness

A snow blower is only used one season per year; winter. Therefore, it should not cost you too much. Get a snow blower at a reasonable buying price and maintenance cost.
Our Top Picks
Our Top Pick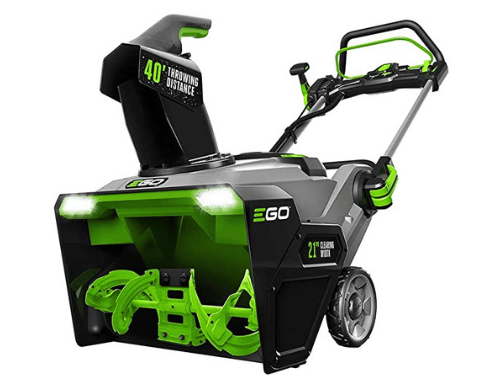 Easy to carry, with a long-lasting battery to get the job done!
This EGO Power+ unit conveniently collapses for easy storage and transportation, allowing you to take it on the go without straining any muscles. It uses 2 Arc Lithium batteries that charge at lightning speed and last even longer. This little snow blower won't give in midway through - it sees the job done to the end.

This unit is conveniently collapsible for easy storage and transportation
This snow blower uses 2 Arc Lithium batteries that charge faster and last longer.

Our Runner-Up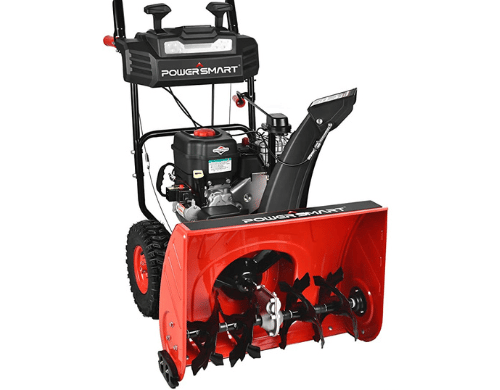 At a higher price than some, the speed and quality of this little device more than makes up for it!
The 24BS Snow Blower may be more of an investment than other snow blowers out there. Despite this, however, it has proven able to blow more snow, at higher speed and with less difficulty than the products of its competitors. This all-steel device promises to clear your driveways for years to come, without suffering from staining, corroding, splitting, or bending.

24BS Snow Blower may be a little costly. Still, it blows more snow, faster and easier than all our other picks.
An all-steel auger blows your driveways for many years without staining, corroding, splitting, or bending.

Most Cost-Effective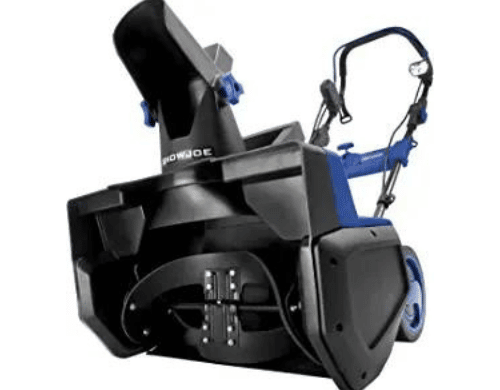 Need to shift a lot of snow without breaking your back or the bank? Look no further!
This little powerhouse has the ability to move up to 800 pounds on snow in a single minute. Using a simple LED light, even the darkest of mornings cannot stop you from having the clearest driveway on your street.

A powerhouse that can move up to 800 pounds of snow in one minute.
With its 3-watt LED light, this snow blower allows you to use it comfortably on dark nights and dark corners.

Everything We Recommend
Our Top Pick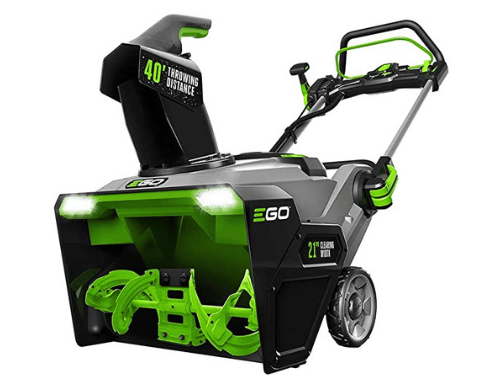 Easy to carry, with a long-lasting battery to get the job done!
$699.00
Our Runner-Up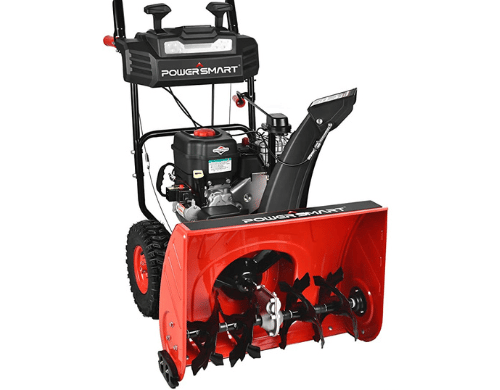 At a higher price than some, the speed and quality of this little device more than makes up for it!
$899.00
Most Cost-Effective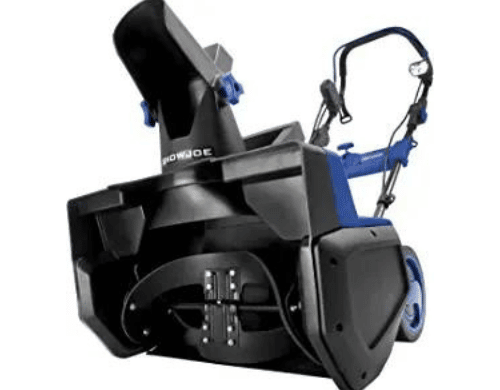 Need to shift a lot of snow without breaking your back or the bank? Look no further!
$239.89
Who This Is For
Who This Is For
The snow blowers we have reviewed are ideal for any kind of terrain. You can use them to blow and throw snow off your driveways, walkways, pavements, and any other hard surface. Snow blowers are generally not too heavy but they contain various components and heavy, sturdy materials to withstand the tough weather. Therefore, the items listed here need the user to be strong enough to move them comfortably with no hazards.
Are Snow Blowers Worth It?
Snow blowers will serve you during winter, allowing you to get through the season without much trouble. Compacted snow is hard to remove and can come in the way of your activities and normal routine. For instance, you cannot drive your car through your driveway if it is covered with snow. In other instances, snow can build up outside your door, barring you from accessing your own house. In such and other instances, snow blowers will make the process of ice removal easier and faster. You can also wait for the snow to melt or use a shovel but this will take too much time and energy. Therefore, snow blowers are totally worth it since they complete the task easily and quickly.
Different Speed Types And The Snow Each Speed Helps Remove
Snow blowers work at different speeds which blow different amounts of snow off your surface. Most blowers for domestic use remove six to nine inches of snow while commercial blowers do up to 12 inches. Most modern snow blowers have multiple speed settings that you set depending on your preference. The speed at which your blower clears all snow will depend on the speed you have set the motor to move at. The faster the motor moves the more snow it blows.
Why You Should Trust Us
We do thorough research before choosing our top picks. We compare different products on the market and categorize them based on their features. We then examine each feature independently to determine how effective it makes the product. The reviews given by consumers online also inform our choices. We settle on products with positive reviews and the best features.
How We Picked
We evaluated the various features and functions of different snow blowers on Amazon. We then selected four blowers with the best consumer reviews and features that make them more effective than other choices. We are therefore confident that regardless of the choice you make from our list, it will serve you effectively.
All our picks have multiple speeds to allow you the liberty to use an appropriate and comfortable speed. They are also easy to use with easy start-up power cords or switches. With their easy turning ability, you get to maneuver the snow blowers and blow all snow off your surfaces easily
Some of our choices also have heated handles to enable you to handle them without freezing your hands. The heated handles eliminate the need to use winter gloves when blowing snow to enhance the grip. We have picked blowers with different buying prices and maintenance costs to accommodate buyers with diverse budgets. However, all our picks are durable and effective regardless of their costs.
Irrespective of the choice you make out of our picks, you will love the sleek and stylish designs. All our choices have a functional design that moves against the snow without getting stuck. You do not have to worry about durability since all our picks have auger steel housing that stands the test of time. They also have powerful motors that blow off large amounts of snow within no time.
Additionally, we have picked snow blowers with different sources of power. We have gas-powered, electric, and battery-powered snow blowers. The battery-powered pick uses fast charging, long-lasting batteries that serve you for long hours without running out of power.
We also have picks with LED flashlights that illuminate dark corners and surfaces. Your safety is guaranteed since all our picks have their blades inside a steel housing. The blades do not, therefore, come into contact with any of your body parts and do not damage your surfaces.
With air-free tires, our top picks maneuver through thick, wet, and powderly snow easily. The air-free technology further keeps the tires from deflating due to freezing or using it for long hours. Their motors are low-decibel and do not produce disruptive and annoying noise while blowing snow. Since they are lightweight, you get to maneuver the snow blowers we have listed easily without weighing your hands down.
Care and Maintenance
Every item requires proper care and maintenance to serve you well. In the case of snow blowers, you must learn how to use them properly and safely. This way, you will blow snow without damaging your driveways and other surfaces. Your safety is also paramount, therefore, keep away from the blower's blades, if it has any, to avoid hurting yourself. Storing a snow blower inappropriately can damage its housing and other components. To be safe, store it in safe places after ensuring that nothing in the room can damage your blower. If it is collapsible, fold it to store it in a small convenient space.
After using the blower, remember to clean it to remove dirt that could corrode the housing or its components. Once it is clean, wipe the blades thoroughly to prevent them from rusting and dulling. Check the spark plugs frequently to ensure they are in the best working condition. If deposits have built up on the spark plug, it will not create the spark, and hence the motor won't start. Remove the deposits to salvage the situation. However, if the deposit is too much and impossible to remove, replace the spark plug with newer, effective ones. Change the engine oil at least once a year to protect its components from damage. When engine oil gets older, it does not coat vital engine parts as it should, thus exposing them to friction and damage.