The Best Smart Thermostat for 2023
Looking for a simple way to control your home's heating and cooling system? Get one of these best thermostats.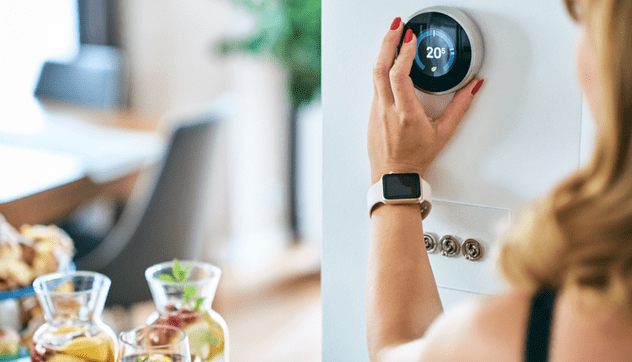 A thermostat is an excellent place to start if you want to make your house smarter and can help you save a sizable sum of money by cutting your heating and cooling bills. They examine your patterns and the weather to determine what temperature you should set to lower your energy costs. Not all smart thermostats, however, are created equal; some are made for basic heating and cooling systems and provide easy scheduling and programming options, while others are made for intricate multi-stage systems and can regulate ventilation, dehumidifier, and heating systems. Prices vary according to features and capabilities, as is the case with the majority of smart home appliances. And below, we've compiled a list of the top smart thermostat options available right now to help you select the model that's suitable for your house and your budget.
How We Picked
Energy-Efficient

Smart thermostats inherently conserve energy, especially when they take the place of older, non-programmable models. Except for Mysa, all of our picks have received the Environmental Protection Agency's Energy Star certification, indicating that their ability to save energy has been independently confirmed.


Easy to Use/Intuitive Controls

The listed models come with Wi-Fi radios that let you connect the thermostat to the internet and your home network. Any mobile app can be used to operate them from any mobile device, and some models also include online browser control. Additionally, each of the companies featured in this guide offers compatibility advice on their websites.


Display

To allow for easy configuration and programming, we considered thermostats with a bright, colorful touch display that shows the current time, temperature, and local weather forecasting. Not to forget, it gives it a touch of style.


Cost-Effectiveness

The best smart thermostats can significantly reduce your electricity costs. With this in mind, we selected our picks to match every household's budget without sacrificing your level of comfort at home.

Who This Is For
Any household hoping to reduce energy consumption and utility costs would be wise to invest in a smart thermostat. However, they also offer some convenience and may improve the comfort level in your house over time.
What is a smart thermostat?
Smart thermostats are Wi-Fi thermostats that may be used with home automation and are in charge of managing a home's heating, ventilation, and air conditioning. They carry out similar tasks to a programmed thermostat in that they enable the user to regulate the temperature of their home using a schedule, but they also include extra capabilities, including sensors and Wi-Fi connectivity, that address the drawbacks of programmable thermostats.
They share a Wi-Fi network with other Wi-Fi thermostats to connect to the internet. Other internet-connected devices, such as laptops or smartphones, can be used to change the heating settings. This feature is crucial to ensuring energy savings because studies have shown that households with programmable thermostats consume more energy than those with simple thermostats because homeowners either configure them improperly or entirely disable them. Additionally, smart thermostats log the temperatures inside and outside, and the duration of time the HVAC system has been working, and they can alert the user when the air filter in the system needs to be changed. On a later date, a device with internet access, like a smartphone, will normally display this information.
Benefits of a smart thermostat (in comparison to a standard manual one)
The days of turning a dial on a manual thermostat are gradually being replaced by the era of programmable and smart thermostats. Manufacturers have been competing to make some of the most advanced thermostats in recent years. They make regulating the temperature in your home quicker, easier, and ultimately substantially less expensive than using a manual thermostat. But how do smart thermostats give households access to these advantages?
In contrast to manual thermostats, programmable thermostats let you plan ahead to set various temperatures for your environment. By setting up your home to cool while you're away and warm up right before you get back, you may be able to save money on your utility bills. Programmable thermostats are not always considered smart thermostats, though. A thermostat must use automated technology to lower human error and increase energy efficiency for the space in which it is situated before it can be deemed "smart." Other benefits include:
Reducing the potential for human mistakes associated with manual and programmable thermostats.
Requiring less manual labor than typical thermostats to maintain and run.
More energy expense savings than manual or conventional programmable thermostats.
Increasing the market value of your house as they are well-known examples of smart home technology.
Why You Should Trust Us
Working with trustworthy independent writers with years of expertise in writing about lifestyle topics and product evaluations is something National Today takes great pride in. We have devoted numerous hours to testing various smart home appliances, such as smart smoke detectors, smart sprinkler controllers, smart garage door openers, and smart thermostats. We've tested smart thermostats and other smart-home technology all over our space for years.
How We Picked
Energy-efficient
Smart thermostats naturally conserve energy, especially when they take the place of older, non-programmable models. All of our recommendations, with the exception of the Mysa, have Energy Star certification from the Environmental Protection Agency. This indicates that their ability to save energy has been independently confirmed. According to Ecobee, compared to having a thermostat set at a constant temperature of 72 degrees Fahrenheit, consumers may anticipate saving up to 26% on heating and cooling costs. Mysa also asserts savings of 26%. Google Nest promises to reduce your annual HVAC costs by between 25% and 27% by saving you 10% to 12% on heating and 15% on cooling.
Display
A stylish touch display with a vibrant color scheme makes it simple to operate and configure the thermostat and can usually be seen from across the room. While more expensive devices have motion sensors that immediately turn on the display when you enter the room, more affordable ones just show the current time and temperature until you press the screen, at which point they frequently display the temperature and menu settings. Some models will also display your local weather forecast.
Easy to use
The latest smart thermostats enable voice commands from Google Assistant, Apple Siri, and Amazon Alexa, enabling you to use your voice to adjust temperature settings and check the current temperature. You can ask some of the most feature-rich smart thermostats out there to play music, get the most recent news and sports scores, check out the weather forecast, modify the temperature settings, and much more using Alexa voice control, which is built right into these devices.
Intuitive controls
Temperature changes should be automatically triggered by the thermostat system using algorithms, geofencing, or accessories like remote sensors. For instance, geofencing is a cool feature that creates a virtual boundary for your home. Your smart thermostat can change its settings when it detects your departure or arrival from the house as you cross the boundary. Some advanced smart thermostats use self-learning mechanisms that use movement detectors to "see" which areas of a house are occupied and when. They create a customized temperature plan for your home after studying your preferences.
Price vs. quality
The most basic models are still equipped with Wi-Fi radios that let you connect the device to your home network and the internet, despite being very affordable. A mobile app can be used to control them from a mobile device, such as a smartphone or tablet, and some models also support online browser control. Note that lower-end models come with fewer functions, while more expensive models are either overkill or tailored to particular HVAC systems.
Compatibility
Models must work with popular smart-home systems. Additional smart devices may be controlled by your thermostat, and vice versa. For example, your thermostat may change the temperature or turn on based on your geotagged location. If you have a voice assistant, confirm that the thermostat is appropriate for it, and think about whether the voice commands work for you.
Range
The size of your home and whether certain rooms have a hard time reaching the optimal temperature are additional factors to take into account. If so, you might want to think about a model like the Ecobee that includes or supports a wireless sensor.
Multi-Room
You may exert more control over various areas of the house by setting up heat zones. One way to achieve this is to use multiple thermostats, such as one upstairs and one downstairs, or you may spend money on smart thermostatic radiator valves that let you manage the temperature in each room, potentially resulting in more savings.
Wired or Wireless
If your system has a C (common) wire, which is utilized to provide steady power to the thermostat, that is another thing to take into account. A C wire is necessary for nearly all smart thermostats in order for them to function; however, older homes with older heating systems typically do not have one since older thermostats did not need one. Some smart thermostats have a DIY power extender kit that you may use to power the appliance. Without a C wire, other devices can be fitted, but they will draw power from the furnace control circuits in order to keep the internal battery charged. Although this often functions without a problem, it has been known to trigger issues with some HVAC systems and even cycle on the system to steal power.
Temperature sensor
A temperature sensor provides input on the process's temperature, which can be used to monitor or manage the process. They are positioned all over the house and function by detecting the temperature in various rooms and relaying that information to the primary thermostat. To maintain a comfortable temperature, your thermostat will then utilize the average reading.
Care and Maintenance
How to set up
Make sure your thermostat is compatible with your system and wiring before you start the project. To ensure that their products will function with your wiring, some manufacturers, such as Ecobee and Google Nest provide compatibility tools or checks online.
Check for compatibility: It's crucial to confirm the voltage is suitable for your existing system before you start the smart thermostat installation process. The instruction booklet for most thermostats should make note of the voltage range for which they are suitable.
Turn the power off: It's crucial to ensure the power is turned off because you'll be working with electricity. Your heating and cooling system's power should be turned off at the circuit breaker. Wait for the system to halt if it is already running. Adjust the temperature dramatically after that. You will know it is off if you don't hear the air start to run.
Remove old thermostat: The current thermostat cover should be snapped off or unscrewed. To recall your old system setup, take a picture of the wiring.
Label wires: If your old thermostat was installed properly, identify each wire with a small sticker or colored tape. Then, using a screwdriver, remove the old thermostat backplate.
Remove the new thermostat: You'll probably need to patch the wall unless your new thermostat is the same size and shape as the old one. Using a putty knife, spread the joint compound onto the wall. Dry off. After lightly sanding the area, paint it to match the color of the next wall. Dry off.
Connect the new thermostat: Each wire with a label should go into the corresponding connector. Until the wires click, push them in. Push all of the wires flat against the wall once they have been connected to provide space for the thermostat display plate.
Attach display plate: The backplate should be attached to the thermostat display plate. You ought to hear it fit snugly into place.
Program thermostat: At the circuit breaker, restore the electricity. After that, set the thermostat as directed by the manufacturer. A smart thermostat will learn your routines and connect with your smartphone, enabling you to change the temperature of your home whenever you want and saving you money on energy costs.
Setting timers or scheduled turn-ons/switch-offs
You'll appreciate geofencing if you have ever left your HVAC on all day while you were gone. Simply put, this technology establishes a virtual border around your house. Your smart thermostat notifies your HVAC system when you cross the threshold that you are not at home, turning it off or placing it in "out of home" mode. If you are on your way home, for instance, the boundary will signal your HVAC to turn on and raise the interior temperature of your home to the desired level before you enter.
A few smart thermostats take things a step further by utilizing self-learning mechanisms that use movement detectors to "see" which areas of a house are occupied and when. They create a custom heating and cooling schedule for your home after "studying" what temperature you prefer in each area. They can also detect more movement inside the house. For instance, during a party, they may lower the temperature to accommodate an increasing crowd. After your visitors go, the smart thermostat will resume its regularly scheduled programming.
But there's more: by keeping an eye on the weather, smart thermostats may even take into account seasonal variations. When a heat wave is forecast, it will cool your house more or heat it more.
Do smart thermometers use more electricity?
Your ability to save energy can be significantly increased by installing a good smart thermostat. The ecobee smart thermostat, for example, can actually cut energy costs by up to 23%. This can result in annual savings of several hundred dollars. For homes, smart thermostats are convenient.