The Best Smart Switch for 2023
Why not make your daily life easier by automating each room in your home with these high-quality, savvy smart switches!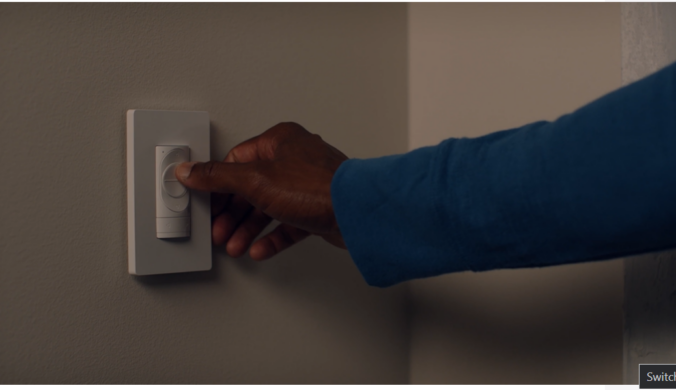 Feeling too lazy to turn out the lights once you have snuggled into bed? What if you could turn on and off the lights with your voice? Yes, you read it right — with a smart switch installed in your home, you can control your lights and several other appliances from wherever you are.
A smart switch is a great option for those who want to take baby steps towards creating a smart home without shelling out a fortune on automating the entire home at once. These smart switches work through apps and voice commands over the internet or Bluetooth. The latest versions of smart switches have motion sensors to detect your presence and turn on the lights, which means you will never have to step into darkness.
Given that there is a wide range of options, it can be quite perplexing to decide on the right one. This is why we have prepared a list of the best smart switches with a host of convenient features to turn your home into a smart home.
How We Picked
Compatibility and Connection

Ease of connection and compatibility with the existing fixtures and appliances as well as the smart devices in your home are important factors in the selection of a smart switch, so we looked into these aspects to find the best ones.

Dimming Ability

The ability of a smart switch to dim the lights is an important feature that brings functionality and convenience. We looked into the dimming capacity of individual switches to select our top picks.

Style and Design

Everyone wants sleek and contemporary fixtures that match their home interiors. Design and style were important factors for us when deciding which smart switches to use.

Cost-Effectiveness

Smart switches can be expensive, but there are also several budget-friendly options. We took into account a model's value for money when deciding which smart switch was the best.
Our Top Picks
Our Top Pick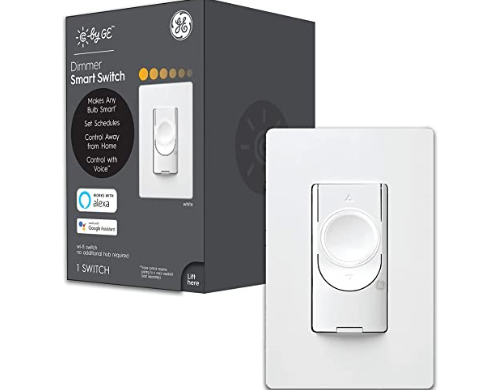 The GE CYNC switch offers both convenience and cutting-edge functionality.
The GE CYNC Smart Dimmer Light Switch is our top pick as it packs a host of features to enhance convenience as you automate your home. They connect easily with traditional bulbs over Bluetooth and Wi-Fi and are also compatible with Amazon Alexa and Google Assistant. The switch is easy to install without a hub and brings the choice of versatile control.
This easy-to-install smart switch brings convenience with dimming and motion sensor features.
Our Runner-Up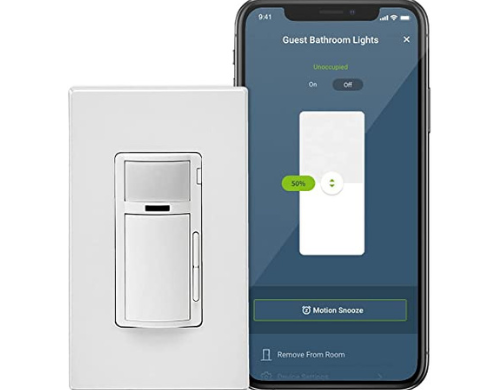 The Leviton Decora provides greater control for automating your smart home.
The Leviton Decora Smart Wi-Fi (2nd Gen) Motion Sensing Dimmer brings hands-free control with a motion sensor and dimming feature. With preset light levels, motion snooze, night settings, and more, this switch brings convenience. Despite needing a neutral wire for installation, it can be used with many smart devices.
This switch has a motion sensor, and it's also a great automation tool for modern homes.
Most Cost-Effective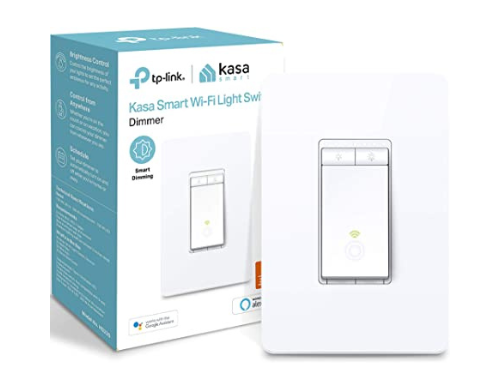 The TP-Link Kasa is an inexpensive device that is ideal for getting started with home automation.
The TP-Link Kasa Smart Wi-Fi Light Switch Dimmer HS220 is a budget-friendly and easy-to-install smart switch for your home. With a compact and sleek design, this switch brings great utility for home automation. It has a built-in Wi-Fi connection for ease of usage and can be used to control lights from anywhere using the smartphone app.
This affordable smart switch is a great choice for multiple installations in the house.
Everything We Recommend
Our Top Pick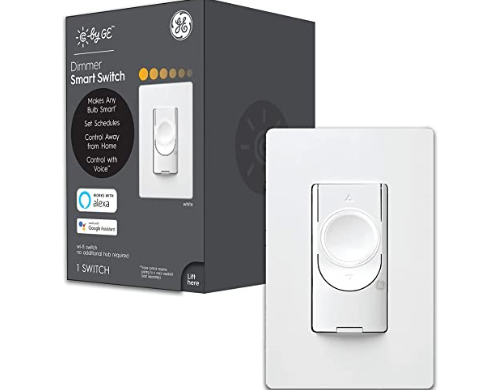 The GE CYNC switch offers both convenience and cutting-edge functionality.
$23.99
Our Runner-Up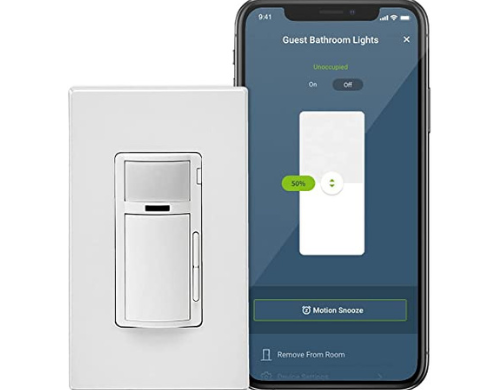 The Leviton Decora provides greater control for automating your smart home.
$49.99
Most Cost-Effective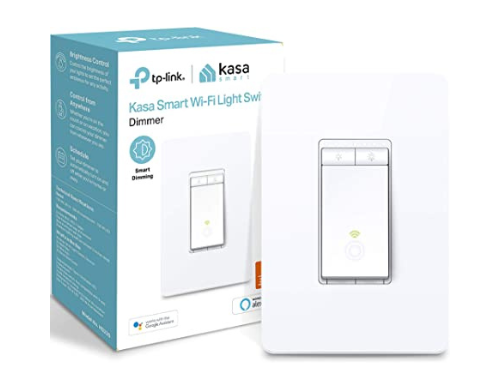 The TP-Link Kasa is an inexpensive device that is ideal for getting started with home automation.
$18.61
Who This Is For
The smart switches on this list are meant for those who want to design a smart home to experience the convenience of automation and control their light fixtures and appliances remotely.
What is a smart switch?
A smart switch is a lighting switch that allows you to control light fixtures, fans, sockets, and other compatible appliances remotely. They work via Wi-Fi or Bluetooth and can even be connected to smart devices to enable control via voice commands. Smart switches also include a dimming function, which adjusts the brightness levels of the lights depending on your needs.
Are smart switches worth it or more energy efficient?
In terms of value for money, smart switches are definitely worth the money. They are comparatively more energy efficient as opposed to standard switches, as they help reduce energy consumption with their remote operation and dimming features. So, while they might be more expensive to buy than standard switches, over the long run, they help you save more money and improve energy efficiency in and around your house.
Do I need special bulbs for a smart light switch?
Smart switches are compatible even with ordinary bulbs, so you do not need special bulbs to use them. The only issue is that if you are using a smart switch with a dimmer function, then you will need dimmable bulbs for the feature to work.
Why You Should Trust Us
The fact that there is an extensive range of smart switches now available for homes makes the task of selecting the best ones a difficult one for us. To ensure that we picked smart switches to meet the requirements of ordinary users, we looked into various aspects and features and also compared brands and models to select the best ones. We weighed the pros and cons of the various devices available and identified the ones that would give the consumer the best experience of convenience.
How We Picked
Given the growing market for smart switches, we were inundated by the sheer variety of options available. The basis of our selection ranged from the ease of installation of the switches to compatibility with light fixtures and smart devices, wiring type, motion sensor detectors, range, and energy efficiency, among others. We also went through the testimonials of previous customers to learn more about their experiences and factor them into our evaluation process.
We also attempted to balance style with design efficiency to pick smart switches that are easy to use. Since consumers are always on the lookout for budget-friendly devices, we also looked into affordable solutions that would offer value for money.
Wired or wireless
Smart switches are available in both wired and wireless options, and we looked into both types while making our list. Typically, while wired smart switches offer great reliability, they have somewhat limited functionality as compared to wireless ones. Wireless switches also bring greater convenience and flexibility in terms of control — you can easily remove or add the fixtures you want to control with the wireless smart switches. Wireless smart switches are also easier to install and replace.
Size
There are several design options for smart switches in terms of the size of the switch. We looked at compact sizes as well as more elaborate options while making our selections.
Compatibility
While selecting the best smart switches for our list, we looked into the devices they are compatible with. For the compilation of our best picks, compatibility with regular LEDs, dimming and color-tunable lights, as well as smart devices such as Amazon Alexa or Google Assistant, was looked into for the best possible results.
Connection
As mentioned earlier, you can choose between wired and wireless smart switches. These can be connected directly over Wi-Fi and also through hubs. We looked at both types to find the best one for you.
Range
To select the best smart switches for our list, we also compared their range, which indicates the distance at which the switches can control lights remotely. We looked at switches that offered a range of at least 100 feet or more to ensure users get better convenience when using them.
Dimming
The dimming feature is one of the most basic features in smart switches, which also facilitates energy savings. We looked at the various smart switches to select ones that offered this function with compatible lights.
Motion Sensors
Some smart switches are also enabled with the motion sensing feature. This is an advanced feature that causes lights to turn on or off upon sensing motion in their proximity. Some of the smart switches we considered also have this feature as an added convenience for users.
Bulb type
When selecting smart switches for our list, we also factored in the compatible bulb types for each type. Switches that were compatible with standard bulbs as well as with dimming lights and color-tunable lights were rated highly on our list.
Energy efficiency
The measure of energy efficiency for a smart switch can be done in terms of the features it includes, such as turning out lights when not in use, dimming, and scheduling functions. We looked at the various energy-saving features of different smart switches to pick the best ones for our list.
Style/design
Since most people look for sleek and classy looks and a design that is easy to use, we considered these factors in choosing the best smart switches. Where we compromised on the looks, we went for cost-effectiveness and functionality.
Price vs. quality
Finding the balance between cost and quality was a major consideration for us while preparing our list of the best smart switches. Hence, you can find functional and budget-friendly picks in our list too.
Care and Maintenance
If you are taking the step towards home automation with a smart switch, also follow the essential tips for the care and maintenance of these switches.
Be careful if wiring and connecting the switch yourself
If you have decided to install the smart switch yourself, you must be careful and follow the precautions for a safe connection. Follow the instructions given by the manufacturer to make the connection secure. Avoid working with wet hands.
Have the power off while connecting
Whether you are working yourself or have an electrician install the smart switch in your house, make sure the main power is turned off during the installation to the prevent electrical current from surging in. If the power is on, it can damage the switch and also cause an electrical shock.
Do not flood the bulb
While making the connection between the smart switch and the bulbs, make sure you check for flickers, which can be due to flooding of electrical current. Tighten all the screws appropriately and if there continues to be a problem, consult an electrician.
Check for fuses or earth wires
Some versions of smart switches require the installation of a neutral or earth wire to prevent electrical shocks. When making the connection, make sure the fuses and earth wire are duly connected.
Dealing with broken switches or bulbs
If you have a broken or damaged switch or bulb, follow the appropriate precautions for its disposal. Turn off the light switch before removing the bulb from its socket, and if there is any broken glass, use a pair of pliers to remove it. If the switch is damaged, have it repaired or replaced at the earliest to prevent fire hazards and short-circuiting. As a sustainability measure, dispose of the damaged light switch or bulb at an e-waste center.