The Best Smart Outdoor Lights for 2023
Lighting your backyard is always a bright idea, so get started with our great picks!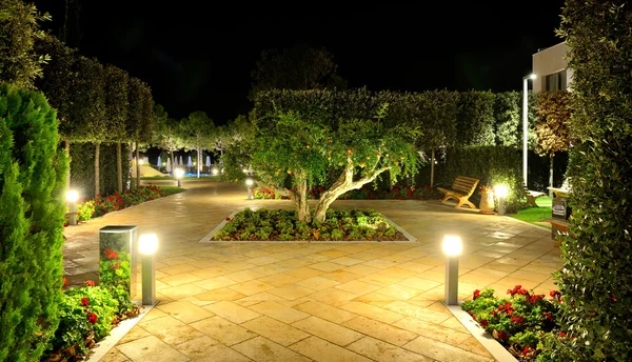 There is a scene in "Home Alone" where the burglars try to get into the house and the pathway suddenly lights up and throws them into a panic. Something is reassuring about walking in an area that is lit up so you aren't stumbling in the dark or facing a myriad of terrors.
Since the discovery of the lightbulb that could stay powered for 1,300 hours in the 18th century, like all other technology, people have spent a lot of time studying and improving on it. Outdoor lighting was initially made for streetways because automobiles didn't have their own light sources and so the streets being illuminated ensured that drivers had visibility and most importantly, safety was upheld.
In this century, outdoor lighting has improved and is used for both primary and aesthetic purposes. Smart technology incorporated into lighting for backyards improves safety levels and is also great for an outdoor party. We discuss this in-depth in this article and offer shopping assistance when you are looking for your perfect backyard lighting.
How We Picked
Brightness

To be able to have your path illuminated, you need to consider how bright the lights burn given that some can be extremely bright and others need reinforcement from more sources.



Power and Battery Life

You need to know how much power the light will use and from what power source just in case your energy consumption increases drastically. If itSpotlighteries then you have to know how long they last until you need a change of the pack.


Range

How far the light cast reaches is dependent on the type of light source. You don't want one that pours out to your neighbor's compound nor do you want one that barely covers a footstep length.


Cost-Effectiveness

Generally, smart outdoor lighting for backyard pathways can be achieved without needing to break the bank and also, can be a long-term energy-saving solution for you.


Our Top Picks
Best Pick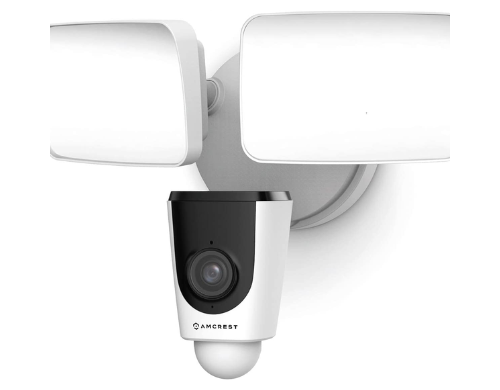 Increase your security with this camera floodlight.
This smart light is also a camera that detects motion and has a microphone and a speaker as well.
When budget is not an issue, this high-end light and camera offer you a solution that keeps your home safe and light as well. We love that it has extra security features that take the worry off your shoulders and is weatherproof so you can set it up right outside. It also has an inbuilt serin which you can set off if you feel unsafe.

Runner Up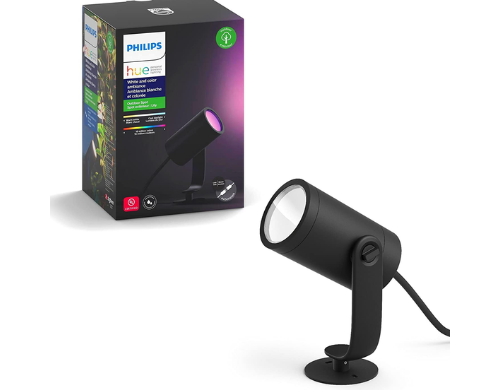 Create the perfect ambiance in your backyard with this light.
The perfect outdoor light with colors to choose from.
This Philips hue ambiance extension sets the perfect mood for you while still acting as a light. It has a wide coverage and doesn't spill, depending on the angle to which you set it. We love its price and that you can control it using Alexa or Google Assist! As long as you have a hue hub, you can set this light up all by yourself!

Most Cost-Effective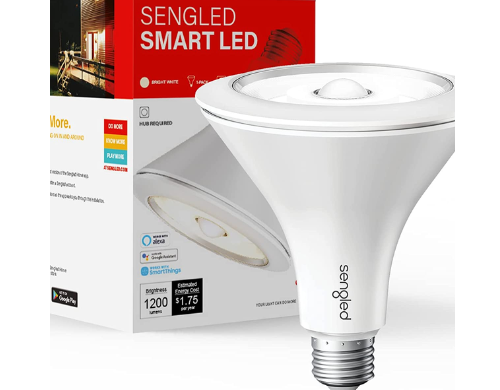 An affordable outdoor lighting solution.
If you need outdoor lighting but your budget is tough, this bulb is the perfect solution for you!

That you can simply replace your bulbs with this one is such a win for us. It has a three-year warranty and is compatible with your smart hub. As long as you include it in your home smart hub, you have remote control over your lights. You can go a step further and purchase a compatibility hub which will enable you to have voice control as well!

Everything We Recommend
Best Pick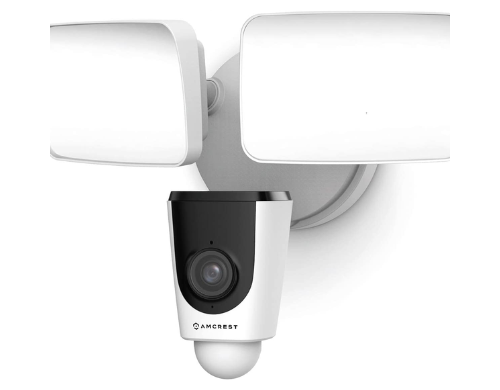 Increase your security with this camera floodlight.
$159.99
Runner Up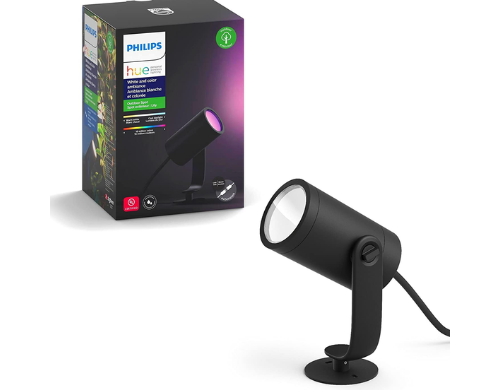 Create the perfect ambiance in your backyard with this light.
$86.69
Most Cost-Effective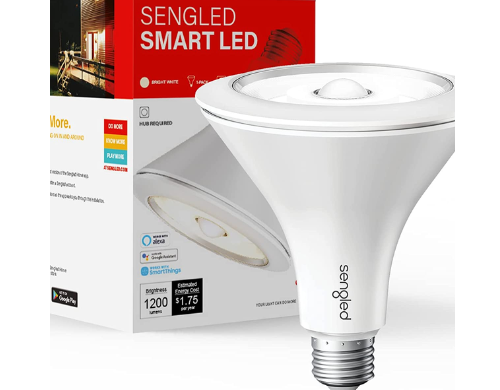 An affordable outdoor lighting solution.
$29.99
Who This Is For
If you have a yard or outdoor space that needs lighting up then this is for you. Not only will proper lighting offer security but it also helps you not to trip on this, preventing accidents and sometimes even enticing you to spend time outdoors, taking in the fresh air, even at night.
Is Smart Lighting Worth It?
Smart lighting is a worthy investment primarily for the peace of mind it offers. No matter how far you are from your house, as long as your WiFi is set up, you can switch on your lights using your Google Assistant or Alexa, helping keep your yard safe.
More or Less Energy Efficient
With the already existing carbon footprint and an even more immediate increase in the price of gas, reducing your household's consumption of electricity could be a major financial save. Smart outdoor lighting includes sensors that indicate motion or heat and only then do they light up. Some are solar-powered while others have energy-saving bulbs. When compared to regular outdoor lights, smart outdoor lighting is energy efficient.
Different Styles of Outdoor Lighting
There are different styles of outdoor lighting that are determined by what you aim at achieving and your taste as well. For instance, some flood lights light up the entire yard, step lights that illuminate the ground, lantern-like lamps that are old and classic, colored spotlights shine on one spot and are very festive, and string lights make any yard look like it came from a fairy tale book, and strip lights to light up particular corners amongst others.
Why You Should Trust Us
We invested a lot of time, effort, and thought into looking for the best smart outdoor lighting options so that you don't need to invest as many resources in the same. Our research included picking out articles from trusted sources that had great reviews and comparing the same to customer feedback so we could know what is currently the best in the market and why.
How We Picked
We used various criteria to come up with our list which includes the essentials such as how wide the light range was and its brightness as well. You run the risk of light pollution if your lights are too bright and spill past the desired perimeters. The space covered by your light should be exactly what you want to be illuminated, not more or less.
WIFI
For your outdoor lighting to be smart, it must incorporate the use of WiFi so that you can control the lights via your phone or a remote control that is unique to your lighting system. Some lighting systems come with BlueTooth speakers that allow music to pour into your backyard as long as you are connected to WiFi.
Voice and Motion Sensors
Some devices come with voice sensors that allow you to activate them using only your voice. Most devices incorporate motion sensors so they light up when triggered by motion or heat which is emitted from any live body. Other sensors are sensitive to light so that when the sun sets, they light up and when the sun rises, then they switch themselves off.
Sensors often work hand in hand with timers to maximize efficiency and also save on energy. Some lighting systems when triggered will light up for some seconds and then go off on their own. You can set this timer using your phone or the remote to your preferred settings.
Energy Efficiency
We looked at bulbs that are energy efficient and help with cutting the cost of operation. The strength of the bulb also contributed to this equation because a long-lasting bulb is cheaper in the long run. After all, you will not need to keep replacing it. The type of bulb is also important to note because it helps you know if it can last outdoors or not.
Power
Different lighting systems are powered in various ways. Some use solar power, others have batteries that need to be changed after some time while others rely on an electric output. Whatever method you go for, it needs to be easy to maintain and within your budget to install and run it. We believe in working within our budget which is why we have options for you to work with that cut across a wide range of prices while still offering value.
Care and Maintenance
For most smart outdoor lighting, you can control the features through your phone even while away and for this, you need to have a reliable Wi-Fi connection otherwise you will not be able to remotely manipulate your lighting system.
Once you have purchased and installed your smart lighting system, check the motion detectors and sensor sensitivity to ensure that they are working well. If not, always remember to carry your receipt while returning your purchase for a swap from where you bought it from.
If your backyard lights are very bright, have a wide range and in some cases have a camera installed, you need to communicate this to your neighbors by either putting up signage communicating the same or simply purchasing lights that work better for the size of your yard.
Remember to replace bulbs as often as they burn and carefully by ensuring that the electricity source is turned off, you are properly insulated against a possible electrical fault and also that you are not standing on wet ground. These are necessary precautions to take when in contact with current carrying cables.
If a bulb breaks or shutters, don't pick up the pieces with your bare hands as most LED lights are fluorescent thus dangerous to your health. Instead, sweep up the pieces and areas around the scene of the incident and just reign in any stray pieces of broken glass that can cause harm if stepped on.