The Best Smart LED Light Bulbs for 2023
The best smart light bulbs can be used as a wake-up light, reading light, and can even change the mood of your room.
Think of a regular light bulb, but smarter! Imagine if your light bulb could tell your mood and change its color to match it. Or if your light bulb responds to your voice command and can go off or come on at a set time… How convenient would that be?
Smart light bulbs are the best way to enhance your home's ambiance and efficiently manage its lighting. While you can find plenty of smart light bulbs on the market, there are a few elements to look for when shopping for these products.
You'll want to consider the bulb's maximum brightness, color temperature, compatibility with other smart devices, and energy efficiency. We've put together a list of the best smart LED light bulbs on the market to give you a better idea of which options can make it into your smart home.
How We Picked
Connectivity Strength

Whether you get a smart light bulb that connects to Wi-Fi or Bluetooth, the 2.4Mhz band provides better connectivity and a longer signal range. It's, therefore, important to consider the connection strength of a smart bulb before making a purchase.

Bulb Strength and Life

A decent smart bulb should last you a number of years and produce about 800 lumens, but some go all the way to 1,100 lumens. 12 W LED bulb. This is an important consideration because you need a bulb that provides enough light for your intended space.

Easy to Install/Set Up

Some smart bulbs need a hub to work, and some don't. This doesn't mean they should be hard to install. The complexity of installation will always depend on the present set-up of your home.

Cost-Effectiveness

With so many subpar smarts LED lights on the market, one could buy a bulb that won't be useful. Here we looked for brands with dependable bulbs and at a great price.
Our Top Picks
Best Pick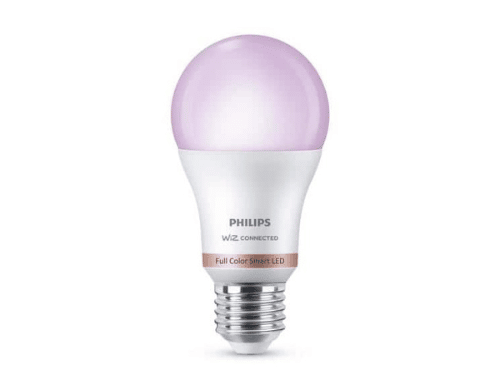 Adding flavor to your room lighting.
Provides a load of extra features.
This bulb matches the standard 60-watt light bulb in brightness and allows you to change the bulb color, color temperature, and set the perfect mood all through the iOS/Android app!

It even has more preset scenes than most bulbs and can cycle through colors to add a festive touch to holiday displays, home dates, and parties.
Runner Up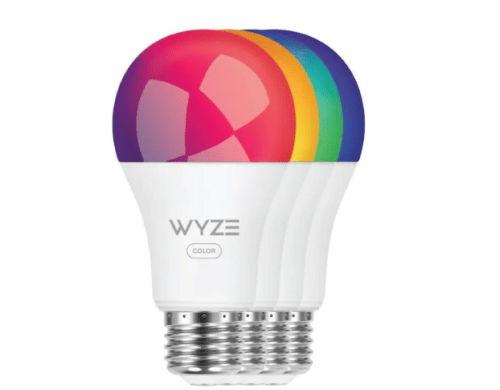 Provides the highest brightness for its very bargained price.
Offers 1,100 lumens with a wide range of color options to choose from.
Compared to other smart bulbs the Wyze Bulb color stands tall with a whooping 1,100 lumen above most smart bulbs rated offering 800 lumens of brightness, which means the Wyze bulb color shines brighter than the standard 60-watt light bulb.

It's perfect for reading and even selfies if you like and it also has a color-changing option.
Most Cost-Effective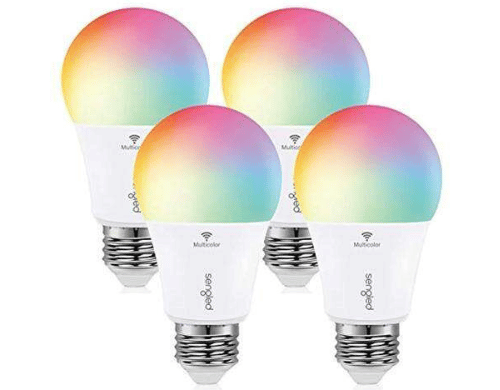 Increase productivity with its scheduled automated lighting.
This affordable bulb is compatible with Google Assistant and Alexa.
This color-changing 60-watt Cree offers the lights red, blue, green, purple, or any other shade you like.

You would love that it is also very compatible with Alexa and Google Assistant voice controls without the need for any bridge or hub hardware, so you can simply screw it in, switch it on, and pair it with the Alexa or Google Home app.
Everything We Recommend
Best Pick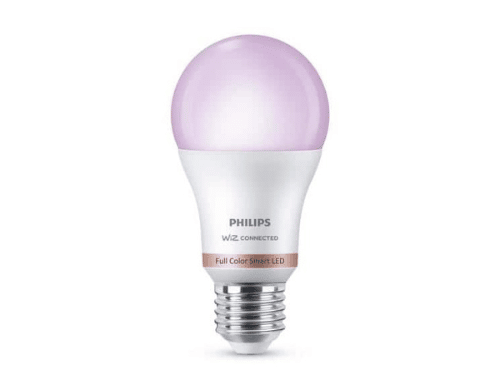 Adding flavor to your room lighting.
$23.99 ($12.00 / Count)
Runner Up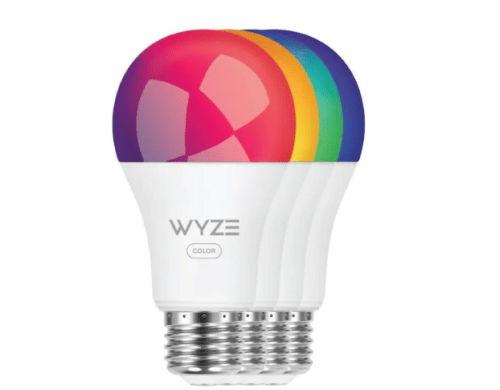 Provides the highest brightness for its very bargained price.
$29.99 ($7.50 / Count)
Most Cost-Effective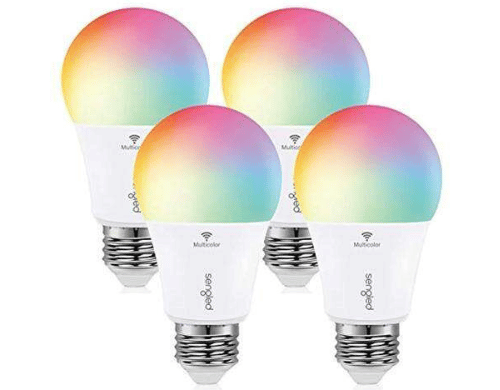 Increase productivity with its scheduled automated lighting.
$11.99
Who This Is For
This review is for you that want more exciting lighting in your room. Smart LED light bulbs are also a great starting point for anyone looking to build a smart home gradually.
How Do Smart LED Bulbs Work?
Smart light bulbs are very similar to normal LED lights, just connect them to a lamp holder and there would be light. However, they have the extra ability to connect to the internet which means they can be controlled through a network or app.
When integrated with assistants like Google, Alexa, or Siri, smart light bulbs can also respond to voice commands. Some smart bulbs come with the ability to show more than just white or yellow light and can dim or change color to offer different moods for a room.
Are Smart LED Bulbs Worth the Money?
Yes! And given that they become more available and budget-friendly, the convenience they provide is even worth more! First, think of the ability to easily control and schedule your light. Which can come in handy to make your morning and night routines more productive.
This way if you struggle with getting up from bed, a smart light gradually simulating the sunrise would throw you out of bed as early as 5:00 am. This means it can also send you to bed early by simulating sunset and changing your room to feel a lot cozier. A technology that can help you stay productive, active, and healthy without making any sound alarm clock is worth it!
With a smart bulb's companion app, you can now monitor energy usage for the smart bulbs in your room. This way you can know where exactly you're spending unnecessary energy (and money), and adjust accordingly. Then think of the benefit of smart lights that come with motion sensors that turn on the light automatically when you enter a room, and turn it off after detecting no motion for a certain time. You can almost call smart light bulbs the best invention ever!
Remember the epic romantic scene with the dimly lit room, slow, soothing music in the background, a bottle of wine, and flowers on the bed? Yes! A smart bulb will not bring you wine and flowers, but it will match the vibe of the music you're listening to, dim the lights, and set the perfect mood for a romantic night with your partner, all with the touch of a button or voice command.
Do Smart Bulbs Use Electricity Even When Off?
Smart bulbs are built to respond to your voice or command through the app. And to do this, they need to be connected to the internet or network, which means they always need some little power to respond to your command. So yes, smart bulbs use a very small amount of electricity when the lights are off.
However, it doesn't use much, research shows that the average smart bulb only uses a few cents a month when in standby mode.
Why You Should Trust Us
To find the best Smart LED light bulbs, we researched smart bulbs from trusted and verified brands, and user reviews, and compared values across considerable prices.
We looked for smart bulbs with an easy setup process, considering your budget, needs, and intended use (for reading and fun lighting). Plus, we want to be a small part of the reason why your room feels a lot better whether for work or relaxing purposes!
How We Picked
Connectivity Strength
Depending on your need a very important feature to consider is the connectivity strength of the smart light bulb you choose. If you have a home assistant or internet connection you would like a smart bulb that uses a WiFi connection so it can always be connected anytime from anywhere.
For you that just want to control your smart light bulb when you are home and close by you can also consider a Bluetooth-enabled smart bulb, however, you might not get the full blast of this technology. Here we preferred the light bulb with Wifi radio.
Bulb Light Strength
When looking for a solid smart light bulb one important feature to consider is the bulb light strength, because you would love to get a bulb that provides enough light for where you intend to put it. Here we reviewed smart bulbs that match the standard 60-watt incandescent bulbs. However, some bulbs are brighter than others.
To check how bright a smart light is, you need to look at the lumens it outputs. lumens is the measure of the brightness of a light. This is different than Watts, which measures the amount of energy in light. Just remember that higher lumens mean a brighter light.
Bulb Life
Given that smart bulbs are a little more expensive than normal bulbs, bulb life is a very important factor to look at. Fortunately with time technology advancements have made Smart bulbs last longer (an average of about 20 to 25 years if used three hours daily).
Smart bulb life is mostly represented in hours, with most bulbs having about 20,000-25,000 hours which is greater than the average incandescent lifespan of about 1,000 hours. Here we look for brands that have tested and trusted results in delivering a lasting Bulb life.
Easy-to-Install
Smart bulbs have a wide range of variants, features, and uses and some might need a specific type of installation to be able to use them. For example, some smart bulbs need a Hub (A Hub is a middle man between your bulb and your router. Also known as a bridge or gateway).
While some smart bulbs are just simple "plug n' play" no need for extra add-ons. Here we favored the smart bulbs that you just swap in, and connect to your Wi-Fi without a Hub. Meaning you can introduce a smart bulb to your home immediately after reading this.
However, when you decide to add more( greater than 10) smart bulbs, you would need to get a hub for easy control.
Easy to Set up
Most smart light bulbs take seconds to set up with your existing setup while others might take more like 10-20 minutes. The time you spend depends on what you want to do.
If you want to pair up your smart bulb with your home assistant and use voice controls, the process is far faster than if you want to arrange a list of schedules and scenes. So don't be too worried about the set-up.
Platform Compatibility
Smart light bulbs show a clear description of the assistants they support with a "Works with" label on the packaging.
However, most times to work with Apple Homekit some bulbs might need a hub/bridge/gateway. Here we suggested bulbs that work well with Alexa and google assistant without the need to get a hub.
Price vs Quality
Just like your smartphones, the value you get is highly influenced by price and worse is that you could buy a smart bulb for a higher price, and won't enjoy using it. That is why we considered trusted brands and looked for brands with great value for a great price.
This way you are sure you are getting your money's worth.
Color Changes
The color option a smart bulb offers is very important and dependent on your use. Some bulbs offer only white light, while others have the option to take on any color of the rainbow. Here we looked for options that can change colors and also provide white light for work purposes.
Care and Maintenance
To set up your smart bulb Setting up always ensure the switch/power is off before fitting a bulb and before buying consider the type of lamp holder you have already so you buy a bulb that fits right in.
To connect the bulb to your phone, you could follow the guidelines of the manufacturer.
However most light bulbs work with an app, so once the bulb is connected to your home wifi you can pair it with the app and start using it immediately.
In the case of a bulb breaking or blowing, ensure power is fully off before removing, and don't use a broken or damaged bulb.