The Best Slippers for 2023
Keep your feet toasty warm and comfortable in these stylish slippers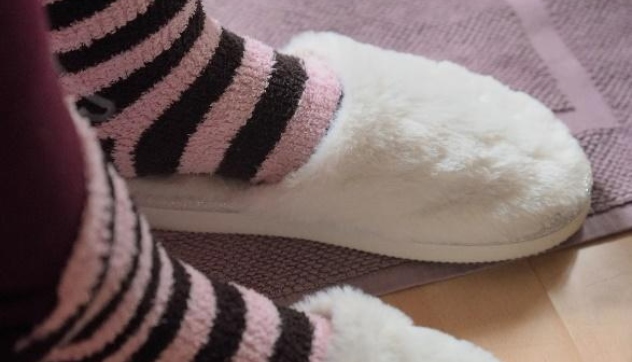 There's nothing like the furry softness and gliding movement that comes with wearing comfortable slippers. Research also proves that wearing slippers keeps blood flow normal, ultimately preventing foot deformity.
In addition, cold feet may cause flu and colds, which is why slippers are important. Slippers also help to keep our homes clean by minimizing the amount of dirt we track in from outdoors. The best part is that slippers can be worn all year round, whether in spring, summer, fall, or winter. We've curated a list of the best slippers to help you enjoy the utmost comfort, sound health, and warmth!
How We Picked
Size/Fit/Support

"One size fits all" doesn't apply when choosing comfy slippers. The fit must never be too small or too large to avoid discomfort and injury while walking.



Comfort and Breathability

No one likes sweaty feet. That's why slippers should be breathable and comfortable to allow for the circulation of fresh air.



Style/Design

Staying in comfort doesn't mean you have to look frumpy. You can look stylish and cool even while keeping your feet comfortable and cozy.



Cost-Effectiveness

You don't have to break the bank when shopping for slippers. Although you may not mind splurging to find the perfect fit, keep in mind that it's possible to find great slippers at budget-friendly prices.

Our Top Picks
Best Pick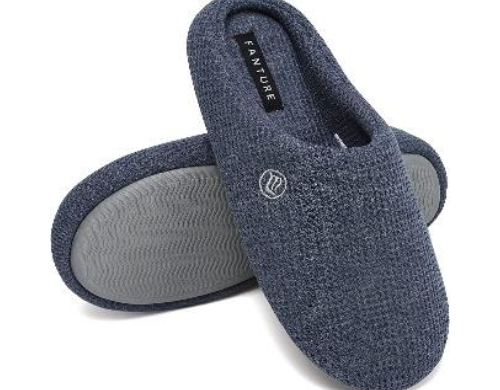 These knitted anti-skid slippers are extremely comfortable.
These FANTURE sandals have a soft insole to give your feet marshmallow-like warmth and comfort.
The FANTURE Unisex House Slippers give one a feeling of luxury, relaxation, and comfort. With their knitted cotton-blend and coral velvet fabric, these closed-toed slippers make for a relaxing afternoon even while looking after household chores.

Lined with thick layers of high-density memory foam and an elastic sponge heel, these slippers are made to keep your feet perfectly warm and cozy in any weather. The icing on the cake is that these slippers are noiseless and allow you to move quietly around the house.

Runner Up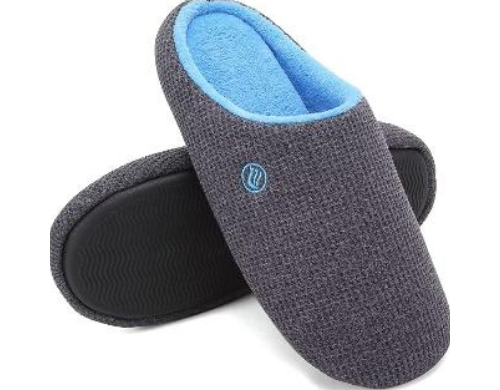 The CIOR slippers are built to give your feet the utmost comfort, warmth, and breathability.
Perfect for every season, these rubber-soled slippers can be worn by both men and women.

The CIOR Unisex Slippers are the perfect slippers for indoor movement. Made from high-quality cotton and soft TPR rubber soles, these slippers are specially designed to keep your feet comfortable and warm, even after a hard day's work.

The waffle design is deliberately incorporated to keep the feet from feeling stuffy. Its soft cotton material also absorbs any sweat which might be produced by the feet after a long day of walking. Perfect for all seasons, the texture on the bottom ensures safe and secure footing, preventing you from slipping.

Most Cost-Effective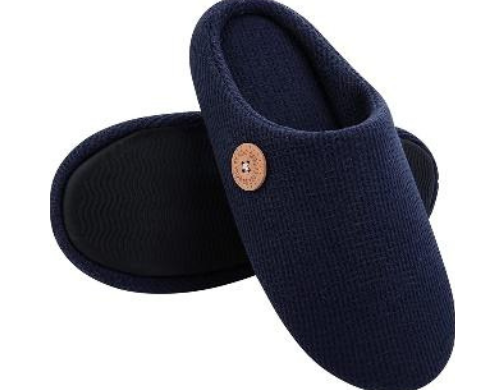 Designed with a waterproof outsole to prevent your feet from getting wet.
You can get excellent comfort and warmth at a low cost with these waterproof memory foam slippers.

The Comwarm Unisex Memory Foam Slippers are perfect for all seasons, especially spring, autumn, and summer. The high-density memory foam and elastic sponge heel offer premium comfort and warmth. With lots of positive reviews that testify to the comfort of these slippers, we believe they're an excellent, budget-friendly choice.



Everything We Recommend
Best Pick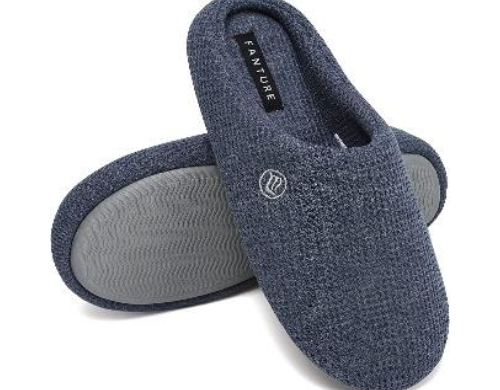 These knitted anti-skid slippers are extremely comfortable.
$21.88
Runner Up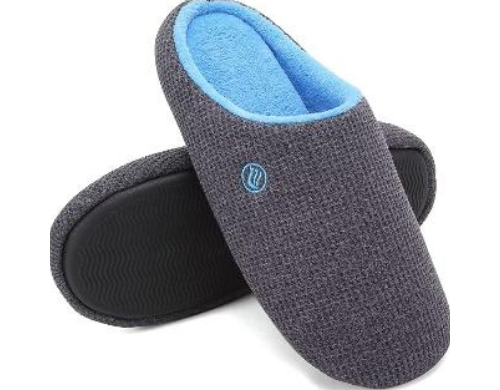 The CIOR slippers are built to give your feet the utmost comfort, warmth, and breathability.
$24.88
Most Cost-Effective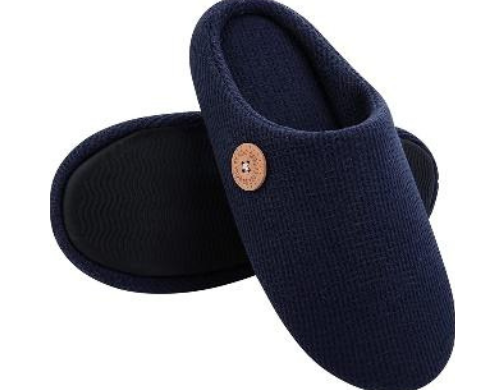 Designed with a waterproof outsole to prevent your feet from getting wet.
Who This Is For
The products advertised here are for those who love to keep their feet protected and warm while moving around the house.
Choosing the correct slippers size
When shopping for shoes online, it's impossible to try them on in person. However, this won't pose a problem if you follow a few simple steps. First, measure your feet with a ruler or measuring tape.
Once you've done this, convert the centimeters or inches using a shoe size conversion chart to find the appropriate size.
When shopping on international websites, convert it into that country's sizing system. If one of your feet is longer than the other, be sure to choose a pair of slippers that conform to the larger size to avoid tightness and discomfort.
Best fit and support type for bed shoes or slippers
For slippers to be comfortable, the fit and support type must be appropriate for the shape, width, and arch of your feet. If you have high-arched feet, choose slippers that provide extra cushioning. For flat arches, choose slippers with sturdy midsoles.
For wide feet, avoid slippers with pointed noses. No matter the size or shape of your feet, slippers with memory foam are one of the best options. This foam conforms to the curve of your feet, providing arch support.
Why You Should Trust Us
Lots of slippers are touted to be comfortable, warm, and relaxing but end up failing to deliver on their promises. However, we found the perfect options that have been tested and approved by thousands of customers who can testify to the excellence of the products advertised here.
How We Picked
While conducting our preliminary research, we came across tons of house slippers with a wide variety of specifications. However, we selected only the best, ensuring that we included those that have received sterling ratings from customers.
All the products on our list were selected based on the criteria of comfort, warmth, breathability, durability, size, fit, support, sole type, cost-effectiveness, materials, quality, and washability.
We looked for products that were affordable yet of high quality. For warmth and insulation, we chose closed-toed slippers to ensure that your feet stay warm and protected in cold weather. When the weather warms up, you don't have to worry about sweaty feet because the products are made of breathable materials that prevent the feet from getting stuffy.
In the event of moisture buildup, the materials are absorbent. We also selected slippers with firm outsoles to provide traction and prevent slipping. The best part is that they're all washable, so that accumulated dirt can be easily removed after a long time.
All products can either be machine-washed or hand-washed.
We've also simplified the shopping process by choosing only gender-neutral slippers which can be worn by both men and women. The icing on the cake is that each product combines comfort with style. Now you can look good while walking on pillow-like footwear.
Care and Maintenance
All of the slippers on our list can be machine-washed or hand-washed while retaining their shape.
However, use a laundry bag if the manufacturer's instructions recommend it, and follow the drying instructions to avoid the slippers losing their firmness and shape. To prevent damage to their support structures, avoid rigorous outdoor activities as they are only suitable for light outdoor and indoor activities.
For slippers that tend to stretch when worn, avoid sharing them with others so the grip doesn't loosen and become uncomfortable. As most of them are not water-resistant, it's advisable to keep your feet as dry as possible while wearing them.