The Best Slide In Electric Range for 2023
Check out this helpful guide to find the perfect slide in electric range that will revolutionize your kitchen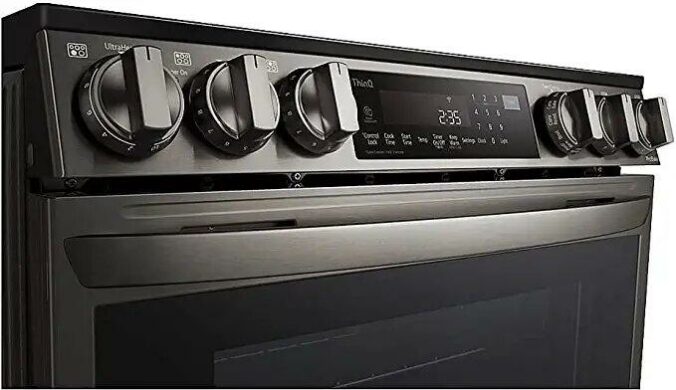 Are you looking to maximize space in your kitchen or uplift its look? Stick around to find out what we have in store for you! Slide-in ranges are model appliances designed to slide between kitchen cabinets, other appliances, or other fixtures to provide a seamless, built-in look to your kitchen. Featuring an array of cooking controls prominently displayed at the front of the appliance, slide-in models are a great choice for your space especially if you have a kitchen island or decorative backsplash walls in your kitchen generally.
Slide-in ranges are available in several fuel options, including electric gas and dual fuel; in this article, we will help you pick the right electric slide-in range for your kitchen by narrowing down your options to focus on the top-rated ranges in the current market. Considering these appliances can be relatively pricey, we both know you want to do your research before you spend a lump sum on something you will later find ineffective.
Our Top Picks
Our Top Pick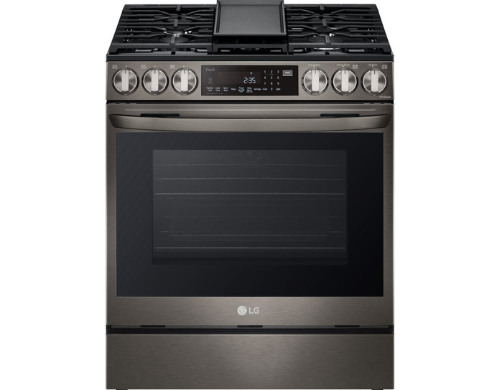 A stylish slide in range that allows you to explore air frying or even self-cleaning all at the comfort of your chair with smart controls and voice commands. Fingerprint resistant surface and comes with a one-year warranty!
Our Runner-Up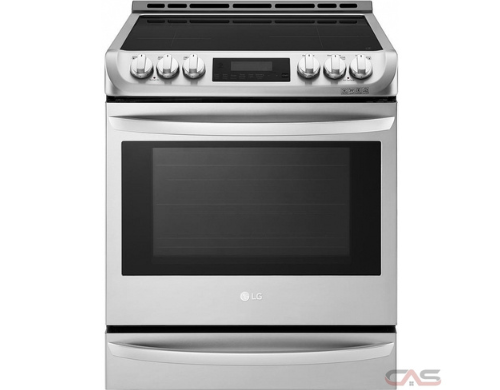 Easily cook large amounts of food for the whole family in one go with full confidence in the accuracy of temperature regulation. Self-cleans in minutes so no need of using harsh chemicals or extra scrubbing.
Most Cost-Effective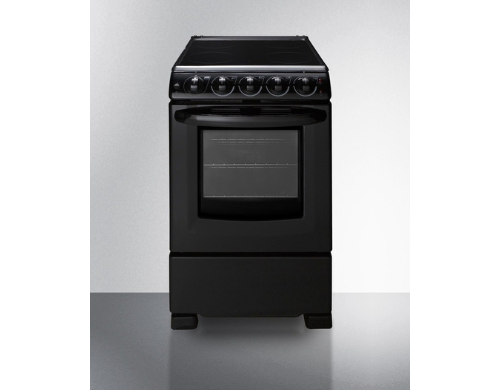 Save money with this bargain that will give your kitchen a stylish look. A durable and effective slide-in range made of tough stainless steel. Has a moderately sizable internal space for you to cook enough portions of food for your family.
Who This Is For
This review is for anyone and everyone who is looking to either upgrade or buy a brand-new slide-in range for their domestic use. The options we have outlined and reviewed in this article will serve you well to narrow down some of the top-rated electric slide-in ranges in the current market. Take a look and see what best fits your needs in terms of design, performance, and size.
Gas vs Electric Ranges
Gas ranges use an open flame while electric ranges use metal heating elements to heat and cook your food. Both have their pros and cons: gas ranges are considered highly responsive, allowing you to adjust between heat levels quickly while electric ranges tend to have dry, even heat that's ideal for baking and roasting but unfortunately less responsive. When it comes to choosing a gas vs. electric range, either type of range will support your culinary creativity and even present new possibilities, so look into the pros and cons of both.
Slide-In Ranges vs Freestanding
The main difference between freestanding and slide-in ranges is the installation of either; freestanding ranges can stand alone or be installed between cabinets with free space all around them if you desire so, on the other hand, slide-in ranges are specifically designed to sit between cabinets for a seamless look, i.e. they look part of the cabinets in your kitchen with no space in between. It follows that slide-in ranges have unfinished sides that make them ill-suited for standalone installation.
The configuration of panels and controls is also different – slide-in ranges usually have controls located on the top or front of the appliance and also lack a back-guard. The sleek look of slide-in ranges makes them a popular choice for kitchen remodels and installation in kitchen islands. To top it all off, the range's overhanging sides keep food and liquids from spilling into gaps between the cooktop and counter and this makes kitchen clean-up easy.
Why You Should Trust Us
We took our time to browse through numerous reviews and customer feedback to make sure we are right on the money. Surfing the web through plenty of sites looking for what suits your needs can be tiresome, worry not for you can trust this list of our top picks in the market.
How We Picked
We understand that the size of the range is really important especially when it comes to installation; one wrong move during measurement and you buy the wrong range. We have clearly outlined the sizes of what we have picked for you to have an exact idea of what you will get. A range is only as useful as its capacity; considering we all have different needs when it comes to food portions because families differ, a standard capacity to suit an average family is recommended(6.3 cubic feet capacity)
Energy efficiency is also an important factor to consider; with the rising costs of fuel and electricity, we should all be sensitive about what we consume in our homes. An efficient range will not result in high bills. The maximum temperature of the range you purchase will highly determine the types of food you can cook at your house. Different foods demand different cooking temperatures, a pizza in particular demands high temperatures for it to turn out perfect. So it would be wise to consider such specifications.
Heat insulation protects your walls and cabinets from damage and also from unnecessary heat in your kitchen even after long hours of roasting and baking. These ranges come with a manual and are still easy to install if the procedure is followed correctly; so do not worry about that so much, plus you can always contact a certified technician for it. The price vs quality of what you buy should be reasonable in the sense that you will most likely pay more for better quality.
How We Picked
Size

Slide In Ranges are extremely sensitive when it comes to the size of both the appliance itself and the space you intend to fit.
This means that you will have to consider the width, height, and depth of the appliance you want to buy after measuring the same dimensions of the space you intend to fit the appliance.

Max. Temperature

Depending on what you intend to use your appliance for, it is necessary to consider the temperature range of your appliance. You want to choose an option that covers most home-cooked foods with pastries like pizza requiring temperatures of up to 500 degrees F.
Generally, a maximum temperature of up to 550 degrees F will suffice your home needs.

Style

You will want to consider the style, design, and general outlook of what you will buy. Having a good-looking kitchen majorly involves how harmonized the look is, and if you put weight into how your kitchen looks, then the color and style of what you buy can be deal breakers.

Cost-Effectiveness

Depending on how deep your pockets are, you have various options to choose from; either way at the end of the day you will want to get quality and value for your money. The options we picked are sure to offer something for everyone!
Care and Maintenance
How to clean a range
If you do not take care of your range, nobody else will; you have the option to call an experienced person to clean it or you can follow these easy steps;
Take the burners off of the cooktop to clean them; never submerge burners in water, instead, clean them using a damp cloth. Clean the drip pans in the dishwasher, or if you've burnt on spilled food, soak them in a mixture of baking soda and water for at least 8 hours, to get the food particles off of them.
The same applies to your filters which you should also dip in the mixture and scrub to give you sparkling clean parts.
How often to clean a range
This heavily depends on whether you clean it right after cooking every time you range. A good habit is to clean your range about once a month. If you happen to be pretty consistent with cleaning your stove after cooking, the baking soda paste method mentioned above should work just fine.
Avoid cleaning fluids getting in contact with the eyes; if contact occurs, flush the eye with cold water immediately and call a doctor for help.
You should wear gloves when cleaning an oven or range cooker for the safety of your skin and nails too. Use heat-resistant gloves when the range is on and remain careful as you do the cleaning.
How to install
A slide-in range is the easiest to install regardless of the fuel source. After the fuel source connection is made, you simply push or slide the range into position; hence the name "slide-in."
Electrically powered slide-in ranges use either a heavy cord that's plugged into a dedicated 240-volt/50-amp circuit or a length of a flexible metal cable with individual wires inside, which is connected to an electrical box located behind the range. The electric ranges have a standard 120-volt power cord that's plugged into a 120-volt receptacle located on the wall behind the range.
An electric range needs two outlets behind it — a 240-volt for powering the cooking components and a 120-volt for the clock and timer(s). A drop-in range requires a cutout cabinet and countertop area so that the range drops into the cabinet. This type of range often has a flange around the edge of the cooktop surface. The flange rests on the countertop and supports the entire range. Then the range itself is screwed into the cabinet. The fuel-source hookups are the same for a drop-in range as they are for a slide-in type. Alternatively, you can get a professional to do the installation for you, it would be safer!