The Best Sleds for 2023
Get ready to zip down a snowy slope on these awesome sleds!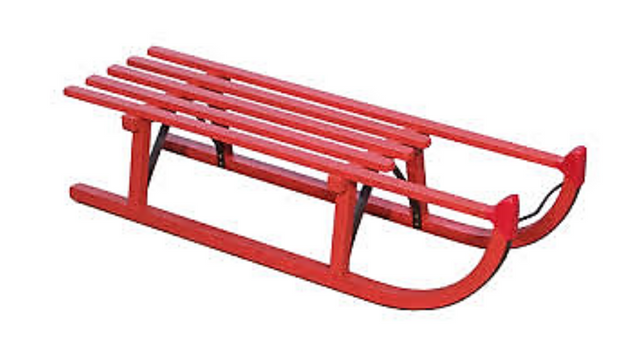 When you're in a holiday mindset, going sledding is always the highlight of the trip. Bundling up and spending hours sliding in the snow is the most thrilling thing ever. If you believed this was a kid's game, you should correct yourself. Sledding is a fun activity for both young and old people.
There is a sled for every snowy environment, thus safety should always come first when selecting one. Whether you're looking for a typical wooden toboggan, a plastic saucer-style sled, or even an inflatable inner tube there is a version made for everyone. But wherever there is a snowy hill, they all provide some genuine adrenaline-fueled fun. Consider purchasing a high-end snow sled to make this winter's festivities the most memorable yet.
Considering the vast array of possibilities currently available, it could be challenging to find a relevant model. To focus your search and choose the best snow sled, look at these top picks in 2022 on our list.
Our Top Picks
Best Pick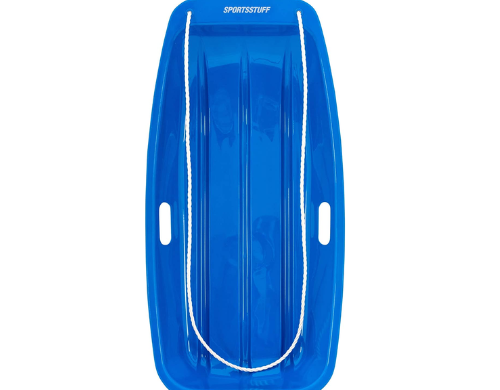 The Sportsstuff Classic Plastic Snow Sled is sturdy enough for a parent and child to ride securely together while still being engineered for peak speeds.
$26.76
Runner Up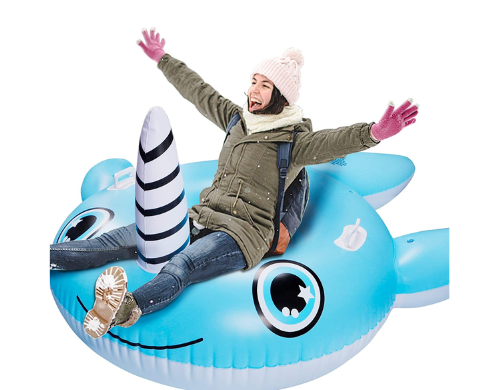 You may easily stand out from the crowd because of its distinctive narwhal-shaped profile design, which is both original and attractive.
$21.99
Most cost-effective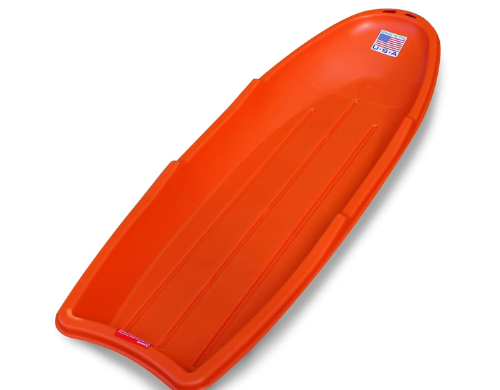 Due to its polished bottom and softly tapered end, this sled is intended to move quickly down a slope, as indicated by its name.
Who This Is For
This is a review guide you may use as a jumping-off point to help you with your purchase. It's normal to have both anxiety and excitement as you are ready to buy your first sled. You want to pick the best sled that is available that suits your needs and budget, correct? To ensure that you get started on the right path this review has a list of sleds to choose from.
Sled Vs Snowmobile
A sled is not motorized unlike a snowmobile; from our point of view, a sled acts as training wheels for you before riding a snowmobile. It helps you learn and experience firsthand what it takes to maneuver on snow safely. Most people say that a snowmobile is just as easy to ride as a bike, but we honestly think that it is easier to learn how to ride a bike first rather than a motorcycle.
Sled Vs Plastic Toboggans
A sled is a short, light vehicle with runners. A toboggan is a longer, flat sled without runners that has a raised front end.
Why You Should Trust Us
Our reviews are influenced by a variety of factors, including practical testing, professional advice, "wisdom of the crowd" evaluations from actual customers, and our own knowledge. We constantly strive to provide sincere, accurate guides to aid you in making the greatest selections.
How We Picked
We decided to evaluate size as a factor when it comes to snow sleds. When buying it for a child, you should choose a smaller, more maneuverable sled. A larger sled will be more stable and comfortable for adults. You need a sled that is big enough to withstand the curves and bumps if you intend to conduct any serious sledding. Make sure the sled you purchase fits you and your family properly, regardless of size. Toboggans and other sleds are made to accommodate numerous riders at once. We put into consideration all these factors and made sure that sleds on this list can accommodate a variety of riders or one that can only safely carry one or two riders at a time depending on who is joining you on your next snow day adventure.
Another factor we looked into was durability. We made sure that the sleds in our list are manufactured with sturdy materials that are sure to last. Although it shouldn't be strong enough for dog sledding, it ought to last. Handles are a factor that should be looked into while acquiring a sled. We made sure that the handles on the sleds you purchase won't come off with even the slightest tug. Yes, appearances aren't everything. However, we understand that they are important, and you undoubtedly care about how your sled looks. There are simple sleds with exquisite colors and patterns. If looks are important to you, this is the list for you as the sleds are not only functional but also attractive.
Sleds must be worth your money before you purchase them. Never purchase something only because it is inexpensive. We were sure to compare several items to make sure you get value for your money. We researched each one, comparing its qualities to those of other, comparable ones. Through this, we were able to select one that delivers the most value for your money. We've made sure that the item is strong and will last a long time for you. This is crucial if you are purchasing an expensive item. Purchasing things that last longer than a year is excellent if you want to get the most bang for your buck.
Who is going to be using the sled? Almost all sleds will be capable of bearing the weight if it is only being used for children's play. However, if you wish to travel alone or in tandem with a smaller child, a sled with a maximum capacity of a minimum of 200 pounds is probably your best option. The sleds on the list will meet your required capacity of riders.
If you love the rush of excitement, you undoubtedly want a fast sled. But not every sled is made to travel quickly. We have got you covered on this by ensuring that the sleds on this list meet your speed requirements. Not all sleds include ropes or straps. When you want to climb back up a hill or slope while pulling your rope, this feature is helpful and we looked into this as a factor when selecting the sleds. The straps can also act as a safety element and provide you with something to grip onto as you sled down the hill.
Thickness is another factor that we put into consideration. Typically, two to four inches of snow are required for sledding. There are, however, numerous other criteria that also come into play, such as snow consistency, terrain type, sledding hill steepness, and sled style. We have made sure that our list of sleds meets these criteria. We've also made sure that the assortment of available sleds is simple to clean and won't take up a lot of your time.
Finally, we put into consideration the shape of your sled. Using a ship as an example, we've made sure that the variety of sleds available is more akin to an icebreaker's hull that rides up on the ice than a tanker's shape that cuts through the water. So go ahead, check it out
How We Picked
Size

Not every sled is made for grownups. Some sleds can only fit children, while others can accommodate adults of all sizes. If you want to avoid collisions and get the most out of your sled, it's crucial to pick the correct size.

Durability

If you don't like the notion of having to buy a new sled every year, you should spend your money on a sturdy one that can endure being bumped into or colliding with objects without suffering major damage.

Style/Design

Consider all the jarring that takes place during a sled ride. If the sled is uncomfortable, you run the risk of getting hurt. Select a comfortable sled to prevent bumps, bruises, and injuries.

Cost-Effectiveness

Even while we want you to receive the highest quality, we wouldn't encourage you to spend excessively or beyond your means. The displays we've examined in this post will be kind to your wallet, so you can rest easy.
Care and mianetnance
Do I need to wear a helmet on a sled?
Pediatricians have been advising in recent years that "a helmet goes a long way to prevent the most catastrophic injuries that we see from sledding." Anyone who has been hit by snow knows how harsh those blows can be, thus it is always a good idea to protect your brain.
Be wary of ice obstructions
Scan the terrain for obstacles like trees, rocks, and poles to help avoid a sledding disaster. Avoid going sledding in an area if there are any hazards or impediments around. Snow may have covered some things, such as rocks or tree stumps, increasing the hazard. Never sled toward a snow bank since there may be an unnoticed danger there. You don't want to sled into what appears to be a fluffy snowbank only to discover a big boulder hidden beneath. Ouch!
Do not overfill the sled
Never overload a sled that is intended to carry just one rider. Sleds are only designed to carry so many people. If you disregard the capacity restriction, you increase the danger of injury to both you and other people. Children under the age of five should always sled with an adult for the highest level of safety.