The Best Skillet for 2022
Skillets have a characteristic low rounded profile that is great for wok cooking and sauteing.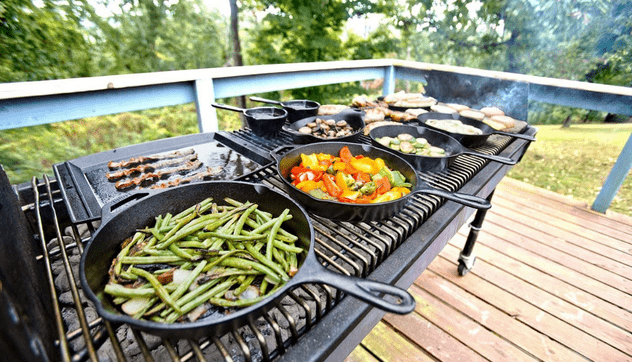 A skillet is a flat-sided, shallow pan. Using a skillet is a common way to stir-fry or sauté food, which is a culinary technique that involves cooking food quickly in a small amount of fat or oil, frequently at high heat. For speedy and even cooking, you can stir, flip, and toss the contents in the pan. Skillets are frequently used for braising curries and thick sauces. As a result, they have lids and are made of different materials, although cast-iron skillets are the most popular among foodies.
But a skillet may also be used for other things, making it one of the kitchen's most useful cookware items. Every skillet varies in design and size, and your choice depends on the nature of your cooking. However, with this guide, you should be able to make a good choice, as we have skeptically selected the best models in the market.
How We Picked
Type of material + handles

Depending on what you want to cook, the nature of the skillet's material is a determinant of your food's outcome in terms of time. Also, its handle shouldn't be of lesser quality.

Size and shape

The size and shape of your skillet affect the outcome of your cooking, such that your food may not be properly cooked. Also, you have to consider the size of your cooking burner and countertop.

Easy to clean

Although skillets are designed to be nonstick, some cooking ingredients, especially liquids, tend to be stubborn.

Price

While quality skillets tend to cost a lot, it's not always the case. We've listed both premium and affordable skillets to cater to different budgets.
Our Top Picks
Best Pick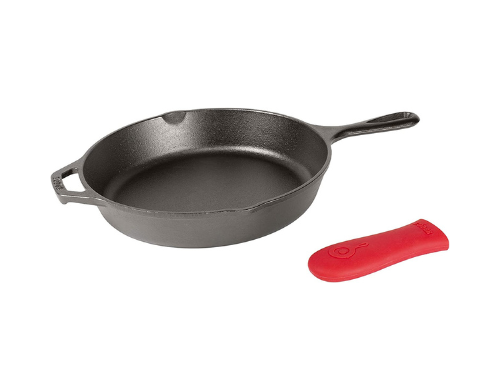 Lodge cast iron pans are not only very affordable but they are also built to last.
The Lodge skillet has an adequate 10.25-inch width and a red silicone hot handle holder.
To keep the handle cool, this pick has a red silicone handle protector, but you can choose from a few other colors and materials. Additionally, it offers unmatched uniform cooking and exceptional heat retention. Lodge Cast iron skillets can be used in the oven, stove, grill, or over a campfire at home.
Runner Up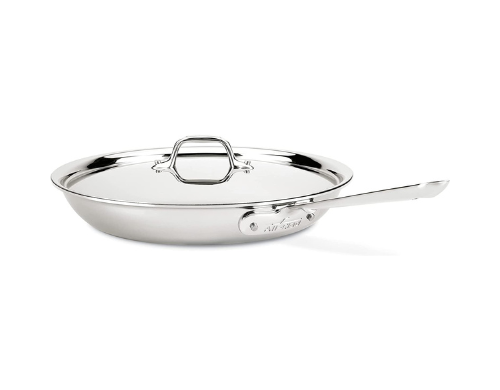 While this skillet has a robust build and excellent heat conduction, it's a tad expensive.
The All-clad skillet has a flat base and flared edges for simple flipping and tossing.
Even when used frequently, the steel shell of the all-stainless Clad provides exceptional heat resistance. The generously sloped sides and curved lip make it simple to whisk and pour a pan sauce. The All-Clad skillets have a lid to shield your hands from the heat, just like Lodge Cast Iron.
Most Cost-Effective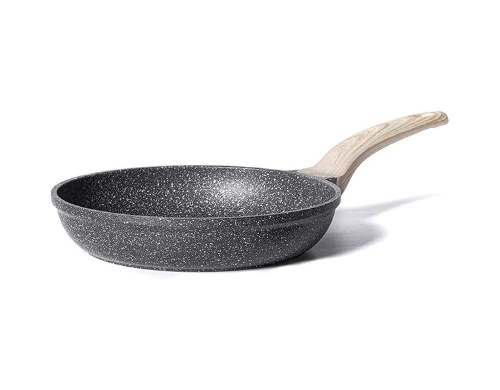 Affordable, with a cozy handle to hold and keep your hands cool while cooking.
The Carote nonstick skillet works on all types of burners, including induction.
The handle on this skillet is made of plastic that mimics wood and has a wonderful, cozy feel to it. It is also unexpectedly ergonomic. On the stovetop, it will also remain cool to the touch because it is plastic. There is a maximum oven-safe temperature for plastic handles, which is problematic.
Everything We Recommend
Best Pick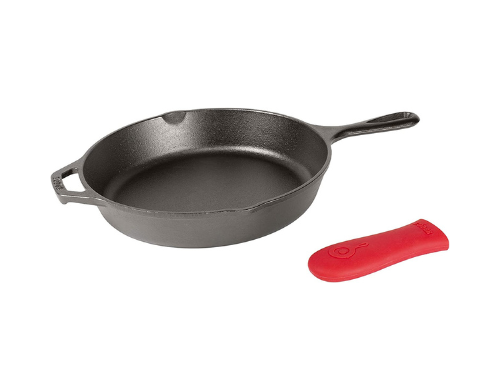 Lodge cast iron pans are not only very affordable but they are also built to last.
$24.90
Runner Up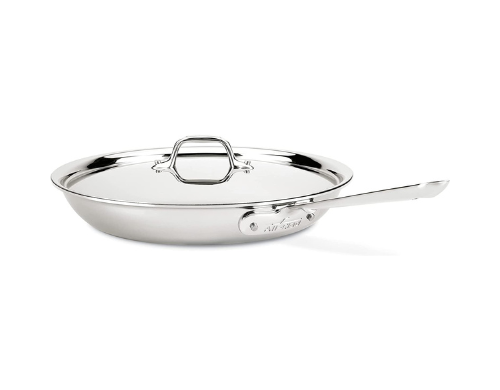 While this skillet has a robust build and excellent heat conduction, it's a tad expensive.
$129.95
Most Cost-Effective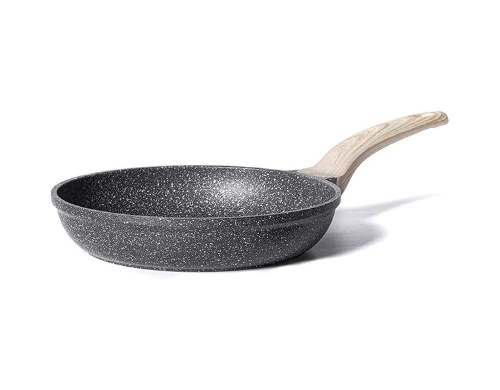 Affordable, with a cozy handle to hold and keep your hands cool while cooking.
$16.49
Who This Is For
No one wants to have unsatisfying cooking results. Whether it's your turn to cook for the family or you own a restaurant, it is ideal to make use of reliable cookware to serve a good-looking and delicious meal. This guide aims to expose every vital factor to consider before buying a skillet, including the best picks on the market for you to choose judiciously.
Skillet vs frying pan
Skillets and fry pans have a lot of similar culinary uses and a similar appearance. While they are similar, they also differ in several ways that must be noted. The majority of skillets are made of cast iron, which makes them heat up more slowly but is wonderful for baking. They are incredibly robust, cost-effective, and great at maintaining heat. Compared to frying pans, they are intended to be thicker and deeper (at least 2 inches deep). The majority of them include coatings that make them non-toxic and non-stick while also raising the food's iron content. But because of their weight, the handle can quickly become hot.
Fully clad triply vs steel triply
The fully-clad triply skillet is frequently referred to as an "all-clad tri-ply" since it is made of three bonded layers (or plys). It responds to temperature changes more quickly and heats up more quickly. The fully-clad triply skillet is lighter and easier to handle because it has fewer layers. Its lid handles are also thicker but more durable.
If you are concerned about the health and safety implications of your cooking, triply stainless steel is one of the greatest types of cookware. Everybody agrees that stainless steel is a safe material for cookware. And because of its toughness and adaptability, Triply is even better.
They are very easy to maintain and clean. While they are durable, they enable even heat distribution and cook with less fuel and oil.
Are cast irons superior?
Cast iron is a poor heat conductor, so it heats up slowly and cools down slowly. But it is the best material for frying. Cast iron is favored for grill pans, Dutch ovens, fry pans, and griddles because of its inherent ability to maintain temperature. Warping, denting, and chipping are all things that these pieces can withstand with great strength. Due to its high density, cast iron is the king of heat retention and is almost immune to harm. It is also simple to clean because cast iron is inherently nonstick. Cast iron can retain heat for a very long time, and it fosters healthy cooking.
Why You Should Trust Us
A lot of people do not know the difference between a skillet and a frypan, and as such, they usually don't get the best cooking results. We tested a lot of models, including the ones we use in our respective homes, to see how they work and keep up differently. That wasn't enough; we went as far as collecting reviews from other people, including professional chefs in restaurants, to skeptically describe their experiences with using skillets in the kitchen. I believed that they'd be in the best position to give an honest review as they would make use of the best equipment to serve their customers better. So, we analyzed all the data collected and chose the best models based on our criteria.
How We Picked
Type of material
The material is the most crucial factor in figuring out which skillets you require. You can limit your options by considering how frequently you cook and what kinds of meals you prepare. If you cook frequently, you'll probably need a variety of skillets. Choose bare or enameled cast iron for high-heat cooking since these types of pans can retain heat and endure higher temperatures than most other pans, like in the case of making a perfectly seared steak. The majority of experts and experienced chefs we spoke with concurred: all you need to prepare delicious meals is a combination of cast iron, nonstick, stainless steel, or copper.
Type of handles: are they comfortable and heat-resistant?
A skillet's handles can be made of plastic or metal ( aluminum, stainless steel, and copper). The cheapest handles are made of plastic, but they are also the least useful. Despite being poor heat conductors and heat resistant, they should not be used in the oven because they can melt in the flames of a gas burner. Cookware with metal handles is the best option because it is suitable for both gas and electric ovens. On expensive models, the handles are either welded, riveted, or screwed. Stainless steel skillet handles typically have better heat resistance than handles constructed of other metals.
Size
When buying a skillet, it is important to consider how much food you serve frequently. If you enjoy cooking, you might need a modest size for yourself or one that is adequate for families. For cooking eggs, meats, or vegetables while retaining the heat, you'll want as much surface area as you can get. Uneven heating is a disadvantage of large skillets. Overcrowding poses a problem when using skillets that are too small. Food won't cook as quickly or evenly as it could if there is an excessive amount of food on a tiny surface area. Choosing a size should also take storage into account. Check to see if your kitchen cabinets can hold large or heavy skillets. We advise using an 8-inch skillet for small cooking and a 10- to 12-inch skillet on average because it is the most adaptable. It's the ideal size to fit a meal and cook it correctly and evenly.
Shape
We prefer skillets with sloping sides to those with straight sides. Some skillets have acute angles, which makes tossing veggies while sautéing challenging. The sloping edges of skillets make it simpler to utilize a turner and the one-handed saute technique, which involves grasping the handle and flicking your wrist to toss the ingredients while distributing heat over the shallow, wide base. For recipes that need longer cooking times, like shallow braises, a straight-sided skillet is preferable. Making pan sauces is simplified by the ease with which sloping edges fit the curved wires of a whisk. A flared lip also makes it easier to remove pan sauces from the skillet without making a mess, and it allows moisture to drain quickly, preventing seared meat and vegetables from stewing in their juices.
Easy to clean
While cooking, oil leaks and spice stick shards are common occurrences in skillets. We looked for pans that were simple to clean because we understand how crucial cleaning your cookware is. Though some may develop a dark gray tint that cannot be removed, we highly suggest non-stick types. Even though a pan's function won't be affected, discoloration is an aesthetic concern to take into account when buying your skillet.
Weight – comfortable
Using one hand to pick up or move a heavy pan is likewise more challenging. You need a pan that can retain heat effectively enough to sear meat and cool down quickly enough if your meal is browning too quickly. Choosing a smaller size and keeping an eye out for pans with features like long handles or lug handles may make carrying the pan much easier if you're inclined to struggle with large sizes. A thin, light skillet will cook with hot spots that could burn your food if the heating is uneven. When you adjust the temperature, an overly heavy skillet will take longer to react and retain more heat. The ideal weight range for skillets is between 2 and 312 pounds.
Price
Although a skillet's usefulness or quality isn't determined by its price, you should still choose a more expensive one if it accomplishes the job better. In general, skill is much more affordable than its counterparts in the kitchen. However, the high price of a skillet should be justified by its substantial overall construction quality and material, as well as its substantial size.
Durability
No matter what purpose you use the model for, you should get one that will last. You don't want to constantly repair leaks or replace anything that is broken. If you own a restaurant, for example, you should probably choose a more reliable approach to prevent uneven service.
Style/design
The style of the skillet you choose will depend on how you want to use it. When it comes to cooking delicate foods that stick easily, we advise using a well-seasoned cast iron skillet because it is practically nonstick. However, nothing compares to a true nonstick frying pan. Additionally, models with oven-safe silicone-coated or stainless steel handles, as opposed to plastic ones, are very affordable.
Care and Maintenance
How to clean – which cleaning materials to use and avoid
Maintaining your skillet only demands a little amount of care in cleaning. After cooking, you do not have to abandon it. After using the skillet, wait until it is completely cool before beginning to clean it. Use a scouring pad and mild dish soap to scrape the food off by running it under water. To thoroughly dry the skillet, give it a good rinse and wipe. You can remove and clean the surface of the food that has been scorched using hot water and a spatula.
Is it dishwasher-safe?
Not all skillets are dishwasher-safe, some are best washed with a sponge and soap. Always refer to the manufacturer's manual to know if it's dishwasher-safe.
How to get rid of stains or odors
Add a dryer sheet to the soapy water and soapy skillet mixture. Give it an hour to sit. The dryer sheet will help to remove the stains, leaving you with a pan that looks brand new. As an alternative, you can thoroughly remove stains by using vinegar.
Where and how to store when not in use
Make sure your skillet is thoroughly dry before storing it. To make your skillets more accessible, hang hooks, racks, or other kitchen tools. Because some kinds of hanging pans are heavy, it's important to secure them correctly to prevent breakage should they fall.