The Best Sheets for 2023
Picking the right sheets can be a challenge and an adventure all in itself.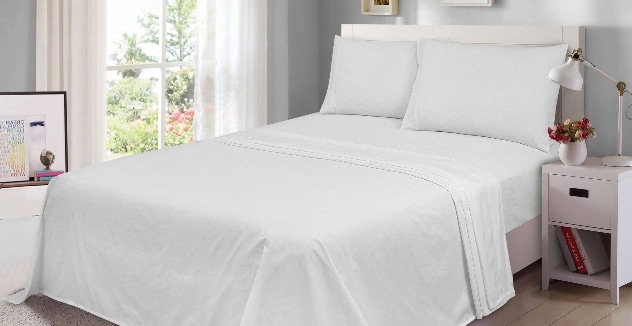 Our bodies need rest to refill lost energy, rejuvenate, stretch, and relax. This is why a healthy night's sleep is essential to allow you to face the following day with brand-new energy. However, how good your sleep will be is dependent on the bedding you use. As such, investing in the best sheets should be on top of your list.
Quality sheets provide warmth, coziness, and comfort. They should also be hypoallergenic and breathable to keep your skin safe and comfortable. Besides quality, sheets should also be of the right color and design that suits the decor of the room.
Read on to find further information, insights, and reviews of the best sheets on the market.
How We Picked
Material

The material of bed sheets is an essential consideration since it determines factors like durability, ease, comfort, softness, and breathability.

Therefore, if you want to experience a good night's sleep, you should always consider the material of your bedsheets.


Comfort + Feel

Sleeping on high-quality bed sheets can help minimize stress, fatigue, and anxiety by allowing a restful, comfortable sleep. They allow you to sleep with no disruptions caused by too much heat, itchiness, or clinging to your skin.

Design + Color

The design, and color of your bed sheets can either improve the decor of a particular room or completely ruin it. Therefore, you should strive to get a pair that will look great in any space.

Price

Most bed sheets that cost lesser tend to be of low quality. However, this does not infer that expensive sheets are always of high quality. Therefore, the best way to determine cost-effectiveness is by examining the quality of the sheets and ensuring that they match their price.

Our Top Picks
Best Pick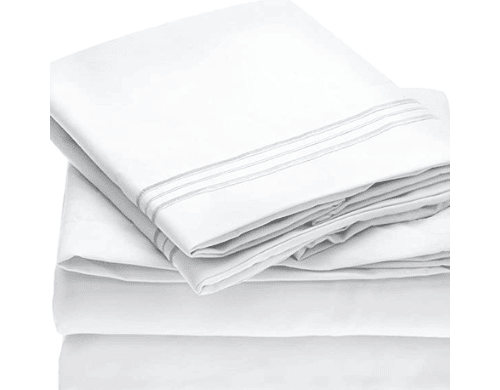 Incredibly soft and thus comfortable against your bare skin.
Our most expensive pick but effective in terms of material, comfort, durability, and breathability.

Whether you're looking for comfort, good breathability, relaxation, or softness, Mellanni Sheet Set has got you all covered. These sheets are hypoallergenic and will not cause discomfort to your skin.

They are also easy to clean to get rid of dirt accumulated over time. Since they are breathable, you will not experience overheating, sweating, or bad odor and will therefore sleep comfortably.

Runner Up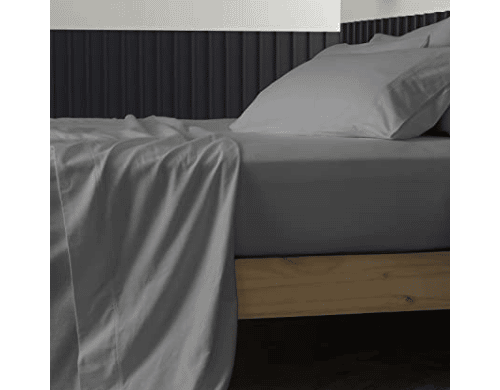 Made of cotton which is safe and easy to clean.
Extremely breathable and allow for maximum air circulation.
Whenever style and functionality pop up, these sheets would naturally take the top number. They are stylish and modern and blend well with any decor. They will not affect your skin and are ideal for all skin types. With these sheets, you will enjoy a restful, warm, and cozy night.
Most Cost-Effective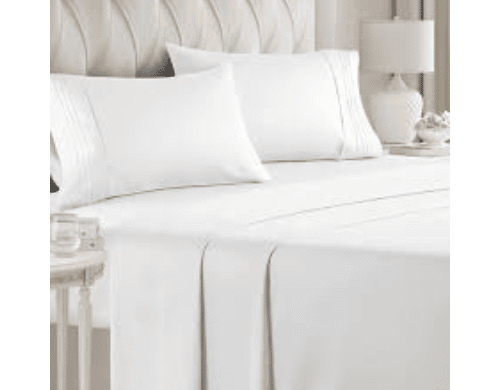 Made microfiber material making these bedsheets is pretty sturdy and durable.
Searching for high-quality, comfortable, breathable, hypoallergenic, stylish, and easy-to-clean sheets? Look no further.
These sheets are made of a microfiber material that resists wear and tear. The material, therefore, safeguard your investment since they withstand long-term use and frequent washing. It is also easy to clean and can be washed by hand or using a washing machine.

You do not, therefore, have any reason to sleep on dirty bedsheets once you go for this pick.
Everything We Recommend
Best Pick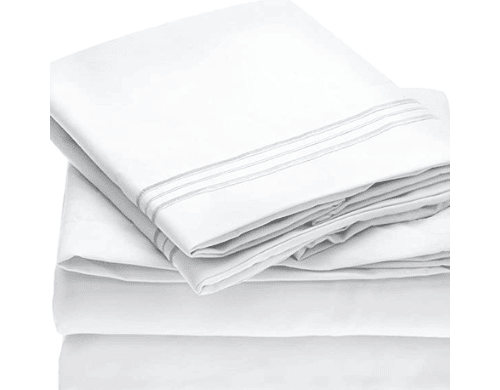 Incredibly soft and thus comfortable against your bare skin.
$34.97
Runner Up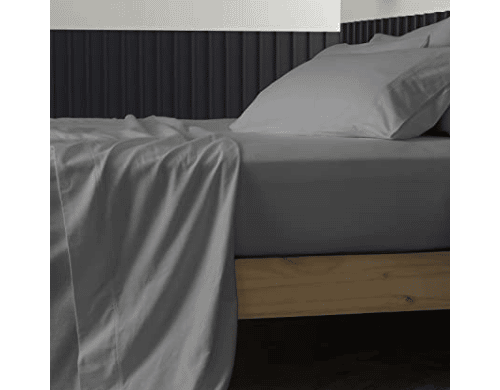 Made of cotton which is safe and easy to clean.
$96.79
Most Cost-Effective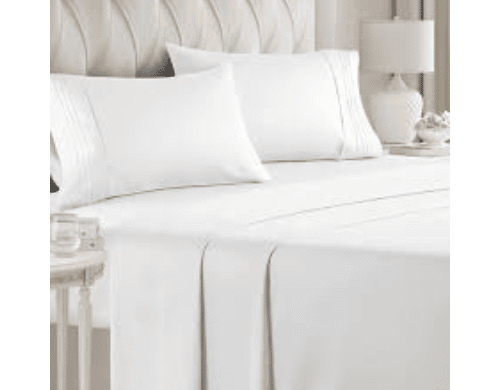 Made microfiber material making these bedsheets is pretty sturdy and durable.
$29.99
Who This Is For
Bed sheets are never limited to a certain gender or age and can be used by any person. They, therefore, make ideal gifts during important occasions or celebrations for all your friends and family.
Bedsheets VS Bed Covers – What's The Difference? 
Bedsheets and bed covers are both types of bedding. However, each one of them performs different functions to improve your sleeping experience. Bed covers are thicker than bed sheets and are used to keep all your bedding protected from stubborn stains.
Although they are functional, bed covers are also decorative and affect the appearance of your room.
While a bed cover is placed on top to protect everything underneath, bed sheets are placed between the mattress and the blankets/duvet. You can also use a bed sheet as a bed cover by spreading it on top of your blankets.
However, since they are thinner, you may have to use more than one sheet to achieve similar results. On the other hand, bed covers can never be used in place of sheets. They are too thick to provide the needed comfort and are not as breathable as bed sheets.
Should I Splurge? Is It Worth It?
We spend most of our time sleeping. Therefore, you must use premium bedding to provide the ultimate rest and comfort. A bed with no bed sheet is uncomfortable since blankets and duvets cannot equal a bed sheet. They lack the level of breathability that bed sheets provide since they are too thick.
Bed sheets are also easy to clean and dry than blankets and duvets. Since they are in direct contact with your body, they tend to capture the dirt and protect the rest of the bedding from dirt. Therefore, bed sheets make it easy to maintain a clean and comfortable bed and are therefore totally worth it.
Why You Should Trust Us
The purposes of using bed sheets are sometimes overlooked, and this is why our review covers their importance. With that said, we have focused on quality bed sheets that will provide the ultimate relaxation. Our picks are determined by the quality of the sheets and are not inclined to particular brands. They are therefore legit and authentic and 100% trustworthy.
How We Picked
All our picks were evaluated to ensure you receive only the best. Our picks varied in their material and we found great finishes like linen, cotton, and microfiber. The material was the biggest consideration since it determines comfort, safety, durability, and breathability. All our picks are made of high-quality materials and are comfortable against your skin.
Moreover, we understand that the design and color of the bed sheets can ruin or improve the decor of your room. The market is also filled with numerous designs and colors some of which are not too attractive. We however chose unisex designs and colors that are simple and go well with any decor.
Additionally, we picked bed sheets available in different sizes. This is because different users have beds of different sizes that require different sizes of sheets. They are also cost-effective and withstand frequent use and laundry.
Care and Maintenance
The common feature that all bed sheets have is that they are simple to clean. You can wash them using a washing machine to avoid struggling with those stubborn stains by hand. Do this by using a gentle cycle with lukewarm or cool water. Once the cycle is complete, use hot air to dry them quickly then fold and store them appropriately in a dust-free and dry place.
To remove stubborn stains, you can use hydrogen peroxide to the stain and leave it for about 30 minutes. Next, dab the blend using a paper towel. Alternatively, you can use club soda or white vinegar instead of hydrogen peroxide.
After cleaning, store them in a clean dry place and avoid any contact with moisture or fire. Moisture can lead to the growth of molds that damage the fabric. Fire, on the other hand, burns and damages the fiber.