The Best Sandals for 2022
You'll probably never need another sandal-buying guide!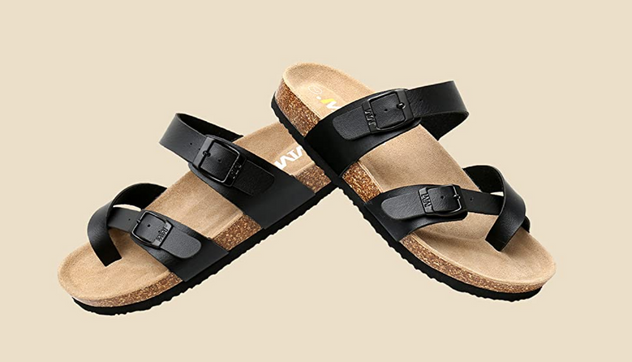 Most people will go shopping for sandals when they begin to feel uneasy wearing closed shoes or when their feet need airflow. However, we advise that you always keep a pair of very cozy and fashionable sandals on hand because you never know when you'll need them. Acquiring a new pair of shoes might present its share of difficulties. Some can be notoriously more uncomfortable, and they also don't usually last, which makes us wonder whether the expense was worthwhile.
We looked through the most popular sandal styles on the web in search of stylish, cozy, and durable options. Here is a review of some of the best sandals for both men and women, along with all the information you require.
How We Picked
Range of Sizes

Sandals come in a wide range of sizes. To have a great fit, you must take your foot size into account before making a purchase.

Material - Comfort and Breathability

Sandals can be made of a variety of materials. It's important to know which materials work best for you or the intended occasion. Comfort and breathability should always come first, regardless of the material.

Style/Design

There is no shortage of stylish sandals. Even better, they come in a variety of designs to match different outfits or different events.

Cost-Effectiveness

You don't need to spend a lot of money on sandals. There are tons of comfortable and durable sandals on the market that don't cost much.
Our Top Picks
Best Pick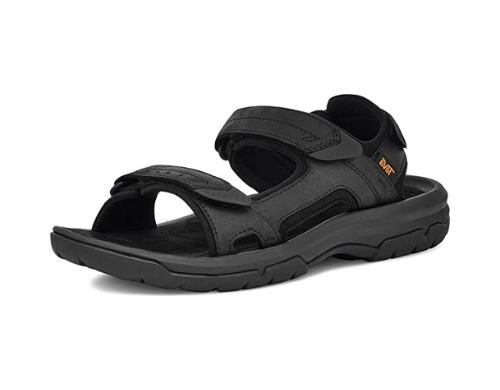 These pair is perfectly rugged for outdoor activities like hinking.
If you're looking for a more classic and comfortable model, look no further!
The leather and cloth used to make the men's Teva M sandals are waterproof. It has three upper straps with adjustable hook and loop closures for a tight fit. Additionally, its platform height and heel are both 1.50 inches. This company remains committed to creating innovative outdoor performance footwear and encouraging an active outdoor lifestyle.
Runner Up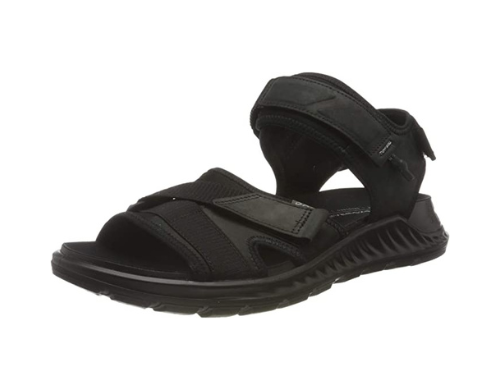 These sandals boasts dependable and secure straps.
If you're looking for a shoe with a cushioned sole that is incredibly comfortable, the Ecco Exowrap Sandals are a great choice.
This shoe has three quick-fastening straps, modest luminous ribbons and embellishments, and practical adjustment. These sandals are both comfortable and fashionable, making them suitable for wearing both in the city and at the beach. Padding for additional comfort, color pops on the ECCO logo. One of the ankle straps and a fixed stretchy panel that crosses the lower strap are also included.
Most Cost-Effective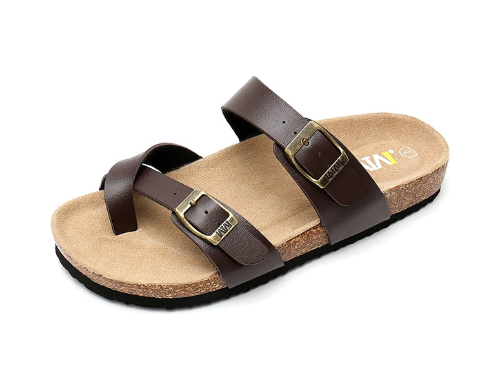 Excellent for daily walking.
The WTW Men's Cork Footbed Sandals are stylishly designed with a strap buckle.
Your daily strolling will be safe thanks to the anti-skid designs on the sandals' outsole, which also boost abrasion resistance. The cork slippers have a wide, soft, sturdy, comfortable, and casually styled footbed. You should choose the correct size of sandals for you based on the size of your typical shoes and the size guide.
Everything We Recommend
Best Pick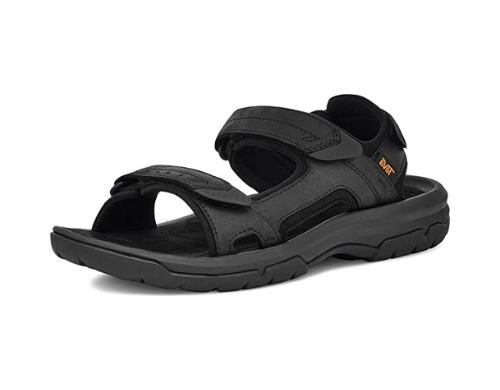 These pair is perfectly rugged for outdoor activities like hinking.
Runner Up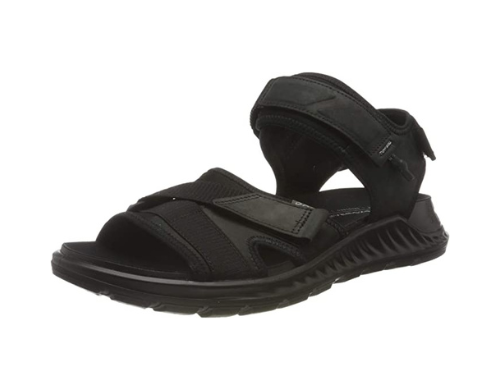 These sandals boasts dependable and secure straps.
Most Cost-Effective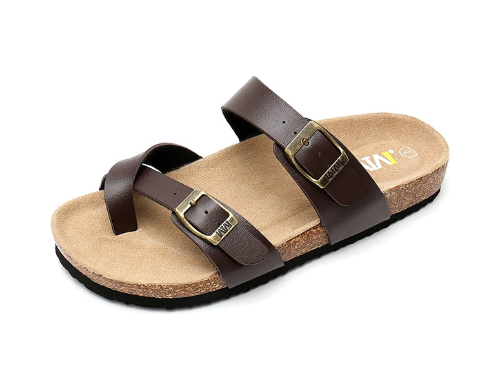 Excellent for daily walking.
$24.99
Who This Is For
The consensus is that a sandal exposes all or most of the foot, so if you believe it's time your feet got the ventilation and comfort they require, you're on the right track. There are many reasons why people could prefer to wear sandals, including comfort in warm weather, cost-effectiveness, and fashion.
What are sandals?
Sandals are an open style of footwear that includes straps that cross over the instep and wrap around the ankle to secure the sole to the wearer's foot. Heels are a possibility for sandals as well. They are most common among populations living in hot regions with abrasive sands and rocky terrain.
What makes a good quality sandal?
Although many factors affect a good pair of sandals, the natural material that was utilized in their production is the most important one. Your sandals' durability and sturdiness are dependent on the material chosen.
Why You Should Trust Us
We are experts when it comes to conducting product reviews and drawing comparisons between goods for related purposes. To identify the most supportive, technologically advanced shoes, we combed through the most supportive sandals available. We then narrowed down which sandals will support your foot health and are affordable by speaking with various experts in the field, leading scientific research, and hundreds of customer reviews. We carefully considered and contrasted arch support, strap placement, breathability, comfort, durability, pricing, design, and other factors.
How We Picked
Range of sizes
The appropriate size that fits the feet is the most important aspect to pay attention to. This is owing to the large range of sizes that scandals come in due to the diversity of different foot sizes. Sandals that are the right size won't be unpleasant. It won't hang loosely or crush your feet. Your feet could swell if the shoe is too tight. Additionally, blisters could develop if the shoes are excessively loose or have too much space on the sole.
Material
Market vendors offer a wide range of products. For those who appreciate tradition, leather sandals are a popular option. Fabric and suede are also great for the feet. There are other sandals composed of rubber and memory foam.
Comfort
For your feet to remain comfy all day, these sandals must be supportive and secure if you intend to wear them for an extended period. Search for footwear with arch support, fully adjustable straps that hold your feet in place, and a sole that is wide enough so that your toes or heels don't protrude.
Fit
Your level of confidence will increase and you'll feel very comfortable when you wear sandals that fit your feet correctly. It's crucial to think about the appropriate sandal size for your foot to attain a perfect or largely satisfactory fit. You will undoubtedly find it upsetting and frustrating when walking if you get a model that is too small or large for your feet.
Breathability
It does depend on the material utilized in the creation of your sandals for them to allow sufficient airflow for your feet. All materials are available for you to choose from. But generally speaking, rubber and foam prevent the feet from breathing. If you tend to perspire excessively, rubber is not an option for you. Make sure to select sandals that allow your feet to breathe. If not, you'll have to deal with difficulties like bacterial growth and smelly feet.
Strap or buckles
For your feet, a strap is advantageous. Many posh sandals lack additional back support. You won't need to worry if you choose a pair with a strap across the back of your feet or along your ankle. Simply check that the strap is not too loose and that the buckles are secure.
Instead of requiring the user to manually tighten the buckle of their straps each time they put on their sandals, the buckle enables quick and simple wear for the user. To achieve the ideal fit, you can make any modifications required. To avoid discomfort or the possibility of the strap coming undone when walking, the straps shouldn't be excessively tight or too loose. Try to find the ideal position to fit securely but comfortably.
Arch support
The arch support in sandals is a crucial component to take into account. Over time, if this area of support is inadequate, you may experience foot issues that can be excruciatingly painful, heel spurs, or even an ankle that is not aligned properly. If you're not used to wearing sandals and decide to go for a pair without arch support, you can find that your feet and legs weary extremely quickly, perhaps developing muscle cramps and calluses from pressure on specific parts of the feet.
Heel support or padding
They offer support and cushioning by being positioned just under the heel. They can aid in the treatment of several heel pain conditions, including plantar fasciitis and prolonged standing. As you go about your everyday activities, they might make your shoes more comfortable. Gel, foam, or another sort of cushioning material is frequently used for heel support and padding. Many pharmacies and shoe retailers sell them without a prescription. To find out if this is the ideal kind of orthotic for you, it is best to consult a podiatrist before buying heel cups.
Style/design
Sandals have been divided into several types, much like any other type of shoe. You should probably accessorize your look with a pair of stylish sandals. But you can't wear the same pair with every single outfit. Therefore, make your choice in line with your preferences. Remember to take color into account as well while choosing a specific style.
Price vs. quality
Price and quality in footwear are unusually inversely correlated in these sandals. This implies that the price will increase as the quality increases. This is because of the type, quality, and style/design of the materials utilized. High-quality models also have a longer lifespan than inferior models. However, it depends on how frequently and for what purpose you plan to wear them. For instance, you would probably require a model with decent quality and appropriate durability if you were shopping for a pair of sandals for hiking.
Durability
Regardless of the use, you must purchase a model that will survive for a very long time. The quality of construction, the material used in manufacturing, and how frequently you use your sandals will all affect how long they will last.
Care and Maintenance
Ensure the sandal is the right size
Make sure the sandals are the proper fit for your feet so you can walk comfortably. When purchasing from a real store, it is easier to find the proper size. However, if you plan to purchase something from an online retailer, be sure to obtain the appropriate measurements before clicking the "order" button.
Checking for adequate padding or support for your feet
Your feet might often become sore from the sandals you wear or from simply walking too much. But regardless of the reason, you need better padding or support. Your feet may suffer, especially in the heel, from conditions like plantar fasciitis. Because the foot's bottom doesn't provide enough support, this problem results.
Preventing sole wear over time
You might consider installing a vinyl sole protector under the sole of your sandals to preserve them from wear and maintain their endurance. All soles, especially flat ones, are compatible with this. If a vinyl sole protector is not available, you can still keep your sole from deteriorating by walking more slowly or dragging your feet while working.
How to clean sandals
Before cleaning your sandals correctly, you must scrub the top and the tread to get rid of whatever loose dirt you can. In a small bowl, combine equal parts of baking soda and water. Scrub the area with a brush until it is completely clean. Next, give your sandals a thorough rinse in a bowl of clean, clear water before letting them air dry in a room with plenty of natural light.
How often to clean sandals
Your cleaning routine is influenced by how frequently you wear shoes and where your feet carry you. Whenever they begin to appear unclean or every two weeks, try to clean your shoes. Cleaning takes less time than regular upkeep.
Where to store sandals
Although there are other ways to store sandals, using a shoe rack or cubby will ensure ventilation and convenient access. Choose a handy location along the wall or in a hall closet next to your front door to set up the shoe rack or shoe cubby. For your shoes to stay dry and odor-free, use a shoe rack made of plastic, wood, or metal that has sufficient airflow.