The Best Roll-Top Dry Bag for 2023
We're reviewing some of the best dry bags available to help keep your essentials dry, no matter the adventure.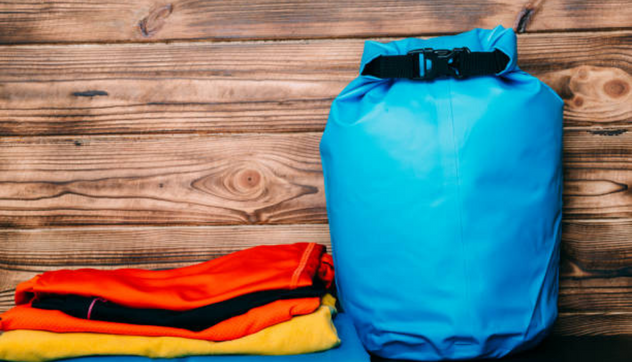 A crucial duty that dry bags have is to protect your equipment. Clothing, sleeping bags, and other supplies must keep dry regardless of whether your raft flips, you fall in a creek, or you are trapped in an unforeseen deluge. If you've ever had your gear saturated while out in nature, you are aware of how challenging it can be on a physical and psychological level. We've been there, which is what motivated us to look for the top dry bags available.
There are several excursions where a dry bag becomes essential, including hiking, canoeing through gorges, hunting with a fourth-season elk permit, carrying emergency supplies, and traveling between national parks on a motorcycle. There are numerous dry bag sizes and uses, so one bag won't work for everyone. In this article, we've highlighted a variety of options to help you find the best bag for your trip.
How We Picked
Size, Capacity, and Weight

A dry bag can range from two to 50 liters. The weight of it varies from 2.5 to 10 ounces, depending on the size you select. When transporting a lot of equipment, size and weight are crucial, but you must exercise caution because the bag gets heavier when it is filled.

Material and Comfort

The two most typical materials used to make dry bags are vinyl and nylon. The majority of dry bags are made of nylon because of its durability. However, some of the larger ones are made of vinyl because it's lightweight.

Durability

Roll-top dry bags comprise a robust, resilient, and lightweight vinyl-coated cloth, ensuring the bag's dependability and longevity.

Cost-Effectiveness

When shopping for a roll-top bag, price is an important consideration. We've made sure to keep it as our top priority when looking for sturdy, well-designed roll-top bags.
Our Top Picks
Best Pick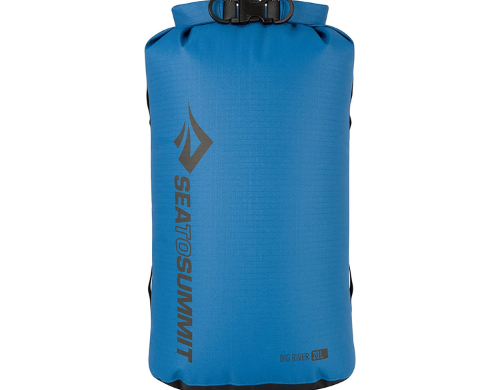 Reliable water protection, inside and out.
The Sea to Summit Big River Dry Bag is an ultra-durable, trustworthy, dry storage option, for all outdoor adventures.
This bag often proves more resilient and water-resistant than many that were designed to handle more significant abuse. The Big River is made from tough TPU-laminated fabric, which is durable and rugged. A roll-top closure prevents moisture infiltration, and an oval base helps keep an upright, stationary profile. It features lash loops for attaching to or stacking with other baggage.
Runner Up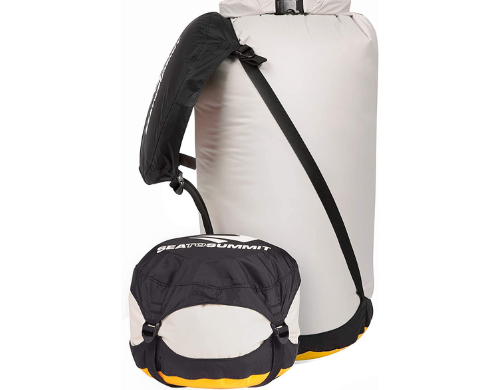 These 30-liter roll-top dry bags with compression straps are pretty adaptable.
The Sea to Summit eVent Dry Compression Sack has a durable, streamlined shape that saves space.
These bags are constructed with a base that is waterproof but air permeable (eVent) and a body and lid made of a durable 70D nylon waterproof fabric. Given that there is no need for a purge valve, these are lighter and easier. The four compression straps have a non-wicking roll-top Hypalon closure. The pinnacle of toughness, adaptability, and compression are these dry sacks.
Most Cost-Effective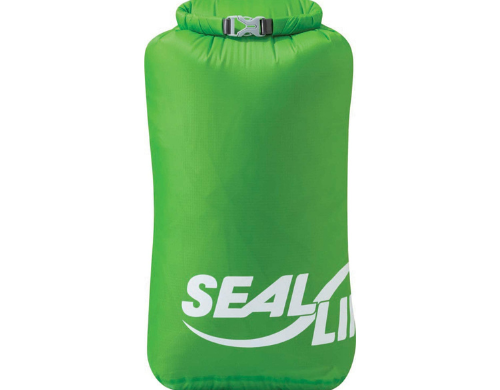 A 10-liter roll-top dry bag that is completely waterproof .
The SealLine BlockerLite Dry Sack has a fully welded seam for unrivaled strength and longevity.
The SealLine BlockerLite Dry Sack Waterproof Stuff Sack is a roll-top dry sack that is completely waterproof and light enough to pack in backpacks and duffels for hiking and paddling trips. Compared to sewn-and-taped seams, fully welded seams offer unparalleled strength and longevity, and the 20-denier silicone and polyurethane-coated nylon offer dependable all-around waterproof protection while hardly tipping the scales.
Everything We Recommend
Best Pick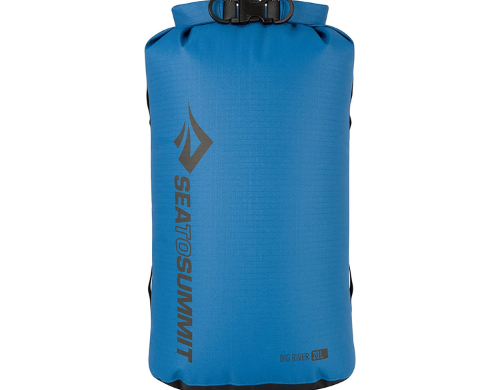 Reliable water protection, inside and out.
$33.71
Runner Up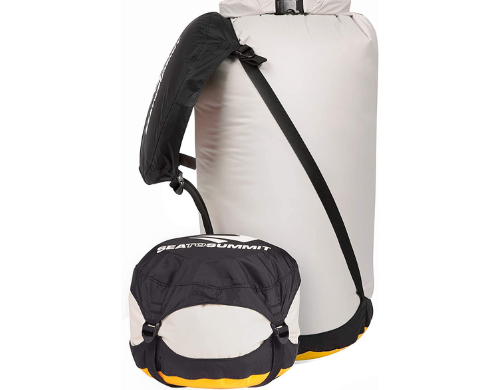 These 30-liter roll-top dry bags with compression straps are pretty adaptable.
$39.95
Most Cost-Effective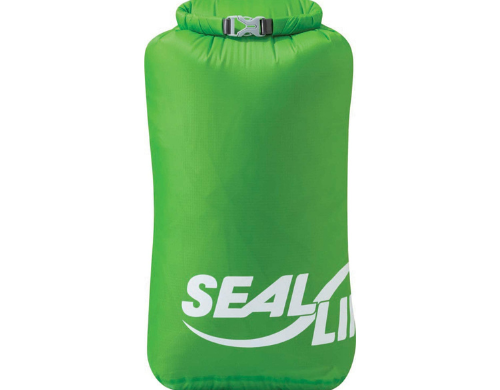 A 10-liter roll-top dry bag that is completely waterproof .
$21.95
Who This Is For
Dry bags are ideal for kayaking, canoeing, rafting, canyoning, and other outdoor activities where sensitive items would otherwise get wet, as well as extreme sports like skiing and snowboarding. These backpacks are often made of strong fabric that can survive being pulled over rocks and flung around in whitewater. Due to the fact that you don't have to carry the bag on your back, its weight is usually of less importance.
What is a roll-top dry bag?
A dry bag is a very helpful possession, especially if you engage in water sports frequently or spend a lot of time outdoors in the rain and don't want your equipment to become wet or suffer water damage. Because dry bags are totally waterproof and offer complete water protection for all of your goods, you may unwind when trekking in the rain, sailing a boat, or paddle boarding around a gorgeous lake in the Swiss Alps, for instance. Dry bags make it simple to reduce unnecessary backpack volume by rolling up excess fabric when the backpack is closed. This aids in the compression of your load by making it less bulky and more compact.
What can I use a roll-top dry bag for?
While dry bags can be extremely versatile, their primary function is to keep all of your gear dry. They must be durable and submersible when camping, hiking, or kayaking. Because of the way they are secured, dry bags provide a watertight enclosure. Instead of a Ziploc-style closure, the bag is secured by rolling down or dog-earing the top at least three times before clipping the buckles together. A dry bag can be used to keep anything critical dry and safe, as well as dry socks and a change of clothes. Some dry bags have outside compartments for smaller items. This is convenient when you need to know where something is, like keys, sunscreen, or lip balm. It can also be used as a pack liner. A fully-featured waterproof rucksack can be more expensive, heavier, and less adaptable than a large, lightweight dry bag; however, the latter may be the better option if you're intending on a spectacularly rainy journey. A large, lightweight dry bag can make your favorite backpack 100% weatherproof.
Roll-top dry bags can be a very useful organizational tool. For storing inside the main liner bag, think about utilizing various-sized, extremely light dry bags. In addition, if you're bivvying, hammocking, or wild camping in a one-person tent, the large dry bag liner can provide additional weatherproof storage space to put clothes and other items in overnight. Again, setting up camp in poor weather is easier if you can keep things in dry bags until needed.
Dry bags can also be used as floats. You can put your clothing, shoes, and valuables in a dry bag, add extra air to it, seal it, and use it as a tow float if you need to cross a river while hiking or if you enjoy wild swimming and want to swim a section of water before continuing on your journey without stopping to get your stuff.
Need a pillow when outdoors? Simple! Just stuff a small or medium dry bag with fleece or other soft garments, and you have a cozy camping pillow that allows you to doze off carefree.
Dry bags can act as buckets or wet bags. Use dry bags to store soiled and wet clothes in order to keep them separate from the fresh, clean items in your pack. Dry bags are waterproof and can keep fluids in as well as out. Even thicker dry bags can be used to wash clothes by filling them with warm, soapy water first, followed by the clothing you want to wash.
Why You Should Trust Us
Along with careful research, we enjoyed testing these dry bags. Our criteria included adaptability, extras like pockets and padded straps, simplicity in the closure, comfort in use, ergonomics, waterproofness, and durability across a range of sizes and price points. In our search for the best dry bags on the market, only the top-rated, most popular, and best-selling dry bags were considered.
How We Picked
It's not a decision you should make immediately based on your specific needs. A few key factors are crucial to the entire procedure in order to get your hands on a top-notch dry bag that offers excellent comfort, durability, design, and other features that can simply make your journey more enjoyable. Dry bags exist in a great variety, despite their apparent simplicity. Every design fits certain outdoor requirements, water activities, and individual tastes. When choosing the top dry bags for you, the following factors were considered:
Fit and Size
The form, size, and straps are some of the main aspects to take into account while selecting a dry bag. How far will the bag need to be transported, and will it fit where it needs to be stored? Is the carrying system comfortable for the bag user while the bag is loaded? A snag is less likely to occur because some larger dry bags feature removable backpack straps for easier hauling. It's important to think about how easily the bag can be flattened, packed up, and stored after use — especially for people without a garage or a lot of storage space.
Price/Budget
You must decide on your budget before you can even begin to think about which dry bag to pursue. As straightforward as it may seem, it is nonetheless crucial. The likelihood of overpaying typically doubles or even triples if you neglect this step. If you truly want to acquire a high-quality dry bag, be sure to specify a price range within which you can work in order to get the most out of your shopping experience.
Capacity
You also need to pay close attention to the capacity of your dry bag, which is a very important consideration. Consider the following questions: "Would I prefer to go on my outdoor experiences for at least seven days, or am I just planning quick trips lasting one to three days?" If the latter, then you should choose a larger size, preferably 30 L or more, but you can manage with a 10 L or 20 L dry bag for shorter journeys.
The material
After that, you must examine the available resources. There are many "durable" materials available on the market today, but vinyl, PVC, nylon, or TPU are the real deal. For one simple reason, they will last you longer than ordinary backpacks made with typical materials. Choosing the proper materials is crucial for your bag.
Extra Storage
Examine the increased storage as well. Furthermore, it is convenient if a dry bag has an additional front or side mesh pockets where you can store essentials or personal items and have quick access to them. Water bottles typically use side mesh pockets the most, whereas items like knives, flashlights, wallets, and phones are best stored in front zippered pockets for easy access.
Strength of straps
It is essential that the material, straps, lash points, and handles of the dry bag last. Look for the second layer of tough, waterproof material on the bottom of the bag and in other high-use areas. Hard or soft lashing points are available, and compression or carry straps are among the options. We dragged the bags over grass, soil, roots, and sticks, as well as through some brush, to test their tenacity. Then, for much longer than any normal person would attempt or even accidentally do, we dragged the dry bags across concrete and asphalt to stress them. Everything besides the concrete and asphalt only caused minor scratches and abrasions to the bags' integrity. Even the thinnest material from SealLine and Sea to Summit passed this test without tearing or even stretching. What stands out about dry bags is the extra-long and strong strap, which is also extendable and adjustable so it can properly match your body curve, making your excursions more pleasurable and hassle-free.
Waterproof
The material used to create dry bags is completely waterproof. A material that will prevent even the smallest drop of water from passing through if kept in the water for a month. These "waterproof" fabrics that breathe (GoreTex, etc.) are not waterproof because even the best waterproof material that breathes can only stop water temporarily and under specific circumstances. Real waterproof materials don't breathe and have no holes at all. Laminating the fabric with PVC generally closes all the holes completely. Premium dry bags typically feature 500-D lined PVC tarpaulin, which is strong, durable, and easy to maintain. Most thin, light-dry bags are made of nylon fabric. Nylon dry bags only temporarily resist water since this material absorbs it. Instead of being used as standalone items, these thin bags are typically employed to add protection inside backpacks, duffel bags, etc. A decent dry bag can be fully submerged underwater several times for only a few seconds at a time. For this reason, they are ideal for kayaking and other water sports where brief immersion times are required.
Comfort
Dry bags can be divided into two categories: those meant to be stowed and those meant to be worn as backpacks. All dry bags have a handle, strap, or harness of some kind, but frequently these are single cross-chest style sling straps that are uncomfortable to wear for an extended period of time; these bags fall into the first category and are primarily designed to be tucked away into a kayak, canoe, sailboat, or other watercraft. On the other hand, backpack-style bags can be worn for extended periods of time with some degree of comfort, especially since the majority of backpack dry bags have both waist and shoulder straps.
Care and Maintenance
Despite the material's sufficient durability, the dry bag will likely run into rocks or become entangled in tree branches. It is difficult to heal tears or abrasions, and this could compromise its waterproofness. To ensure a longer-lasting effect, proper use is important.
Check the strength and adjustability of the straps when carrying
The adjustable shoulder strap allows you to wear the bag across your body or over your shoulder. If you don't need to carry the bag, you can quickly detach the strap using the two clips. For example, you might put the strap in a larger bag to safeguard some devices.
How to wash
You can simply scrub your dry bag with mild dish soap and water to clean it off. To flush out bacteria and other food particles that can build up over time on your bag, more water and scrubbing are more crucial than soap. Use baking powder and white vinegar directly on the stain or smell to remove it from your dry bag. This solution will mask the smell of the fabric. Always wipe down your dry bag with a towel after washing it and let it air dry while standing up in an area with excellent airflow.
How often to wash
Your bag doesn't need to be washed after every trip, but it is a good idea to wash it at least once a year. You might wish to wash your bag more frequently than once a year if you use it more often. Before storing your luggage for the season or for an extended period of time, it should be washed and cleaned. If the bag is placed in storage without being thoroughly cleaned first, body oils and other greasy residues will remain on the materials and fibers.
Does washing my dry bag weaken the material?
There is a lot of fine-grained sand suspended in the water, but you can't see it because of how fine it is. All those tiny fragments have the potential to penetrate your bag's fibers and erode the waterproof coating. Every time you use your dry bag, make sure to completely wash and dry it inside and out to increase its lifespan. But clean it sensibly, the same way you would clean water bottles.