The Best Robotics Kits for Novices for 2023
A beginner's motivational tool for creativity and first-hand coding experience.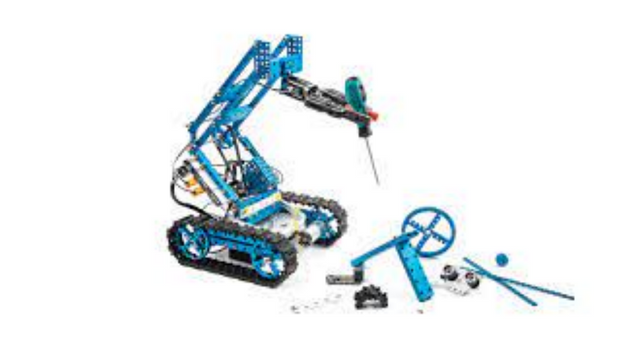 For anyone interested in robotics, programming, or coding, the STEM field has opened up a world of limitless possibilities. While robotics may appear to be a first-century puzzle, robotics kits are designed for beginners to solve these puzzles by simply putting them together, connecting various pieces, and creating fantastical creatures. With the help of these kits, you can take an instructive and gripping first step into the STEM sector.
As a beginner, it is better to consider your preferred coding style when selecting the robot kit that would work best for you. We know that every robotics kit on the market has distinct hardware components and requirements. We conducted extensive research to determine and compile this list in accordance with beginners' needs and preferences, taking into account various price ranges that are suitable for you.
How We Picked
Ability to Build and Program

We experimented with unique feature programs and innovative build models that let beginners construct their own gadgets.

Clear Instructions and Support

We examined 360-degree views with a step-by-step manual. The animated robotic kits include simple, full-color building instructions and time- and money-saving assistance.

Versatility

These mechanical kits enable you to construct different automated systems by assembling various robots using the same and different pieces from various robot configurations.

Price

These robotic kits provide all the advantages at a far lesser price. We concluded that purchasing these particular ones will provide you with access to all the essential elements in a starter robotics kit.
Our Top Picks
Best Pick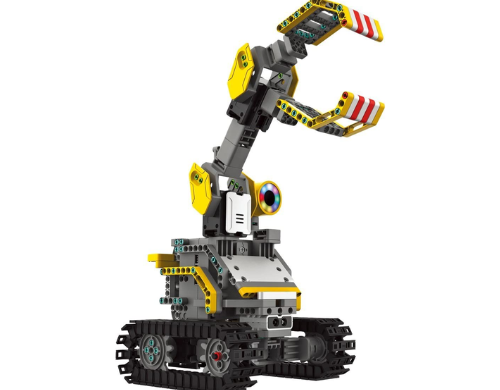 This interactive buildable kit has everything you need to create your own robot.
The Jimu robot is a robotic building system that anybody can use to construct custom models or original ideas, program and code to move with any smart device, and improve their STEM abilities for use in schools and daily life. With genuine robotic servo motors, absolute robotic sensors, and actual robotic code, the Jimu robot engages children in actual robotics.
Jimu Robot Kits are interchangeable; you can mix and match kits and build your own custom creations!


Runner Up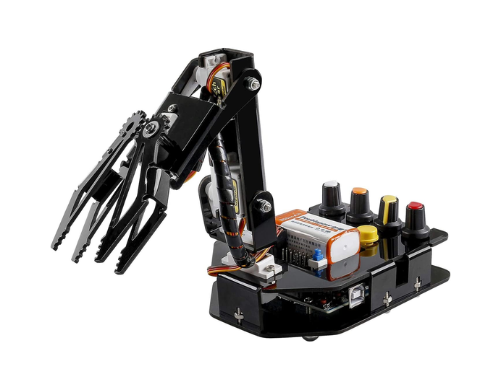 This interactive learning robot kit for beginners makes it easy to learn visual coding, robot building, and programming.
The Rollarm Kit, compatible with Arduino R3, is made for average hobbyists to learn robot arm control. The robot arm is simple to operate and a lot of fun thanks to the open-source MCU that is compatible with Arduino R3 and a servo extension board. You can use the buttons on the device to move the axes manually or with a computer. It is a fantastic tool for repetitive activities since it can memorize the movements it makes and repeat them over and over.
This kit is built with a 180-degree base rotation, a 180-degree elbow range of motion, and a 180-degree radial wrist motion.


Most cost-effective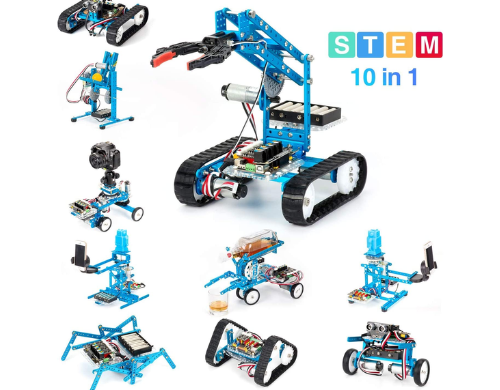 A 10-in-one powerful motivation kit for real-life programming experience.
This is a sophisticated robotic kit with more than 160 mechanical components and modules that have a wide range of functions and excellent interoperability. It makes learning about mechanical structures, electronic modules, and programming skills simple, whether you're a Raspberry Pi or Arduino enthusiast, a mechanical or electronics engineer, a teacher, or a student.
With the free Makeblock programming software, you can easily drag-and-drop blocks to create programs for your ultimate educational toys.


Everything We Recommend
Best Pick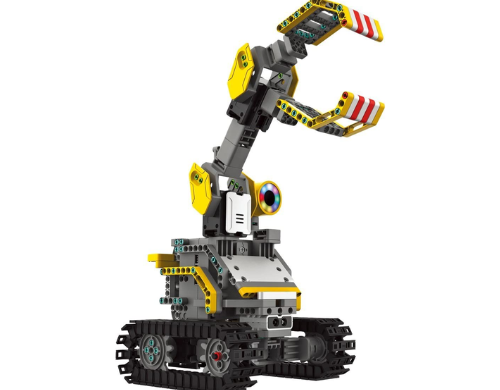 This interactive buildable kit has everything you need to create your own robot.
Runner Up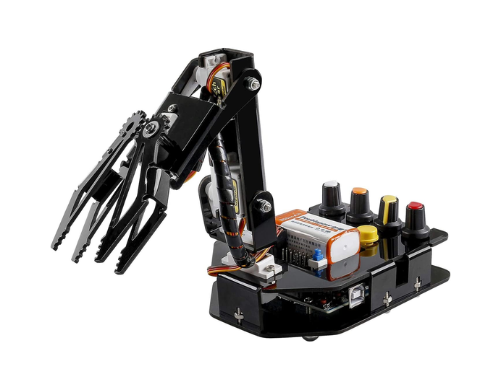 This interactive learning robot kit for beginners makes it easy to learn visual coding, robot building, and programming.
$59.99
Most cost-effective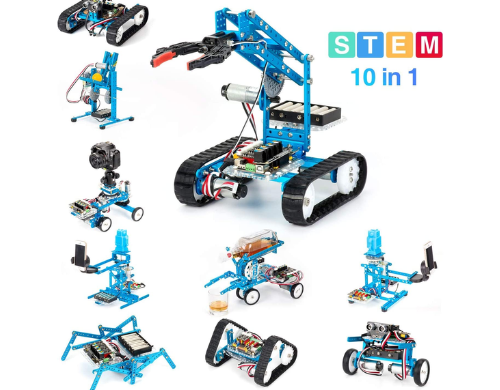 A 10-in-one powerful motivation kit for real-life programming experience.
$399.99
Who This Is For
The target audience for these robotics kits is beginners who want to start building robots but lack programming knowledge.
Soldering vs. non-soldering
Robots are either connected automatically or are not. Robotic soldering kits are increasing productivity and speed by automating the soldering procedure. Soldering robots are faster at completing tasks than non-soldering robotics kits, and they don't need breaks, holidays, or to take time off for eye strain or weariness. Soldering robots can therefore run continuously if necessary, improving production.
The biggest issue with soldering, however, is the skin contact and rosin fumes, which can be avoided by only soldering infrequently and in a well-ventilated area. However, non-soldering could seem unnecessary until you unintentionally break some wires and can't stop. The wires and sockets can accidentally detach from the main PCB, requiring basic soldering. You can avoid continuously running to a specialist to have anything soldered correctly when you know what has to be repaired and soldered.
Is it worth it?
These robotic kits are necessary if you want to enjoy the thrill of creating a robot from scratch. They are made to operate in conjunction with your programming. You will also need to use the robotic kits to put together additional robots from kits of parts, just like many industrial robot manufacturers do.
Why You Should Trust Us
To test the various kits with the instructions that came with them, we collected our best tech robot enthusiasts and curious newcomers. We measured the build time and determined if beginners could use them to construct from scratch in about two hours. We were watching to see if they were enjoyable to deal with or if they frustrated a novice. Additionally, we followed the steps to create a simple program after downloading the necessary desktop software, smartphone apps, and tablet apps for programming each robot.
How We Picked
Over 14 kits were chosen, and we thoroughly tested them using the criteria and variables listed below.
Ability to build and program
Each building stage's level of difficulty was considered, assessing whether it would be more entertaining for beginners in particular and whether the programming languages they used would be flexible. It allows beginners to assemble their construction blocks, create, and program capable robots while continuing to engage in their own creative hobbies in only a few short hours.
Versatility
Robotic kits that can be built in numerous ways were examined and chosen. They are perfect since they provide the most alternatives and can fit a variety of projects. These kits can be constructed into a multitude of different builds with enough parts and components, a high-quality kit, and the programming languages Python and Scratch.
Clear instructions and support
These kits include comprehensive assembly instructions, programming manuals, educational recommendations on different coding languages and topics, and more to aid in more effective learning of robotics and S1 functions. With their straightforward programming environment, even non-readers may utilize and benefit from it, thanks to the visual tutorials. They are given detailed instructions.
Price
We also took the price into account and found that there were robotics kits available for just about any budget. When the price difference is not too considerable, we discovered that sometimes cheaper robotic kits might prevail. We also verified that each price was reasonable and correct thanks to additional client feedback
Comprehensive set
These packages provide everything you require. You may keep returning to the project and creating new and more complicated robots each time because they come with enough pieces to create several different robot combinations. If you get bored with the crafts provided, there are loads of other internet projects that these kits might help you try.
Durability
We ensured to test and choose robust and long-lasting robotic kits with metal bodies, anodized aluminum body parts, and pure metal bottom plates. These kits come in a variety of stylish and sturdy configurations.
Care and maintenance
How to clean
Keep the robot's arm and base clean. It's not advisable to spray high-pressure cleaning solutions directly onto your kits. Remove any grease you discover with care. Use acetone, a strong solvent. To prevent creating static electricity, avoid wiping non-conductive surfaces like hoses, equipment, and sprays with a dry towel. Regularly clean the hollow wrist to avoid dirt and debris buildup. To clean the hollow wrist, use a lint-free cloth. After cleansing the wrist, a little vaseline or another comparable product can be applied to the wrist's surface.
How to store and where when not in use
Every single type of robot kit manufactured will have its unique maintenance schedule, and you need to consider maintenance factors when doing routine inspections. Every pendant, as well as the over-travel restrictions, should be checked on a regular basis. The external bolts should also be adjusted. The robot should occasionally be cleaned of chips and debris. Additionally, inspect the controller cables, cable connections, power sources, and safety equipment; replace them as necessary; and regularly test the batteries in the controller and robot arm. Blow compressed air into vents and cooling fans; next, replace filters; finally, clean light curtains and sensors.