The Best Ring Light for 2023
Use ring lights to create quality content for your socials and vlogs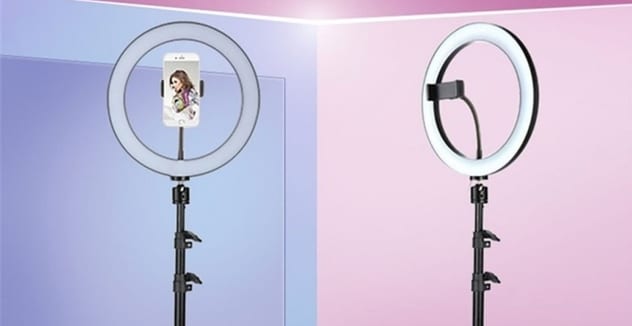 Nothing gets you more likes and engagement on your Vlogs and socials like a clean clear quality shoot! And even with the best phone camera making high-quality video needs good lighting (photographers will agree) and that is why the need for ring light is through the roof!
Whether you want to create for TikTok, go live on Instagram, have a virtual meeting, or create videos for your vlog, the ring light is a must-have! The good thing is they are available everywhere, the sad thing is there are a lot of cheap subpar products all over as well.
That is why we have looked for features you need, and features that make a ring light worth the buy, like the ease of use, sturdiness, light adjustability, color temperature, and more. We have put all this into consideration and provided you with the best ring light options in the market!
How We Picked
Bulb Type

It is important to know what kind of bulb is used to make a ring light either LED lights or fluorescent lights. Both have their unique advantages but we prefer options with LED bulbs.


Size

Size is very important when looking at a ring light, for the best results for your video quality a reasonable size would be a 12-inch ring light.


Adjustability

The versatility and adjustability of the ring light are also important when considering the angles or heights you might want to be shooting from.


Cost-Effectiveness

With so many subpar ring lights in the market, one could buy a ring light for a higher price that won't be useful. Here we looked for brands with great value for a great price.
Our Top Picks
Best Pick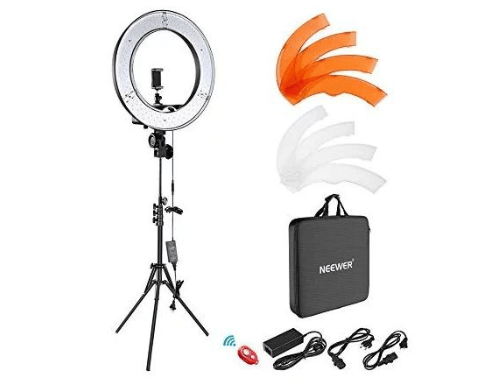 180° angle adjustability to take clear video
Comes with a light stand carrying bag.
This pick comes with two color filters (white and orange) allowing you to switch color temperature to help balance how the video looks. With a wide range of Brightness and angle adjustability with 240 LEDs, this ring light is best for quality videography.

Runner Up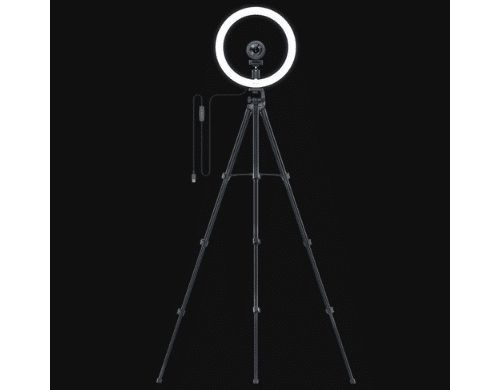 2-inch ring light to illuminate your Tiktok and YouTube videos
Includes tripod, phone and webcam mount.
This 12-inch Ring Light houses 192 LEDs with a customizable light spectrum that allows you to choose between a warm, balanced or cool light tone to enhance your overall look. Best for home studio setups.

Most Cost-Effective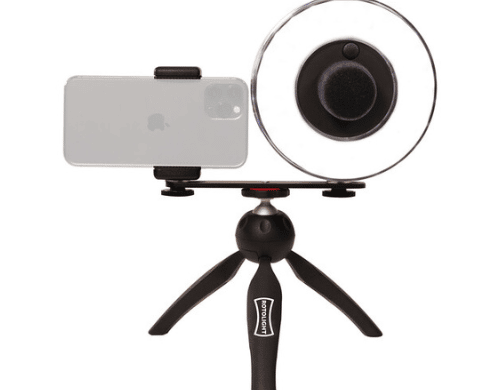 Complete ring light kit to get your vlogging journey started
Effortlessly create great looking videos with the Rotolight Ultimate Vlogging Kit.
Powered from 3 x AA batteries this pick would last you up to 4 hours after one charge. This ring light also allows you to adjust the color temperature to suit your desired effect, with the filter located inside the casing. A perfect pick for vloggers.

Everything We Recommend
Best Pick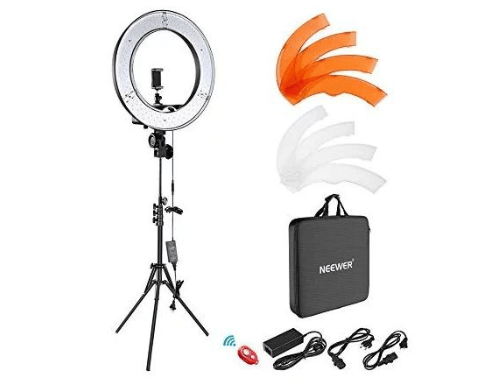 180° angle adjustability to take clear video
$112.99
Runner Up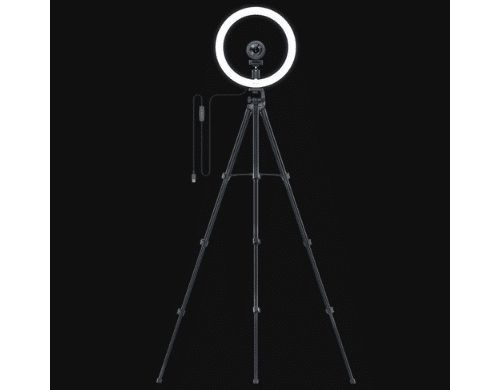 2-inch ring light to illuminate your Tiktok and YouTube videos
$79.99
Most Cost-Effective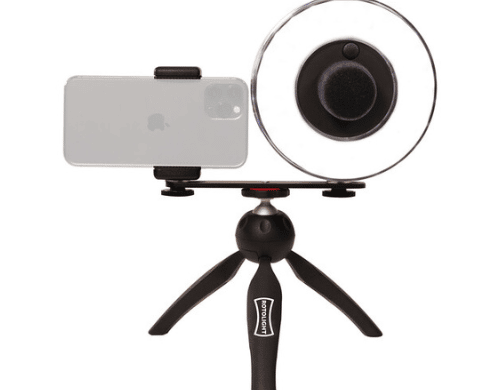 Complete ring light kit to get your vlogging journey started
$69.00
Who This Is For
This review is for you that want to look a lot better in your pictures or videos. It is also for you looking to start your vlogging journey, whether on TikTok Instagram, or YouTube. It is very ideal for you looking to up the quality of your videos in your virtual meeting too.
This review is perfect for you with a small-medium size setup providing you with the best options, so you can make an investment you would enjoy using!
What Are Lumens And Color Rendering Indexes?
When looking at the specifications of your ring light of choice, two factors to understand when trying to know how good a ring light is are the Lumens and Color Rendering Index. Lumens, represented as lm, refer to the actual amount of light coming from a lamp. The higher the number of Lumens, the more "lit up" an area will be.
The Color rendering index (CRI) refers to how well the lamp will reproduce colors. Lighting sources with lower index, such as low-pressure sodium lamps (CRI 20-30) tend to wash out colors this is why a cloth could look different inside a room and appear a different color outside. So to get vibrant and natural skin tones you should look for ring lights with a high CRI of 90 or more. The closer you get to 100 (the perfect CRI) the better!
Benefits Of Different Sizes Of Ring Light
For ring light think — the bigger the better. The wider the size of the ring light, the softer and more satisfying the quality of light it delivers. When making this list of the best ring lights, we generally looked for a minimum size limit of at least 12 inches in diameter for our top picks as this they have shown to be the most useful and effective.
However for you with a more mobile need for easy movement and simpler use, we looked for ultra-portable choices — this means the ring light would be positioned a lot closer to you to produce a quality image. Larger ring lights will produce a more flattering look as the larger light source surrounds you or your subject better and also gives you a greater working distance, so you don't need to position it as close to your subject.
Why You Should Trust Us
To find the best ring light, we researched ring lights from trusted and verified brands, and user reviews, and compared values across considerable prices. We looked for ring sizes ideal for small-medium setups, considering your budget, needs, and specifications (battery life and portability). Plus, we want to be a small part of the reason why you look better in your videos and your vlogging journey is a success!
How We Picked
Bulb Type
In general, there are two types of bulbs a ring light could have — LED lights or fluorescent lights. Both have their unique advantages but we prefer options with LED bulbs for the following reasons. Fluorescent lights seem to produce better lighting than normal house bulbs (incandescent bulbs), however, LEDs are better at converting electrical power into light.
Also for continuous use and mobility LEDs are less fragile than fluorescent tubes. LEDs are likely to withstand some rough handling. When fluorescent tubes break, it releases the toxic mercury they contain. Another win for LED. And finally, fluorescent tube lights need a steady electric outlet. But LED ring lights can be used with a power adapter or with batteries.
Power
The amount of wattage it takes to ignite your ring light to its best capacity is also very important when considering which ring light to go for. Depending on what you want to use your ring light for, and your intended use, the ring light uses between 5 W and 75 W of power on average. Battery and USB-powered ring lights (smaller ring lights) usually need lower power (5 to 10 watts).
While Studio-grade ring lights that use power adapters may consume up to 75 W to give the full light output possible. However, depending on the actual number of LEDs inside the ring light, it could need more power than its size.
Battery Life
When getting a portable option for your vlogging and video call, the battery life of your ring light is a major factor as you need a ring light with a lower charging time that works for a longer time.
Here we considered brands that have proven to provide strong battery life.
Another thing you might be worried about is whether to go for cord or cordless options. During our research, there was no real difference between the output of both so any choice you go for here is great.
LED Strength
This is a very important feature to have in mind when you are considering how low or bright a ring light can go. Here we preferred options with more levels of brightness adjustability, however, this is easily seen in more expensive larger options.
Also, the amount of LEDs affects how well spread and possibly how bright the light is. We try to include products with plenty of LEDs for this reason.
Light Dimming
A good number of ring lights are dimmable, but the cheaper options might not offer adjustable color temperatures. And this is a key factor to keep in mind when looking for something with a wider color temperature range (color temperature refers to the intensity of the light).
Colors
If you need crazier more sophisticated effects on your videos, this is very important to look at. Here we considered ring lights with the provision of cool or warm lights or offered both and a combination of both. However, for something more, you can trust the brands listed to have solid options for you!
Size
Size is always important when looking at a ring light, so depending on your need we have provided options to suit you. For options, you can take on the road, small and portable are perfect for you. Bigger sizes are ideal for you with a more permanent or stable setup like a studio or have more space to spare
Adjustability
The versatility and adjustability of the ring light are also important when considering the angles or height you might want to be shooting from. Here, we provided options that can meet your major needs however you can change your setup to achieve your desired goal.
Price vs Quality
Like most things photography, the value you get is highly influenced by price and worse is that you could buy a ring light for a higher price, and won't even be qualified enough. That is why we considered trusted brands and looked for brands with great value for a great price. This way you are sure you are getting your money's worth.
Style/Design
You would love a ring light that looks nice and matches your interior decor. But usability is more important. The best bet is getting a ring light that will stand strong on your table or anywhere else you intend to put it.
Additional Features
Are additional features essential? Maybe. Depending on your need you could look for something more within the brands we suggested. However, this list is for you to get started with your vlogging or photography, and additional features might be confusing or simply unnecessary at this point. Plus they come with more expensive options.
Care and Maintenance
Cleaning Ring Light
Use a dry clean fabric to clean your ring light, most stains will go away and you can dampen the cloth to clean tough stains.
Setting It Up Safely
After unboxing your ring light, and it's up and ready, the first thing is to plug it into the power supply outlet. Next, you place the camera in the middle of the ring light and check positioning and reflections.
Once it looks good, you then move to set the color temperature and change the brightness to suit your needs. Easy peasy!
Charging If Cordless
Remove the battery by pressing the release tab. Connect the orange micro-USB charger to the charging port in the battery. During charging both the red and green lights will light up. Your battery is fully charged when the light on the battery shines a solid green.
Always avoid liquids near electrics.