The Best Rice Cooker of 2023
You can now cook your rice to perfection thanks to these top-rated rice cookers.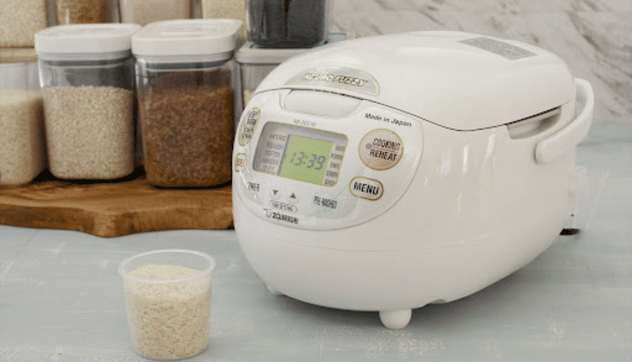 If you're a lover of eating rice, it's only natural that you find ways of cooking it to perfection. Just as the name implies, rice cookers are kitchen appliances used to cook, boil or steam rice.
When you're daydreaming about the perfect rice meal and preparing to cook it in a pot or another method you're used to, you have to consider the right amount of heat, time, and space you'll need to get it just right. Rice cookers are specifically designed to alleviate this stress. They come with advanced technologies and size specifications. In true National Today fashion, we bring you the best rice cookers in the market, giving you one less decision to worry about.
How We Picked
Size/Capacity

Whether you're prepping for a solo dinner or a family get-together, your rice cooker should be able to contain the amount of rice needed to feed and satisfy all the mouths at your table.

Strength/Quality of Cook

The goal is to have a stress-free cooking experience with the good old fashion homemade taste. You want to go for a cooker whose attractive features don't take away from the quality of the dish.

Anti-Stick Design

The perfect rice cooker is stress-free till the very end. After enjoying the easy cooking process of the appliance, you shouldn't have to crack your head on getting your rice completely out of the pot without leaving any on its sides.

Cost-Effectiveness

Pricey doesn't mean good quality. We have found the best rice cookers within different ranges to give you top value at budget-friendly prices.


Our Top Picks
Best Pick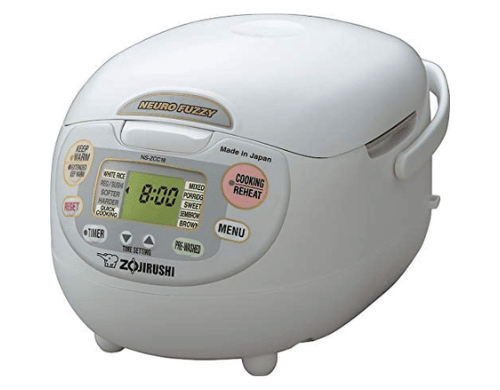 The most talked-about rice cooker with the best features money can buy.
The Zojirushi Neuro Fuzzy rice cooker is a great investment for any rice lover. The rice cooker has a "fuzzy logic" microcomputer technology that makes your rice turn out perfect every time. This cooker also has a feature-rich but very easy-to-use LCD panel.
The Zojirushi Neuro Fuzzy Rice Cooker and Warmer is our priciest pick but it has the best features you would find on the market. This cooker has received praise from several consumers and cooking professionals across the world, and deservingly so. It is popularly known for advanced micom technology which automatically keeps your meal warm after cooking. This cooker is also equipped with a reheating cycle and several menu settings to satisfy your appetite.
Runner Up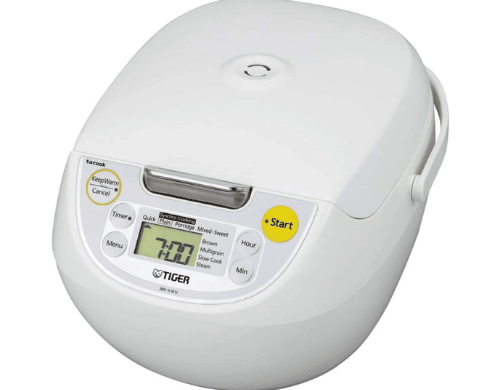 The best pick for cooks that love to serve multiple menu items at once.
A rice cooker is a staple of every kitchen, so if you're in the market for one, why not choose one that can do a bit more than just cook rice? If you want to be able to cook rice, quinoa, porridge, and steam vegetables with just the push of a button, this Tiger JBV-S18U 10-Cup Rice Cooker will have you covered.
We love a good multi-purpose appliance and the Tiger JBV-S Micom Rice Tacook Cooker fits the part. This electric rice cooker is very unique in its design and has an edge over other rice cookers on the market. Tiger's trademark Tacook function allows you to simultaneously cook two dishes without their flavors mixing. This means that with the JBV-S Micom Rice Cooker, you can cook your rice alongside any other dish of your choosing like soups and stews. It also has micom technology that regulates temperatures and cooking time, and the automatic keep-warm function.
Most Cost-Effective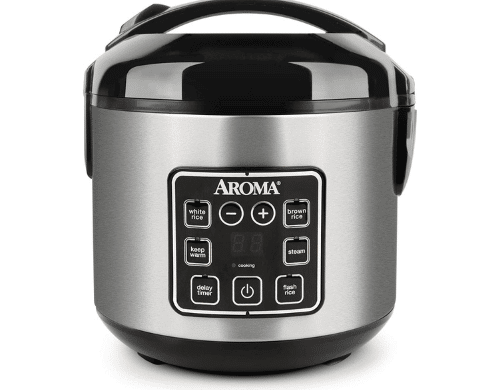 A straightforward, beginner-friendly choice that gets the job done.
An appealing feature of this rice cooker is that it was not designed solely for rice. You can cook a variety of grains, oatmeal, and even soups with the Aroma Digital Rice & Grain Multicooker.
The classic, simple design of the Aroma Digital Rice & Grain Multicooker is one you could never go wrong with. It has a toxin-free, dishwasher-friendly nonstick pot that cooks your rice, accompanied by a steam tray above it to simultaneously steam your vegetables, rice, and other food items of your choice. The standout features of this rice cooker are that it is easy to use, beginner-friendly, and comes with a range of preset functions to aid your cooking decisions.
Everything We Recommend
Best Pick,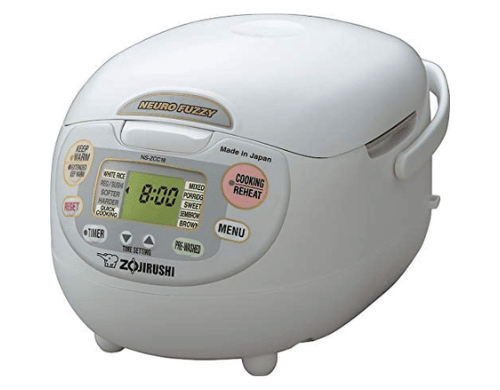 The most talked-about rice cooker with the best features money can buy.
$239.41
Runner Up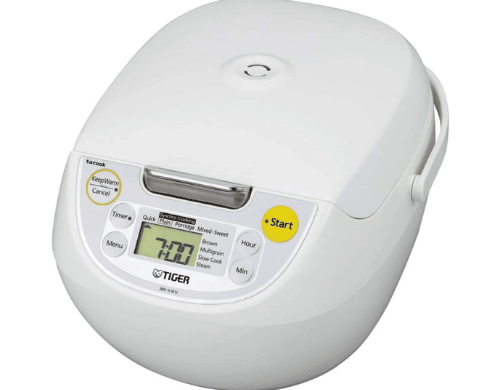 The best pick for cooks that love to serve multiple menu items at once.
$162.99
Most Cost-Effective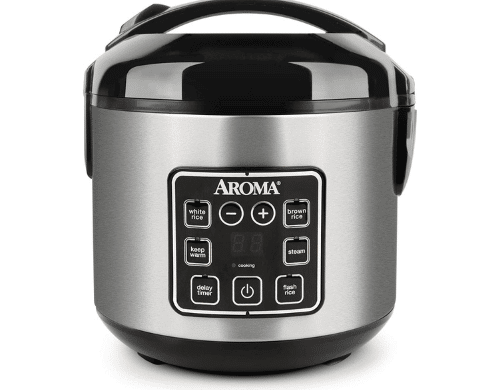 A straightforward, beginner-friendly choice that gets the job done.
$29.92
Who This Is For
Rice cookers are for anyone looking to elevate from the traditional methods of cooking rice. These appliances are for those who want to add some ease to their cooking, as well as consume top-tier, Michelin-Star-worthy rice dishes.
Can You Cook More Than Just Rice In A Rice Cooker?
The great thing about rice cookers is that the best of them can serve as very versatile kitchen appliances. Rice cookers are for more than just rice, allowing you to cook a variety of dishes. You can cook other grains like oatmeal and quinoa on the most basic of them, and the more advanced rice cookers can be used to cook ribs, soups, chillis, and even pizzas. Each cooker often comes with a manual and instructions on food that can be prepared using it.
Why You Should Trust Us
Rice is such a multi-functional food item. It is used to create the best of meals, from sushi to puddings and even your basic fried rice. With that being said, we understand the unbeatable satisfaction that a well-cooked rice dish offers and that is why we have made it our duty to find you the best appliances to cook them with as well. We also understand our uniqueness and differences in taste and made sure to find rice cookers that are perfect for preparing a vast range of rice types and meals.
How We Picked
Just like the dynamic food item in question, there are many intricacies to look at when considering which rice cooker to add to your cart. Here are a few of the major factors we prioritized when selecting our top rice cooker picks.
Size
The goal is efficiency in every aspect, including space management. The size of a rice cooker often lies heavily in its capacity, however, the right appliance should be adequate to feed your family without taking up too much space in your kitchen.
Capacity
As we mentioned in our previous point, your appliance should be able to feed your entire family at least, and if you live alone it should be able to feed you and the few friends you might have over now and then. Rice cookers come in different capacities, with the smallest ones being 3-cup uncooked capacity, and the bigger ones being up to 10 cups. It is advisable to know the sizing specifications for any rice cooker you are interested in and select one based on your needs.
Strength
Your future rice cooker should be powerful enough to take on all the wonderful menu items you plan on cooking if they are listed in its specifications. The best appliances get the job done and make it look easy.
Quality/Thoroughness Of  The Cook
What is the point of getting a rice cooker if its production isn't considerably better than the traditional methods of cooking rice and other dishes specified in its menu list? A great rice cooker produces the best quality of grains and dishes, regardless of the likelihood of human errors. So whether you are cooking single grain rice or brown rice, if it is part of the appliance's functionality it should be able to deliver an amazing quality of cook.
Anti-Stick Design
One of the worst things that can happen when cooking rice through traditional methods is the grains sticking to the sides of the pot when you're done. Since rice cookers were made to ease our rice cooking challenges, the best of them eliminates this fear. This is made possible through nonstick design when constructing the inner pots. That way, we don't have to worry about getting all the grains out when our rice is ready to eat.
Easy To Clean
We all hate what comes after enjoying a delicious meal — doing the dishes — and although this is an almost unavoidable part of cooking, it shouldn't have to be difficult. We selected appliances that make the cleaning task stress free and void of too many hassles.
Easy To Use
One of the pitfalls of technological advancement is the production of more complex devices, machines, and appliances to operate. The best appliance is packed full of functionality and features but is user-friendly and easy to operate.
Price vs Quality
As we touched on earlier, the price of well-made rice dishes shouldn't have us breaking the bank. We should be able to afford top-tier appliances that deliver quality products without going out of pocket.
Style/Design
We all love an aesthetically pleasing product that is easy to use and fits into our kitchen like a pair of gloves.
Material
The materials used in constructing any kitchen appliance, specifically one in which our food is prepared are of utmost importance. The best construction materials are toxin-free, easy to clean, and produce the best quality of cooking.
Care and Maintenance
A rice cooker consists of several components that come together to make the best rice dish for you. For improved durability, it is important to clean all the components of your appliance before and after each use. We have compiled the general ways to go about this, but ensure you visit your instruction/owner's manual for specific guidelines on how to clean your appliance.
Unplug your rice cooker and wait for all its operating parts to cool down before cleaning.
Detach and set aside any removable parts of your rice cooker, including and not limited to, the inner pot, inner lid, steam cap, gaskets, dew collector, steam tray, and spatula. If you're stuck, your instruction manual should indicate procedures on how to go about this.
In cases of thorough cleaning, soak the removable parts for a few hours (two to three).
Wash the parts either using a dishwasher (the majority of them are dishwasher friendly) or by hand washing them with a mixture of dish soap, warm water, and two tablespoons of chlorine bleach.
Rinse and dry them thoroughly.
Remove any extra grains or food items in your rice cooker.
Use a damp towel or cloth to clean the machine by wiping down the inner and outer parts of it. Never submerge your appliance inside water as this can short its electrical circuits.
Wipe the power cord using a dry cloth.
Wait for all the individual parts to dry before coupling your machine back together.
Here are some other important points to note:
Do not use harsh abrasives to clean your rice cooker and its components.
Do not wash utensils or other appliances inside your inner pot.
Do not place the inner pot upside down or on top of other dishes when drying.
Take out your inner pot before putting the water and rice to cook to avoid spillages.
Avoid other possible spillages by any means necessary to protect the electrical parts of your cooker.
Store your appliance in a dry space, away from water-prone locations.
Use your cooker on a flat surface and always handle it with care.