The Best Rechargeable Batteries for 2023
Whether you're traveling the world or just need batteries for the household, the best rechargeable batteries are worth their weight in gold.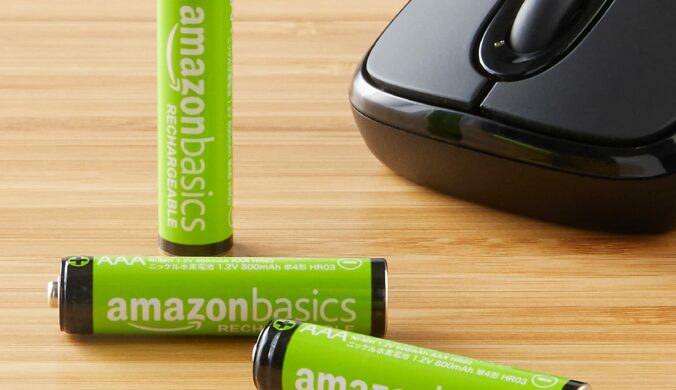 No matter how advanced our world becomes, we still have devices that require regular alkaline. However, it's a big plus that we now have rechargeable batteries. This is such a relief especially if you have several battery-powered devices, or you simply go through a pack so fast. Besides, you don't have to worry about the number of batteries that end up in landfills.
Rechargeable batteries are far better than single-use batteries. Instead of you throwing it out when it powers down, you just need to recharge it and you are good to go. These batteries can be recharged up to 500 times making them super reliable and durable. You can use them for toys, torches, cameras, motorized devices, remote controls, and so on. There are plenty of factors to consider when choosing the right battery for your needs. We've outlined some key points to help you narrow down your options and find the best rechargeable batteries on the market.
How We Picked
Material - Lithium or Nickel

Rechargeable batteries come in two main types: Lithium and Nickel Metal Hydride (NiMH). The two types are good but the Nickel batteries outlast the lithium ones. If you are not using a NiMH battery, they will still retain their charges. On our list, we picked only the best ones that feature Lithium or NiMH.

Voltage

We mentioned that there are two types of rechargeable batteries when it comes to material. Lithium batteries output about 1.5 volts of energy while Nickel batteries output 1.2 volts. We ensured that the picked rechargeable batteries supply enough voltage to your gadgets.

Power

This is an important factor that can't be underestimated. Motorized devices such as electric toothbrushes and remote control toys consume lots of power. And lithium batteries are good for such devices. Lithium batteries charge quickly (two times faster) than most NiMH batteries. All the batteries on our list output sufficient power.

Cost-Effectiveness

The rechargeable batteries on our list promise 100% value. While they cost more than regular batteries upfront, they'll save you tons of money and time in the long run.
Our Top Picks
Our Top Pick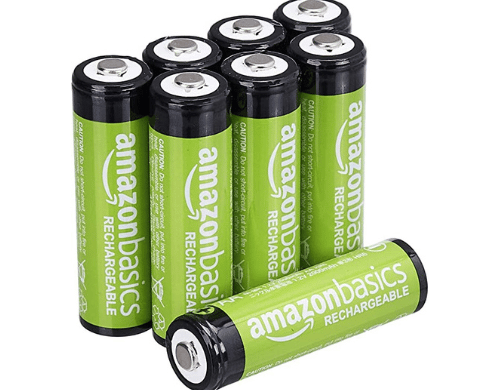 The AmazonBasics rechargeable batteries are some of the most reliable batteries on the market.
AmazonBasics AA/AAA Rechargeable Batteries is a top-rated battery that is made with NiMH. It is usually considered the best value battery by most top reviews. This battery can last up to five years. When you purchase a pack of this battery, you get 16 pre-charged batteries (eight AA and eight AAA batteries) and a charger.
This choice is 100% effective thanks to its Nickel content.
Our Runner-Up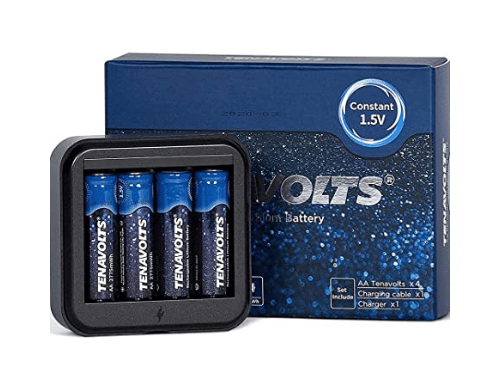 Tenavolts AA Lithium Batteries are long-lasting batteries that power motorized devices effectively.
Tenavolts AA Lithium Batteries, just like every other Lithium battery is excellently efficient for your gadgets. It is a high-energy battery that delivers premium performance in every gadget you use it for. It features 4 AA rechargeable batteries that have 1850mAh capacity. These batteries have a specific charger that can only recharge them.
This pick is expensive but still does its tasks efficiently.
Most Cost-Effective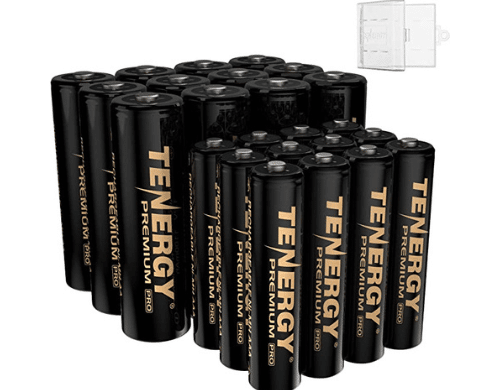 These premium rechargeable batteries from Tenergy deliver 100% value and they retain power excellently.
The Tenergy Premium Pro NiMH AA/AAA Batteries is an affordable and effective battery that powers remote controls and other gadgets excellently. When you purchase this battery, you get 12 AA 2800mAh and 12 AAA 1100mAh pre-charged high-capacity batteries that you can use immediately after purchase.
If you want to power your gadgets without spending much, this is the best choice.
Everything We Recommend
Our Top Pick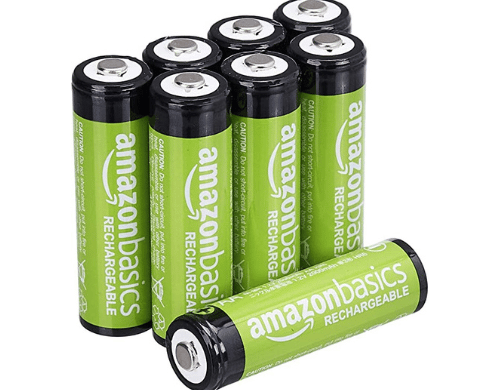 The AmazonBasics rechargeable batteries are some of the most reliable batteries on the market.
$16.13
Our Runner-Up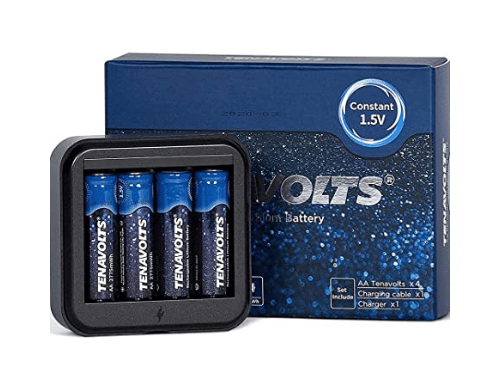 Tenavolts AA Lithium Batteries are long-lasting batteries that power motorized devices effectively.
$34.99
Most Cost-Effective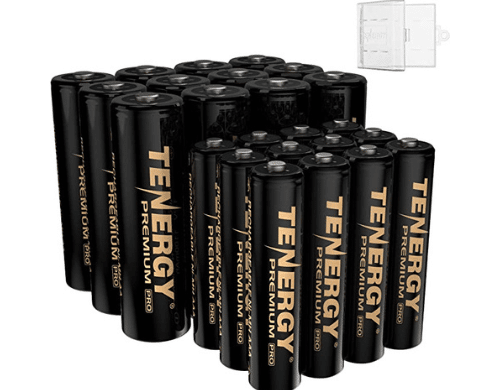 These premium rechargeable batteries from Tenergy deliver 100% value and they retain power excellently.
$42.99
Who This Is For
These batteries are selected for people that want to enjoy more out of their gadgets such as remote controls, cameras, toys, torches, video game controllers, clocks, walkie-talkies, digital cameras, electric toothbrushes, and so on. These batteries are also for anybody that wants to save money from buying disposable batteries at intervals and also for anybody that cares about the effect of these disposable or single-use batteries on their environments. Rechargeable batteries are perfect and don't cause environmental hazards.
Difference between lithium and nickel batteries
Lithium and nickel are the two materials used to make rechargeable batteries. Nickel or nickel metal hydride (NiMH) batteries are made with nickel and hydrogen while lithium batteries contain carbon and lithium. NiMH batteries usually outlast lithium batteries. Nickel batteries retain their power better than lithium batteries when they aren't in use. When it comes to voltage output, lithium batteries output about 1.5V of energy while their nickel counterparts output 1.2V of energy.
Lithium batteries charge faster than NiMH batteries. You can use a NiMH charger to charge any battery but it's not the same as Lithium batteries. It is recommended that Lithium batteries should be recharged by manufacturer-specific chargers. NiMH batteries are mostly used in wireless keyboards, TV remote controls, digital cameras, wall clocks, and video-game controllers. Lithium batteries are perfect for motorized devices.
Differences in battery voltages
Lithium batteries output about 1.2 volts of energy while NiMH or nickel batteries output about 1.5 volts.
Why You Should Trust Us
We know the importance and immeasurable value of rechargeable batteries. We don't want a case where any of our beloved readers will buy a fake product. There are millions of batteries out there with many being paraded as high-capacity batteries when in the real sense, they are of low quality. We have carefully reviewed tons of rechargeable batteries and selected the best ones among them.
How We Picked
It's not easy finding the perfect rechargeable batteries for you and your devices, especially with such a broad and intimidating range available online. To make the process easier, we scoured over previous customer experiences with all types of rechargeable batteries and accumulated their opinions on the comfort their batteries gave them. These experiences ranged from the minutes the batteries used before running down, ease of use, and presence of any dangerous substance. With all these first-hand opinions coming from a range of gamers, homeowners, photographers, and technicians, you can trust our methods and find the perfect rechargeable batteries for your devices.
When selecting these batteries, we ensured that they are made with top-grade Lithium or Nickel (NiMH). These materials contribute to the durability and strength of the containers of the batteries. They output the appropriate voltage that is recommended to power gadgets that use batteries. These batteries power devices for a long time before you recharge them. They do charge quickly so that you can use them to your satisfaction. They deliver 100% value of the money you are dropping for any of these batteries. They have awesome recharge quality and they even come pre-charged.
Care and Maintenance
How to recharge batteries
The best way to recharge batteries is via its specific battery charger. We recommend that you read the user manual thoroughly before charging the batteries. Plug the battery charger with its appropriate cord or adapter. Insert each battery in the proper configuration with the positive ends of the batteries making contact with the charger's positive terminals and do the same with the negative ends. Make sure the battery is fully charged. Always remove it when it is fully charged. It isn't good to recharge batteries every day. You can charge your rechargeable batteries when you have used about 80% of their capacity.
How many rechanges can batteries take?
Rechargeable batteries can be recharged between 500 – 1000 times. Further research showed that AA rechargeable batteries between 1700 – 2000mAh capacity can be recharged up to 1000 times before they start to lose their significant energy-storage capacity. Lithium batteries can be recharged up to 400-600 times. Note that, this cycle or time means they will be fully charged.
Do not attempt to recharge non-rechargeable batteries
Some people tend to buy a charger for non-rechargeable batteries. This is wrong and not recommended. It is dangerous and can cause an explosion. It can also cause a chemical leak which can affect you, your environment, and damage the charger.
Preventing battery leakage
Battery leakage is a common scenario. We shall recommend preventive measures that will put a stop to this. The first thing you should do is to read the manual or any instructions on the bundle of your batteries that shows how to store them properly. If you aren't using the batteries, remove and store them properly.
Dealing with battery leakage
If you notice that your battery is leaking, don't touch the battery or its contents with bare hands. Use a glove to pick up the battery, put it in a plastic bag, and dispose of the battery and the gloves. You can pick it up with a towel and dispose of both the towel and the battery. Wash your hands thoroughly after the disposal of the batteries. If any leakage touches your cloth or any object, make you clean thoroughly. If the battery's content touches your skin or gets into your eyes, rinse thoroughly and see a doctor immediately.
Do not let near children or animals
Don't put a rechargeable battery where kids or pets can have access to it. Also when disposing of the batteries, make sure you dispose of them properly so that animals won't have access to it.