The Best Rain Boots for 2023
Shoes for the rain; fashion for the season.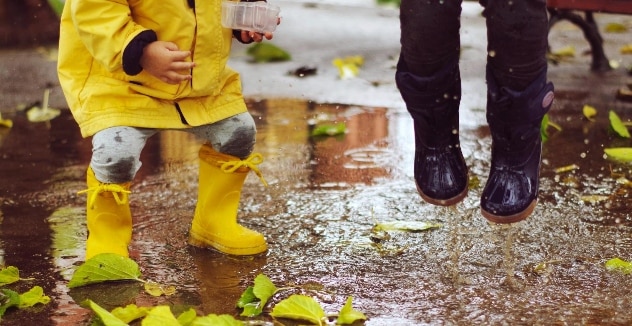 Going out in the rain can be problematic when your concern is how to shield your suede and leather shoes from torrents. If you've ever worn a new pair of shoes out into the rain or quite unluckily slid with them through some mud, you understand how devastating it can be.
Washing mud off some shoes with water might be the beginning of their end, and leaving the mud to dry is equal to the same verdict. The solution is available in those sleek rain boots you've been thinking about getting.
When you see your neighbor walking lazily under the rain or two lovers in raincoats and boots laughing as the rain drizzles over their attire, do not be concerned that the cost of their happiness might be overpriced. There are rain boots for everyone, for all seasons, and in all situations.
Luckily, our guide will set your free spirit loose by the time you're done selecting. Here are our favorite rain boots from around the world.
How We Picked
Waterproofing

Rain boots are usually made of waterproof materials like rubber and plastic. If any part of the rainboot is exposed, it will allow water in and ruin the purpose of wearing the boot in the first place.

Therefore, we made sure that our picks were fashionable with the right waterproof design to provide comfort, durability, and even a hint of luxury when in use.


Wet Comfort

The best approach to minimizing blisters when wearing rain boots is by wearing socks. However, we chose our boots based on how comfortable they might be in wet areas even without stockings. We selected boots that had traction, grip, and arch support, and were contoured to the foot's natural shape.


Height and tightness of opening

There are tall, short, and calf-high rain boots. When making our picks, we selected boots that combined comfort with quality and the right height. We also selected boots that were not too tight or too loose. While some boots come with laces, others don't. Therefore, we included the space at the tip of the boot and how easy it will be to slip your feet in and out regardless of the height.


Heat-Insulation

Insulation in the boot acts as a barrier between your feet and the cold, keeping moisture and cold out and keeping warmth in, which enables blood flow and keeps you warm as you walk through the cold or moisture. We made sure that our selected pick contained the right heat insulation materials at the right weight to keep your temperature set just right in cool, cold, or chilly weather.
Our Top Picks
Best Pick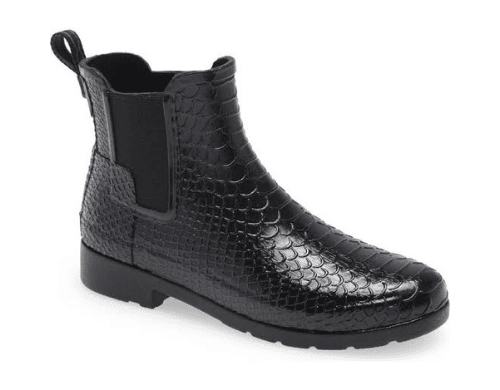 A luxury rain boot designed to be enjoyed during all seasons
A reliable companion for all rainy days and fashionable footwear for every other day.
The Hunter Original Refined Waterproof Chelsea Rain Boot is made of handcrafted natural rubber, which makes it 100% waterproof. The boots are also designed to express style, fashion, and class. You can never go wrong wearing these boots in the rain.
Runner Up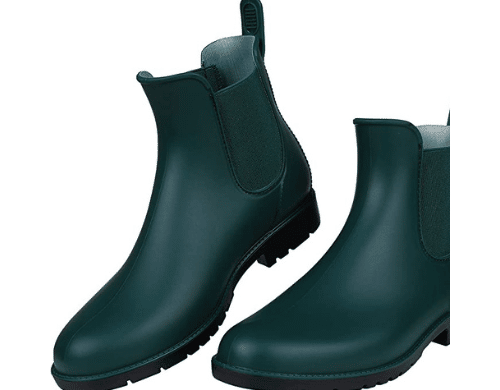 A boot designed with style for every fashionable moment in the rain.
A bold selection of class and style available in colors that go around for each day.
The Asgard Chelsea rain boots come at a price that makes them affordable for everyone. The boots feature elastic bands and a pull-tag at the heel that make them easy to put on and slip off.

Most Cost-Effective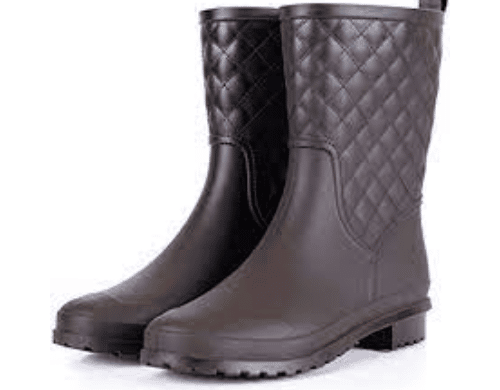 A fit that makes you want to take a walk in the rain
Comes in a variety of colors at just the right price.

These women's rain boots are the best companion for you to walk on a rainy day. You can wear them in the rainy season or during a light shower since they are waterproof. The rubber material will make sure that your feet stay dry.

Everything We Recommend
Best Pick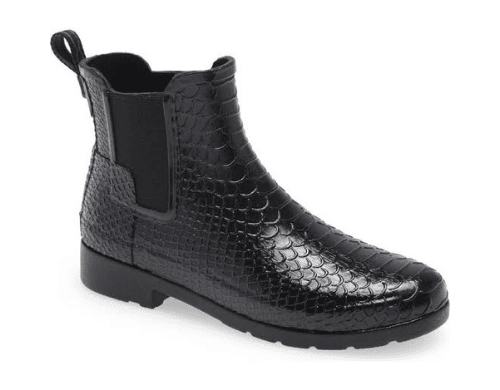 A luxury rain boot designed to be enjoyed during all seasons
Runner Up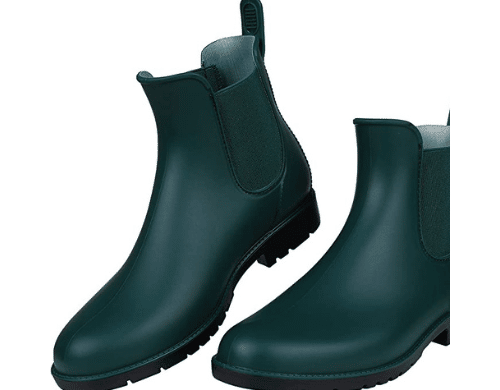 A boot designed with style for every fashionable moment in the rain.
$32.99
Most Cost-Effective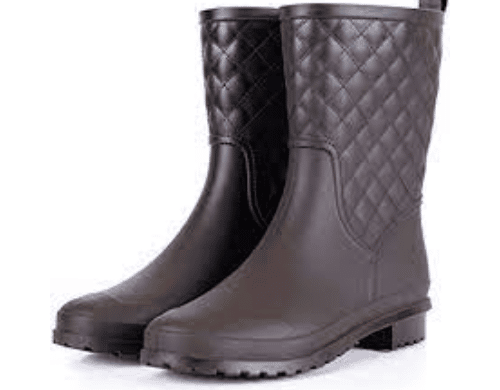 A fit that makes you want to take a walk in the rain
$29.99
Who This Is For
Rain boots are handy no matter where you live, but they're especially helpful if you live in an area that gets a lot of rain. Rain boots are vital if you spend more than three months in wet weather, but there is no yearly rainfall cutoff over which you require rain boots.
That is because, in addition to keeping your feet dry, rain boots are a terrific option for people who live an active lifestyle that includes both indoor and outdoor activities in rainy areas. These shoes are easy to put on and slip off just as easily when you're done.
Rain Boots vs. Galoshes
We constantly hear people asking if rain boots and galoshes are the same thing. No, they're not. Rain boots are designed to keep your lower legs and feet dry and warm. Galoshes, on the other hand, are designed to keep your shoes dry. You can use them to protect whatever shoes you're wearing at the moment. 
When it comes to which one you need, your lifestyle should determine your choice. Galoshes are a quick fix for a quick problem and should be used by those who just need to go from their house into the bus, or a car, and then into their office or back.
If, on the contrary, you are always in transit or plan to spend a lot of time in the rain, you should definitely go for rain boots as they will be more comfortable and you will not have to worry about the rain penetrating your shoes.
Why You Should Trust Us
Before making our selection, we went through an extensive list of customer reviews and expert opinions on which rain boots fit certain lifestyles best. We also made sure that these reviews covered the majority of people, as some boots were available to men while others were for females only.
From there, we narrowed the field to include just those rain boots that met our criteria of offering maximum protection from the elements while also providing the user with the necessary comfort, stability, and traction for whatever task they might be put to.
How We Picked
Waterproofing
Rain boots, in contrast to hiking shoes, snow boots, or other types of footwear, are constructed entirely of water-resistant materials like plastic or vulcanized rubber. As a rule, they don't have any shoelaces, zippers, or other places where water can get in.
Despite the fact that some of them have now come with those, they are meant for special purposes and are still designed not to allow water in. When picking out the rain boots, we had to make sure that they were not water resistant but purely waterproof.
Comfort
As with all other footwear, comfortability is relevant in boots as well. Since rain boots are waterproof, they can make your feet sweat, especially if they are tight. Most boots are worn with socks to keep the feet from sweating.
So, when we made our selection, we were sure to choose boots that could be worn without socks for long periods of time. Aside from that, rubber, unlike shoe fabrics, doesn't change shape with your feet over time and doesn't stretch when you walk.
A boot that doesn't fit right could cause blisters and more serious foot problems in a short amount of time. Therefore, we considered the boot's insoles to know which boots would be the best if you wear your rain boots for more than an hour or two every day.
Height Of Boot
There are three different heights of rain boots to choose from. Tall boots, ranging in height from 14 inches to 16 inches or more, are an excellent choice for locations prone to puddles, downpours, or standing water.
However, wearing them with long pants can be a pain. Conversely, mid-calf boots, which have a heel height of 10-14 inches, are appropriate for both casual occasions and professional settings.
The third type is ankle-height boots, which are typically 9 inches tall and stop just above the ankles. The boot height is important because the less protection a boot offers from the elements, the shorter it is.
However, taller boots can be too obvious and are not everyone's favorite. Coincidentally, our top picks were ankle boots, which were both efficient, fashionable, and comfortable.
Tightness Of Boot Around Calf
For tall rain boots, we made certain that the boots were not tight around the calves. This is because rain boots, like other shoes, are not meant to be tight or loose but should fit.
If the boot was tight around the calf, it would be uncomfortable and might cause irritation. Therefore, we made sure that the boots had the right amount of space at the top.
Insulation
The boots on our list were selected based on their level of insulation. However, we discovered that you can use non-insulated boots when it becomes cold. It is possible to wear rain boots without a lot of insulation in many different seasons.
Therefore, we upgraded our selection to include boots that could be worn in different seasons and still provide the right amount of insulation.
Durability
We opted for boots made of latex or rubber for their greater resilience. PVC (polyvinyl chloride) is commonly used in lower-quality boots because it is less expensive and lighter than rubber or latex, but it can crack and deform over time and wear. Because of this, we focused our collection on rubber and latex-based products.
Style/Design
Even if beauty isn't your major concern, having a pair of rain boots that look good is a plus. When it came down to it, we discovered that short boots were more stylish than tall boots. As a result, when making our selection, we focused on the boots' appearance and how they would look in and out of season.
Traction/Grip/Anti-slip
If you want to stay on your feet when the ground is slippery, you'll need shoes with a good grip. During our selection, we discovered that for snow and mud, you need soles that have cleat-like patterns, but for pavement and smooth stone, you need shorter treads and softer rubber.
While boots with medium-sticky rubber outsoles, like Vibram soles, can be used on a wide range of surfaces.
Thickness Of Material
The thickness of a rain boot can affect both the wearer's comfort and the boot's longevity. It's a good sign that the manufacturer used thicker rubber in the production of a boot if the boot is on the heavier side. The thickness of the boot contributes to both its weight and its body, allowing it to last significantly longer than a thin, extremely low-cost polyurethane rain boot would.
Care and Maintenance
Now that you've gotten the rain boots of your choice for the spring torrents and fancy outings, it will not do to be careless with your purchases.
In opposition to conventional wisdom, you don't just wash the dirt off your boots and leave them out to dry. Taking care of your boots is a whole different process that will enable you to use your boots until the warranty is old enough to get its warranty.
Cleaning And Washing Rain Boots
The simplest approach to keeping your rubber boots clean and attractive is to rinse them with water after each use. To clean, use a medium bristle brush to remove dried mud. The treads on the soles demand special attention, and you may need to use a smaller brush, such as an old toothbrush, to get the dirt out.
Once your boot has been fully cleaned, all that remains is to wipe it down with a warm, moist towel.
To remove heavy soil or winter salts, combine one teaspoon of dish detergent with two cups of warm water. Wipe the boots clean from top to bottom, inside and out, with a towel dipped in the solution.
Finally, carefully wipe the boots with a clean plain cloth and clean water and set them to dry. When drying your boots, make sure that you allow them to dry naturally while avoiding direct heat sources such as heaters or direct sunlight.
Sole Maintenance
As previously suggested, you can clean the soles of your boots using an old toothbrush. However, use caution when cleaning boots with a brush. Stiff bristle brushes, in particular, can damage or discolor boots.
Use a soft bristle scrub brush to avoid scratching. Also, when scrubbing the soles, use moderate to light pressure to avoid premature deterioration of the rubber.
But then, if you do not fancy using an old toothbrush, you can opt to use a magic eraser to clean it or simply flush out loose dirt with a water hose.
Removing Odor From Rain Boots
Rain boots come with rubber interiors that need more attention than the exteriors. They also come with an inner sole or lining that can gather dirt and, if left uncleaned, start to smell or harbor odor-causing bacteria.
To clean the interior and eliminate odors, use two cups of warm water and one teaspoon of heavy-duty washing detergent with soil-breaking enzymes to clean the inside.
To start, wipe the boot's interior with the solution. When you're done, rinse the first boot with a clean cloth.
To prevent bacteria, mix equal parts of white vinegar and water in a spray can. Spray the solution inside the boots and let them air dry. You can also disinfect the interior with pine oil, Lysol, and clean water.
To remove odors overnight without having to constantly wash the boots, make sure that they are dry, and then apply a 1/4 cup of baking soda to each boot and leave it overnight, then pour it out before using it the next day.
How To Dry And Store Rain Boots Without Damaging The Rubber
Allowing rubber boots to air dry is the best way to dry them before storage. Remove as much of the cleaning solution as possible with a clean, dry towel, and then fill each boot with newspaper wads. After a few hours, remove the damp newspapers from the boots.
If the boots are still damp, repeat the procedure. This process is important because using newspaper to wick moisture away from your boots will aid in their shape retention.
Always remember that it's not a good idea to dry your shoes in direct sunlight. This is because direct sunlight causes the rubber in your boots to disintegrate. To prevent your boots from fading, store them in a paper bag away from direct sunlight when not in use.