The Best Qi Wireless Charger for 2023
Cut the cord and choose convenience with some of the best Qi-certified wireless chargers available on the market!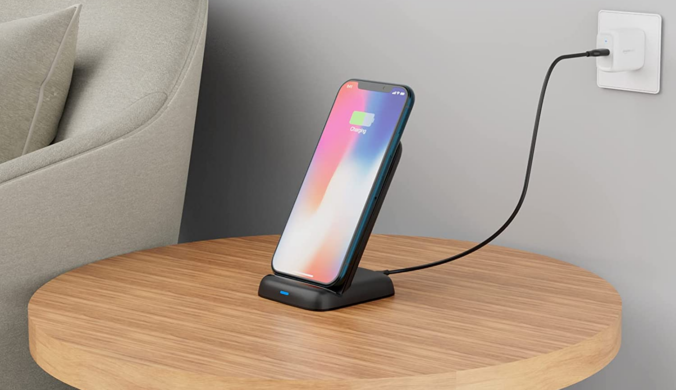 Tired of constantly having to plug your phone and other electronics into a wall outlet to charge them? If so, you should switch to a Qi wireless charger. They might be slower than wired chargers, but they are certainly more convenient to use.
A Qi wireless charger is an ideal device for those who own Qi-enabled phones or watches and want to do away with the hassle of tangled cables and cords. Qi wireless chargers come in two formats; stands and pads. This gives you the option to select the design that suits your setup and the number of devices.
Deciding from the numerous Qi wireless chargers that different brands offer can be difficult. This is why our list of the top Qi wireless chargers, which combines usability with affordability, has you covered.
How We Picked
Charging Speed and Power

A Qi wireless charger's efficiency and charging time are determined by its charging speed and wattage rating. For our top picks, we considered chargers that supported 15W to 10W for fast charging, with the latter being an option in low-cost versions.

Range

We took into account the range or the distance at which the charger is still effective. In most standard cases, this range is up to 1.6 inches, and we looked into different chargers to find the most effective ones.

Size and Portability

We also factored in the size and portability of each model. Compact chargers, which are easy to carry and let you use your phone easily even while it is charging, are rated highly in our list.

Cost-Effectiveness

We tried to strike a balance between cost and performance. We have both premium and more affordable options that offer excellent value for your money.
Our Top Picks
Our Top Pick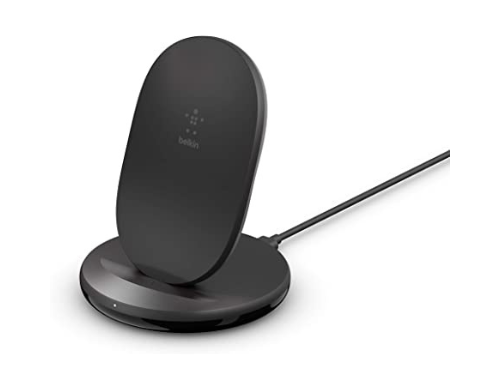 The Belkin Boost boasts powerful charging efficiency in a compact design.
The Belkin Boost Charge Wireless Charging Stand is an easy-to-use Qi wireless charger for the majority of phones and phone cases. With 15 W power, it delivers a faster charge for better efficiency. Designed for ease of use, the stand can be used in portrait or landscape mode, so you can continue using your phone even while it is charging.
This compact wireless charging stand is compatible with most phones.
Our Runner-Up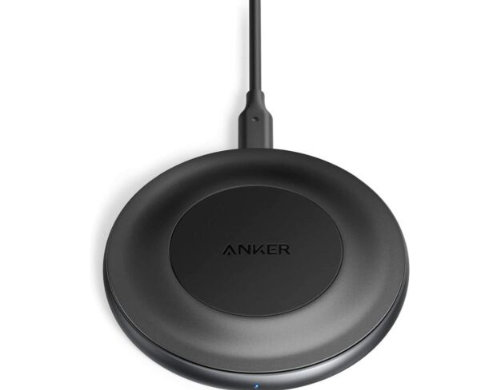 The Anker PowerWave offers high-speed charging for most compatible devices.
This fast-charging wireless Qi charger also works with the majority of devices. It is compatible with faster charging at 15 W and has four different charging modes. Its non-slip design keeps the device in place while charging, and the matte alloy finish dissipates heat while also giving the charger a stylish look.
This Qi-compatible wireless charging pad is a classy and functional choice.
Most Cost-Effective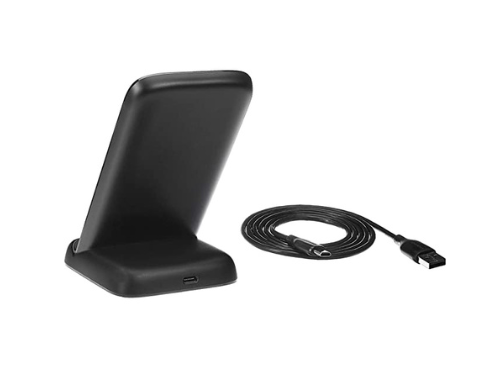 The AmazonBasics Wireless Charging Stand packs great features at a budget-friendly price.
If you are looking for a cost-effective Qi wireless charger, then the AmazonBasics Wireless Charging Stand is the right one for you, providing great value for money. With 10 W of high-speed charging power, this budget-friendly charger has a minimalist design and is compatible with most phone models and AirPods too.
This budget-friendly Qi charger packs decent charging efficiency in a minimalist design.
Everything We Recommend
Our Top Pick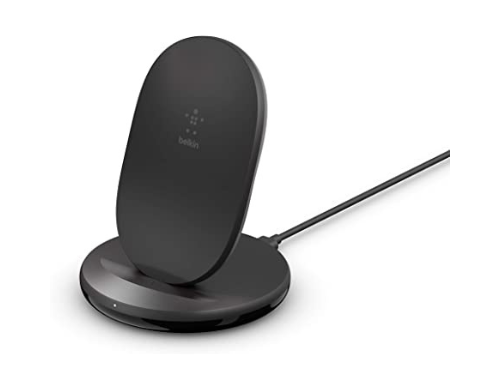 The Belkin Boost boasts powerful charging efficiency in a compact design.
Our Runner-Up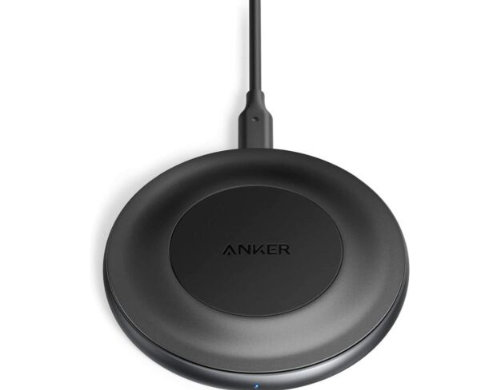 The Anker PowerWave offers high-speed charging for most compatible devices.
Most Cost-Effective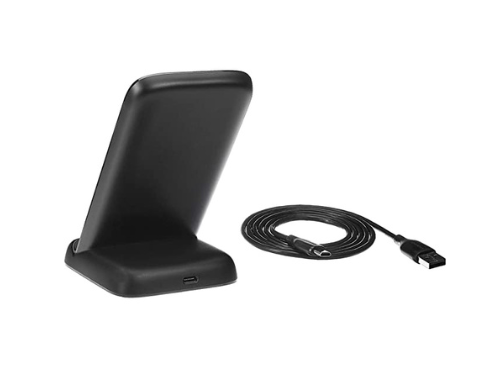 The AmazonBasics Wireless Charging Stand packs great features at a budget-friendly price.
$19.99
Who This Is For
The Qi chargers on this list are meant for those who want a wireless charger compatible with their phone that will provide the right charging speed without costing a fortune.
What is the Qi charging standard?
The Qi charging standard is a type of open interface standard for wireless power transfer. Devices with the Qi standard use electromagnetic induction to charge devices over distances of up to 1.6 inches. The Qi standard was first adopted for phones in 2012, and since 2017, most flagship phones and watches support the wireless Qi standard.
Do different wattages charge differently?
The power or wattage of the wireless charger does affect its charging speed and time. The lower the wattage, the more time it will take to charge the phone. New Qi standards support charging as high as 15 W, while most standard phones can only support up to 10 W, making it optimal for use.
Do I need a wireless charger?
Whether you need a wireless charger or not comes down to personal choice and convenience. With a wireless charger, you don't need to worry about carrying a USB cable and can charge your phone easily. And if you are someone who uses the USB-C port for more than just plugging in the charging cord, then a wireless charger will free the port for your headphones or other devices. Additionally, having a wireless charger makes sense because the majority of modern phone models are wireless charging compatible.
Why You Should Trust Us
With the wide range of wireless chargers subscribing to the Qi standard now available, we made sure that we picked ones that would meet the requirements of users across categories. We evaluated different brands and their Qi chargers based on their charging speed, efficiency, portability, affordability, and more to find the ones that offer the highest efficiency for wireless charging.
How We Picked
Choosing the best Qi wireless chargers was certainly a formidable task for us, especially with all the options available. We looked at the features and specifications of different Qi chargers and compared them broadly for performance and value for money. The power output, battery life, range, and portability of the devices were some of the factors we considered when making our picks. We also went through the experiences of previous customers to consider the most practical ones. In terms of balancing aesthetics with functionality, we also looked into the aspects of style and design features, including size, thickness, and colors to select the best Qi wireless chargers.
Charging speed
Qi wireless chargers are slower than regular wired chargers but they are extremely convenient to use and this makes up for the charging speed. In selecting the Qi wireless chargers for our list, we looked for options that provided the fastest complete charge as well as the fastest 50% charge for phones.
Power output
For selecting the best Qi wireless chargers, we looked for the ones offering the best power output. While the latest Qi standards support charging as high as 15 W, most phones can only support charging at 7.5 W and 10 W. Some phones also offer 15 W charging support and our picks are compatible with such devices too.
Battery
In the Qi wireless charger, the term "wireless" may be taken with a pinch of salt. This is because while the phone or device itself can be charged wirelessly, the Qi charger itself needs to be plugged into a power source. As there is no battery in the charger and it works through inductive charging, it needs electricity to power the magnetic field and transfer power to the device being charged. The strength of the charger thus also depends on the size of the magnetic coil. Hence, while selecting the best Qi wireless chargers, we looked into the power of the device's charging coil as well.
Range
The range of a standard Qi wireless charger can go as high as 1.6 inches and indicates the distance at which it can provide efficient inductive charging. This is why we examined different chargers for their range of efficiency as well.
Weight
Among the various factors we considered for selecting the best Qi wireless chargers, weight was also a consideration. Since convenience is a major factor in the selection, we looked at options that were in the average to low weight range.
Portability/size/thickness
The ease of carrying the Qi wireless charger is an important factor in its selection. Hence, we explored both stand-type and flat wireless chargers in making our list. We also looked into the size and thickness of the various types to find compact and sleek ones that would be easy to carry for charging devices on the go.
Durability
When choosing the Qi wireless chargers, we also looked into the build quality and durability of each type. We examined the materials used for the charger to select the most durable and sturdy ones.
Price vs quality
While comparing different Qi wireless chargers, we looked for ones that would balance price with performance quality. Hence, we have included affordable and efficient chargers in our list.
Style/design
While selecting the Qi wireless chargers for our list, we also considered the style and design aspects, which went beyond merely the aesthetics to encompass such features as charging indicator lights, grips, and stand or flat charger types.
Care and Maintenance
If you are buying a Qi wireless charger, you must care for it properly to ensure maximum efficiency.
Ensure the charger is compatible with your device
When you buy a Qi wireless charger, check for its compatibility with your phone model. This information can be easily found on the charger packaging or the internet.
Ensure the charger is fully charged before use
Before you use the charger for the first time, and every time thereafter, make sure that it is fully charged. The first full charge will optimize it for future use. Only when the charger is fully charged can it charge your device completely.
Cleaning ports
The wireless charger's charging efficiency may also be impacted by dust and bacteria that build up in the charging port over time. To keep it dust-free, we recommend you clean it regularly. You can also clean the port with a dry cloth to remove any dust or dirt on the exterior. Once a month, use an electric cleaning spray or isopropyl alcohol on a microfiber cloth to wipe clean the port.
Preventing port connector damage
Damaged port connectors can also affect the charging efficiency of the Qi wireless charger. To keep your wireless charging working efficiently, you must store it in a cool, dry place. When plugging in the port, do it gently and avoid pushing or pulling too hard, as it can damage the port. Also, avoid placing the charger near water or moisture.