The Best Pumping Bra for 2023
Looking for ways to make breastfeeding more convenient? Try these incredibly supportive and comfortable bras.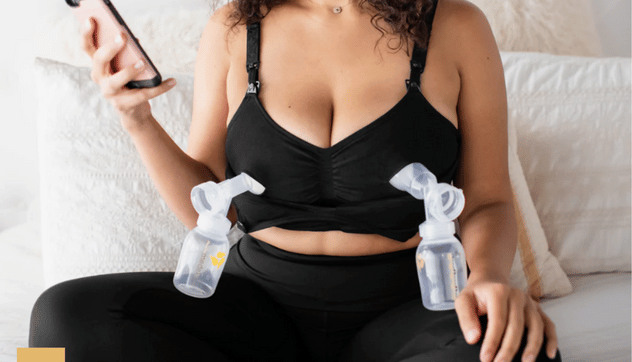 A newborn child can bring so much happiness into the home, but this also means less sleep time and more work to do during the day. If you're anything like the majority of new parents, you'll give anything to extend your rest time, even by a few minutes.
This time crunch can be resolved considerably by using a pumping bra that enables hands-free pumping, allowing you the luxury of multitasking. A hands-free pumping bra makes the process much more pleasant whether you're pumping at home, at work, or while working remotely.
It is important to note however that not every pumping bra is ideal for every mom, and there are a lot of options available to choose from. As such, we have put together this in-depth guide to help you choose the perfect hands-free pumping bra.
How We Picked
Fit

A good pumping bra should be designed to fit snugly, while still affording you some room to for adjustment. It needs to be able to hold the breasts and pumping apparatus conveniently.

Support

Your pumping bra needs to support the breasts firmly in any given position – sitting, up, laying back, leaning forward, etc. It should also firmly secure the breast shields and milk bottles during pumping.

Hands-free

Ideally, pumping bras should afford users the luxury of having their hands free during the pumping action. They should support the breasts so securely that you do not need to support them with your hands.

Cost-effective

You should consider the cost of purchasing a pumping bra before you decide on your selection. The smart choice is a reasonably priced option that offers the most value.
Our Top Picks
Best Pick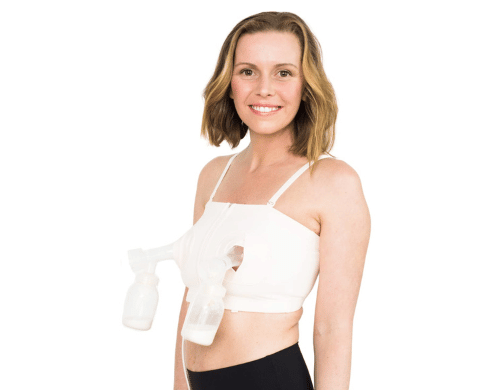 The ideal hands-free pumping bra for maximum comfort and productivity.
This bra has a handy 11-inch Velcro back panel that can be adjusted to guarantee a proper fit as your body adjusts to postpartum changes while pumping and nursing. It's also pretty soft and stretchy.
The Simple Wishes Signature pumping bra has a great design and provides optimal comfort, allowing you to be productive or unwind while pumping. It is also adjustable, which is ideal for accommodating your changing body.
Runner Up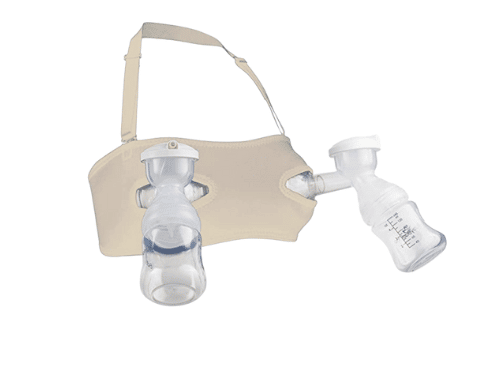 A convenient, fully adjustable, and hands-free pumping bra for the ever-busy mom.
The Pump Strap hands-free pumping bra was designed for busy moms. It's a completely adjustable, form-fitting, one-size, hands-free pumping bra. You can easily pump and nurse simultaneously.
It has a flawless fit so every time you wear it it minimizes leakage or milk spillage while gently compressing the milk glands and helping them release and induce letdown; this way, it improves milk supply output and saves time considerably.
Most Cost-Effective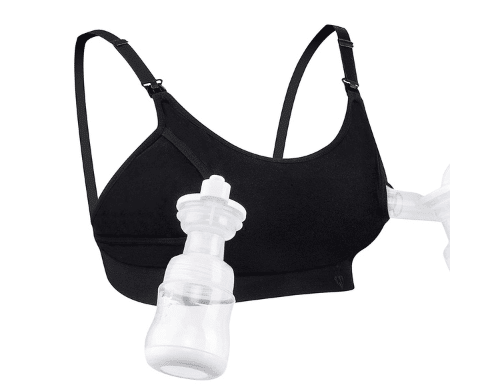 The MomCozy pumping bra has a spectacular 2-in-1 design that is great for both pumping and nursing.
You can always move the bra into the optimal position for you thanks to the adjustable shoulder straps. it is also simple to drop the cups with a one-step nursing clasp for effortless feeding and privacy.
This design eliminates the need to change bras during the day, and you can easily use it for breastfeeding, pumping, and everyday wear. Working moms in particular will find this pumping bra particularly helpful during their daily work activities.
Everything We Recommend
Best Pick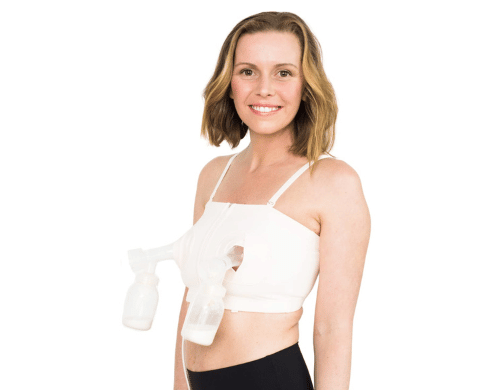 The ideal hands-free pumping bra for maximum comfort and productivity.
$29.99
Runner Up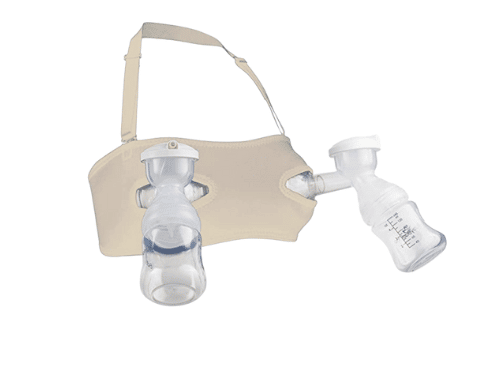 A convenient, fully adjustable, and hands-free pumping bra for the ever-busy mom.
$32.99
Most Cost-Effective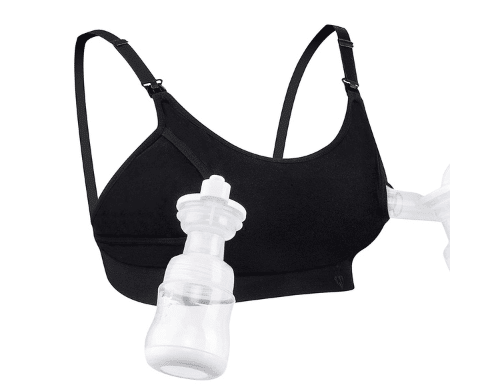 The MomCozy pumping bra has a spectacular 2-in-1 design that is great for both pumping and nursing.
$19.99
Who This Is For
If you intend to pump breast milk on a regular basis, you will find that a pumping bra is very beneficial to have. A pumping bra allows multitasking and lessens the unpleasantness of what is frequently a laborious activity.
Nursing Bra vs Pumping Bra
A pumping bra is a piece of clothing that enables you to pump while having your hands free. It is essentially an ordinary bra with no pump hardware. A pumping bra includes slits in the fabric over the nipples that are intended to retain the breast shields (also known as flanges) of your breast pump firmly against your skin, unlike a nursing bra that unclips to expose your breast for feeding a baby directly.
Do I Really Need a Pumping Bra?
A pumping bra is not an absolute necessity to pump efficiently, and the bra will not hasten the process or increase milk production. However, If you just pump a lot, you might discover that holding up a breast pump can be quite tiring. Whether or not, a pumping bra will make it simpler, more convenient, and more enjoyable for you to pump is the essential factor to take into account, when deciding for or against a pumping bra. Additionally, it's crucial to ensure that a pumping bra won't interfere with your manual milk removal methods, such as breast massages and compressions.
Before using a pumping bra, you might consider consulting a lactation expert to be sure it won't affect your technique or your goals.
Why You Should Trust Us
To get the correct information about what features a good pumping bra should possess, we conducted in-depth research using different resources. We also prioritized firsthand reports from online users of the products we suggested in this article, in order to provide correct reports about their effectiveness and suitability.
How We Picked
While compiling this guide, we consulted online sources for breastfeeding and pumping to learn about the things to look for in a good pumping bra, as well as how to use one properly. We also took into account product reviews posted online by users. During the course of our research, we found that the following criteria are used to determine good pumping bras:
Fit
You must be able to fit your hand into a good pumping bra to make adjustments, but it must also fit snugly enough to keep the pumping apparatus in place and maintain sufficient suction. To help with milk evacuation, many women need to compress or massage their breasts. This activity shouldn't be hindered by the pumping bra.
Support
The main use of a pumping bra is to secure the breast shields and bottles for you. The pump apparatus shouldn't feel flimsy or loose because the bra should be firmly supporting it. The shields and bottles shouldn't fall or tip over as you sit back, turn, stand up, or lean forward.
Hands-free
With a good pumping bra, your breasts, and the bottle should be supported sufficiently so that your hands are free. During the 15 minutes or more you're likely spending per pumping session, using a pumping bra should provide you the luxury of having your hands free to hold your phone or book, drive a car, use a computer, massage your breasts, or do anything else you need to accomplish.
Price
Price is an important factor to consider when deciding on the right pumping bra for you. Obviously, no one wants to purchase an option that is too expensive, so we recommended options with decent prices and great value.
Size
There should be room for a variety of body and breast forms in a good pumping bra. Over the course of the weeks and months you nurse, or even just one day, your breasts may change their size and shape. As such, a good pumping bra will need to be accommodating these changes.
Comfort
As a nursing mother, you may experience inflamed skin, cracked nipples, and aching, sore, or engorged breasts. A decent pumping bra shouldn't irritate your shoulders or ribs, and it should be constructed of a soft material. To keep moisture away from your skin, an all-in-one bra should contain a moisture-wicking liner; it should also be comfortable and practical enough to wear all day.
Suction Control
A good pumping bra should be snug enough to provide sufficient suction, but not so snug as to obstruct milk ducts, which could reduce the amount of milk your breasts fully empty or possibly result in blockages and infection. The material of the bra should be firm enough to hold the breast shields near the body while still being flexible and comfy.
Adjustability
With a decent bustier pumping bra, you should be able to modify the strap length and the fit surrounding your bust. The size range of a decent all-in-one bra should be wide enough to accommodate the majority of the cup and band combinations. Not everyone has their nipples pointing forward and their breasts perfectly in the center of their chests. Instead of forcing you to shift or squeeze your breasts into place, a good pumping bra will let you precisely control where the breast shields will rest on your body.
Care and Maintenance
After two uses, it is typically advised that you clean your pumping bra. This advice is valid, even with the assumption that there are no stains from milk, sweat, other substances, etc. The folds in and around your armpits and bust are typically warm and sweaty because your body is continually losing skin. Pumping bras are form-fitting and so can absorb odors and grime.
If you can, try to resist the urge to simply throw your pumping bra into the washing machine and let it handle everything. We strongly advise hand washing your bras to get the most use out of them. So, how do you wash a pumping bra with your hands?
Simply grab a bucket, fill it with of cool water, then mix some biodegradable detergent into it. Steer clear of detergents that include bleach or potent enzymes. These will harm your pumping bras. You can choose to presoak your pumping bras or not. The fibers will start to expand if you soak it for a time before washing, which will provide the dirt and filth a head start on escaping. For roughly five minutes, dip and remove the bra from the water in the bucket while swirling it. Make sure to gently squeeze pumping bras, and never beat or wring them.
Fill the bucket with fresh, cool water after pouring out the soapy water. You just need to rinse the pumping bra twice, or until the water is completely clear. Add a tiny quantity of water softener if desired; let soak for approximately five minutes; then rinse. Afterward, squeeze any extra water out gently.
Avoid direct sunlight if at all possible because, like hot water, it can hasten the degeneration of the elastic in your pumping bras. Instead, leave them to dry in the shade, simply place them flat or hang them.
When your pumping bra is clean and dry, place it in a drawer specifically for bras and undergarments. To prevent the cups from being crushed and dented, stack them within one another. You might discover that putting a shoe box into the draw is beneficial. The pumping bras will be held in place and kept organized by this action.