The Best Portable SSD for 2023
The best SSD is one that offers a ton of storage and can easily fit in your back pocket.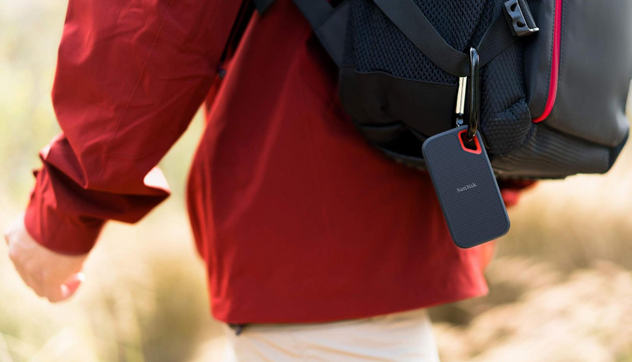 Almost as effective as a desktop, laptops are small, lightweight, and flexible. However, this ultra-portable computer has a significant flaw — space. The internal SSD storage on laptops typically ranges from 16GB to 512GB, and when working with large files, this space may quickly become full. Thus, using an external SSD is a quick and simple way to expand the space on your laptop without changing the internal drive or wiping out your important data.
If you frequently need to transfer large amounts of data between devices or need a backup for your laptop while traveling, you should also consider a portable SSD.
Although they cost much more than external hard drives, they are intrinsically speedier and more dependable due to the absence of moving parts. The best portable SSDs are those that provide the best balance of speed, price, and a long warranty, which are also the factors we looked at when finding the best portable SSD for you.
How We Picked
Storage/Size

SSD storage capacity ranges from 120 GB to 30 TB. Investing in a fast gadget featuring protection and network access is useless if the storage capacity is insufficient to hold all of your data. It is now up to you to determine which external storage device size is ideal for you.

Durability

When investing in an SSD, durability is a crucial factor. In addition to the fact that these drives are expensive, you also wouldn't want to forfeit the data you save on them. Of all the available external drives, compact SSDs have always been the most resilient choice. In addition to having a lengthy lifespan, they are resistant to harm from falls.

Speed/Compatibility

Another crucial consideration while picking your portable SSD is speed and compatibility. Since your network plays a crucial role in how quickly you can effectively exchange data in and out of your drive, a slow drive might result in hours of missed work and cause serious dissatisfaction. Make sure your portable SSD is capable of handling multiple operating systems if you intend to use it with numerous devices.

Cost-Effectiveness

SSDs come in a wide range of uses, configurations, and capabilities, and so do their prices. Greater speeds may be available with more highly-priced portable SSDs. However, you don't need to pay too much to acquire extra speed or any other capabilities you might not need. According to your budget constraints, you pick one of our choices.
Who This Is For
Travelers and those who routinely move large volumes of data between PCs may benefit greatly from portable SSDs. For example, SSDs can withstand bumps when you throw your backpack on something like a sofa because they don't have any moving parts. A compact hard drive is far less costly if you just need a drive to simply back up your files at home and aren't interested in establishing the fastest data speed. However, it is slower, bulkier, less robust, and maybe less secure.
When it comes to file transfers, portable SSDs outperform desktop external drives and portable hard drives by a factor of 3 to 6. Even though you can create your customized portable SSD by simply buying an internal SSD as well as housing for it, unless you somehow own a supplementary SSD that you wish to use again, we don't advise doing that. Particularly in comparison to our most affordable SSD, developing one might not save you any expense, and the finished drive would take more work and effort to put in place.
What is an SSD?
Because they are powered by solid-state electronics, SSDs are also known as "Solid State Drives." Similar to a hard disk, an SSD can be used to keep tons of data for a long time, whether the PC is on or off. An SSD is more comparable to a flash drive than a hard disk because it has no movable parts. An SSD stores information on flash memory chips, also known as NAND flash memory, as opposed to coding to a rotating platter. Thus, an SSD is practically identical to a USB drive or perhaps the memory found in a tablet or smartphone. A controller chip and memory chips are both present in an SSD. SSDs are exceptionally quick storage devices because the controller is in charge of understanding where data is kept on the system and can locate required data in nanoseconds.
Different SSDs
There are two typical SSD types. The SATA III interface, now obsolete, is used by the earliest type of SSD. This "legacy" cord, which was initially developed for HDDs, was also used by SSDs. Although it is quite slow, it has the benefit of being almost universally compatible. SATA connectors are becoming increasingly rare in more recent PCs; this connection is now being phased out.
NVMe is a nonvolatile memory express protocol used by more recent SSDs. Instead of using SATA to synchronize with other systems, this design has a faster response time and reduced latency. High-speed parts like sound chips and graphics cards are connected by the same application called PCIe.
SSDs vs. HDDs
What is an HDD?
A hard drive is an in-house data storage component of a computer. It contains rotary drives that store wireless data. The data is read and written into the disk by the numerous "heads" of the hard disk arm (sensors). The operation is comparable to that of a spinning record player, which uses an LP tape (hard disk) and an arm with a syringe (transducers). To access various types of data, the motor will move the heads all across the disk's surface. As hard drives have been in use longer than SSDs, they are considered ancient technology. They are generally less expensive and useful for data that is not usually utilized, like backups of pictures, videos, or business information. There are two popular sizes offered. A 2.5-inch that's mostly used in laptops and a 3.5-inch that's commonly used in desktops.
What is an SSD?
Given that they are powered by solid-state electronics, SSDs, also known as solid-state drives, received their designation. All of the data is kept on computer chips in an SSD. Numerous ramifications arise from this distinction from HDDs, particularly in terms of space and speed. SSDs can shrink to the width and length of a stick of gum, the M.2 sleek design, or even as tiny as a card with no need for a spinning disk. They are suitable for smaller devices, like compact laptops, convertibles, or 2-in-1s, due to their capacity or range of data storage capabilities. However, since users aren't required to wait for disk rotation to begin, SSDs significantly cut down on access times. In terms of cost per gigabyte (GB) and a terabyte (TB), SSDs are less costly than HDDs, although the difference is shrinking as SSD prices fall more quickly than HDD prices each year.
HDD vs SSD
Large files may be handled more effectively by hard drives, but SSDs are designed for quick data operations that occur constantly as the operating system is functioning. There are numerous little files spread out across the place that must be accessed when background activity is run, an instant message is received, or a program is launched. SSDs provide high efficiency for computing that demands better multifunctional abilities since they eliminate the necessity to physically move around disc surfaces to access needed chunks of information instantaneously. Due to this, a computer with a solid-state drive will operate significantly more quickly when loading applications and programs and when launching. A contemporary SSD will operate numerous times faster than a hard disk unless you routinely copy big files. Consequently, in terms of software responsiveness, it completely beats HDDs.
These days, HDDs are thought to be fairly reliable. However, they are extremely vulnerable to many outside stimuli because of their delicate construction and movable parts. The most serious type of hard disk failure is triggered by harm to the platter because even a few scratches could make it difficult to recover any data. Solid-state drives, on the other hand, don't have any moving components. They can therefore endure minor mishaps considerably better than their hard disk equivalents. However, there is still a threat of overheating and electric surges, which can cause the drive to crash completely, in addition to degrading it. Additionally, SSD chips have a short lifespan. While frequent scanning via solid-state drives won't truly wear them down, frequent writing adds to strain and abuse and can rapidly destroy a consumer-grade device. Finally, dependent on temperature, worn-out SSDs often begin to lose data within 1 to 2 years of storage if abandoned without power.
An SSD could be a better investment in a setting where pressure and shocks are more or less common, such as in laptops or tablets; in a setting where this is not the case, the dependability of a hard drive may be more appropriate. Hard disk drives continue to be the best option for storing enormous volumes of data.
Compared to hard disks, SSDs are way more expensive per gigabyte. In light of this, hard drives are indeed the ideal choice for long-term storage options. However, if you're going for a data security backup strategy, you can use the savings you've made by forgoing an SSD-based back – up plan to construct two hard-drive-based storage boxes, with only one of them being set up as a remote backup.
Even while solid-state drives currently outperform hard drives by a wide margin in several areas, the latter take the forefront when it comes to cost. In light of this, we advise that you prioritize the purchase of a convenient option because doing so can save you time and money and guarantee that sensitive information is effectively protected.
For any expert who needs great performance and quick processing, SSDs are the ideal option. Regarding the price per gigabyte, we can suggest employing an HDD for backup. This will allow you to complete your work at an excellent quality while still having enough space to store all of your data. An HDD is ideal if your sole purpose is to keep an archive of pictures for historical purposes.
The mechanical components are prone to damage or wear with time, but if you're only using it to store your picture archive, there shouldn't be much wearing. If you frequently back up your data and then use your SSD as part of your regular or weekly routine, you'll undoubtedly desire an SSD's size and write and read speeds. Additionally, as technology advances, SSDs will likely surpass other devices in sophistication and dominance. This will also assist in lowering their costs.
Why You Should Trust Us
There are numerous models of portable SSDs on the market, and each one is designed with different features and technology. Due to the variation in models, features, speed, encryption, performance, and price of these compact drives, it can be hard to select the right one, so we have conducted in-depth research to choose quality, effective, easy-to-use, and maintain, quality performance, securely, and reasonably priced solid state drives for you!
How We Picked
Although a portable SSD appears to be a fairly straightforward device, it should be dependable, quick, and compact. We considered all of the following aspects when determining which model to suggest for you. Your data must be protected with a portable SSD. In contrast to mechanical drives, portable SSDs are less likely to completely fail when tumbled, jiggled, or exposed to climate or motion changes because they don't have any moving parts. Therefore, we chose portable SSDs that are solidly constructed and won't feel feeble or squeaky. We monitor user evaluations for reliability data because SSD manufacturers don't provide durability evaluations for external drives. For instance, when reviewers complain that their SSDs get hot while operating; excessive heat while operating might affect the drive's lifespan or signal a problem with the drive.
Compared to mechanical drives, SSDs feature significantly faster data speeds, which means less waiting while data is copied. We tested sequential and arbitrary speeds. Fast random rates are necessary if you need to execute commands or video games directly from the portable SSD, even while high sequential rates are crucial for uploading and storing up big chunks of data to the disk. In this review, we focused solely on compact SSDs featuring USB Type-C (USB-C) ports and USB 3.2 Gen 2 transfer rate ratings. To guarantee compliance with the PCs, laptops, gaming systems, and devices scattered across your home, each drive is supplied with both a Type-A adapter and an u cord. Therefore, as a result, you'll continue to experience the fastest speeds possible from your computer, and the drive will be able to support newer innovations.
Although more costly compact SSDs may have higher speeds, you needn't overpay for features that you might not need. For the majority of individuals, it is unnecessary to pay 2 to 3 times as much as the cost of our choice for a speed that they won't need. Most portable SSDs are often the weight of a pile of cards or tiny, making them lightweight and compact. For easy transportation, we make sure that our picks are light.
You may more securely encrypt your private information by using portable SSDs that implement the Advanced Encryption Standard (AES), created by the National Institute of Standards and Technology (NIST). AES-enabled external solid-state drives wouldn't require software to install, but they will still come with passcode software to allow encryption to safeguard sensitive information from illegal access even when someone takes the drive from its casing. We also took this into account while making our recommendations because not all portable SSDs have this feature, and we've seen technical problems occur, especially during updates of operating systems like macOS. A portable SSD can benefit from having backup software, although it's not necessary. Although there are other backup service substitutes available online, using backups is a huge plus.
Although it's not necessary, we discovered the LED indicator that a few drives have to indicate when the drive is attached to your device to be quite helpful. Although some portable solid-state drives have five-year guarantees, three-year warranties are the norm. If something goes wrong, excellent customer service is important as well. We researched the most well-liked portable solid-state drives available on Amazon, and we looked through user evaluations on websites like PCMag, AnandTech, and Dong Knows Tech. Additionally, we thoroughly searched the websites of well-known external SSD producers, like LaCie, Samsung, SanDisk, and Western Digital, to come up with our incredible four recommendations.
Care and maintenance
Your SSD should never be kept in a heated attic, garage, or basement. If the extreme temperatures don't kill it first, the environment will undoubtedly do so. Ensure your SSD isn't near any sources of moisture, dust, or flame, and that it's not placed in a position where it could fall. The SSD can potentially be harmed by unusual power spikes. It's also critical to watch out for overheating, which can harm your system as well.
You will need to do this by routinely cleaning your laptop's ventilation system. Maintain the right temperatures for your SSD's brand in a cool environment. Ask the supplier for recommended storage instructions if you become unsure of the ideal temperature. A smooth, dry, and non-slip surface should always be where you store your SSD. The gadget should not be placed on top of materials like cloth or paper since they can alter how much heat it retains.
By making sure that this external device doesn't wear out quickly, you can increase its health by reducing the data force on it. Even if your disk has a large amount of storage, it's crucial to avoid using it to its maximum capacity. To keep it healthy, all unnecessary files should be deleted, and a thorough cleanup is required. Be cautious when using the USB plug. Ensure the cord or adapter is inserted carefully into the USB port anytime you connect your SSD to a PC. Avoid pulling or yanking on the cord.
As the port could become clogged, it should always be checked for damage and dust. You might need to replace the drive entirely if such a port is broken. It is crucial to assess the health of your hard drive when using an SSD using S.M.A.R.T. software and Windows' key monitoring system. You will receive a notification if your drive has any possible issues. Running this frequently will properly evaluate the safety of your SSD and keep you updated on its state. Although an SSD failure is a rare occurrence, it is strongly advised to keep a backup in case of emergencies.
Sources and Research