The Best Portable Outdoor Chairs for 2023
Going out this summer? Get yourself these portable outdoor chairs that offer comfort and convenience in a variety of styles.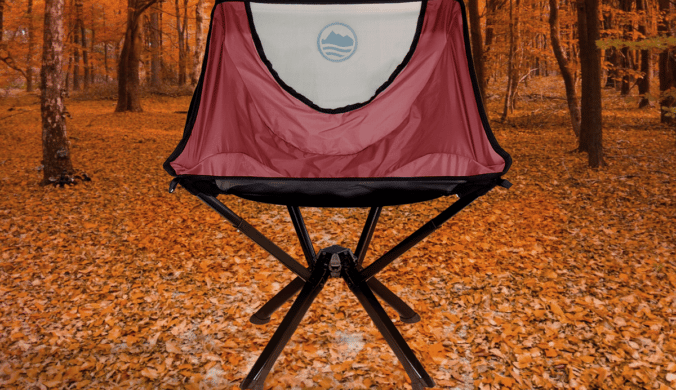 It has been proven that outdoor activities are beneficial to human health. Whether you're lounging around at the beach, kayaking, camping, fishing, mountaineering, or simply enjoying an afternoon of sunbathing, portable chairs make all the difference in your comfort level
These handy chairs take advantage of the natural ingenuity of nature and make it easy to sit outside any time of year with comfortable seating material in virtually any setting. Besides, they are pretty lightweight, easy to carry, able to withstand all kinds of weather, and have a high impact resistance. And because they fold up into easily portable bags, they can be stored right in your trunk until the next time you need them. Wondering what the best portable outdoor chairs are? We have your back.
How We Picked
Size

When it comes to excellent outdoor chairs, size is of uttermost importance. A good chair should be able to open up to accommodate you perfectly, as well as fold down to a portable size.


Comfort

The fabric and material used to build the chair, as well as its features, have a big impact on comfort. You might want to choose one with a high back because it offers excellent head and back support. The comfort you experience in these seats is also influenced by the design or style.


Durability

Outdoor chairs are prone to rough elements compared to indoor chairs. That's why we decided to recommend chairs that are made with strong materials and fabrics that can withstand these conditions.


Cost-Effectiveness

Our lightweight outdoor chairs are strong and functional. They provide outstanding adaptability and great comfort. And, you don't have to spend a fortune to get what you desire.

Our Top Picks
Our Top Pick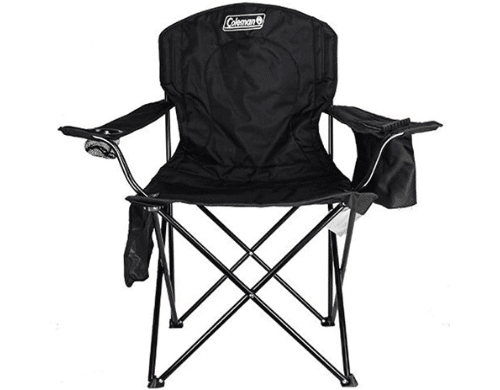 The Coleman camping chair is made with the perfect fabric and materials that will give you maximum comfort and relaxation.
The Coleman Camping Chair is made with top-notch fabric. It is fully cushioned so that you can sit comfortably. This chair offers great support for your back. It is made with alloy steel that is incredibly strong and durable against any weather condition. It is available in different colors so you can pick the one that suits your taste.

This choice is an all-rounder and the best out there.

Our Runner-Up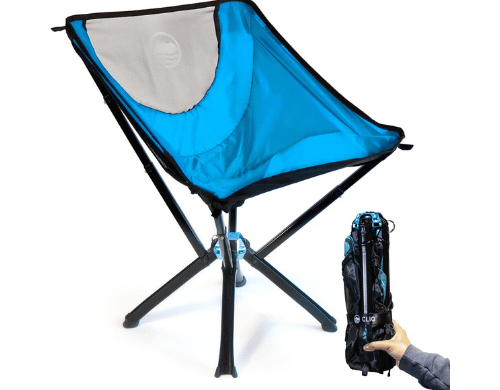 The Cliq camping chair is a unique chair that people dwell in because of its comfort.
The Cliq camping chair is a folding camp chair. You can collapse or arrange it within five seconds. It is portable because when you fold it, it is as small as the size of a drinking bottle. It is versatile and durable. It can stand anywhere gallantly. It can also support 300 pounds in weight. It is made with aircraft-grade aluminum, double seams, and ripstop ballistic nylon.
With seven colors to pick from, this pick is cute and portable.
Most Cost-Effective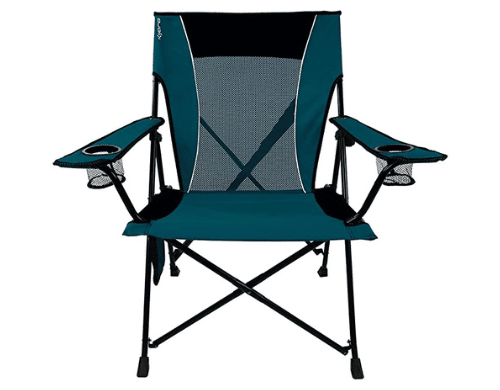 The Kijaro dual lock outdoor chair is a classic outdoor chair that is highly accessible and stable on any surface.
The Kijaro Dual Lock portable camping chair is adaptable and reasonably priced. Sports can also be conducted with it. It is constructed from sturdy materials and high-quality fabric. It contains two sturdy and long-lasting mesh cup holders. It comes with a bag and a handle for simple movement from one location to another.

With this choice, you won't spend much and you will enjoy maximum comfort.

Everything We Recommend
Our Top Pick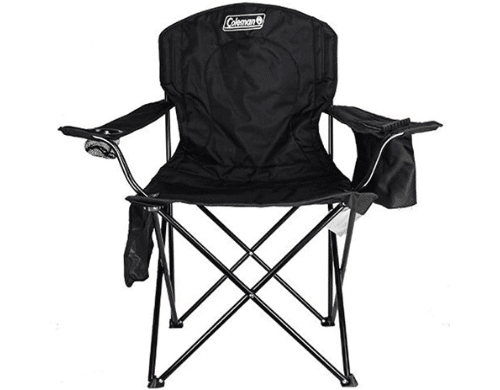 The Coleman camping chair is made with the perfect fabric and materials that will give you maximum comfort and relaxation.
$39.97
Our Runner-Up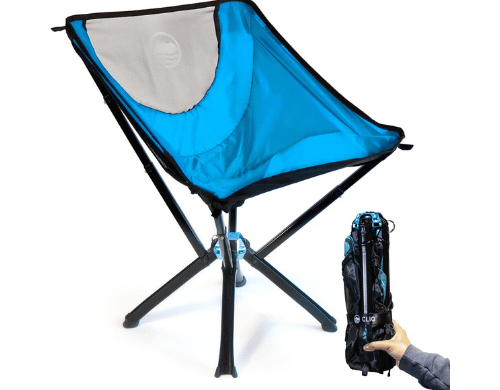 The Cliq camping chair is a unique chair that people dwell in because of its comfort.
$99.99
Most Cost-Effective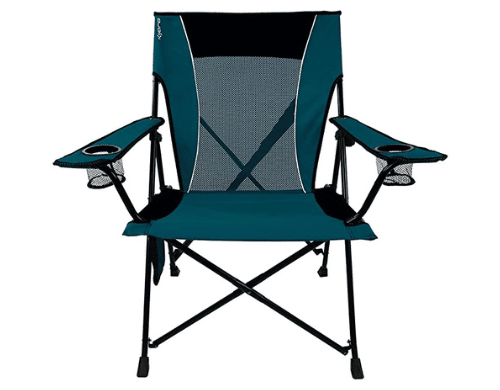 The Kijaro dual lock outdoor chair is a classic outdoor chair that is highly accessible and stable on any surface.
$50.00
Who This Is For
Who this is for
These outstanding portable outdoor chairs are selected for people that want to enjoy top-level relaxation and first-class comfort when they go camping or enjoy some free time in their backyard. They won't cause any damage to your tissue or hurt your back. You can use these chairs on the sidelines of a soccer game or a race. These chairs are luxurious, durable, and effective. If you love birdwatching and you want to do it with 100% convenience, these portable outdoor chairs are also for you.
Beach Chair vs Portable Outdoor Chair – Is There A Difference?
Beach chairs and portable outdoor chairs are popular outdoor chairs. They are used as seats in camp or backyard or beach. Both chairs offer comfort and relaxation but they aren't the same.
A portable outdoor chair is a quintessential tool for camping trips or lounging in the backyard. It is light, portable, and has a compact design. They are foldable and offer great comfort. Portable outdoor chairs are made with high-quality fabrics that are strong and don't hurt after sitting for a long time. On the other hand, a beach chair is essential and mostly used to sit on beaches, backyards, and pools. It has wide comfortable arms. It features a thin but strong fabric that covers a whole seat.
The major difference between the two chairs is that beach chairs have legs that stand firmly in shifting sands terrain while portable outdoor chairs do extremely well in rocky areas and flat surfaces. To maintain great stability on beaches, some beach chairs have bars that reinforce their stability by going into the sand. Portable outdoor chairs have a stronger structure than beach chairs. Beach chairs have broader legs that prevent them from sinking, unlike portable outdoor chairs that have narrow legs.
They are both light and easy to carry. They both have compartments where you can keep things. It will be a great mistake if you carry portable outdoor chairs to a beach or vice versa. They may look alike but they differ in structure. Portable outdoor chairs are meant for sitting, on the other hand, you can sit or lay down on beach chairs.
Is It Worth Splurging On?
Portable outdoor chairs are great for outdoor activities such as camping, birdwatching, mountaineering, and so on. You can also set them up to enjoy some free moments in your backyard. They are comfortable to sit on. They are durable and effective. They are strong and stand firmly on rocky and flat surfaces. So, yes it is worth splashing a small amount of your money on.
What Makes It Multipurpose?
Users and product reviewers have attested to the fact that portable outdoor chairs can be used not only for camping but other outdoor activities such as birdwatching, fishing, grilling, and lounging in your backyard. With its structure and strong stature, you can use it for these activities without worrying about your safety and comfort.
Why You Should Trust Us
There are tons of chairs online that are labeled as portable outdoor chairs and they aren't. Even some portable outdoor chairs aren't made with high-quality material that can withstand various weather conditions. We know how painful it is when you get something with your money and it turns out to be fake or has inferior quality. That's why we decided to scrutinize many portable outdoor chairs and give you affordable and effective ones. In the next section, you will know more about how we picked our choices.
How We Picked
In our hunt to get you top-notch portable outdoor chairs, we checked many professional opinions and user reviews from trusted platforms. We considered professional opinions from product designers, physiotherapists, and outdoor activities writers. We also looked through tons of reviews and feedback of many chairs online before we picked these fantastic four that made our list.
We considered their sizes and we discovered that they are perfect. They will accommodate their
occupants comfortably. They are made with high-quality fabric and strong materials that ensure that you enjoy comfortable moments. They are light and durable. You can carry it easily and set it up without any difficulty. They are sturdy and rigid. They stand firm anywhere you sweet it up.
They are highly cost-effective. We ensured that they aren't expensive and their prices don't affect their quality. They are beautifully styled with colorful fabric. They are easy to use and easy to clean. Most of the portable outdoor chairs on our list have additional features such as a cup holder, carry bag, side pocket, and pouch.
Care and Maintenance
Portable outdoor chairs are easy to clean, thanks to their structure. You need the following tools: a brush, a mild soap, a soft washcloth, a spray bottle, and water. Use the brush to remove any dirt or debris. After that, mix water with mild soap and pour the mixture into a spray bottle. Spray the entire chair from top to bottom. Now, use a soft washcloth to gently scrub the fabric material and the legs. Rinse the whole chair with water. Then, dry it under the sun.
If your portable outdoor chair isn't in use, fold it. Then, pack it in a carry bag or a large bin. You can store it in your storage room, garage, giant cabinet, car, basement, and shed.
Sources and Research