The Best Portable Mini Projector for 2023
Thanks to their adaptability and affordability, mini portable projectors are a sensible choice for presentations, movie nights, or gaming sessions.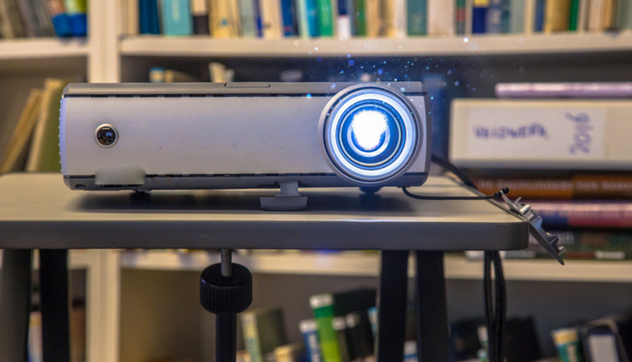 A lightweight, small, and powerful portable projector is an ideal alternative to bulky ones. Projectors are smaller and more portable, so you can show your data and videos anywhere. Then you can watch your favorite programs and movies on the large screen without having to drag along bulky equipment.
You may take one camping with you, bring it to a movie night, or use it at a garden party. These lightweight projectors are compact enough to fit in a bag or purse, and the best of them are so small that they can be carried in a pocket.
How We Picked
Picture Quality and Brightness

Resolution and brightness are two important things that affect the quality of a picture. We only look at devices that have at least 300 ANSI lumens of brightness and at least 720p of resolution.

Power and Battery Life

Mini projectors are usually able to work for two or three hours without having to be plugged in. This is important because they are portable. Some can be powered both by an internal battery and an external USB battery pack.

Sync with Audio

Even if the majority of portable projectors fall short when it comes to audio, we have selected a few that are able to produce high-quality audio with no sync issues.

Cost-Effectiveness

Compared to a TV, a portable mini projector might be more practical and economical. It is important to pick one with specifications that match the price.
Our Top Picks
Best Pick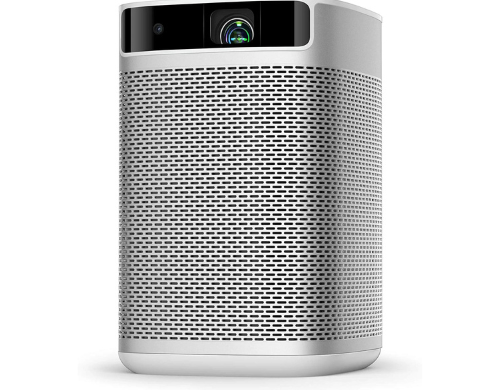 This one of the best lightweight and compact movie projectors on the market.
The XGIMI MoGo Pro is a well-balanced product. It is transportable, user-friendly, and simple to set up.
The high-tech DLP light in the XGIMI MoGo Pro projects an image with full high-definition resolution and 300 lumens. You can enjoy bright colors on a big 100-inch screen. The long-lasting battery allows for at least two hours of cinema-quality viewing on the go. Also, it has two Harman Kardon speakers, each of which is 3W in output power.
Runner Up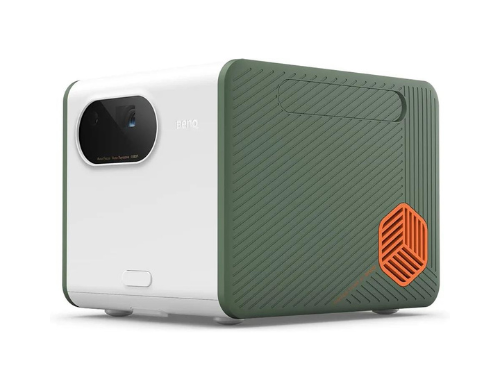 Despite being a little more expensive than similar products, the GS50 is a sleek option for watching media on the go.
The BenQ GS50 outdoor projector is sturdy, intelligent (the lamp turns off if a child goes too close to the lens), and delivers picture and audio quality.
The BenQ GS50 is capable of delivering stand-alone entertainment inside or outside the house thanks to its built-in power supply, speakers, and Android TV interface. Incredibly sharp images are shown in 1080p full HD at 500 ANSI lumens with HDR10/HLG.
Most Cost-Effective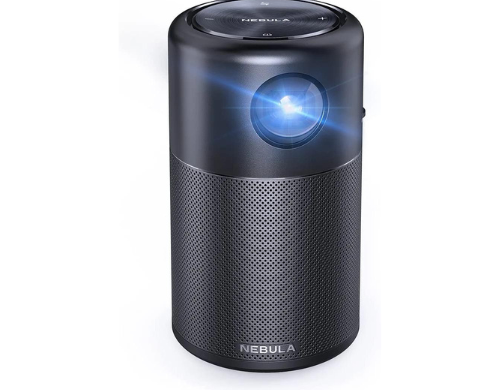 This is the best budget portable projector you can buy, and it runs on Android.
The Nebula Capsule is a portable projector with an Android interface, popular streaming apps, a Bluetooth speaker, and HDMI and USB connectivity.
While it may be as tiny as a can of soda, the Anker Nebula Capsule produces a picture that is everything but little. It's not super-bright or super-loud, but it's perfect for carrying around in your pocket. Size-wise, the capsule seems like a good deal for the money.
Everything We Recommend
Best Pick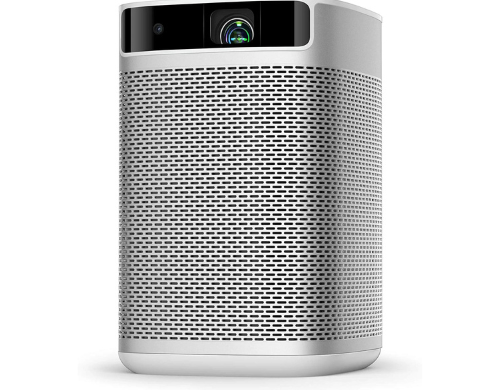 This one of the best lightweight and compact movie projectors on the market.
$499.00
Runner Up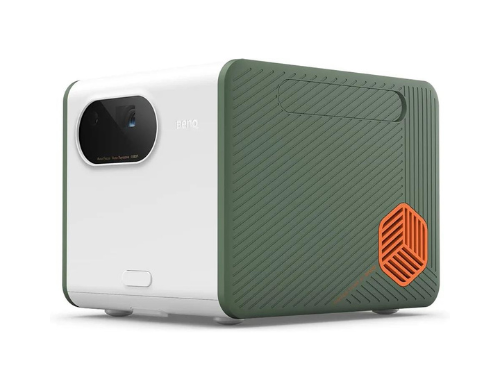 Despite being a little more expensive than similar products, the GS50 is a sleek option for watching media on the go.
$749.00
Most Cost-Effective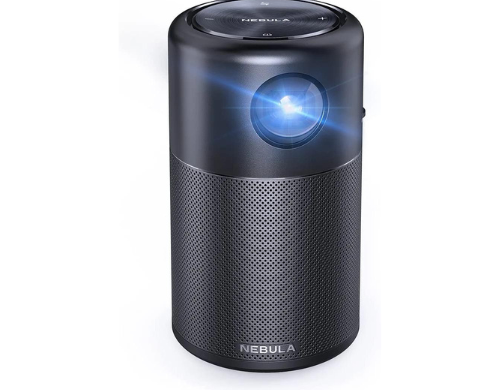 This is the best budget portable projector you can buy, and it runs on Android.
$249.99
Who This Is For
Mini-projectors are convenient for usage in limited spaces, such as workplaces and conference rooms, or for those who need a portable video display when traveling. A portable mini projector's size and light weight make it an ideal feature of a portable theater setup.
Is a mini projector worth it?
For those who value portability and compact size, mini projectors are a great investment. They're portable, lightweight, and equipped with things like Android TV, speakers, and batteries. A portable small projector lets you enjoy a large, high-quality image in any setting, from the comfort of your own home to the great outdoors.
Does a projector's size affect the quality?
The size of the projector does not affect the image quality. What affects the quality is the native resolution of a projector. It is the maximum number of pixels it can show. Displays with a higher pixel density allow for sharper and more detailed pictures. Increases in resolution allow viewers to go closer to the screen without experiencing pixelation.
Why You Should Trust Us
Some of these buyers may have never even seen a high-quality projector before they made their purchase. When comparing a high-end projector to a low-end one, the contrast is striking. Displayed pictures may be greatly affected by the projector's quality and the size of the projection screen. Projectors with a greater resolution (and higher price tag) may provide a far better image. As a result, we have compiled our top picks for the best portable mini projectors so that you can make an informed purchase.
How We Picked
There are now a lot of mini projectors on the market. With prices that are much lower than their traditional full-size counterparts, they are more convenient and fun to take outside or share with friends. If you're looking for a projector to use for viewing movies and TV shows, you may want to consider one of the many models that support wireless streaming. It's important to note that not all portable projectors are the same. As a general rule, the cheaper ones sacrifice brightness and clarity for their lower price.
For your specific requirements, we combed the market for the most suitable products. Portable mini projectors like the single-panel LCD small projectors and digital light processing (DLP) portable projectors are completely different. It's important to have a clear understanding of the essential features that create a great portable projector so that you can choose the best model possible. One of the primary advantages of a tiny projector is its portability. It's crucial that it's portable and lightweight, yet still capable of producing high-quality images. Think about whether you need a battery if you want to watch movies outside.
Portable projectors are often used in improvised spaces where it's not always possible to control the lighting. Therefore, making sure the picture will still seem bright enough is crucial. However, the technology, light source, and optical components in the projector lens also contribute to the projector's ability to produce a high-quality image. For higher quality materials and construction, invest in a portable projector from a dependable brand.
Care and Maintenance
The first thing to do is decide where the projector will go. Images from projectors may range in size from 40 or 50 inches to 300 inches on the diagonal. The next step, if you have a screen, is to set it up. Once things are in place, you can simply use the screen in accordance with the included instructions.
To ensure the projector is balanced, you need to turn it on to show an image. Use the feet or lens shift to modify the angle of the picture. Use keystone correction to modify the shape of the picture. You can adjust the zoom to fit the screen. To fine-tune the picture for your display, you may need to repeat the procedures outlined above.
It is advisable not to depend on the projector's internal speakers for audio. At the very least, a high-quality Bluetooth speaker is suggested. In order to do this, you'll need either a projector with Bluetooth capabilities, a projector with auxiliary input, or a separate Bluetooth transmitter. As an alternative, you may plug in any powered stereo speakers.
Unfortunately, projectors are both delicate and costly pieces of equipment. If you take good care of your projector, it will last much longer and work flawlessly for many more years. Dust is the main enemy of projectors. Dust spots can get in the way of your projector's image, making it hard to see what's on screen. In addition to being a major source of distraction and annoyance, they may also harm your projector over time. Axial fans, blower fans, and fan ducts all suffer from reduced airflow due to dust accumulation on the blades and in the rotors. This prevents them from being cooled efficiently. This is usually a bigger problem in dustier environments.
Protect the projector by keeping it in a cool, dry area. Never use your projector in a smoke-filled or polluted room. Projectors should have their lamps turned off for two minutes before being shut off. That way, the light bulb will last much longer. In addition, if you're going to be transporting or storing the projector, you should wait until it's cooled down before putting it in its case. Also, remember to regularly clean your projector.