The Best Portable Induction Cooktop for 2023
Enjoy a seamless mobile cooking experience with this reliable induction cooktops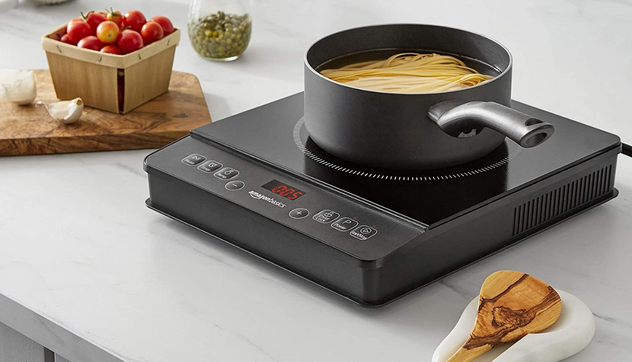 There is no better time to step up your game in the cooking appliances section. Whether you're planning a holiday camping trip or simply want to cook outside and enjoy the fresh air, a portable induction cooktop will come in handy. With many options available, each boasting the best size, price, and weight, the sky's the limit for choices.
From the best portability features to how many stovetops you need without having to choose a favorite, we know that choosing the best portable induction cooktop can be difficult. We're making the choice easier for you with our thoroughly researched list!
How We Picked
Max. and Min. Pan Size

Matching your pan size to the size of your cooktop, the portable induction cooktop will not detect it and will therefore not heat the pot. For maximum efficiency, you'll need to match the two.

Size/Weight/Portability

The size and weight of a portable induction cooktop will be indicative of how well it is built. Those two features will affect how easy it is to carry your cooktop around the house and outdoors i.e: its portability.

Number of Stove Tops

The number of stovetops is important when choosing the best portable induction cooktop and depends on how many people you want to feed and how long you want to cook. The number of stove tops will affect the portability of your device too.

Cost-Effectiveness

Everyone is keeping a close eye on their budgets. The more features you want for your portable induction cooktop, the more expensive it will become. We're looking at the most cost-effective device for you.
Our Top Picks
Best Pick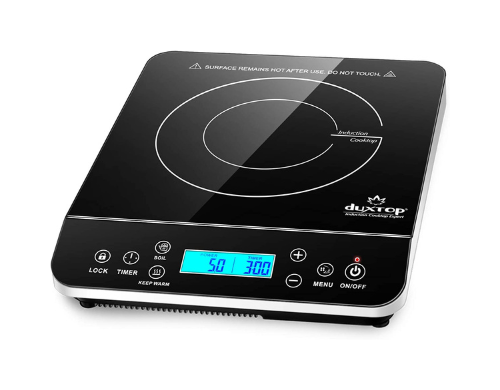 This choice brings the right amount of heat to your home cooking
The Duxtop 9600LS is easy to transport, easy to clean, and has excellent heat settings.
The Duxtop boasts a variety of excellent features, including consistency, usability, and an LCD screen that is super easy to clean. With glowing customer reviews about how useful it is and users being impressed by how much more you can cook on it than your standard water heating or searing meat, it is a fantastic choice. Its instant on-and-off switch, with a final shutdown after 10 hours of use, makes it invaluable when you are in a hurry to eat. Its thicker cable ensures durability too.
Runner Up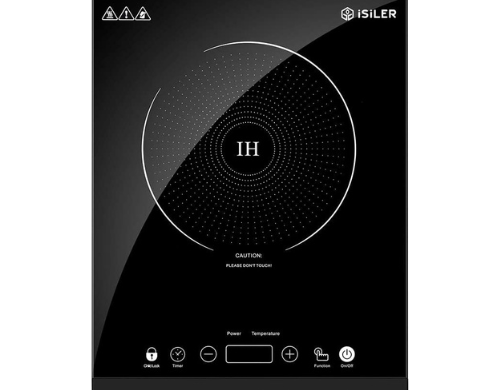 An aesthetically pleasing choice with nine exact heat settings.
The iSiLER is pretty to look at, heats pans thoroughly, and is easy to transport.
If you want something that looks great in your kitchen and pops in your camping trip Instagram posts, the iSiLER portable induction cooktop is for you. While it only has nine heat settings in comparison to the Duxtop 20, it gets the cooking job done and is less expensive. Previous customers have gushed about how quickly the iSiLER cools down. It is a firm favorite for summer cooking.
Most Cost-Effective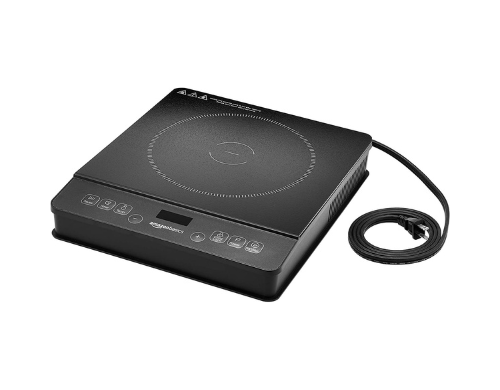 A budget-friendly choice with all of the necessary features.
The AmazonBasics cooktop does the job, keeps the heat, and is easy to carry at half the price.
This one is as basic as it gets but offers all of the necessary trimmings to ensure a seamless cooking experience. Since you won't be forking out too much on the cooktop, be sure to get the right pans for that delicious meal. Previous customers have noted that this cooktop stops cooking exactly 10 minutes after getting it going. It's easy to clean and travel with.
Everything We Recommend
Best Pick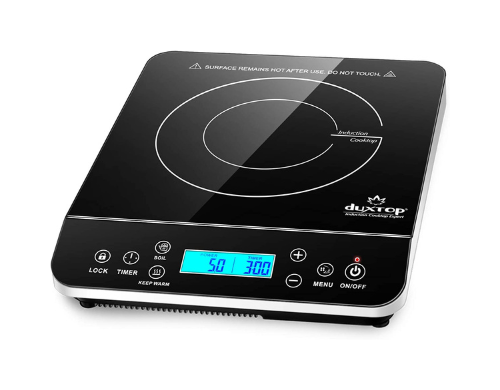 This choice brings the right amount of heat to your home cooking
$116.96
Runner Up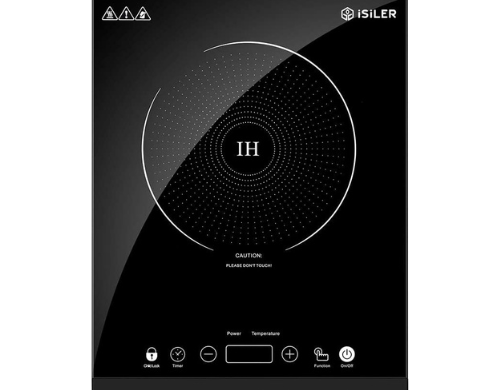 An aesthetically pleasing choice with nine exact heat settings.
$69.95
Most Cost-Effective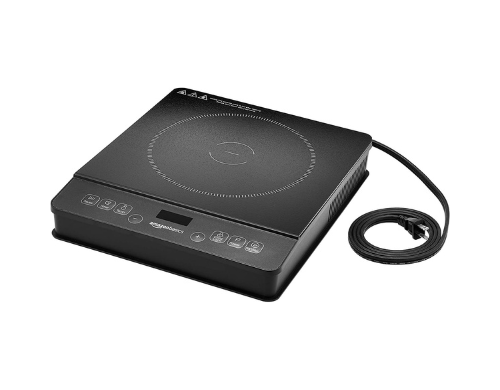 A budget-friendly choice with all of the necessary features.
$57.99
Who This Is For
The products reviewed here are for home cooks, and professional chefs would want to cook large amounts quickly.
How does an induction cooktop work?
An induction cooktop, unlike a gas or electric stove, works with electromagnetism to generate heat. If you were to look inside its mechanics, you would find a coil of metal (more often than not, copper) that creates a magnetic field when the power switch is turned on. This electromagnetic field is only activated when the right pan is set on the correct stove top.
It is vitally important that your cookware is the right material to interact with the electromagnetic field. Pans and pots should be made of cast iron or steel. You test the magnetism of your cookware with a fridge magnet – if it sticks, it's good to use on your induction cooktop.
Why You Should Trust Us
Many portable induction cooktops are marketed towards men who go camping with more expensive brands targeted at professional chefs based at restaurants and hotels. We've spent a considerable amount of time researching portable induction cooktops for the average home cook who needs to get dinner going on the fly and quickly.
How We Picked
It's not easy to find the right portable induction cooktop for you, especially with the broad and intimidating range of options available online. To make the process easier, we have scoured countless previous customer reviews and taken an in-depth look at their experiences with induction cooktops. These experiences ranged from how quickly each induction cooktop heated up and cooled down to how easy or difficult it was to travel with them, i.e., their portability features. With all of these first-hand accounts, we have been able to sift through the options and find the best ones for you.
Looking at various sites, we've also been able to narrow down what the ideal size and weight are for your portable induction cooktops. We're looking at why sometimes two stovetops are better than one, especially if you have a large family or are entertaining. Since these cooktops are a better alternative to using an electric or gas stove, we know you are eager to know how each one's controls can be used or adjusted. We've taken special care to research the maximum and minimum pan sizes you'll need when cooking and how best to adjust the temperature of your device.
As always, we've also looked at the best price options available because cooking for yourself should never cost an arm and a leg!
Care and Maintenance
Caring for and maintaining your portable induction cooktop is relatively simple but does require some practice and forethought. We are doing a deep dive into this process to make it simpler for you.
Firstly, ensure you are using the correct types of pans when cooking on top of your portable induction cooktop. The best materials for this type of cooking are cast iron, steel, and magnetic stainless steel. We do not recommend using glass, pyrex, aluminum (unless it has a magnetic bottom layer), or copper-based pots.
Secondly, familiarize yourself with the heat settings on your portable induction cooktop. The stove top won't heat up if your pot is not suitably sized for it but still be aware of residual heat if you have just used it. A stovetop will shut down after 500F. Do not leave any utensils on the warm or hot stovetop. Do not handle any pots you are taking off of the stovetop without gloves.
Thirdly, be aware that the electromagnetic field surrounding the cooktop can play havoc with your electronic devices so keep your phone, tablets, and radios away from it. The same principle applies if you are a cardiac patient with a pacemaker in your heart. Check with your physician if your type of pacemaker is safe to use around portable induction cooktops.
When using your portable induction cooktop, ensure that it is kept well out of the reach of children or pets. The higher the surface area you are cooking on, the better. Be especially mindful of this when you are cooking on your back or outdoors at a camping spot. If your device is wired, keep those out of the way so that they cannot be tripped over by running children or twisted around roaming pets' legs.
Cleaning your portable induction cooktop is as easy as wiping it down with a damp paper towel or kitchen rag. Do not use any harsh cleaning agents and, we hope, do not submerge your cooktop in water. Ensure the cooktop has cooled down and the fan has stopped working before cleaning it up. If your device is wired, keep the plug and outlet far away from the cooktop to avoid damaging either. Cleaning after each use is the best way to do it and avoid staining the next pot you use on the same stovetop. The drying process is easy to remember and do. Wipe it down with a dry cloth.
When you are not using your portable induction cooktop, it is best to store it away in a cupboard with a lid. Thoroughly dry your appliance before storing it. Do not place anything on top of it to avoid scratching or damaging the cooktop in any way. Storing your portable induction cooktop when you are traveling follows the same principle – ensure it is dry, place a cover on it, and do not pack anything on top of it. Do not allow it to be in direct sunlight and avoid storing it close to your cooler bag or electrical devices.