The Best Portable Gas Grill of 2023
With these best portable grills, you can cook from almost anywhere.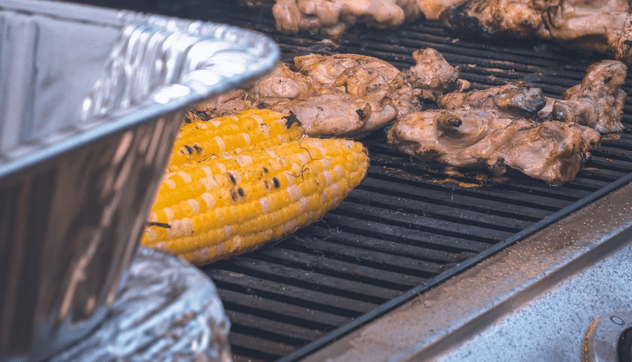 A portable gas grill makes it simple to prepare hearty meals away from home for anyone who enjoys camping, tailgating, or picnicking. You won't need to bring along charcoal or worry about finding an outlet as long as you have a small liquid propane tank in your car to cook up some delectable cuisine!
When shopping, you should consider factors like weight and cooking space, as portable gas grills come in a variety of sizes and forms, including freestanding and tabletop models. Most notably, you'll need to consider how much cooking power you require. You don't want to run out of gas before it's time, as higher B.T.U.s equate to quicker gas use. We reviewed all of our testing data and combed the market for the best, newest, and best-selling models to compile this list of the top portable gas grills for all of your outdoor activities.
How We Picked
Performance and Versatility

With telescopic legs, certain designs may swiftly change from being a freestanding model to a tabletop model while maintaining their performance of cooking food evenly and quickly.


Ease of Use

Handling a portable gas grill shouldn't come with so much hassle, as they usually just need to be switched on to properly distribute heat.


Compactness and Portability

It's called a portable grill for a reason; it should be small in size and equally easy to transport to different places to avoid stress.


Cost-Effectiveness

Portable gas grills are typically meant for outdoor purposes and, as such, are meant for occasional use. No one wants to spend so much on an item they barely use.

Who This Is For
The portable grills featured here are ideal for those who enjoy tailgating, camping, and picnics. They're also wonderful for city and apartment dwellers with limited outdoor space. These grills are lightweight and portable, making them easy to transport anywhere.
Gas vs. Charcoal vs. Electric
It's essential to know how different grill types, including electric, gas, and charcoal, compare if you're in the market for a new grill. Historically, charcoal has been the most popular grilling source, but in recent years, the health advantages of gas and electric grills over charcoal grills due to lower carcinogenic emissions have made them more popular.
Charcoal Grills
Charcoal can be the best fuel option for grilling if flavor is your top goal. The charbroiled, smoky flavor that barbecued meats are known for is imparted to food when it is cooked over charcoal. The downside is that since charcoal creates smoke, it introduces harmful substances into the food and the air. Charcoal grilling also needs enough space, as people around it can find it uncomfortable due to the intense heat and smoke it produces. Additionally, it takes longer to cook because you have to wait while the coals are lit and stoked until they reach the desired temperature.
Electric Grills
The least conventional of the three barbecue types are electric grills. They've gained a reputation as the healthiest, most accessible method of grilling in recent years, and have seen an increase in popularity unlike anything else. The only thing an electric grill needs to operate is an outlet; they heat up in a matter of minutes after being plugged into an outlet. However, note that electric grills might not produce the same authentic smoky flavor that you get from charcoal and gas-powered appliances, which might limit their appeal to some audiences.
Gas Grills
Gas grills combine the ease of an electric grill with a robust, smoky flavor to provide the best of both worlds. When powered by natural gas or propane, they produce a powerful, hot flame that sears meat similarly to charcoal. Rotisserie settings, smoker boxes, side burners, and other enticing add-on additions make them appealing, and regulating the temperature is easier and more precise. Similar to charcoal, a gas-powered barbecue requires a lot of space to operate. They generate a lot of heat and might not be practical close to people. Additionally, they are often larger than electric and charcoal models since they need a propane tank or a natural gas connection.
Advanced technologies have had a significant impact on grilling and barbecues. Traditionally, outdoor cooking used charcoal as the fuel of choice. Electric grills are now a more popular alternative due to recent improvements, although gas-powered grills are still widely employed due to their convenience. The perfect grill for you will ultimately depend on your priorities. With the right information, buying the ideal grill for your barbecue needs will be easy.
Is it worth splurging on?
Gas grills are effective and enable you to start cooking with the flip of a switch. You can set temperatures precisely, which will improve overall control. It's easy to sear food with the direct, constant heat that normally comes from two- to three-burner sets, which makes it perfect for grilling traditional foods. In addition to producing food for larger people, the speed and instant adaptability are perfect for midweek cooking during the summer. They provide more functions than electric or charcoal barbecues and don't release the toxins that come from charcoal grills.
Are they safe to use?
When used and maintained properly, gas grills are safe to use. A little grill maintenance can prevent potential catastrophes. The first step in grill safety is to read the owner's manual. You can never know too much or learn too much about grilling, regardless of your level of expertise or years of experience. Additionally, you must ensure that your grill is in a secure location, away from buildings, before you turn it on. It is typically advised that you position your grill 10 feet away from any form of flammable structure, including trees, fences, and buildings.
Why You Should Trust Us
Our product reviewers and grill specialists created this list for National Today. They examined hundreds of models and customer reviews posted on the websites of the retail companies in addition to testing each gas grill firsthand.
How We Picked
Size/Portability
A larger option can be preferable if your desire for portability is restricted to transferring your grill from storage to the patio, as you'll have more grilling space. But if you want to take your grill camping, a more compact and lightweight model would be the best choice. Consider the grilling surface area to determine how much you can cook at once.
Performance
You should take into account how a variety of dishes are cooked at various temperatures to evaluate performance. With any grill, temperature control is also essential. Top grills should reach temperatures up to 100° Fahrenheit higher than others, and the temperature readings also tend to be more constant during cooking.
Versatility
Some portable grills are designed for tabletop use; if you feel more comfortable doing so, you can use them there as well, but it might not be as convenient. Tall legs on grills allow you to work at a comfortable standing height, but they also add weight and size, making them harder to transport.
Ease of use
Gas grills are popular because they are simple and practical. To start the grill fast and control the temperature without struggling, the thermal knob and push-button ignition should be visible and easily accessible.
Price
Costs for portable barbecues can range from $150 to $500 or more for nicer gas and propane grills with tons of bells and whistles. The Weber Q-1200, our top pick, costs roughly $259. If the grill is cleaned, covered, and properly cared for, it should last you several years to a decade.
Weight
Small and lightweight grills are more versatile and ideal for campers or anyone who finds themselves frequently on the road, even though a full-sized grill is ultimately the best choice if you're not going to move it around.
Design/style
Cast-iron cooking grates covered in porcelain are ideal for searing meals. The exceptional ability of cast aluminum fireboxes to evenly absorb and reflect heat and resist corrosion reduces hotspots. An open grate design enables the firebox's ambient heat to brown the areas between the grill marks.
Care and Maintenance
How to clean
Any barbecue routine should include a thorough cleaning both before and after usage. Verify that each porthole is clean and spotless. You might want to clean any holes with a little drill bit. Make sure the burner has no gaping holes and that the metal is firm and free of soft spots. Clear away any potential webs with a venturi brush. The burner tubes should be kept clean to ensure safe functioning. Look for corrosion on your grill grate. Replace them if there is rust present that has weakened the metal. Make sure the heat distribution system on your grill is not clogged with grease. This can result in a grease fire.
How to carry around
If your lid is attached, tape it shut with a small piece of packing tape. After that, cover the grill with a moving blanket and tape it down securely. It will be easier to carry the grill and keep it steady in the truck if the base and wheels are left uncovered. Leave the side handles of your grill exposed as well. After placing the grill in the truck, make sure nothing is placed on top of it and secure items around it to prevent it from moving while being transported.
Where and how to store when not in use
Keep your grill outside if the owner's manual does not clearly mention indoor use. Grills powered by propane pose numerous risks when used indoors. It emits carbon monoxide, which can accumulate and become extremely deadly in a confined space like your kitchen or garage. Gas leaks from propane grills can potentially accumulate inside a building and pose a threat. Additionally, all outdoor grills, including charcoal, gas, and electric models, are not insulated for safe indoor usage, which causes them to emit a lot of heat and instantly pose a fire hazard.
Safety instructions when using the product
Make sure your grill is positioned on a firm, flat surface so it won't roll, tip, slide, or otherwise move. Avoid grilling on lawns or other soft surfaces where the leg of a grill could sink and tip the entire device off balance. Make sure the wheels on your grill are secured. Additionally, a grill mat can help keep a grill firmly in place while safeguarding the ground below.