The Best Portable Document Scanner for 2023
These portable document scanners will make your life so much easier. Why not check out our list and get yourself one?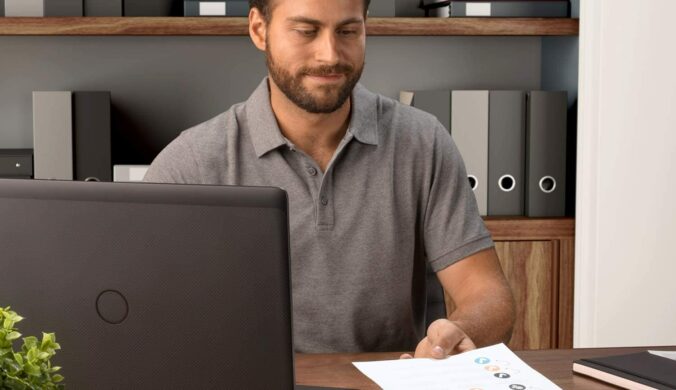 Technology has changed the way work is done today. More importantly, it has changed how we store or send important documents. With the freedom to work from home or wherever we feel most productive, comes the need for portable equipment. This makes devices such as portable document scanners invaluable.
Purchasing a handheld scanner allows you to quickly digitize documents, eliminating the need to manage stacks of paper documents. In our guide, we have compiled a list of some of the best options you should consider adding to your work arsenal. Take the leap and watch your productivity soar.
How We Picked
Speed

The best portable document scanners produce superior results in a minimal amount of time. Those that yield 300 dpi scans or higher are ideal as they take less than 10 seconds for each document.

Usability

You don't want to fumble around trying to figure out how to use the document scanner. Go for one that has straightforward instructions and is easy to use.

Wi-Fi Connectivity Abilities

Wireless portable scanners give the best value for money. Since they connect to other devices or cloud services via Wi-Fi, they do not require cumbersome USB connections.

Cost-Effectiveness

It's important to get value for your money. As such, look for a portable document scanner that is affordable, produces an output of the highest caliber, is simple to operate, and fits your budget.
Our Top Picks
Our Top Pick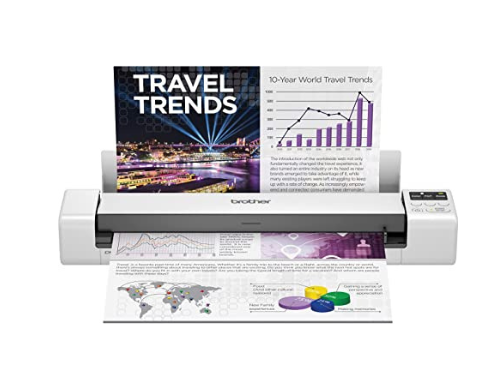 All you need in a portable document scanner.
It's hard to find a portable scanner that does all the heavy lifting. However, this one from Brother is one of the few. It's fast, scans a wide variety of documents, has Wi-Fi connectivity, and does duplex scanning. You can count on this scanner to handle all your work needs effortlessly.
This portable scanner meets all your needs seamlessly.
Our Runner-Up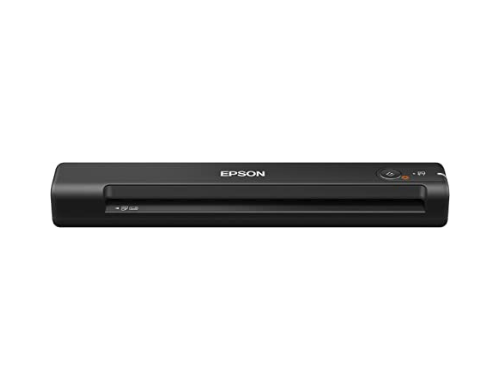 It has excellent compatibility with Windows and Mac.
If you frequently use both Mac and Windows, this scanner from Epson is perfect for you. It also connects to your computer by USB, so you don't need any batteries or an external power supply. Its impressive speed and ability to handle different kinds of documents make this scanner a valuable device to have. Consider this model for easy, on-the-go scanning.
This is a fantastic scanner that supports both Windows and Mac.
Most Cost-Effective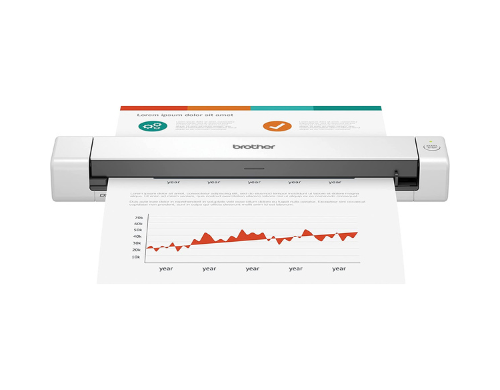 Fantastic quality at a fair price.
Are you looking to buy a portable scanner without breaking the bank? The Brother DS-640 gets the job done. It's compact, fast, and lightweight. In addition, it can handle a wide variety of documents, from receipts and business cards to photos and A4 paper. This is a fantastic scanner for someone on a budget.
A fairly priced yet impressive portable scanner.
Everything We Recommend
Our Top Pick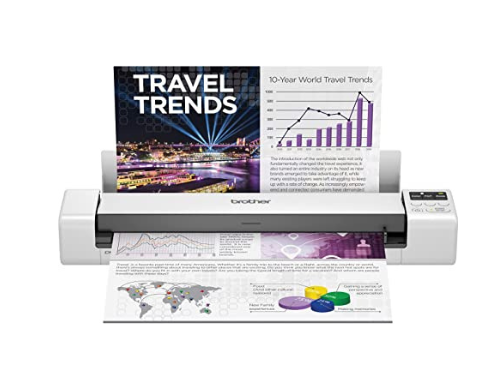 All you need in a portable document scanner.
Our Runner-Up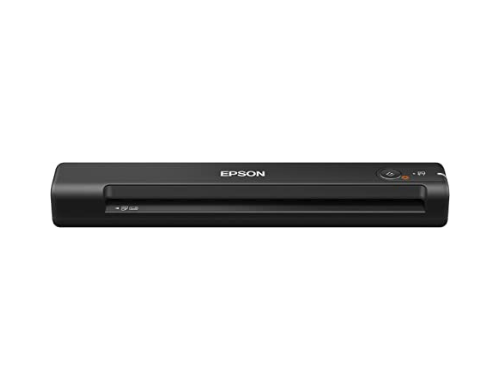 It has excellent compatibility with Windows and Mac.
$99.99
Most Cost-Effective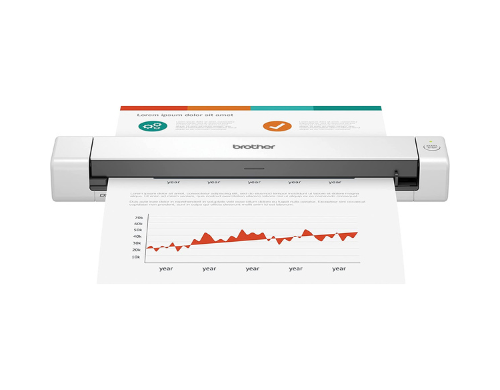 Fantastic quality at a fair price.
Who This Is For
If you do most of your work outside the office and are looking for an efficient and lightweight portable document scanner, you will find this guide useful. The information in this article is also beneficial if you want to switch to remote working but are worried about keeping up a high level of productivity.
Difference between a flatbed scanner and a handheld
A flatbed scanner has a flat surface where the printed image or document is scanned and stored, while a handheld scanner scans documents as you pass the device over them by hand. Also, flatbed scanners are more expensive since they create images of higher quality.
Can't I just use an app on my phone?
Phone apps work for scanning, but they still rely on the phone's camera. They are therefore prone to problems such as inconsistent lighting on the document due to glare and hot spots from the flash and struggling with different focus levels, lighting, and irregular edges when scanning a folded page. Also, you must manually stretch the app's bounding box to cover the entire document when the auto mode is not quite right. A portable document scanner eliminates all these headaches.
Why You Should Trust Us
We scoured through numerous options available on the market, looking at their features and customer reviews. You can rest easy knowing that our selections are some of the best-performing portable document scanners you can find.
How We Picked
A portable document scanner that's easy to use and maintain contributes to an enjoyable work experience. These document scanners come in different sizes to meet various needs. If you move your work set up around a lot, you'll need a portable scanner that's small and light enough to carry around. Depending on your work output, you might want to choose either a handheld or a flatbed scanner. The design of the scanner is also something to consider if portability is a key issue for you. In our guide, we have provided different options to help you make the best choice.
If you need to scan mini documents frequently, then you need a portable scanner with a high speed to increase the efficiency of your work. Also, having a scanner with wifi connectivity is advantageous as this eliminates the need for USB cables, which tend to create a messy setup.
For maximum efficiency, it's better to buy an OCR scanner because it converts documents into editable formats such as Word, Excel, and PDF instead of the conventional image format. You're also better off with a duplex scanner that can automatically scan a sheet of paper on both sides rather than having to scan each side manually.
The best scanner is one that combines all or most of these features at an affordable price to give you the best value for money. Our research considered all these functionalities to bring you the best options for your scanning needs.
Care and Maintenance
Keeping your scanner clean
Your portable scanner will naturally accumulate dust and grime as you use it. Don't wait too long before cleaning it — try to do it once a week, or every 800 to 1,000 scans. To clean your portable scanner you can use several different solvents such as baking soda, hydrogen peroxide, vinegar, rubbing alcohol, hairspray, or alcohol wipes.
In case your portable scanner jams multiple times a day or produces lines in the scans, it's time for a deep clean. This could mean that there is dust far inside the scanner, the feed mechanism is bent, or the springs are worn out. Take your scanner to a repair shop so they can access those parts and do a deep cleaning.
Where and how to carry around
To protect your portable document scanner while in transit, use a carrying case or bag. These will protect your scanner against dust, debris, moisture, and other contaminants that can cause it to malfunction. Ensure the thread is heavy-duty so that the seams do not fray or come apart.
Keep your portable document scanner in its carry case or bag when not in use. Ensure it's on a stable surface that won't be bumped around to prevent damage to the internal mechanism.
Battery care
We recommend having several batteries to switch around so that you don't wear out one too quickly. When the battery isn't in the scanner, store it in a cool and dry place away from direct sunlight or heat to prevent damage.
Cord care
Keep the cord safely stored away in the carry case when not in use. This is especially needed if you have young kids or pets who may chew on the cord while playing.