The Best Portable Air Conditioner of 2023
With these handy devices, you can enjoy a cool breeze anytime, anywhere. Get yourself one today by clicking here!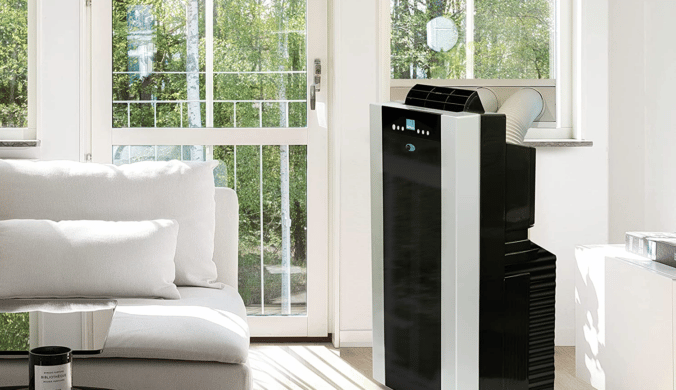 Temperature control is important in just about any space for productivity and comfort. However, weather conditions vary and so does the temperature. As such, some days will be just right while others will be too hot or too cold. And, that's when air conditioners come in handy.
Portable air conditioners are a good investment and can be used in different rooms. These small units can easily be carried from room to room, and the onboard thermostat allows you to choose the temperature and the desired AC output. Portable air conditioners are compact and simple to use, so you can switch them on only when needed, saving energy and cooling down your home more quickly. However, the ideal portable air conditioner is determined by the size of your room and your preference. Here, we will provide information that will make your selection blissful and accurate.
How We Picked
Size and Portability

The size of a portable air conditioner directly affects its portability. While bigger units may push out more air, they are quite bulky. Therefore, if portability is a major concern for you, a small AC will suffice.

Power

When getting a portable air conditioner the goal is to achieve a regulated temperature level within the shortest time. Therefore, the ideal pick should have a powerful motor that pushes out enough air.

Temperature Controls

Temperature controls on a good air conditioner should be simple to use. Even better, most modern air conditioners will run until the desired temperature is reached before shutting down automatically.

Cost-Effectiveness

The ideal portable air conditioner should be mindful of your pockets. It should be of high quality but not too expensive to surpass your budget. However, do not go for an appliance too cheap to not serve you effectively.
Our Top Picks
Our Top Pick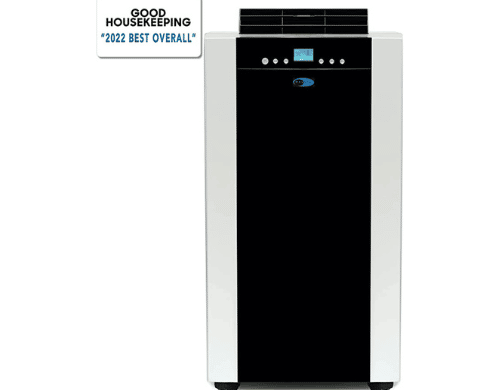 This powerful AC runs on a relatively silent motor to help cool down your space within a few minutes.
With three operational modes, you can set this appliance to the air conditioner, fan, or dehumidifier mode. You can therefore use it in any season and location with different temperature levels. It is also easy to set up and it takes just a few minutes to get it to work.
Using this powerful, quiet, and effective portable air conditioner, you can make your space a comfortable, healthy environment.
Our Runner-Up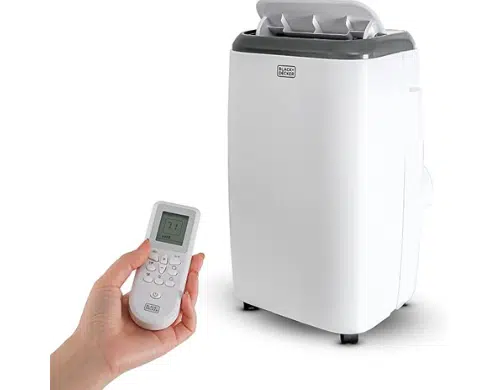 This air conditioner has a small footprint making it ideal for carrying around.
This portable air conditioner is quiet and allows you to have a comfortable environment with no noise. It is also small and lightweight, weighing 51.1lbs and measuring 17.32 x 13.2 x 27.2 inches. The size and weight make it easy to carry around. Consequently, you get to use it in different rooms without any hassle.
Enjoy regulating the temperatures in your house using this easy-to-use portable air conditioner.
Most Cost-Effective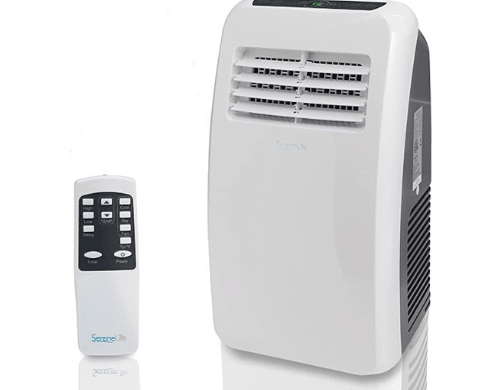 A built-in dehumidifier regulates the moisture levels in your space eliminating the need to install a separate dehumidifier.
This portable air conditioner not only regulates temperature but also gets rid of excessive moisture in the air. You, therefore, do not need to purchase and install a separate dehumidifier. It also has a remote control for convenience and easy use. Therefore you can control it remotely from the comfort of your couch.
With this stylish white air conditioner, you can complement your room while also creating a comfortable living environment.
Everything We Recommend
Our Top Pick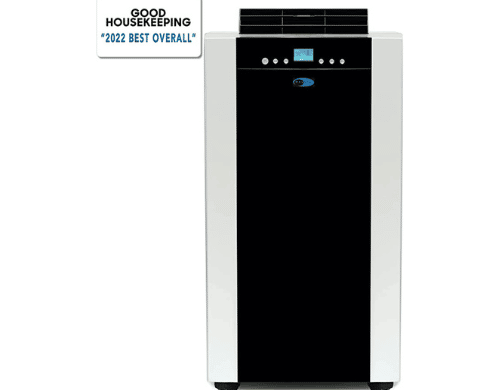 This powerful AC runs on a relatively silent motor to help cool down your space within a few minutes.
$499.00
Our Runner-Up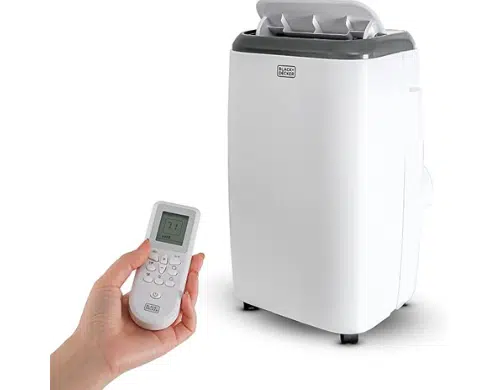 This air conditioner has a small footprint making it ideal for carrying around.
$349.00
Most Cost-Effective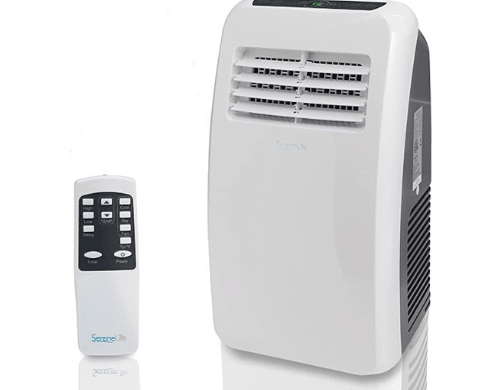 A built-in dehumidifier regulates the moisture levels in your space eliminating the need to install a separate dehumidifier.
$319.99
Who This Is For
The portable air conditioners reviewed here are ideal for any person that dreads living in an environment too hot. It is also perfect for very hot areas that need regulation for comfort. They are all easy to use and can be used by any person without necessarily having related expertise.
Are portable air conditioners worth it?
Portable air conditioners regulate the temperature levels in your room. They are also movable from one place to another and therefore usable across a large room or multiple rooms. It also needs no tedious installation and only needs to be plugged into an outlet. Therefore a portable air conditioner is worth it since, unlike an unmovable air conditioner, it can be used anywhere.
How to know the correct size/strength of your air conditioner
The ideal size and strength of an air conditioner depends on the size of the rooms where you intend to use it. You can get the required BTU (British Thermal Unit) by multiplying the total area of your room by 25. Typically, each square foot requires 20 BTUs to ensure that every inch of the room is covered. Similarly, the ideal air conditioner should fit in the designated space without overcrowding your room.
Why You Should Trust Us
The information we provide is credible, factful, and truthful. We do not advertise any products from any brands. Rather, we examine all features of different products and determine the most effective and of the highest quality. Consequently, we pick the best products on the market to make the choice easy for our audience.
How We Picked
We have picked small-sized portable air conditioners to allow you to move them from place to place. They are all lightweight to ensure that you carry them around with no fatigue. Therefore, you can use them in different rooms or different parts of one room. All our picks also have powerful motors that will regulate the temperatures in your room within no time. Three of our picks are corded while one is battery-powered, is fast-charging, and has long battery life. Therefore, it does not require you to spare too much time to charge it. It will also run for many continuous hours on a full charge.
Additionally, we have listed portable air conditioners with motors of different strengths. Therefore, you can use them in different rooms of different sizes. They all have temperature controls to allow you to choose the heat levels you need in your room. They are thus usable in different weather conditions.
You will get value for money, regardless of the air conditioner you choose from our picks. They are all strong and durable and have reasonable buying and maintenance costs. You do not need any special expertise to use these portable air conditioners. They are all easy to use and do not require any hectic installation processes.
Since we care about your money, we have picked air conditioners with low energy usage. They, therefore, use little power, adding no unnecessary costs to your bills. The vents on the air conditioners allow proper air circulation to safeguard the interior components of the appliance. You can place them in any space in your room, thanks to their low footprint. They will not disrupt your roommates, colleagues, and neighbors, thanks to the low-decibel, quiet motor.
Care and Maintenance
The best place to place a portable air conditioner is one that will not compromise its effectiveness or mechanical state. The place should be airy to allow proper air circulation. An airy place also draws fresh air from the atmosphere outside the house to the inside. It also prevents overheating and damaging the motor.
Also, avoid covering the vents to keep them well-ventilated and to allow them to circulate enough wind in the room. Avoid leaving it running unattended to ensure that you always have control over the air in your room and electric connection.
An air conditioner is easy to maintain and does not require too many processes or costs. It requires service at least once a year to keep it running smoothly. However, the cost varies depending on units, the issues that need fixing, and how carefully you handle them. The yearly inspection does not require too much time and takes up to two hours on the higher side.
Sources and Research