The Best Portable AC Power Supply for 2023
A portable AC power supply is the ideal solution to your low-battery problems.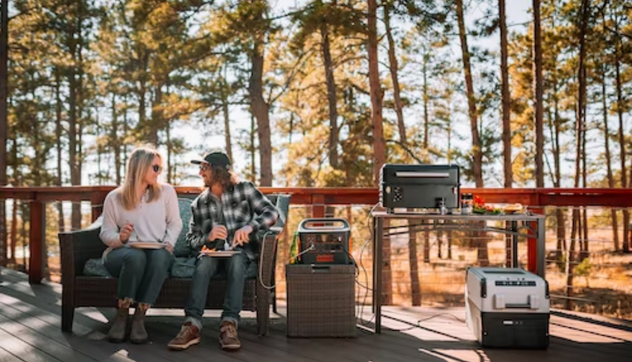 It's upsetting to see your phone or tablet run out of battery while you're nowhere near a power outlet. Thankfully, third-party backup batteries are available in every size and capacity conceivable. The latest portable AC power supplies come with features like fast charging, wireless charging, AC adapters, LED flashlights, and even jump-start capabilities. Whatever your budget, you can find a portable battery that will keep your device running when the battery icon turns red.
With so many possibilities, how can you decide which AC power supply is best for you? When shopping for a portable power source, there are several factors to consider. We spent countless hours accumulating all the key facts you need to know to select the finest power supply for your requirements. We also combed through hundreds of user evaluations to create a list of the top portable power supplies.
How We Picked
Power/Battery Life

The most critical consideration should be power capacity. This depends on how much power your gadgets draw and how long you can keep them charged.

Number of Ports

Another issue to consider is the quantity and type of ports on an AC power supply. Many AC power supplies feature a single output port. However, others, particularly high-capacity versions, might have dual, three, four, or more output ports.

Size/Thickness/Weight

A power supply's weight and size are particularly important for carry-on travelers. So, examine the size and weight of numerous items to select the one that is most convenient for you.

Cost-Effectiveness

AC power supply pricing is intimately tied to all features of AC power supplies. To determine the price of an AC power supply, all factors must be considered and understood.
Who This Is For
Most individuals could use a USB AC power supply (also known as an external battery pack, emergency battery, or portable charger) to charge their phones and other gadgets while on the road. The challenge is, which one fits best into your routine?
While some people might only need a small battery to charge their phone at the end of the day, others who travel often may require a battery that can support multiple devices simultaneously. Rather than needing to find a wall outlet everywhere you go, a USB AC power supply provides a convenient (although limited) power supply rather than finding a wall outlet everywhere you go.
What is an AC power supply?
A portable AC power supply is a convenient way to recharge electronic devices. It's the same as a USB-only battery pack but with a larger capacity and an AC outlet. Plastic, metal, and silicone are the most often used materials for portable AC power supplies. They also have a USB-C or USB-A port and are available in various forms and sizes.
What devices can I charge with an AC power supply?
A portable AC power supply can charge a cell phone, a tablet, a speaker, and even a laptop! AC power supplies can charge most devices that can be plugged into a wall. The important thing to remember is that you can only charge one or two gadgets at a time. Portable chargers come with two USB ports, so you can charge up to two devices simultaneously. Multi-device charging does not slow down the charging speed.
Why You Should Trust Us
Our knowledgeable team chooses the items to review and thoroughly examines and tests the best choices. A fundamental obligation of what we do is to make sure that our suggestions are reliable and accurate and ultimately assist you in making an educated purchasing decision. We have a core responsibility to ensure that our recommendations are credible and factual, and ultimately help you make an informed purchase decision.
How We Picked
Power
It's important to remember that portable power stations come in various power outputs. While some can even kick start your automobile, others can only generate a modest amount of energy to charge your phone.
Battery life
The battery life is the most important factor in portable AC power supplies, so you should consider practical use before buying one. Are you planning to use your portable AC power supply heavily? Will you use it daily, or will you only use it in an emergency?
A device's battery life is measured in watts-hours or Wh. A rating of 1500 Wh is sufficient for sole emergency use, such as a smartphone or a comparable, smaller item. Opt for a capacity rating of at least 2000 Wh if you want to spend a little extra. This would be enough to power practically all your devices for a couple of hours.
Charging speed
Portable AC power supplies also come in various charging speeds. Knowing the charging speeds might be the difference between being severely disappointed with your portable power supply and having your device fully charged. This is why it's critical to understand how to check output and input values on a portable AC power supply.
Number of ports
Once again, how you want to utilize your portable AC power supply will considerably influence the number of outlets you require. If you just want to charge one or two products from your supply, you can usually get away with one or two outlets.
Type of cable ports
There are several useful ports on all portable AC power supplies. The main ones are the usual main AC connectors for connecting a typical wall socket, standard USB-A connections (which many of your charging cords will utilize), and improved USB-C ports (which provide faster-charging speeds and are compatible with new products).
Size
Although most portable battery packs on the market today are compact and relatively simple to transport, this is still a matter to consider. The larger the capacity, the larger the portable AC power supply. This is not an issue if the primary goal of purchasing a portable AC power supply is to power up as many devices as possible as often as feasible.
Thickness
Your AC power supply's thickness plays a role in its capacity. Although many compact versions are available, they won't have the same features as those that are more substantial. However, most recent AC power supplies maximize battery capacity for small physical forms, like flash drives.
Weight
You want your AC power supply to be portable, so make sure it is not too heavy. You'll be able to carry around a smaller battery more easily, but it will hold less charge. A larger battery will retain more juice but will be more difficult to transport. Since they're the heaviest and biggest bunch, they must be especially carried.
Portability
One of the primary reasons portable AC power supplies exist is that they are incredibly portable. You should be able to charge your devices while on the road. That's why they're known as portable AC power supplies.
Durability
Hundreds of portable AC power supplies are on the market today, but only a few are likely to withstand the test of time and usage. Durability, like any working electrical item, should be a top consideration. In this sense, the kind of material and the manufacturer are critical. Purchasing from a respected firm committed to producing high-quality items will also assure you that you are purchasing a dependable product.
Reliability
Another quality to look for is reliability. It is difficult to assess the reliability and lifetime of a portable AC power supply. Investing extra in a decent portable AC power supply that is meant to last can benefit you in the long run. Look for solutions that are constructed with high-quality materials and adhere to strict safety regulations. Check the reviews before purchasing a portable AC power supply to assess its reliability.
Price vs. quality
The price of the AC power supply might be the deciding factor in your decision. Cheaper portable battery packs may be prone to breaking or lack after-sales support. So, if you're going to buy anything to power your pricey electronics, you may as well consider investing in a more expensive option that will satisfy you over the long haul.
Style/design
To others, design is a small consideration in their selection, but you will almost always choose an aesthetically beautiful item. You wouldn't want to carry an unappealing piece of furniture or technology daily. Color is another factor to consider since there are frequently color variants available for the different models on the market.
Care and maintenance
As with a new device, a new portable AC power supply must also be charged adequately before it can be used. The duration of charging before use, therefore, plays a big part in determining the lifespan of the portable AC power supply. With time, the performance of the portable AC power supply decreases if the original charger is not used.
Don't connect your device while charging the portable AC power supply. When charging portable AC power supplies, many people make this mistake. They charge their gadgets using the portable AC power source that is already in charging mode. While it may seem like this activity won't cause any problems, it may negatively affect the performance of the portable AC power supply.
Due to the fact that the portable AC power supply is already heated, connecting a device for charging further raises its temperature. A portable AC power supply device's internal circuit components may burn out if the temperature rises. This might cause additional harm to the portable AC power supply, lowering the device's overall performance.
Another thing you should note is that you should not invest in a portable AC power supply that doesn't work with your devices. It will be pointless to spend money on it. Therefore, before purchasing, reviewing the portable AC power supply's specs is crucial.