The Best Popsicle Molds for 2023
Ice pops are a wonderful treat for kids and a great snack for adults.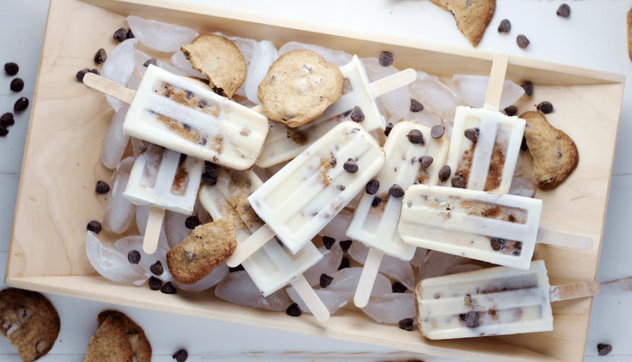 On a hot summer day, a few things come close to taking out your homemade popsicle and enjoying its cold rush without a worry in the world. Although you can drive to the supermarket to buy ready-made ice cream, making it on your own or with your family allows you to experiment with different flavors. Besides, making popsicles at home allows your kids to take part in fun kitchen activities.
Whether small or large, plastic or steel, to make your favorite popsicles, you'll need the best popsicle molds to aid your craving when it strikes without warning. And, we've got you covered.
How We Picked
Material

Depending on how often you use popsicle molds will determine the material chosen. Plastic, silicone, and stainless steel are the three main materials used for mold sets.

Shape/Size

The shape and size of the mold you pick will determine the type of popsicle you'll be able to make. Also, be sure to take the size of your freezer into account to prevent any inconveniences.

Easy to use

Not all popsicle molds are equal. Some are tricky to place, while others are efficient in design. We went with the easiest to use because making popsicles should not be rocket science.

Price

Unless you are in the market for industry-standard popsicle molds, most domestic molds should be very affordable. And, affordable doesn't really mean inferior quality. We were keen to balance the two.
Our Top Picks
Best Pick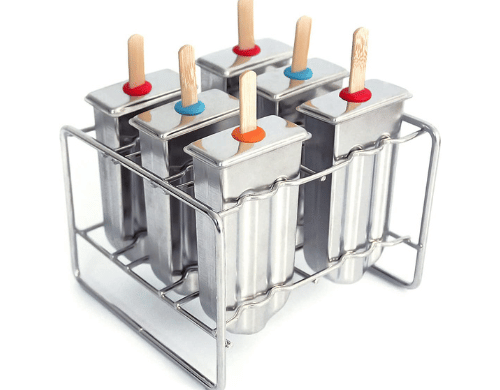 These molds come with colorful plugs to help you color code your popsicles.
The stainless steel design quickens the freezing process, allowing you to enjoy your popsicles in double-quick time. The popsicle molding kit also comes standard with a holding rack to keep everything neat and tidy.
Stainless steel molds to help freeze treats quickly. Made of high-quality food grade stainless steel, this product is sturdy, reliable, and long-lasting. The convenient stand helps keep icy treats upright to prevent leaks. This set is suited to adults.
Runner Up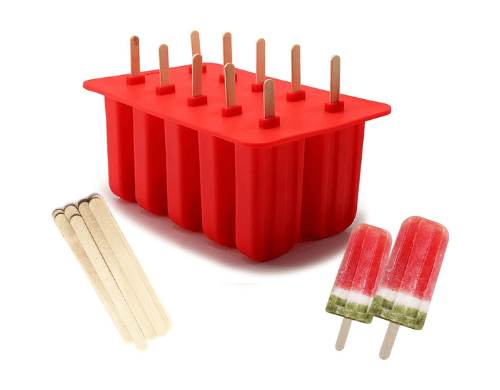 The silicone construction is both safe and ideal for children who wish to make their own popsicles.
The Xmifer comes with the molds and lid required to make tasty popsicles. It is easy to use and you don't have to worry about sourcing for additional parts.
The Xmifer offers 10 molds to make many different popsicles, and the silicone design and lid preserve flavor and shape. They are made of a food-grade silicone material that is durable, flexible, and easy to use. You can leave them in the freezer for long periods of time without having to worry about the ice pop molds breaking.
Most Cost-Effective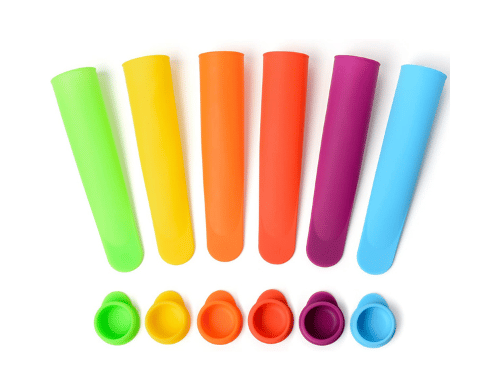 Tired of constantly refilling popsicle sticks? Try these molds that don't require the use of sticks.
The absence of popsicle sticks for this specific option lessens the risk of a thin and potentially pokey object entering the child's mouth, making it safe for young kids.
Sunsella is great for toddlers and young children. The Sunsella portable popsicle molds save space in the freezer, and the bottom push part of the mold makes eating easy, enjoyable, and clean.
Everything We Recommend
Best Pick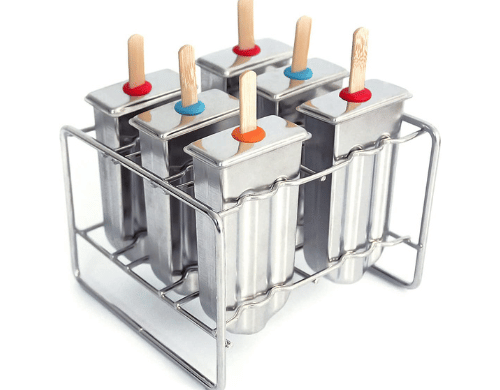 These molds come with colorful plugs to help you color code your popsicles.
Runner Up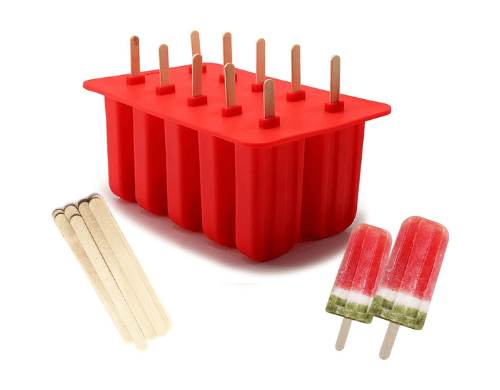 The silicone construction is both safe and ideal for children who wish to make their own popsicles.
$19.99
Most Cost-Effective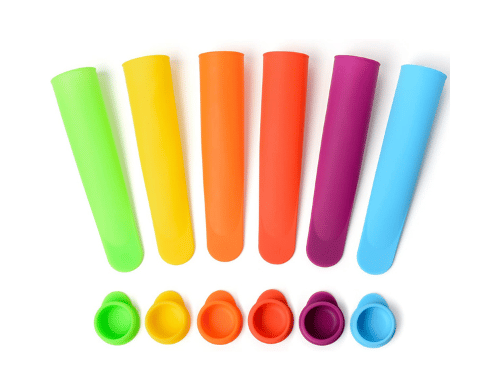 Tired of constantly refilling popsicle sticks? Try these molds that don't require the use of sticks.
$11.99
Who This Is For
Popsicle molds are for people eager to enjoy sweet and tasty treats without effort.
Although generally associated with making homemade ice cream during the hot summer for the whole family, popsicle molds have taken a life form beyond a convenient snack a couple of times a year.
Diet-conscious mothers have used popsicle molds as diet reformers for their children. Gone are the days when you'd pour a few ounces of soda into a popsicle mold and give a sugar-drenched frozen treat to your little ones. Now, many parents place nutritious fruits and vegetables for their kids to suck on without losing vibrant flavor.
If you are single or just experimental with how to convert drinks, snacks, or meals into popsicles, popsicle molds are more versatile than you think. From muesli, coffee, tea, and even lime-flavored margaritas, popsicle molds are great for barbecues, parties, and other social events.
Plastic, Silicone, Or Stainless Steel – Which Is Better
The first material that comes to mind for many of us when thinking about popsicle molds is plastic. Although it has a default association with all things frozen and homemade, stainless steel and silicone molds have become sensible alternatives.
Plastic molds are ideal for seasonal popsicle makers. This material is inexpensive and durable, however rigorous use is likely to shorten the lifespan of this specific material. Another potential drawback regarding plastic molds is the ease when taking out a popsicle from a mold. In most cases, pulling out your tasty treat will require hot water to be placed underneath the mold to loosen the ice.
Silicone, although similar to plastic material properties, is more flexible than plastic. Silicone also provides a wide range of popsicle design molds and makes taking out popsicles easy by simply popping the mold from the bottom to dislodge it. However, silicone is susceptible to trapped mold, which can cause serious health issues, if not thoroughly cleaned right after use.
Stainless steel molds are best suited for large popsicle batches. Stainless steel is a great conductor of cold air and freezes popsicle molds quickly. Another advantage of stainless steel is that it doesn't contain any potentially harmful chemicals, making it much safer for children and adults. These molds are also easy to clean and have a longer lifespan than plastic and silicone. A potential drawback regarding stainless steel molds is their ease of use. Although sturdy and long-lasting, placing contents into the molds and placing them into the freezer takes some effort due to all the separate parts that require assembling.
Why You Should Trust Us
Although popsicle molds seem like mundane products, many believe purchasing a set requires little thought. This isn't the case because our job is to make your life as efficient as possible with every product item we analyze. And popsicle molds are no different. We assessed the pros and cons of each product, leaving no stone unturned for you to make a comprehensive decision.
How We Picked
These popsicle options were picked with a variety of factors in mind. The material selected influences the liquid content, freezing time, and how the molds are cleaned after use. 
The size of popsicle molds is also important to consider. Larger popsicle mold sets with stands are easier to carry pre-freeze but take up more space. Smaller single-standing molds are often harder to prop up but easier regarding kitchen space. 
The material of the popsicle mold determines how it is cleaned and the potential risks, should they stay unclean. While stainless steel popsicle molds are easy to clean with little to no risk of trapped mold, silicone molds have a high risk of mold growth. Cleaning procedures will differ depending on these and other factors. 
While some sets come with reusable plastic sticks, other sets carry wooden sticks that are replaceable after a few uses. Depending on frequency and safety, we've provided options that cater to adults and children. Although stainless steel molds are generally sturdy, modern silicone and plastic popsicle molds are designed for long-term sturdiness.
Care and Maintenance
The cleaning and maintenance procedure will differ slightly depending on the popsicle mold material.
For silicone popsicle molds, clean them right after use to avoid trapped mold in hard-to-reach areas. When handwashing your silicone mold, use grease cleaning dish soap because it reaches crevices in hot water. Soaking them in hot water is also advisable to ensure no undue residue is left when scrubbing. If you have a dishwasher, silicone popsicle molds are dishwasher-friendly. However, to ensure that you place them safely, follow product instructions.
Cleaning plastic popsicle molds is similar to cleaning silicone popsicle molds. Place them under hot water, use regular dishwashing liquid, and scrub away. If product instructions say, dishwasher friendly, be sure to use discretion. Stainless steel popsicle molds only require warm water and dishwashing liquid for a thorough cleaning. Regarding storage after use, make sure you store your popsicle mold set in a cool and sheltered area in the kitchen, room, or garage. This will ensure protection from harsh elements like sunlight.