The Best Pie Plate for 2023
The key to making the perfect single or double-crust pie is to start with the right pie plate.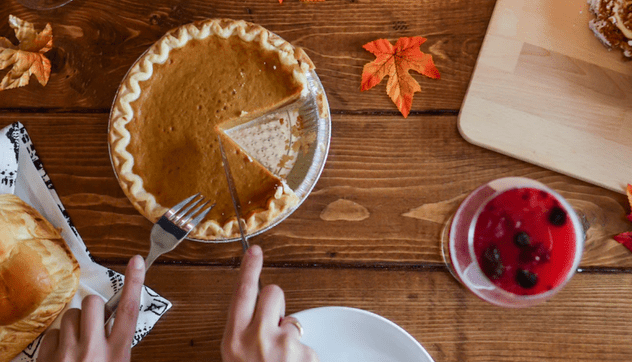 Whether you prefer a classic apple pie or an exotic French honey pie, you'll want it to be baked perfectly. Therefore, a good pie plate is a useful addition to your collection of baking dishes, especially if you frequently host dinner parties.
Almost any type of pie plate can be used to bake a properly cooked and well-browned pie. However, each has different features that can significantly affect the final product. We've put together this list of the top pie pans to prevent you from having a dessert disaster this year.
How We Picked
Size and Capacity

The depth of a pie plate often determines its capacity. Plates with a depth of 1½ or 2 inches have a capacity of 2 or 4 cups, which is decent for most recipes. To determine the capacity of each pan, we carefully measured its inner depth, width, height, and thickness.

Material

Pie plates are usually made from glass, ceramic, or metal because these materials produce evenly baked pies. However, we disregarded cast-iron, unglazed ceramic pie plates, and nonstick-coated metal plates.

Easy to Clean

Each pie plate was manually washed between tests to see which ones were particularly difficult to clean. We also looked for any discoloration, scratches, dents, cracks, or warping.


Cost-Effectiveness

While functionality is an essential factor, we also want you to get the most bang for your buck. Our picks are reasonably priced and still work the way they should.

Our Top Picks
Best Pick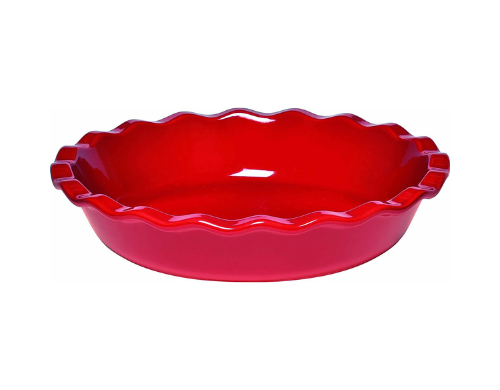 If aesthetics are important to you, we recommend the Emile Henry 9-Inch Pie Dish as one of our timeless favorites.
Compared to other ceramic plates we tested, this pie plate bakes more evenly and is deeper.
Due to its great heat diffusion and retention, it delivers a picture-perfect bake. It can even go under a broiler and is resistant to temperature changes. If you don't mind spending more money and can assess whether a pie is done without looking at the bottom browning, the Emile Henry is a great choice.
Runner Up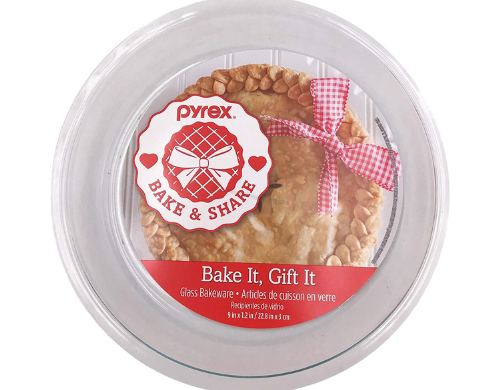 There is a good reason wThe Pyrex pie plate bakes pretty evenly, is a good size for most recipes, and is durable and affordable.
This 1½-inch deep Pyrex dish may be used to prepare and cook pies, store leftovers, or even serve as a baking dish for something completely different.
This is our suggestion if you're looking for a shallower pie plate that works well for custard pies or for anyone who loves a high crust-to-filling ratio. Both novice and seasoned pie makers would greatly benefit from being able to see through the bottom of the pie plate to keep an eye on the crust's level of browning.
Most Cost-Effective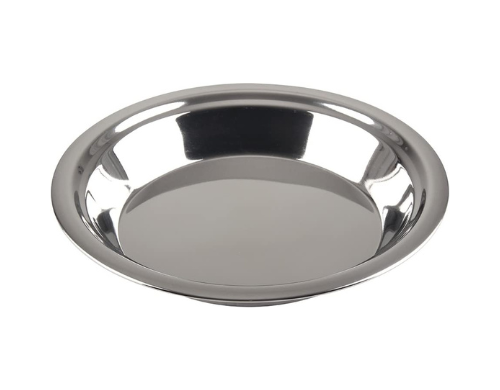 This highly durable pan is made of stainless steel with a mirror finish.
This plate is useful for more than just pies; it can also be used to transport food to potlucks and parties because it is unbreakable.

This pan won't rust, wear out, crack, bend, or break. It can travel right from the freezer to the oven without worrying about thermal breakdown because it can withstand both the heat of the oven and the cold of the freezer. The mirror finish makes the dish look appealing when served and makes it easier for the crust to release from the pan for consistently flawless slices.
Everything We Recommend
Best Pick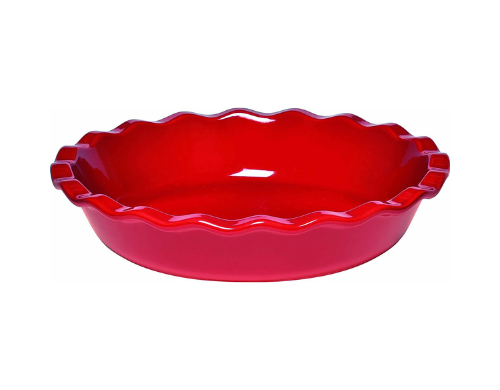 If aesthetics are important to you, we recommend the Emile Henry 9-Inch Pie Dish as one of our timeless favorites.
$36.30
Runner Up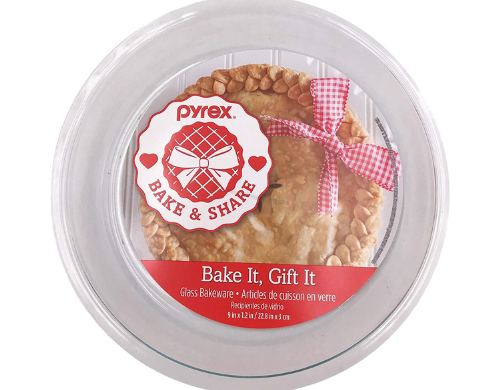 There is a good reason wThe Pyrex pie plate bakes pretty evenly, is a good size for most recipes, and is durable and affordable.
$11.74 ($0.23 / Ounce)
Most Cost-Effective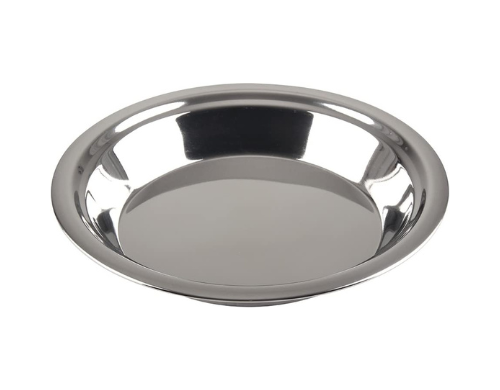 This highly durable pan is made of stainless steel with a mirror finish.
$5.99
Who This Is For
Having a pie plate in your kitchen is worthwhile if you enjoy baking pies, even just once or twice a year. Additionally, a decent pie dish can be used for more than just desserts; they come in handy for baking cobbler, crisps, or coffee cake in the oven. In a pinch, they can be used to bake roasted vegetables or a circular loaf of bread without yeast, like cornbread or banana bread.
What is a pie plate?
A pie plate, often known as a pie dish, is a spherical baking dish with slightly slanted edges that is used for many common baking tasks. They are typically made of ceramic, metal, or glass and are available in a range of colors. Other than just baking pies, a pie plate can be beneficial for many different baking tasks. They come in handy for baking a coffee cake, crisps, or cobbler. In a pinch, they can be used to produce a circular loaf of unyeasted bread, like cornbread or banana bread, or to roast vegetables in the oven. Culinary experts often regard a pie plate as an essential baking tool.
Is buying a pie plate worth it?
A pie plate is worthwhile in your kitchen if you enjoy baking pies. You can certainly avoid using one by using a disposable aluminum tin or baking a slab pie or galette on a baking sheet, for example. But you can't bake items like towering lemon meringue pies or deep-dish fruit pies on a baking sheet. Additionally, while a disposable tin can bake food uniformly, it is fragile, undersized, and unattractive when placed on a table.
Keep your favorite pie plate if it is sturdy and has provided you with good service. But you might want to upgrade to a nicer dish if you can't seem to get golden crusts or food that is uniformly cooked inside. Whether you bake frequently or occasionally, a high-quality pie plate will last for many years and is, therefore, a wise investment (though you shouldn't have to spend too much).
Why You Should Trust Us
National Today takes great delight in working with reliable, independent contractors with years of experience writing on lifestyle subjects and product reviews. We have published dozens of buying guides in many industries and are knowledgeable about the factors customers and chefs should consider before selecting a new purchase for their culinary endeavors. To write this piece, we reviewed many customer reviews and did a ton of research on the top pie plates that are accessible offline and online.
How We Picked
Size: Due to its significant impact on capacity, the dimension is just as substantial as the diameter. Look for a depth of 1.25 to 1.5 inches for regular pies. If you're making a deep-dish pie, look for a pie dish with a depth closer to 2 inches.
Capacity: Since this is the most typical size specified by most pie recipes, we chose to concentrate on pie plates with a diameter of between nine and ten inches. According to our research, most crust recipes work perfectly in dishes with an inner diameter of nine inches.
Shape: From the slope of the sides to the width and style of the rim, we discovered a wide variance in shape. We preferred traditional-looking plates with a wide, flat, or slightly wavy edge and moderately inclined sides to help prevent the crust from drooping. A flat edge makes it easier to create a beautiful fluted or artistic crust; a wider rim helps you have a better grip when transferring the dish to and from the oven.
Style/Pattern: Some pie plates have a rim, whereas others don't. Overall, the agility of rimmed pie plates was a favorite among our test kitchen specialists, especially those with handles. This additional material prevents the crust from burning. These pie pans didn't function as well, with several producing undercooked pies that shrank during baking.
Material: The most popular materials for pie pans are glass, ceramic, and metal. Each method has benefits and drawbacks, even though they can all yield pies that are baked uniformly and have a wonderful, flaky crust. Tests showed that specific glass pie pans worked well, while others created crusts with pale bottoms. The ceramic pie plates we evaluated are quite appealing, which is vital for serving purposes, but they are generally not amazing but not disappointing. Finally, the metal cooked relatively evenly and browned wonderfully despite being heavy.
Glaze: Unglazed ceramic pie plates are rare, but we have seen a few. These are intended to produce a crispier crust by absorbing moisture instead of trapping it. But given that they stain readily and typically require hand cleaning without soap, they're not feasible for most people (which the porous material can absorb).
Microwave-safe: Pie dishes made of glass or ceramic (just like our picks) are typically regarded as microwave-safe. To ensure safe microwave use, it is still essential to look for a "Microwave Safe" seal on the dish or to check the original package. Most bakeware packaging includes instructions on how to use the item and even what temperatures it can endure. We recommend that you never microwave metal plates.
Dishwasher-safe: Cast-iron and unglazed ceramic pie plates were dismissed since they can't be put in the dishwasher and need special attention to keep their flavor. Since they are readily stained, they are not practical for most people.
Price vs. quality: If you're going to be baking a lot, a good pie plate is worth the investment (though you should only have to invest a little), as a high-quality pie plate can endure many years of use. Nevertheless, we provided choices that were cost-effective and still efficient.
Anti-stick: We skipped using clear metal plates with nonstick coatings since we don't believe they are viable for prolonged use. You'll almost always want to cut your pie in the pan, which would unavoidably harm a nonstick coating, making it less effective over time or causing it to flake off.
Easy to clean: If quick and easy cleanup is essential to you, get a pie pan that can go in the dishwasher instead of one that needs to be hand-washed.
Care and Maintenance
Do not eat food from a damaged plate
An issue for a baking dish could be even the smallest of cracks. They may result in an oven catastrophe by making the dish heat up unevenly. Handle your dishes carefully, keep them away from the broiler, and avoid using the burner. Additionally, it's a good idea to defrost frozen foods in a cool oven rather than a hot one because doing so increases the likelihood of cracking. If your glass dish does break, only use it for cold dishes or throw it away in favor of a new one because eating from a damaged plate could eventually harm your health.
Do not put the plate in the oven without checking whether it's oven safe
As long as the plates are marked "oven safe," you can put them in the oven. You must search for a unique oven-safe symbol underneath your plate to determine if it is oven-safe.
How to wash/How often to wash
Most of our picks are dishwasher-friendly. However, we understand that not all pie plates have this advantage. For manual washing, a little soaking will usually remove any stuck-on syrup and crust. We recommend washing immediately after use to prevent a build-up of any kind.
Dealing with stains
Place a dryer sheet into the dish after adding hot water. Allow it to soak for roughly 15 minutes. The stains should now be easy to remove with a sponge after disposing of the water and dryer sheet. To remove any residue on the dryer sheet, wash it once more in water and dish soap.