The Best Picnic Table Camp Stove for 2023
Enjoy the best of picnic and camping adventures with high-functioning camp stoves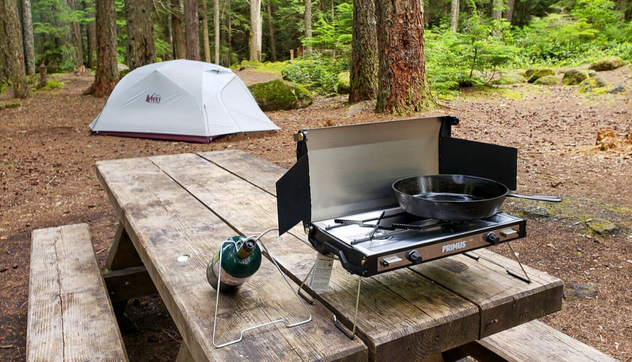 One of the best parts of the summer season is all the picnics you get to plan. Many people can testify that being able to cook fresh food outdoors is better than packing cooked food, whether you're going picnicking or enjoying other outdoor adventures. This means that you need to plan for a high-functioning camp stove that helps you do all your outdoor cooking without stress.
When it comes to choosing a camp stove, there are several factors to consider. This can make the choice appear confusing, but don't worry, that's what we're here for.
In this guide, we've outlined the most important criteria for picking the right camp stove and also reviewed our top picks to give you a headstart on the right decision. So, look no further for the best picnic camp stove, this guide is just what you need to choose what's best for you!
How We Picked
Size

It's important to consider the size of the camp stove you'd like to purchase since this factor will determine how many people you can cook for, its portability, as well as its functionality. This is why we recommended adequately-sized stoves that are sure to get the job done.

Effectiveness

A good camp stove needs to effectively fulfill the purpose for which it was purchased. As such, we considered options that have the right capacity to function well in outdoor settings, while ensuring convenient use.

Safety

Safety is also a key consideration when selecting the right camp stove. Since this is equipment that will be used close to the body, we ensured that our top picks were safe to use and guaranteed no harm to the food or the person cooking it.

Cost-Effectiveness

We also prioritized cost-effectiveness when presenting our top picks so that you can get the best value for your money. The camp stoves we suggested have great functionality and features, and they come at affordable prices
Our Top Picks
Best Pick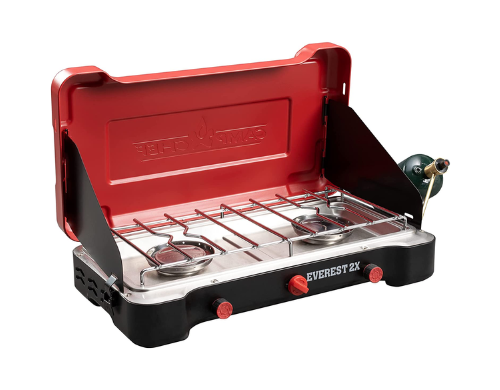 This camping stove is among the most high-functioning brands, offering impressive heat output and durability
When designing the Everest 2X, adventure seekers and picnic organizers were top in the mind of manufacturers. This appliance has two powerful 20,000 BTU cast-aluminum burners. Thanks to the lid's opening into a three-panel windscreen, you can make your meals easily without worrying that your burners will be blown out. Also, with its regulator adapter, the Everest 2X cooking system can use one lb propane cylinders making cooking outdoors super convenient.
The Camp Chef Everest 2X offers the best functionality, heat output, durability, and great indoor as well as outdoor cooking.
Runner Up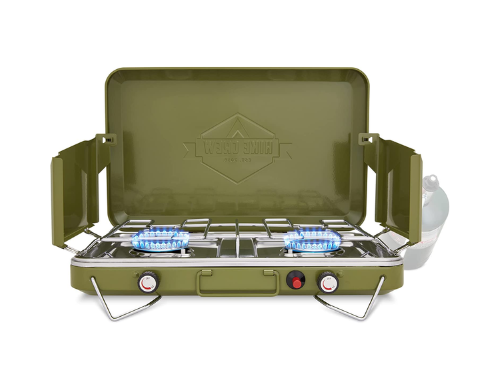 Get this outdoor camp stove and enjoy its great functionality, impeccable design, and attractive portability.
The Hike Crew Gas Camping Stove is portable, lightweight, and boasts a low profile for all of your camping and picnicking adventures. Although this stove is a propane-only design, it also eliminates the need for legs and fuel adapters. This conveniently lowers the cost and increases the stove's usability on different surfaces. This camp stove is essentially offering the best of all necessary criteria.
The Hike Crew Gas Camping Stove offers high functionality and a great design; convenience and versatility on different surfaces
Most cost-effective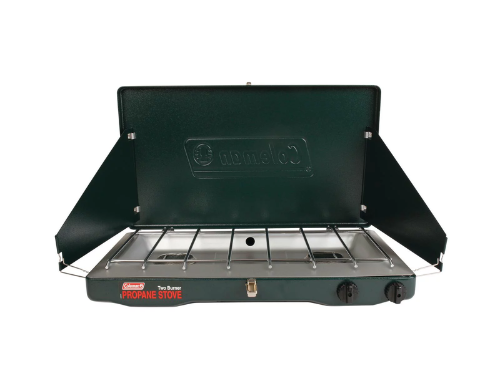 This affordable picnic camping stove offers the best efficiency and portability at amazing prices
With the Coleman Classic Propane Camping Stove, you can prepare breakfast, lunch, and dinner on a sturdy stove that is portable. The two burners have a combined BTU output of 20,000 and are protected from the wind by movable wind-blocking panels. You'll also get to cook with ease knowing that your stove will function consistently despite adverse circumstances thanks to the pressure regulator.
The Coleman Classic Propane stove is functional, versatile, and dependable, offering high performance at one of the lowest prices


Everything We Recommend
Best Pick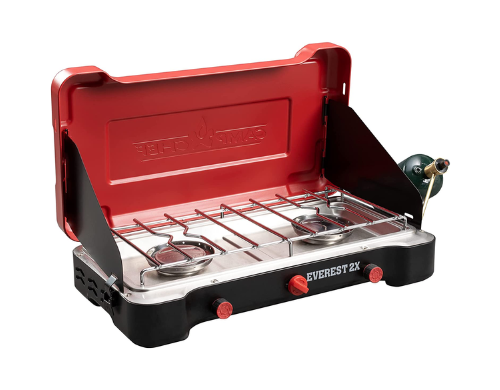 This camping stove is among the most high-functioning brands, offering impressive heat output and durability
$143.98
Runner Up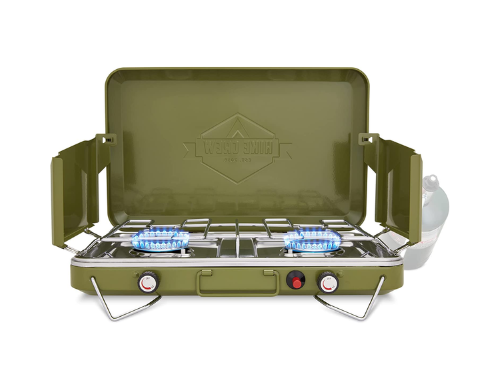 Get this outdoor camp stove and enjoy its great functionality, impeccable design, and attractive portability.
$79.99
Most cost-effective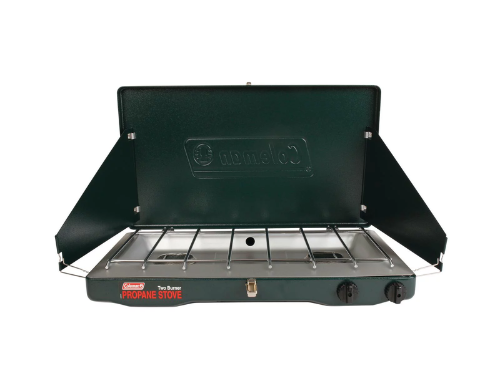 This affordable picnic camping stove offers the best efficiency and portability at amazing prices
Who This Is For
If you're planning a trip to the outdoors or a picnic, and would prefer to cook your food right while you're outdoors, then it's a good idea to buy a picnic camp stove. 
Different types of Picnic Table Camp Stoves
The number of people you intend to feed and whether you prefer a tabletop or freestanding stove are the first two things to think about when deciding what kind of stove to buy. The two main types of camping stoves are the huge freestanding stoves with their own legs and two to three burners and the little tabletop ones with one to three burners. If you don't mind getting on all fours, tabletop models are best used on a table or tailgate.
These stoves have a smaller cooking surface than freestanding units, so you might have to use smaller pots and pans. Freestanding variants can be placed on a tailgate or table in addition to standing on their own two legs. If you want to prepare meals in a large stockpot or wok for each meal, this is the best kind of stove for you because it has greater cooking space and bigger burners. Freestanding stoves should be avoided because they are heavier, more difficult to move and take up a lot more room inside your vehicle.
Propane, the substance found in those tiny green bottles you see at every campsite, is used by the majority of camping stoves. The fuel type employed by the one-burners in our evaluation, butane is a little less typical but is gradually becoming more widespread. Because propane is frequently less expensive, more readily available, and simpler to use, we mostly reviewed camp stoves that use this fuel. Propane is easy to light, burns cleanly, and doesn't make a mess when it needs to be refilled. It also doesn't require the pumping required to pressurize a liquid fuel (white gas) tank.
Why You Should Trust Us
While writing this review, we conducted in-depth research to find out what makes a good picnic camp stove. We read through expert test reports from professionals as well as online user reviews that provided testimonies about performance. We also made sure to compile information from credible sources, so you can be sure that the options we're recommending in this guide are the best possible choice for you.
How We Picked
A product must, among other things, have a strong sales history, receive consistently favorable customer ratings, and have standout features to make our list of top picks. We also perform additional research and consult reports from expert testing to make sure the products fit our criteria.
After conducting extensive research on different models of picnic table camp stoves and the criteria that matter when judging their performance, we were able to arrive at the following which appears to be the most important when selecting a good camp stove:
Size/Weight
Size and weight are less of an issue while vehicle camping than when backpacking, but it's still a good idea to take into account how much room you have for storage and transportation. Heavy-duty and larger stoves are better suited for difficult jobs, whereas small, lightweight burners or stoves are easier to carry. 
Considering size when picking is also important, especially since the size you buy will determine how many people you'll be able to cook for at a time. 
Portability
The capacity to carry camping stoves wherever you need them to go is one of its main advantages, thus mobility is a key component of how convenient an outdoor camping stove is. There is no need to spend money on a portable gas burner for camping if it is difficult to pack up and move around. 
Fortunately, a lot of producers are aware of this and make sure that their camping stoves are portable. The ability of a camping stove to be small and the types of surfaces it may be used on are its two key determinants of portability.
To guarantee that they aren't too difficult to transport, the best portable camping stoves on the market will contain necessary components like wheels and a foldable shell. The best choices will include wheels that make it simple to transport even though the majority of possibilities on the market fold up into a compact form.
Safety
Another important consideration when it comes to picking picnic camp stoves is safety. Cooking outdoors, especially with camp stoves can be hazardous, especially considering the different types of fuels – which tend to be flammable – typically used in camp stoves.
Even though you might save some money by purchasing a less expensive stove, a dangerous appliance will be useless over time, so it's wise to spend the extra money on premium aluminum burners and robust steel construction. Additionally, keep an eye out for any sharp edges on the stove because a high-quality model won't have any at all.
Moreso, to ensure that it is safe to use, a decent stove should only heat the cooking surface. However, some stoves will falsely inflate their BTU count by using less-controlled, powerful flames.
It's thus important to consider these factors and select options that afford the most safety, and that's why we suggested the options we did in this review since they are very safe to use.
Heat-prevention handles/lid
To determine whether a stove is safe to use, it is a good idea to check for CSA or another similar certification. A stove's CSA approval guarantees that the flames are well-controlled and that all common contact points such as its handles and lids are safe to use.
One helpful tip to keep in mind is that you can be confident that the camping stove you're considering is powerful and effective enough to protect you if it can be used safely on the grass.
Effectiveness
Simmering capability is a further crucial aspect to take into account when considering the effectiveness of camp stoves. Although it's crucial to boil water fast over high heat, most meals aren't prepared in this manner. You should thus make sure that your stove has efficient simmer control, or the capacity to offer even heat and precise flame control at a low level, for items that need a bit more finesse (think sauces and soups). 
High-end models will often perform better in these circumstances even though good simmer performance is not something that can be found on a spec sheet. The key takeaway here is that your camp stove can perform nearly as well as your home cooktop if you're willing to spend money on it.
Max. temperature
BTUs will be prominently displayed as one of the more extensively promoted specifications while searching for a camping stove. BTUs, which stands for British Thermal Unit, represent the energy required to raise one pound of water by one degree Fahrenheit. As a result, this figure is crucial for comprehending the amount of power a particular stove can generate. 
To put it another way, a burner with more BTUs will be able to produce more heat than a burner with less, all else being equal. Although other elements can affect a stove's performance potential, such as the general design, burner size, wind resistance, etc, we can consider BTUs to be a reliable measure of power/expected temperature and a useful benchmark for comparing various models.
Price vs Quality
It's also important to consider price when selecting a picnic table camp stove. Look out for options that offer great quality for affordable prices. We kept this in mind when suggesting options in this review so that you can get a good, functional, and effective camping stove without breaking the bank.
Style/Design
The majority of campers would often choose a standard camping stove cooktop, which has two burners and a grate on top. However, there are many specialty cooktops available for folks who prefer to prepare foods like bacon and eggs, pizza, or grilled meat. With hybrid versions, you have two burners, a combined grill, and a griddle made of aluminum, but keep in mind that the grill takes up around two-thirds of the total cooking area. As an alternative, some camp stove versions let you install or replace attachments like a pizza oven, grill, or barbeque box.
Fuel Type
While some camping stoves use propane, others usually burn wood. Some even use both butane and propane to operate. Most people choose one-pound propane canisters since they are compact, practical, and economical. Propane is also easily available and cheap.
It's important to consider what kind of fuel the camp stove you're buying will run on since it has to be convenient and accessible. This is why we made sure to suggest options with readily available and affordable fuel options.
The number of stove tops
Both freestanding and tabletop camping stoves often have two burners, and this is for good reason. How frequently do you really need to use more than two burners simultaneously when cooking at home, after all?
However, there is a case to be made for choosing a one-burner stove. On brief excursions or picnics with one to three people, single-burner designs typically work well for one-pot or dehydrated meals. Additionally, they are substantially lighter than the two-burner options and take up less room and bulk.
Three-burner stoves are worth considering if you intend to take on the camp chef position seriously and anticipate frequently cooking for large parties of at least seven people.
Care and maintenance
Ensure the stove has cooled down fully before handling and/or packing
You might be tempted to turn off your stove and put it away for the night after you've finished cooking your food. Despite how simple it is to do so, you should actually wait a few minutes for your stove to cool down before putting it in your picnicking luggage.
This is due to the burn risk that hot stoves pose to both you and your companions. Additionally, if there is still gas seeping from the fuel canister, attempting to detach the fuel bottle from a hot stove may result in small explosions.
Basically, when outside, patience is crucial. When it comes to your safety in the outdoors, waiting a few minutes for your burner to cool down after you stop cooking can make all the difference.
Do not touch hot coils directly
It's also important to refrain from touching hot coils on your camping stove directly. Doing this could cause severe burns on your skin. If you must touch the coils, ensure to use a padded cloth to reduce contact with the hot coils and minimize the heat getting in touch with your skin.
Be wary of placement as the stove will get very hot
We must stress the importance of positioning your stove on a flat surface. But we should also stress how crucial it is to keep stoves away from flammable surfaces since the stove will get very hot.
Generally speaking, it's recommended to stay away from burning flammable things like grass, dried leaves, and twigs with a stove. You should normally avoid cooking on these materials since they can catch fire when exposed to high heat.
If cooking on the grass is your only option, exercise extra caution. To put out any sparks before they ignite into a fire, keep an eye out for burning grass and keep water nearby.
Do not leave it unattended
You were probably instructed as a child never to leave your burner unattended when preparing food at home. When you're outside, the same guidelines apply.
Leaving a camp stove unattended can start a fire. Although the tiny flame emanating from your stove might not look like much, camp stoves have historically started large wildfires.
Therefore, be sure that there is a competent adult nearby who can keep an eye on your stove if you need to leave it for any reason. If not, it's best to completely extinguish the stove and then relight it when you get back.
Dealing with gasses and fuels
Campfire fuel is as poisonous as it is combustible. Because of this, you should exercise caution while putting stove fuel in your picnicking luggage.
The main issue here is a fuel spill that contaminates your snacks and meals while you're camping or picnicking. Of course, such a fuel spill is more of an annoyance than an emergency if you're close to a town where you can buy extra food. However, a fuel spill in the countryside that destroys your food source is a severe issue.
As a result, it's crucial that you constantly exercise caution when putting fuel in your backpack. You prevent spills from contaminating your food, make sure to stow your fuel below your food in your pack.
Fire hazard information and safety advice
Fuel for camping stoves is quite combustible, as you might expect. As a result, when you're not actively cooking, you should use your stove fuel with extra caution.
Make sure in particular not to put your fuel containers (bottles and canisters) close to a campfire. The onset of a sizable wildfire could result from the fire spreading.
Additionally, pressurized fuel canisters are prone to detonating when exposed to high heat, so keep them away from your fire pit at all times.