The Best Personal Blenders for 2022
With these handy and convenient blenders, you can now easily make everything from smoothies to delectable milkshakes.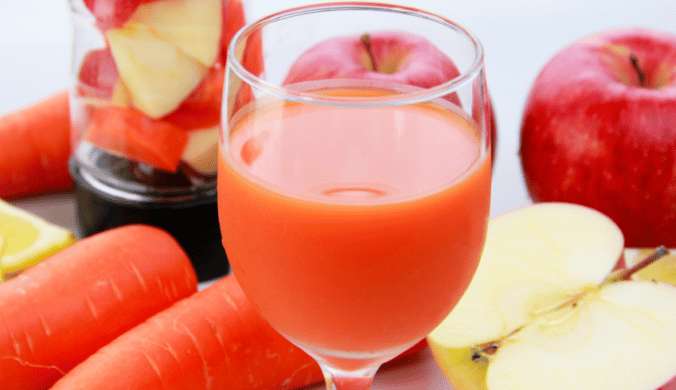 There are some gadgets you can't afford to miss out on, especially if you love a stress-free and healthy lifestyle. Of all these gadgets, one of the most important is the personal blender.
We love our full-sized all-purpose blenders, but if you only make a smoothie daily, consider a personal blender. Personal blenders are half the size and cheaper. Even more remarkable is that you get to drink out of the same jar you blend in – you take the jar off the machine and help yourself, or put a lid on it, and you're good to go for a later drink. This means that there is nothing extra to clean up.
Asides from smoothies, you can also make frappuccinos, milkshakes, cocktails, and purées with personal blenders. There are so many personal blenders to choose from, but we have compiled a list of our top picks for you.
How We Picked
Capacity/Bottle Size

The "right" size is often relative, depending on what you plan to use it for the most; bigger cups give bigger content. Some personal blenders come with more than one cup too.

Speed and Noise

The speed of a personal blender contributes to the quality of the blend. We reviewed blenders with good speed and little or no machine noise to be a nuisance.


Quality of blend

Since the quality of blend is a challenge for most personal blenders; we reviewed personal blenders that give smooth quality blends, ensuring no challenges from any substance.


Cost-Effectiveness

We have reviewed personal blenders that are half the price of most full-sized blenders and provide just as tasty content quality.

Our Top Picks
Our Top Pick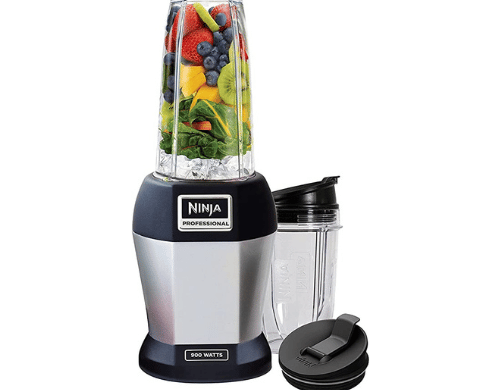 No obstacle is obstacle enough. Designed to be robust and effective while being convenient.
The Nutri Ninja Pro is powerful, fast, compact, and easy to clean. It comes with 18-ounce and 24-ounce cups, each with a lid
This highly compact personal blender is the best in all the important criteria.
Our Runner-Up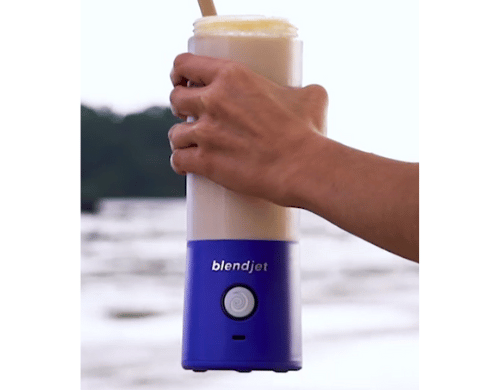 The perfect travel buddy. Self-cleaning and crafted with portability at its core.
This battery-operated single-unit blender can fit into backpacks, purses, and luggage, implying that it can go anywhere you go. It is the perfect travel blender.

The BlendJet 2 is best if you need a blender as a travel buddy.
Most Cost-Effective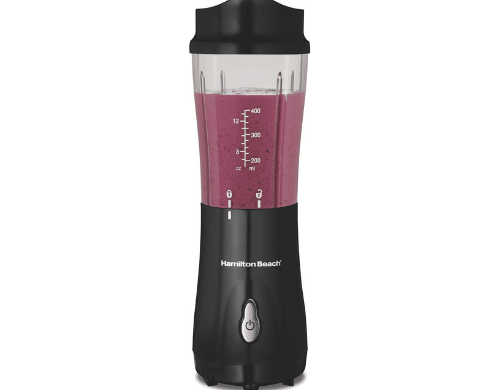 Get more for less. It gives you a lot from assembly to storage for a low price.
You don't need to rob yourself to get a tasty puree. With the Hamilton, you get much more for its low price
This machine works great at half the price of others.
Everything We Recommend
Our Top Pick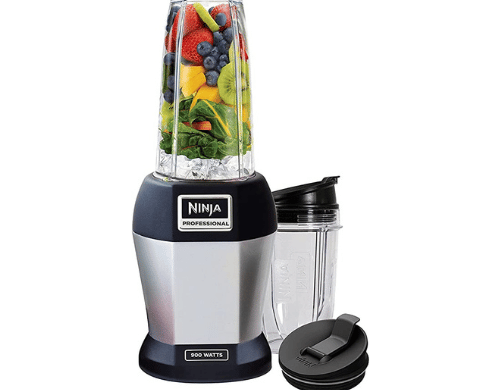 No obstacle is obstacle enough. Designed to be robust and effective while being convenient.
$89.95
Our Runner-Up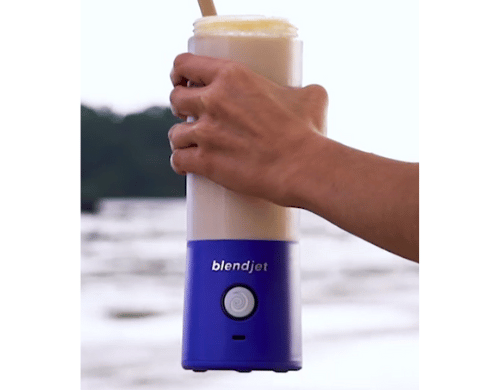 The perfect travel buddy. Self-cleaning and crafted with portability at its core.
Most Cost-Effective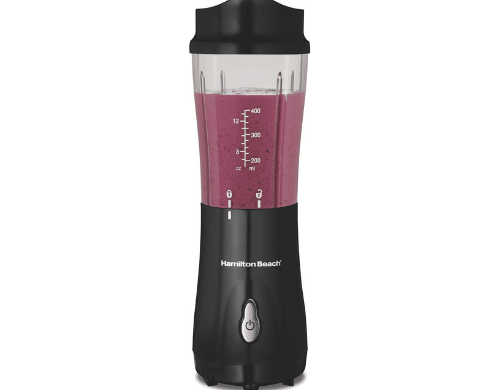 Get more for less. It gives you a lot from assembly to storage for a low price.
$19.90
Who This Is For
Who this is for
This list is for everyone — women, men, and kids — because everyone deserves a perfect personal blender to make healthy smoothies, frappés, frappuccinos, and everything in between.
Is getting a personal blender worth it?
Personal blenders are smaller and cheaper than but work as well as full-sized models. So you get to have easily-accessible quality blends while saving space and money. Moreover, they remove the burden of cleaning your blender and surroundings after each use. These devices are undoubtedly worth it.
Benefits of a personal blender over a standard one.
The main benefit of a personal blender over a standard one is portability. Because personal blenders are more portable than regular ones, they will:
Help your kitchen space: A personal blender will not consume space in your kitchen like a regular one. You also do not need to worry about cables and storage.
Help you reach your body goals: You can go anywhere with a personal blender by making healthy shakes and smoothies to keep and drink after working in a gym, at work, and while traveling. This makes it easier to stick to your diet and nutritional goals.
Encourage healthy nutrition: Personal blenders make it possible for adults and kids who don't like fruits and vegetables, which are vital biological requirements, to get them in yummy smoothie form.
Allow flexibility: Personal blenders will let you travel or go places with your blended drinks, but a traditional blender would not.
Why You Should Trust Us
We have carefully reviewed every product on our list and included detailed features that offer transparency. Therefore, we offer you an opportunity to have a most enjoyable shopping experience by considering everything you need to know before buying — blend quality, size, speed, noise, and cost.
How We Picked
With the current high demand for them, there are numerous personal blenders in the market, some good, some bad, and others in between.
We helped curb the search by considering the capacity and cup size of the blenders. The cup is obviously the most significant component of any blender. The amount of final product that the cup gives is known as the capacity of the cup, measured in ounces or milliliters. However, the amount of the final product is strictly determined by how much you put in the cup more than the designated capacity — the more you put in, the more you get out.
We also looked into the revolutions per minute (RPM), which is the speed of the blender's blades. The more revolutions per minute, the more blending is done. This translates to a fine blend quality that gives smoother juices). A device with an RPM range of 10000 to15000 is considered low, and 35000rpm is considered high.
We ensured to explore the charging type of the blenders. While blenders that operate on batteries will be valuable due to increased portability, wall-powered blenders have a steadier power source and no loss in charging capacity over time. We also considered how much it would cost you to use a wall-powered blender for an hour.
We reviewed the power of the blenders, too; the more the power, the higher the ability to cut through resistance and give a fine blend quality. We also found that the ones with more power are more durable and expensive than those with low power. Generally, the higher quality blenders are more expensive but worth every penny.
In our considerations, we also noted the style and design, the noise produced, and how portable, adjustable, and easy to clean these personal blenders are.
Care and Maintenance
Beautiful and powerful as these personal blenders are, their life span is not endless. However, there are ways to care for and maintain your blenders to still work efficiently over time.
First, you should know that you will use your personal blender much more than regular blenders. If you are buying one, there's a high chance that you'll be using it regularly. Therefore, you'll need to clean them as regularly as you use them. Fortunately, personal blenders are super easy to clean, with most of them requiring only rinsing.
We have made a list of tips you can apply to ensure that your personal blenders last long, and they will help you know on time if they have any issues you need to address.
Using Your Personal Blender The Right Way:
Each time you want to use it, examine your blender for any damage before blending. Look out for tears in the charging cord or rust and bends in the blades.
You should use the blender as prescribed by the user's manual. Things like how long you should run your blender and signs indicating trouble are the typical contents of those manuals.
You'll usually find this in the manuals, but if you don't, remember not to overload your blender. Too much load will lead to f the motor and the blades wearing down quickly.
Contrary to popular beliefs, blenders are made to blend softer foods and liquids. Therefore, stay away from tough food substances as much as possible. If you must blend hard substances, don't do it often.
Do not turn your blender on when there is nothing inside. It will wear the blades out.
There's an order to putting foods and liquids in your blender. Usually, start with liquids or softer foods and end with solid ones. Powders go in the middle.
Don't skip the speed levels; start with the low speeds and move on to higher ones. This will ensure that the machine doesn't get overworked. It'll also lead to a smoother blend.
Ensure that the lid of your blender is on correctly. You don't want to make a mess of yourself and your ceilings. A correctly closed lid will provide suction that will pull the contents of the jar toward the blades.
Cleaning Your Personal Blender:
If you're using a wall-powered blender, ensure you unplug it from the power source. Your blender contains electronic components which don't go well with water. If there are any spills, use a damp cloth to get rid of them.
The longer food is allowed to sit in the jar and on the blades, the harder it becomes to get rid of it. Furthermore, leftover food particles on the blades will cause them to rust as time goes by. First, rinse the jar to remove the leftovers. Then, fill the jar halfway with warm water and add a suitable detergent; connect to the motor and blend the mix for a minute. Lastly, rinse the contents out. This will also clean up the blades.
If the leftover stains on the jar are hard to clean, make a mix of lemon, warm water, and detergent to clean them out. That should do the trick. If stubborn stains are found on the blades, use a tablespoon of vinegar instead of lemon, and let the mix sit overnight. Add more hot water into the jar in the morning and blend again. This will get rid of any stubborn residue on the blades. For unbelievably stubborn stains, add Oxiclean to the mix and blend again. This works both to remove stubborn stains, dirt, and foul odor.
Since you will use your blender regularly, you'll need fortnight or monthly maintenance. Disassemble the blender, inspect, and clean whatever you need to.
If the blades get rusty, you will need to remove the rust; firstly, make a paste with baking soda and water. Rub the paste on the blade with a brush, and leave it to sit overnight. Then buff the paste with steel wool, rinse under water and use a dry cloth to wipe them.
Storing Your Personal Blender:
If it's a wall-powered blender, keep it unplugged.
Ensure that the place you keep your blender is dry. However, if you use your blender frequently, it could just be a part of your tabletop.
If you're using a battery-operated blender, endeavor to unplug the charger if you're going out or going to bed. The general idea is to prevent overcharging and overheating, which could potentially damage your blender permanently.
Troubleshooting Your Personal Blender:
One of the problems you'll encounter with your blender is jammed blades. This happens when the blades are not spinning, but the motor is humming. If you experience this, remove the cup's contents, cut them into smaller pieces, and put them back in. Another thing to try as a remedy for jammed blades is turning up the speed. However, this might prove detrimental to your blender. As a rule of thumb, do not force your blender against its will.
If your blender refuses to come on altogether, start by checking to see that the batteries are placed right, or the cord is rightly plugged into the wall. If the problem persists and you can't figure out what's wrong, you can call customer support.
If you perceive a burnt smell, turn the blender off; then check the socket to see if it is the source of the smell, and check for naked wires as well. DO NOT TOUCH the wire if you see it is exposed.
Contact customer support for the company that produces your blender if you find that you need to replace any parts. They'll guide you through the right thing to do.