The Best PC Gaming Controller for 2023
Enjoy a fun gaming experience with these PC-friendly gaming controllers.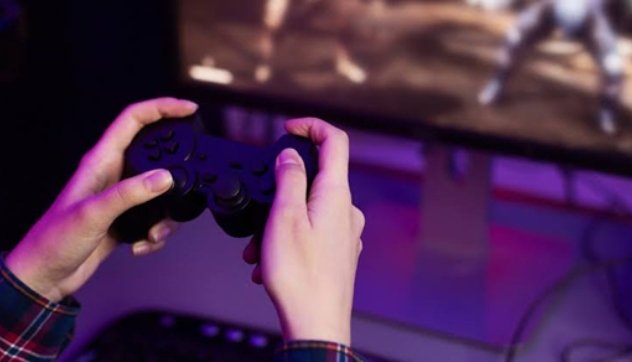 There's no doubt that there's something special about smashing the buttons on a well-designed gaming controller. Although you might be familiar with the typical keyboard-and-mouse combo, certain games just aren't as satisfying without a controller in your hands.
Furthermore, the experience just isn't the same! With a keyboard and mouse, you're tethered to a desk and restricted in terms of how much you can move around. Plus, the continual hunching isn't exactly good for your posture.
On the other hand, gaming controllers — especially the wireless variety — allow you to enjoy more freedom of movement. You can veer from side to side while drifting on a virtual race course, or sit back and kick your feet up.
That's why we've compiled a list of the best PC gaming controllers on the market so you can enjoy premium gaming on your personal computer.
How We Picked
Type of Buttons and Triggers

Buttons and triggers are what make up a controller. They must be responsive, mappable, and durable to create a smooth and immersive experience. Therefore, we selected controllers with excellent triggers and controls



Comfort

We don't want you to experience finger cramps and discomfort while tackling your online opponents. Neither do we want the controllers to slip out of your hands because of poor design. That's why we chose gaming controllers with ergonomic designs and excellent grips



Design/Style

The right controller can be a game-changer for your desk setup. Literally. That's why we chose controllers that are visually appealing and well-designed. Best of all, they come in a wide range of colors, so you can find one that's perfect for you!



Price

You don't need to spend a fortune to find the perfect gaming controller. We've selected top-notch gaming controllers available at reasonable prices


Our Top Picks
Best Pick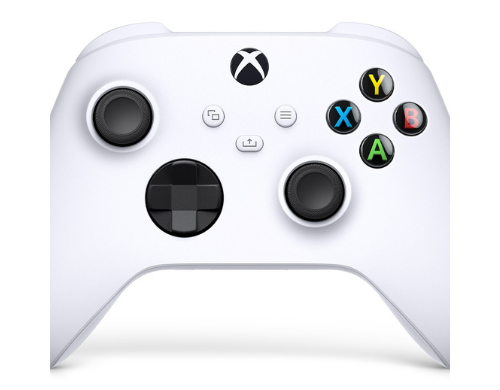 Top-of-the-range gaming controller.
Top-of-the-line and pocket-friendly, it doesn't get much better than the Xbox Wireless Controller.


With sculpted surfaces and refined geometry, the Microsoft Xbox Wireless Controller is the gold standard when it comes to PC gaming controllers. The modernized, wireless design and textured grip provide comfort during gameplay. It is also compatible with multiple devices and operating systems, including the Xbox One, Xbox Series X|S, Windows PC, and Android.

Additionally, it comes fitted with a unique share button that allows you to capture and share content such as screenshots and recordings.

Runner Up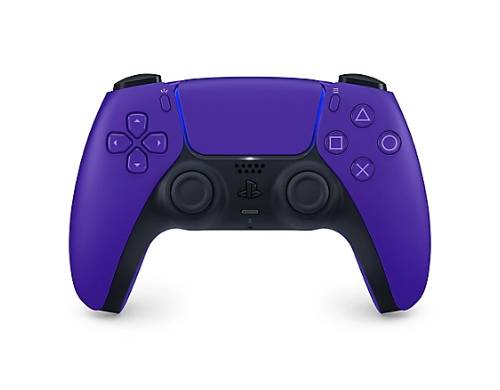 DualSense's adaptive triggers and haptic motors create an immersive experience.
This gaming controller is an improvement on the successful DualShock 4.
The Sony DualSense is an improved version of the Sony DualShock 4, with dual actuators that provide a more immersive experience using haptic feedback. Its adaptive triggers have also taken a step up, offering just the right amount of resistance akin to the tension one might feel when stretching a bow taut.

These dynamic controls make in-game actions feel much more real. This controller also features a built-in microphone and a headset jack, allowing you to chat with friends online.
Most Cost-Effective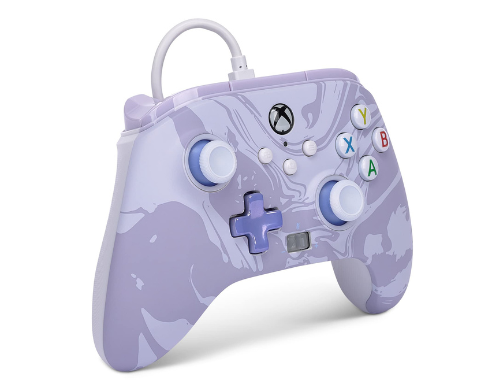 Wired but not tethered, this controller combines excellence and cost-effectiveness.
Cost-effective and attractive, the controller comes in over 20 unique color combinations and patterns.
Officially licensed by Xbox, the PowerA comes with a ton of handy little features that make gaming a fun adventure. Its layout features mappable gaming buttons, dual rumble motors, a stereo headset jack for in-game audio, a share button for capturing special moments, and a volume dial with a one-touch chat mute.

Another noteworthy feature of this controller is that it comes in a wide variety of color combinations; a whopping 26 in number! So no matter what your preferences are, you're bound to find a color that suits your taste. With its detachable 10-foot cable, mobility isn't an issue at all.

Everything We Recommend
Best Pick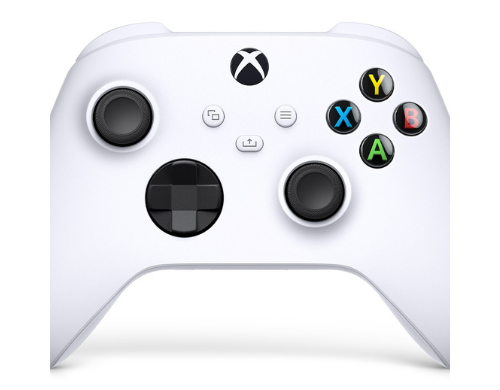 Top-of-the-range gaming controller.
Runner Up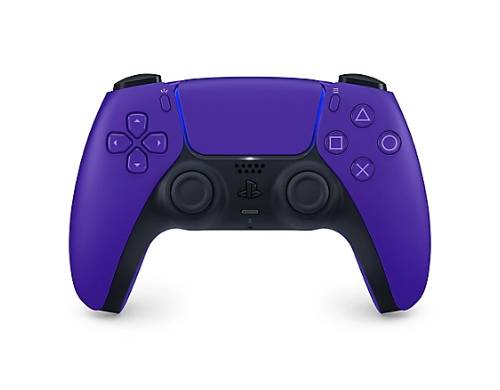 DualSense's adaptive triggers and haptic motors create an immersive experience.
$61.17
Most Cost-Effective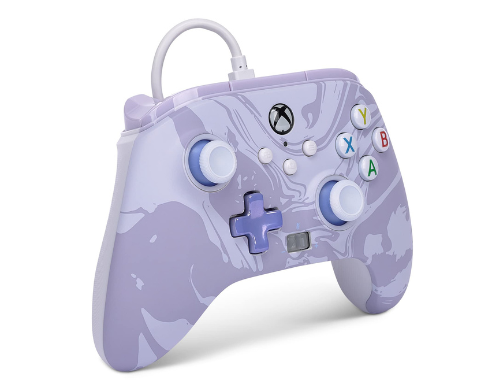 Wired but not tethered, this controller combines excellence and cost-effectiveness.
$25.99
Who This Is For
This list is for anyone looking to level up their gaming experience. Whether you're a professional gamer or a casual player, you're bound to find a product that suits your unique needs.
Mouse + keyboard vs. gaming controller
Many gamers swear by the classic mouse and keyboard combo, while others are just as enthusiastic about playing with gamepads. However, there are pros and cons to both sides of the divide.
First off, when it comes to buttons, it's obvious that keyboards have a larger selection to choose from. With 104 keys, mapping game functions across those keys provide players with a larger variety of inputs. You can create shortcuts as well as add extra inputs and macros.
The second point to consider is the aim. When playing first-person shooter games, aiming and shooting at a target is much easier with a mouse because of the simple point-and-click function. This makes moving in a game much faster than when playing with a controller.
When talking about comfort, controllers obviously take the cake. With a keyboard and mouse, you can't lie back and kick your feet because of the physical restriction caused by the cables.
Also, the portability of controllers can't be compared to a keyboard-and-mouse combo. Not to mention ergonomics and the bonus of having all buttons and controls within reach.
In addition, controllers have more pressure-sensitive buttons. For instance, a lot of controllers are now built with intuitive motion and adaptive triggers that give you an almost-physical connection to the game.
Thanks to haptic feedback, you can fire a bow with precision or increase the speed of a virtual runner. This level of pressure sensitivity isn't as developed as with the keyboard-and-mouse combo.
Taking all of this into consideration, there is no best option between controllers and the keyboard and mouse. Which one works best should depend on the type of game being played and the player's preferences.
As both have their highlights and downsides, we can say for sure that there's no victor in this battle.
Is it necessary? Can't I just use a keyboard?
Certain games are designed with controllers in mind, while others require a keyboard and mouse to be played efficiently. Games that need a keyboard and mouse combo include first-person player games, shooting games, point-and-click games, strategy games, and role-playing games (RPGs).
On the other hand, controllers work best with racing games, sports (football, basketball, etc.) games, combat games, action games, and third-person player games. Therefore, a controller is only necessary when playing certain types of games.
However, there's no rule against having a controller in addition to your keyboard and mouse. This allows you to have options when playing different kinds of games!
Is it worth splurging on?
With our top picks, you don't have to worry about splurging at all! We chose controllers that are pocket-friendly so you can choose whichever one suits your budget.
Wired vs wireless
Making a choice between whether to use a wired controller or a wireless one is pretty simple when you consider a few points.
First, if you're a competitive or professional gamer, you're likely to be more concerned about accuracy and speed to give you a better chance at winning. Thus, it's important to choose a gamepad with very little latency, and this is where wired controllers win out. Latency is the amount of time it takes a console or PC to respond to input from a controller.
Furthermore, there's no chance that the controller will run out of battery mid-play. For gamers who play for hours at a time, this is an important factor to consider. Also, there's no chance of other devices interfering with your Bluetooth signal because the wire is connected directly to your PC.
However, the above factors are becoming less of an issue with recent upgrades to wireless controllers. Many of them are now fitted with long-lasting batteries that can last for hours without running out.
Input lag has also been minimized to create faster and more accurate responses. In addition, wireless controllers give you more freedom of movement. You can sit as far away from your PC or console as you want without worrying about the restriction of a wire.
All in all, we can't say which option is the best. It's important to examine your circumstances and unique preferences before making a choice. Besides, who says you can't have both?
Why You Should Trust Us
We know that it's not easy to find a gaming controller that's perfect in every way. And that's because such controllers don't really exist! When selecting our top picks, we paid attention to both the highlights as well as the possible downsides of each controller.
This is to ensure that when buying a controller, you're not blindsided by any potential flaws later on. Therefore, you can rest assured that we've paid attention to past customer reviews to bring you top-of-the-line products.
How We Picked
There are countless PC gaming controllers available on the market, and finding the right one is no small feat. Thankfully, you don't have to. While conducting our research, we paid close attention to reviews from previous customers as well as the opinions of professional product reviewers.
While selecting our top picks, we paid attention to buttons and triggers, especially their level of accuracy and responsiveness.
With regard to style, all our top picks are visually appealing and brilliantly designed. Each comes in a wide variety of colors, patterns, and silhouettes.
However, they don't compromise on comfort and ergonomics. In addition, we paid attention to pricing, as our top picks are reasonably priced. As for durability, you don't have to worry about these controllers suddenly giving out on you, and if for any reason, they do malfunction, they come with manufacturer warranties.
Seeing as some gamers enjoy playing across multiple devices, we also chose based on compatibility. We picked controllers that are compatible with multiple operating systems, including Windows, macOS, Android, Xbox One, and Xbox Series X|S.
Care and Maintenance
You can keep your PC gaming controller clean by paying attention to a few simple steps. First, avoid spraying or spilling any liquids on the controller.
It's important to keep drinks and oily foods away from the controller, especially the battery compartment, to avoid causing damage.
To clean, wipe down your controller with alcohol wipes or a slightly damp cloth moistened with a bit of soap and water. Avoid using bleach. To minimize the amount of dirt that builds up on your controller in the first place, make sure to keep your desk as clean and clutter-free as possible.
When not in use, simply store your controller on a desk or on a flat surface where it's not likely to be squashed. For wireless controllers, roll up the cord neatly to avoid tangling.