The Best Patio Umbrella and Stand for 2023
Upgrade your outdoor furniture with the perfect patio umbrella and stand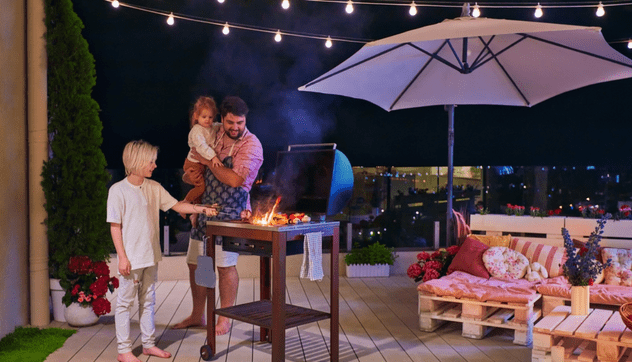 This might sound overrated but a patio umbrella could easily be the closest thing to a minimalist summer vacation in your backyard. Purchasing one gives your patio a quick facelift and makes your mood calmer whenever you sit down under its shades
The right patio umbrella and stand are worth investing in if you are looking to enjoy some peace and quiet, basking in the euphoria of nature available in the outdoor space in your house.
How We Picked
Size/Width (in comparison to the table)

Would you love to have visitors around? Then you must consider how many people or table size your patio umbrella can cover comfortably


Durability of Material

Consideration of the sort of material matters so that it does not break down under the wear and tear of sun, rain or snow


Stability

The stability of the stand is important so that you don't spend the whole afternoon picking up fallen umbrellas especially if you are living in states like Alaska with strong wind


Cost-Effectiveness

We made sure that the prices of our pick were worth the price tags so you use your budget wisely

Everything We Recommend
Best Pick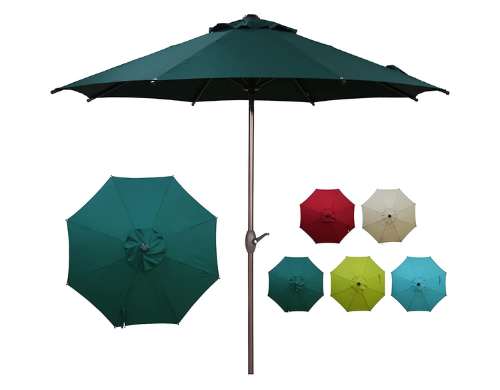 A patio umbrella that is grand in all features
$85.99
Runner Up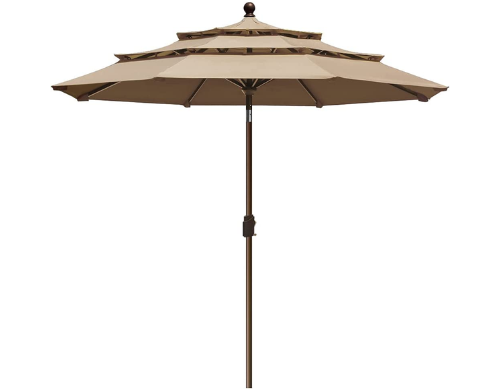 Best weather resistant patio umbrella for any season and weather you use it for
$199.95
Most Cost-Effective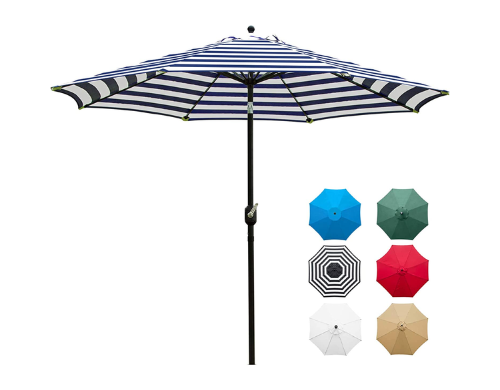 Classy, simple and cheap umbrella without complications and the complexities of others
$52.99
Who This Is For
The patio umbrella and stand are meant for people who want to enjoy nature in their backyards on their own or with friends without suffering the harsh effects of the weather. This article guides you on what to look out for before getting one
Patio Umbrella vs Gazebo
If you are contemplating between a patio umbrella and a gazebo, then there are a couple of things you need to have in mind. You need to consider your budget. Gazebos go from $3500 to climbing as high as $8000 while a patio umbrella can be acquired at $50.
Then you need to consider protection from insects and flies while using them. The gazebo wins this round because, depending on the type of gazebo, you get to cover some sides.
If you want more control and modification, go for the patio umbrella. You can tilt to cover the sun rays when they move but a gazebo might have its open side vulnerable to sun rays and you cannot shift the gazebo. Except you have a retractable sheet in which case, you are entirely cutting yourself off from the sun
Patio Umbrella vs Pergola
Pergola, just like the gazebo, is more stationary and unmovable. They are mostly open to the sun except when covered with canopies or vine leaves – which give out these beautiful natural ambiances.
An advantage of the pergola is that it covers more space than the patio can cover, but it takes more from your pocket during the installation. You should go for an umbrella if you don't have the luxury of a large space.
Patio Umbrella vs Beach Umbrella
One of the biggest differences between a patio umbrella and a beach umbrella is that the former requires a stable place for positioning while the latter is meant to be stuck in the sand. Some people can use the beach umbrella as a patio umbrella by fixing it into a stable base but this is not advised as the stem is not particularly made to withstand strong winds.
Why You Should Trust Us
For the minutest objects, a lot of factors come into play that are not always open to the untrained eyes but we provide an in-depth study into everything that matters. That's why we go into telling you how and what we looked out for when rating these patio umbrellas.
How We Picked
Let's take a look at some of the many things we compared before coming up with the winners.
First is the size and width that the umbrella can cover as that is the primary use of the umbrella. To what extent can it provide shade for people? Even if you are living alone, the opportunity may arise for you to host friends and family outdoors and you will need something that is not obstructive yet protective.
Another important feature is its ability to fight nature's antics ranging from rain and snow on the canopy to the effects of strong wind on the pole. The materials used in making these parts matter because they determine the stability and durability of these umbrellas.
The best umbrella canopies are made from polyester and nylon as they are good in protecting against water and UV rays while the pole is made from metal.
Moving away from components, we also looked at the appeal they command. Some patio umbrellas are just too beautiful to ignore as they lighten up the environment where they are installed. But beyond beauty, we also consider the crank and tilt abilities to shield you from the sun at any angle it comes from. Not only is the tilting ability important, but it is also good to check how easy it is to set up. Some are more sturdy and complicated than others.
Lastly, we picked the umbrellas that give you true value for your money so that you are not overpaying.
Care and Maintenance
Patio umbrellas are made to be strong and weather resistant but that doesn't mean that they should without care.
How to clean your patio umbrella
The first thing to do is to use a soft brush to remove the easy stains and leaves on the umbrella.
If the umbrella is detachable from the stand, you can wash it with detergent in a washing machine, sun dry it and use low heat to iron out the wrinkles and you are good to go. But if yours is only foldable and not detachable, then use a brush to smother in the detergent water around the areas of the umbrella, applying more force to places with stronger stains.
Allow for 10 – 15 minutes then use water spray to rinse off the detergent from the umbrella then unspread the umbrella to dry faster.
How to store umbrella safely
If you are traveling or it's winter time and you need to store your umbrella inside, start by making sure it's clean so that the dent does not last and possibly grow mold when you store it. Detach every part that can be detached; this could be the base of the pole.
Use a rope to tie the canopy together and make sure to lie it down in a cool place. The pole should never be kept near a damp place to ensure that it doesn't rust. The edges of the pole should also be tied so that it doesn't spoil anything.
How to repair a tear in your patio umbrella
Start by unfolding the umbrella so that it's easier for you to work on. If the tear is on the edges bordering two sides of the canopy, then you can use a nylon thread to sew it together but if it is a patch, then first use a fabric glue well applied around a new fabric and place it on the torn area before sewing together.
The new fabric should be one centimeter larger than the torn area.