The Best Oven Mitts and Pot Holders for 2023
Protect your hands in style with these top-rated oven mitts and pot holders.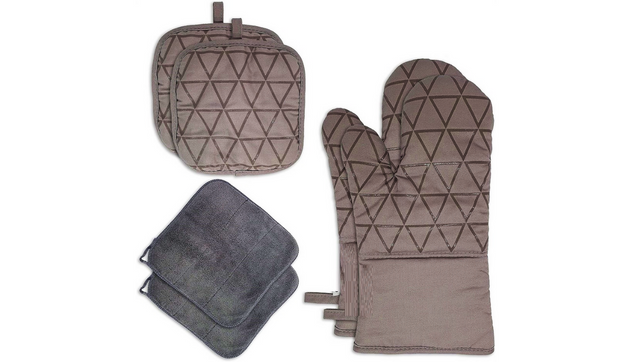 As much as kitchen towels or other wet towels around the kitchen space serve as quick options to use when we handle hot pans and pots in the kitchen, the right tool meant for this job is mitts and pot holders. This is for plenty of reasons with safety at the top of that list. What if that towel slips and causes an accident? Better safe than sorry right? It is also more hygienic and cleaner to use mitts and pot holders. Sometimes these kitchen towels we use usually have food debris and all sorts of grease from cleaning up around the kitchen space. Wouldn't it be better, safer, and less risky to get mitts that guarantee you a better experience?
Mitts and pot holders are made of high-quality materials that have a high heat resistance owing to their poor heat conducting abilities. This leaves you protected even when handling the hottest of dishes in the kitchen. Whether you are looking for mitts and pot holders for work or use at home, we have something for each and every person in need of them. Take a look at our selection of top-rated mitts and pot holders curated just for you.
How We Picked
Heat-resistant

The best mitts and pot holders are highly heat-resistant. The kind of material that makes up your pot holder will determine its effectiveness and heat resistance. Even when they are damp, your mitts should definitely keep you safe and protected from burns.

Material - Comfort and Thickness

A good mitt or pot holder should be flexible enough to allow you to move your fingers around without any discomfort. The inner lining should be gentle on your hands and fit you correctly to ensure you have enough grip to handle your cooking processes.

Durability

A good oven mitt should last at least a couple of years for an active cook. It should be relatively easy to clean and able to withstand burns from high temperatures. The primary focus should be on functionality and providing a protective barrier for your hands!

Cost-Effectiveness

It is always important to consider the amount of money you are willing to spend on an item. We all have different budgets and we understand this. We promise you that you will find value for your money on this list. All the products listed offer you amazing quality and performance
Who This Is For
This review is meant for anyone and everyone looking to replace their old mitts, purchase new ones or upgrade what they have right now to get better quality. The mitts and pot holders reviewed on this list are excellent for use in a domestic or commercial setting. Whether you are operating an oven or generally cooking using pots, the choices below are a perfect fit.
Oven Mitts vs Towels
Both oven mitts and towels are valid options to consider when searching for the right tool to use in your kitchen space. The difference or basically what sets them apart is the use. Depending on the risk you face when handling whatever you are using in the kitchen, you will see a clear need for one or the other. Towels do not cover much area of the surface and also do not wrap the hand properly as mitts do; so generally, mitts are safer. Consider your options and risk to pick the best option for you.
What materials are more heat resistant?
Fabric oven mitts are usually made of a combination of heat-resistant materials for added protection. Most are made of a layer of thermal insulation material that is surrounded by cotton fabric. In recent years, newer oven mitts are often treated with Silnylon, which renders them resistant to water and stains in the kitchen space. There are some mitts and pot holders made of stronger synthetic materials such as Kevlar which is a strong and heat-resistant material that can withstand temperatures of up to 425 degrees Celsius.
Why You Should Trust Us
We spent time reading many reviews and customer comments to better understand and have a clear perspective of the information about the products we have listed for you. We compiled a list of mitts and pot holders that are well worth your money by taking into account their practicality, convenience of use, and application, as well as their durability and design, not forgetting cost-effectiveness.
How We Picked
We had a couple of factors to consider to make sure we have all your needs covered as we compiled this list. Some of these important factors we considered include;
Heat-resistant – It is rather obvious that the best mitts and pot holders are highly heat resistant. Their job is to keep your hands and forearms protected from the high heat. Depending on the job you have for them, you need to put the heat resistance of your mitts and pot holders into consideration. Nonetheless, most are designed to withstand temperatures of up to 426 degrees Celsius.
Material – The kind of material that makes up your pot holder will determine its effectiveness and heat resistance. Different materials are used to make pot holders and mittens. They all have a common characteristic of being strong and heat-resistant materials. Some of the most recent mitts in the markets are made of Silnylon and Kevlar which are highly heat resistant.
Comfort – As much as you want to protect your hands from the heat emitted by pots or hot surfaces in the kitchen, you also need to have free movement to allow you to carry out activities. You need to be able to grip what you want to hold with ease and firmness to avoid even more accidents. If the mitts are loosely fit, you will have poor grip and if they are too tight you won't even clench your fists. So pick mitts that can perfectly fit your hands. The inner lining should be soft and friendly to your hands; this will avoid discomfort during handling.
Thickness – The thickness of mitts or pot holders is normally attributed to effectiveness, however, this is not always the case. Sometimes the thinnest of mitts provide even more insulation against hot surfaces. It all boils down to the type and quality of the material used. Keep your eyes on the prized factors that actually matter.
Durability – Good mitts will be able to withstand a couple of years when used correctly before tearing or being rendered ineffective. Most mitts are discarded after they get undesirable aesthetic qualities from fading and stains. Keep in mind that your choice should be able to withstand high temperatures, burns, spills, and water and still function right without putting you at risk.
Price vs Quality – A pricy mitt should offer you a corresponding value for your money. Take your time to find out what makes that particular pot holder or mitt expensive before you cash out on one.
Style/Design – As much as the style or design doesn't affect the functionality of your mitts, aesthetically, you might want to pick something that matches your kitchen style. You should also keep in mind the ease of cleaning after staining before you pick one.
Hooks to hang up – The best thing about mitts that have hooks is not having to worry about where to store them. It is always better to identify the best point to hang them preferably close to where you use them most so that you have easier and faster access to them.
Machine washable – Cleaning stains and grease spots off mitts can be a hefty job, so you might want to consider picking an option that is machine washable meaning you can clean them easier in less time.
Anti-slip – The outer material of mitts will determine their grip. The outer material should allow for enough friction to enhance and provide a better grip. This will put you at less risk of accidents.
Length –The best mitts and pot holders to consider are generally longer ones. With mitts, it is important that they cover you probably halfway up your forearm. This will ensure you are even more protected from burns in case you touch hot parts of the oven by accident.
Size – If your hand size makes it a challenge to find mitts, consider being specific in your search. There are larger mitt sizes and even smaller mitt sizes than the usual range in the market.
Waterproof – You are bound to come into contact with plenty of fluids and mostly water in the kitchen. Waterproof mitts don't easily get wet or damp which we understand can be somewhat annoying.
Care and maintenance
Do not use wet mitts
In order to prevent accidents, you should avoid the use of wet mitts. Water is somewhat a good conductor of heat and will contribute to a faster transfer of heat. This means that wet mitts transfer heat faster compared to dry mitts. This might easily lead to scalding of hands, especially with cotton-based mitts through which water can damp; better safe than sorry.
Check the material of your mitts before use
Different materials have different rates of heat insulation and conductivity. Silicone is a poor heat conductor, however, materials such as cotton may transfer heat faster compared to it. Therefore it is important that you consider the type of material your mitts are made of. It generally means that poorer heat conductors make better materials for mitts.
How to clean oven mitts
Depending on the type of material that your mitt is made of, there are different ways to clean them. Silicon mitts are generally easier to clean since they are both water and stain-proof. A little scrub and rinse will be enough to clean such mitts. On the other hand, cotton mitts are better washed via machines following the right procedures using the right detergents.
Remember that it is always better to clean your mitts on the go. Immediately after use, clean the stains to have better-looking mitts that last longer.
How often to clean oven mitts
As we have stated above, the best time to clean mitts is as soon as they get stains during use. This will guarantee that your mitts are always good-looking and have lesser stains. If you wait too long to clean the mitts, the tougher it might be to get the stains off.
Where to store oven mitts
Depending on the design of your mitts, you have plenty of options when it comes to storage. Some mitts have loops that can be used to hang in designated areas as you please or see fit. Either way, mitts should be dry and clean before storage. Store your mitts in an area that has free airflow to ensure they dry and aerate.
What to do with old oven mitts
Old mitts can easily cause accidents due to reduced effectiveness and heat resistance. Tools wear out and age resulting in poor performance. Mitts should be responsibly disposed of through appropriate avenues to ensure they are correctly recycled