The Best Outdoor Patio Heaters for 2023
With these wonderful outdoor patio heaters, you and your family can stay warm outside, even in chilly weather.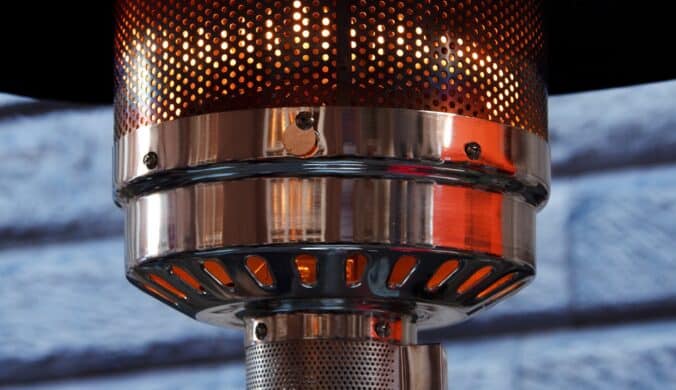 If you prefer spending time outside or holding get-togethers in your backyard, a top outdoor patio heater is exactly what you need. They will not only add ambiance when the sun sets but also keep you and your visitors cozy and warm.
However, because there are so many different patio heaters on the market, it is not always easy to choose which would suit your backyard and your requirements the best. However, there are a few important things to consider before purchasing an outdoor patio heater.
Consider whether the outdoor patio heater runs on gas, electric infrared, or propane. It is important to consider the heat coverage, size, and maximum power of the best patio heaters because these factors might impact their effectiveness. Also, consider your budget. It is important to find an outdoor patio heater that is cost-effective. We've compiled a list of the top outdoor patio heaters, with options to suit every type of patio and spending limit.
Our Top Picks
Our Top Pick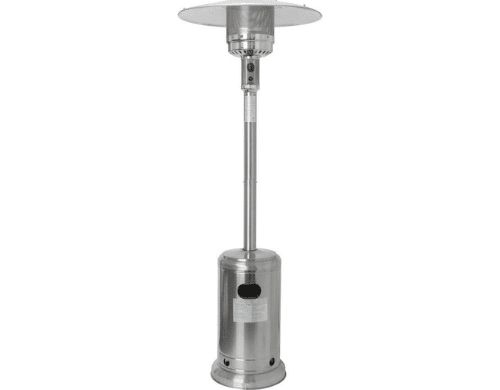 Thanks to the stainless steel used in its construction, it has a sleek appearance, delivers powerful heat, and is incredibly durable.
$80.00
Our Runner-Up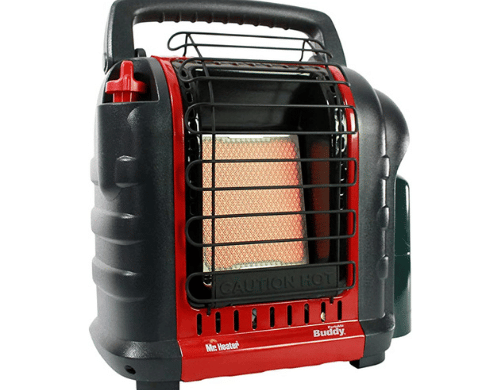 The Mr. Heater Buddy Patio Heater is a compact, portable, and ideal for heating up small outside areas.
Most Cost-Effective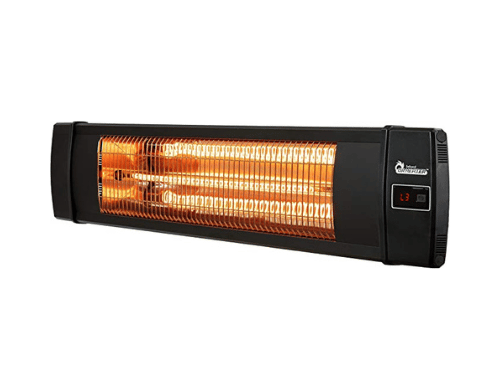 The Dr. Infrared Heater offers clean warmth and is fully adjustable, making it the ideal choice for covered patios.
$126.71
Who This Is For
Patio heaters are for people that want to enjoy the outdoors throughout the whole year by providing warmth and ambiance.
Are Outdoor Patio Heaters Waterproof/Weather Resistant?
Patio heaters need to have a cover placed over them to prevent the heaters from being damaged by the elements, especially rain and snow. Covers also prevent dirt, dust, and debris from entering the heater, which is an important safety feature. They also guard against insects and other tiny animals that may cause harm to the heater.
Even though outdoor heaters such as propane and natural gas heaters are built to withstand incidental contact with water, it is still not a good idea to use a patio heater when it rains outside. Because infrared heaters and other types of warmers are electrical equipment that is not waterproof, you should avoid using them in the rain to prevent the risk of being electrocuted by them.
Ideal Wattage For An Outdoor Patio Heater
Patio heaters that run on propane produce around eight times more BTUs than electric heaters on average. This means that they provide significantly more heat. Instead of directly heating you, this radiant heat does a better job warming the air around you. This form of heater requires the use of a propane tank.
If, on the other hand, you would instead use an electric heater, then you will normally want a high-wattage heater that ranges between 2000W and 2970W to adequately heat a large number of people across a large area. On the other hand, the significantly lower energy output is required in a smaller room with many people, preferably around 1500W.
Why You Should Trust Us
The greatest patio heaters provide warmth by generating radiant heat. There are multiple kinds of patio heaters on the market today, and as such, we have identified the best quality outdoor patio heater to help you get more usage out of your porch, deck, or patio.
How We Picked
There are many different kinds of patio heaters on the market. Patio heaters may be divided into a few distinct categories based on the method of installation as well as the fuel source that they use.
To simplify the process, we researched past customers' experiences with outdoor patio heaters and the varieties that were most suitable for them. These experiences can differ depending on whether they are free-standing or installed and whether they are powered by electricity or gas. We looked over a variety of items.
We will walk you through all of these first-hand opinions and assist you in selecting the best heater to meet your requirements so that you do not feel overwhelmed.
When making our selections, we sought an outdoor patio heater that would be practical temporarily and/or permanently in an open-air setting. In addition to this, we consider the heat distribution, namely whether or not it provides the most amount of heat at the lowest cost. We look for one that can be set up and adjusted with minimal effort. You should also think about the appearance of the heater and how well it fits in with the rest of your current accessories and decor. Since they will be used outside, it is essential that they be durable and made of a material that can withstand the elements.
Keeping you comfortable and ensuring that your money is spent most efficiently is our number one goal, which is why selecting the best outdoor patio heater is an important part of our evaluation process. As is our norm, we looked for the best offers or bargains to bring you the outdoor patio heater with the most value for your money.
How We Picked
Heat Distribution

This is important since it affects how much outdoor space the patio heater can heat. You'll require a stronger heater to cover more area.

Max. Temperature

The maximum temperature determines how much heat the heater can produce and how far or near someone can feel the heat. It's beeter to get a heater with different temperature settings for versatility.

Size

The size of the patio heater typically influences its mobility and ability to be moved about. It also does influence the amount of heat gives off.

Cost-Effective

A more costly patio heater does not necessarily produce more heat. Many factors influence this; therefore, keeping cost-effectiveness in mind is critical.
Care and Maintenance
It is essential that you position your heat source at a considerable distance from anything that might catch fire. You should avoid objects like trees, cloth patio furniture or gazeboes, and cooking equipment fuelled by propane, especially if it has an open flame. Is the heat coming from a fuel-powered source? If this is the case, you will need to ensure that it is situated in a well-ventilated, open location to avoid the dangers of carbon monoxide poisoning.
It is also imperative that children are kept away from fire elements and patio heaters at all times. This involves not just switching it on or off but also relocating it. Be sure to position your source of heat in a secure area, out from the reach of your children when they are playing or moving around so that they do not accidentally touch it.
Always ensure the gas tank valve is closed and the switch is turned off whenever the heater is not in use. This will ensure that the tank remains in excellent operating condition. As a result of its height, standing patio heaters can distribute heat over a significantly more extensive area.
On the other hand, their height can also cause them to be top-heavy, which indicates that they have a greater tendency to collapse when they fall over. Even though many models include anti-tilt systems that are built in, you should still take extra care to secure and stabilize your heater whenever it is practicable to do so.
For cleaning your outdoor patio heater, you can use a damp cloth. To avoid potentially damaging the heater, the lamp coating, and the surface of the reflector found inside the device, do not use any kind of detergent or cleaning fluid. A malfunctioning heater may have been brought on by something as simple as a speck of dust, some residue, or some filth.
Make it a priority to check that the heater cord is in working order. This is especially true if you installed the heater using your wiring rather than the default cable. When exposed to strong sunlight, the cable can deteriorate over time, so be sure to use factory-supplied cable when installing your heater. Any cable that is cracked or otherwise damaged has to be replaced right away.