The Best Oled TV for 2023
View the globe on a bigger screen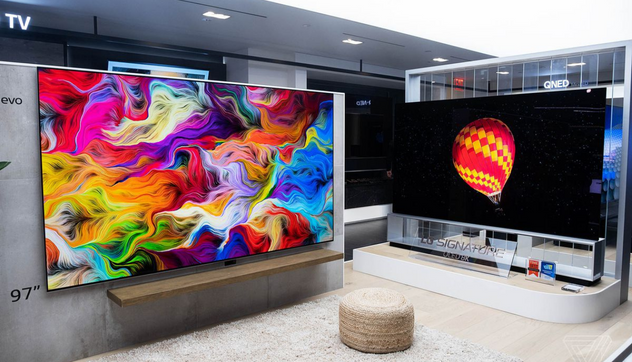 OLED is an acronym for Organic Light Emitting Diode, a display technology that uses organic compounds to create clusters of red, green, blue, and white light points that make up the individual pixels of a television. On a 4K TV with a resolution of 3840 x 2160, that translates to 8.29 million pixels on a single OLED panel.
And, unlike standard LCD TVs, each of those pixels produces its light, which can be turned on or off, brightened or dimmed individually similar to today's laser projection in movie theaters. That's why Sony and LG use it in their high-end televisions.
Because of this pixel-level brightness control, OLED offers the best contrast of any display technology, with neighboring pixels delivering everything from intense brightness to true black, and every color imaginable.
How We Picked
Picture Quality and Brightness

When selecting an OLED Tv, picture quality and brightness are important because they are what will display and make you see the quality of what you purchased. Picture quality provides a new experience by making your videos look 4k and appealing to the eye.

Sound Quality and Controls

When it comes to choosing an OLED Tv, sound quality and quality controls are very important. Customers would like to get a tv that has a nice bass system and a loud enough sound system. Controls are important, as is the ease with which you can control your television from anywhere you are.

Easy to Install and Set-Up

When purchasing an OLED, the ease of installation is very important, and we've assisted in selecting the best that provides the convenience that you appear to seek.

Cost-Effectiveness

In general, buying a low-cost Oled TV does not indicate compromising quality. We attempted to strike a balance between cost and quality.
Who This Is For
Everyone can use a TV, which is an electronic gadget that is used in households, workplaces, and by gamers as well. Electronic equipment, especially TVs, is essential in homes.
What is an Oled TV?
A television display technology known as OLED TV is based on the properties of organic light-emitting diodes (OLED). Compared to LED TV, OLED TV uses a different technology. The organic substance utilized as the semiconductor material in light-emitting diodes is the foundation of the OLED display (LEDs).
Pros and Cons of Oled TVs
The majority of people believe OLED TVs to be among the greatest TVs money can buy, and this display technology has developed significantly over the past few years. OLED panels aren't ideal by any means, therefore some TV manufacturers have been reluctant to use them.
Therefore, it's imperative to be aware of the various display technologies available today if you're looking for a new high-end television.
Pros Of OLED Tv
OLED TVs Have Perfect Blacks and an Infinite Contrast Ratio:
There are many self-illuminating pixels in an OLED panel. This gives the TV a significant advantage in terms of contrast ratio and black levels.
When an OLED TV shows a black scene, each pixel turns off. The screen appears dark as though the TV is off since these pixels don't emit any light when they're turned off. This is the best black level there is.
For the same reason, they have limitless contrast ratios. The difference between a screen's brightest and darkest points is known as the contrast ratio. An OLED TV has an infinite contrast ratio since the black levels are zero on an OLED screen, and you cannot divide anything by zero.
OLED TVs Offer the Widest Viewing Angles:
Not everyone watches television programs directly in front of the screen. You would want to make sure that your visual experience is unaffected if you watch TV at an angle. Fortunately, OLED TVs provide superior viewing angles to their conventional LED counterparts.
Oled remains to win this category, despite recent advancements made by QLED TVs. Even at severe off-angles, there is little to no color or brightness deterioration. You are therefore receiving the finest picture quality available from wherever you are seated in the room.
OLED TVs Are Energy-Efficient:
Theoretically, OLED panels are more energy-efficient because, unlike traditional LED displays, they don't have a backlight. Many black pixels often use no power, depending on the scene you are seeing.
The brightness level on your OLED TV, however, will be a key element in deciding how much energy it uses. Your OLED TV will use a lot more electricity than it does when displaying SDR material if you frequently watch brilliant HDR video.
OLED TVs Offer Unmatched Response Times:
A gaming fan will benefit from using an OLED TV because of how quickly the pixels react. Response time, to put it simply is the amount of time it takes a pixel to change from one color to another. This translates into sharper pictures during action-packed scenarios, which is essential for gaming.
The average pixel reaction time for OLED displays is 0.2 milliseconds. With a response time of around 3.5ms, these figures disgrace standard LCD and QLED displays. Since each pixel turns on and off independently, OLEDs can accomplish this unlike any other display technology now available on the market.
OLED TVs Are Usually Way Thinner:
The model you choose will determine how slim an OLED TV can be. The majority of OLED TVs include a super-thin display area that is enclosed by hardware, which includes the CPU, speakers, and other connections. OLEDs don't require a separate backlight, therefore the screen itself is only 2.5 to 3 mm thick.
However, some OLED TVs have a thicker homogeneous body so they may fit flat against a wall. The typical thickness of these designs is 2 mm. Samsung's Neo QLED 4K TVs are thinner, measuring just 2.7mm.
The Cons Of OLED TVs
OLED TVs Have Average Brightness Levels:
Even while we adore the OLED TVs' picture quality, we simply cannot ignore the reality that the brightness levels aren't all that high. This should worry you if you frequently watch TV in a bright space. The peak brightness for OLED TVs when watching HDR content is between 600 and 800 nits. The market's competitive QLED TVs may easily reach peak brightness levels that are twice as high.
OLED TVs Are Susceptible to Burn-Ins:
Screen burn-in or picture retention has been a significant problem for OLED technology ever since it was first introduced. A long-used OLED TV may start to keep static pictures on the screen for extended periods, such as channel logos, for example. This happens as a result of the uneven pixel aging over time.
On your TV, the individual pixels that illuminate to show static images deteriorate more quickly than the pixels around them. When your screen is white, you'll notice this image retention the most because it is permanent. Although manufacturers claim that technologies like pixel shift-reduce burn-in, you still need to use an OLED TV with additional caution, especially if you intend to use it for a long time.
OLED TVs Can't Match QLEDs in Color Volume:
While QLED panels, which rival OLED TVs, give larger color volume, the latter has better color accuracy. Therefore, the QLED TVs are the ones you should consider if you like vibrant colors over realistic ones.
Bright colors are not displayed to their full extent on OLED TVs because they don't get nearly as bright as QLED TVs. Samsung's QLED screens have no trouble displaying a broader variety of more intense colors that are appealing to the general public.
Why You Should Trust Us
Everyone enjoys shopping, but it seems that making informed purchases is a wiser course of action. Since we have completed the essential research to make sure that you receive everything that is worth the money you pay, we are the ones to contact.
How We Picked
Picture Quality/ Picture Brightness
The term "organic light-emitting diode" (OLED) refers to a display technology based on organic materials. Each pixel in an OLED display has the potential to self-light, therefore if a pixel is supposed to be black, it will remain completely dark. Because OLED screens are self-illuminating, they can produce extremely deep black levels, which boost contrast ratios and produce a more vibrant color. Individual pixel illumination also gets rid of the light bleed that certain LED-backlit displays have, so bright images won't have a "halo" impression on a screen that is otherwise completely black.
Audio Quality/ Audio Controls
We have chosen the greatest OLED TV models with the highest audio quality to give you the thrilling feeling of being in a movie theater. These particular TV models also have the best audio controls for the optimum user experience.
 Easy to install/Easy to set up
 We've chosen the top OLED TV models that can provide you with the greatest installation, and for some of them, you can simply stand them on a television console instead of mounting them. You don't need to keep an eye out for these OLED TVs because they come with stands that are packed with other components.
Price vs Quality
Not everyone has a large budget to go on OLED TVs, so we've selected the best OLED TVs that can fit well with your spending limit. These aren't simply cheap OLED TVs; they're OLED TVs whose costs reflect their high quality.
Placement
The greatest OLED TVs have been chosen because they can be mounted or attached to stands with ease.
Size
We've chosen the best OLED TVs available, and they have fantastic screens with clear viewing angles. Due to its incredible screen size and a great view, this set of OLED TVs makes even gaming more enjoyable for gamers.
Weight
The best OLED TVs that are lightweight have been chosen; therefore, they can be moved with ease if necessary.
Care and maintenance
Setting up your TV
When positioning your TV, check that all of the bolts and knots are securely fastened. If mounting, confirm that the mounting is in the proper location and condition. If you think you'll like your TV stand, make sure it's securely fastened. Additionally, having a stand for your OLED TV reduces the stress of moving and relocation and is generally preferable to free hanging.
How to clean your TV
Look for a soft, lint-free cloth. For this, the Micro-Fiber cloth that comes with various smartphones, tablets, or PCs works fantastically. Don't forget to disconnect your television to avoid any potential shock scenes. Avoiding scratches is the goal here, so wipe the screen gently. Since a circular motion reaches each area from multiple perspectives in a single sweep, gentle circular motions are likely to produce superior outcomes.
How often to clean your TV
If you can, clean your TV once a month, and make sure to give it a thorough cleaning.
Syncing up the audio to picture
1. On the remote control, hit the Smart button Remote, choose Settings > SOUND, and then press WHEEL or ENTER.
2. Press WHEEL or ENTER after choosing the AV Sync Adjust option.
3. If there is a sync problem, set it to ON. To delay Sound or Video, move the External Speaker slider to the left or right, respectively.
4. Consult the instructions on resolving lip sync on external devices if the TV lip sync problem persists.
How long can you watch TV without eye damage?
There isn't a long duration or determined time that can be mastered that can produce an eye problem when watching TV; this problem can be induced by close contact with the screen and also by blinking less when viewing.
Ideal distance from the screen
Some eye care specialists advise putting eight to ten feet between you and the TV. As a general guideline, stand at least five times as far away from the screen as it is broad. The ideal viewing distance, for a 32-inch television, is 160 inches away, or roughly 13 feet.