The Best Office Chair for 2023
See our list of the best office chairs for a boost in comfort and efficiency.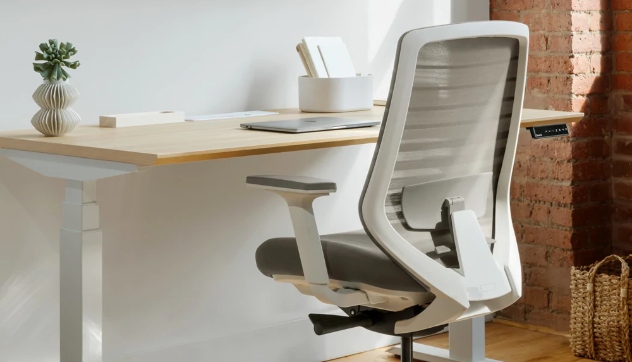 We spend so much time sitting, and it's crucial that our office chairs are comfortable and supportive. One of the few things that can prevent constant back and shoulder aches while at work is a high-quality office chair.
An ergonomic chair guarantees that your posture remains natural while you are sitting, especially for extended periods.
We've compiled a ranking of the top office chairs available today using a range of factors, such as comfort, support, adjustability, style, and durability. To accommodate everyone on a limited budget, we also made sure to include a cost-effective alternative.
How We Picked
Adjustability

Besides the default height adjustments, the armrests, seat depth, tilt or recline, back support, neck, and lumbar regions that an ergonomic chair offers can all be adjusted. To provide the best comfort and support, we made sure to include seats with these features.



Material - Comfort and Breathability

Office chair seats are typically made of foam, and some are curved to support body contours. Although upholstered foam backs provide better support, mesh backs are more common because they allow for more airflow.


Style/Design

While the majority of office chairs are either black or other neutral colors, we looked at products with a variety of colors and stylish, relaxing designs.



Cost-Effectiveness

Office furniture is quite pricey. However, we also made sure that while our picks boast great features, they come with a decent price tag.


Our Top Picks
Best Pick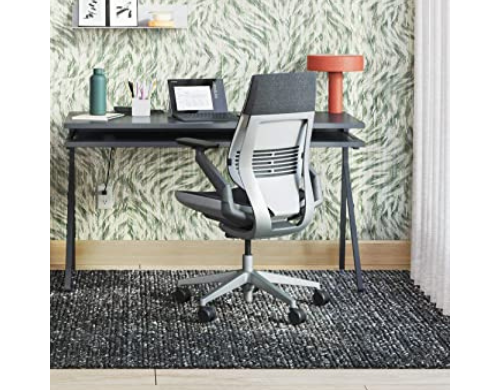 Costly purchase, but it is well worth it for those who sit for extended periods.
The ball and socket system that connects the armrests to the chair allows for limitless adjustments.


The air pockets built into this chair can help relieve the pressure that builds up when you sit for long periods. The edge of the seat is flexible, so it can bend a little bit where it's needed most to relieve pressure under the thighs. Additionally, the Gesture's arms can rotate a full 360 degrees.

Runner Up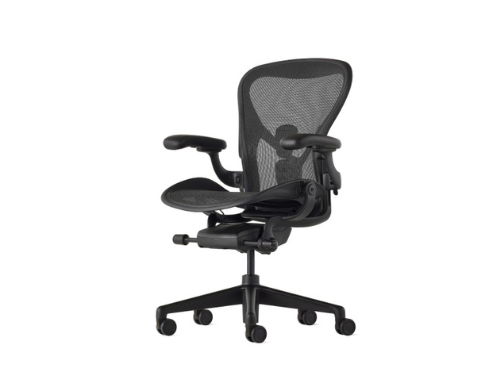 This chair boasts innovative Pellicle suspension material and PostureFit SL back support.
The Aeron's mesh seat and back make it a superior option to foam-upholstered chairs in warm environments.


The classic Aeron chair is made with state-of-the-art adjustability for the arms, seat height, seat depth, and recline. This helps you sit in the best position so you can focus on the task at hand. This is possible because the chair was made using cutting-edge technology and a deep understanding of how people work. As a result, the widest possible audience can benefit from its comfort.

Most Cost-Effective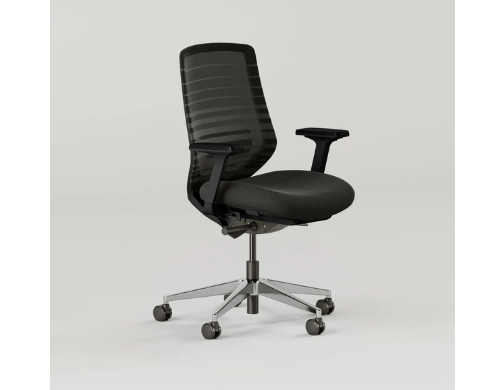 The double-woven nylon mesh back provides a soft, comfortable place to lean.
At least seven things about the chair can be changed, such as its height, tilt, lumbar support, and seat pan depth.


Supportive of the lower back and shaped to fit the upper back, it promotes an erect, healthy stance. Whether you work in an open office or from home, the Ergonomic Chair by Arte Italica will add a touch of modern minimalism. The result is a stylish, long-lasting chair that is comfortable enough to sit in even after a long day of work.
Everything We Recommend
Best Pick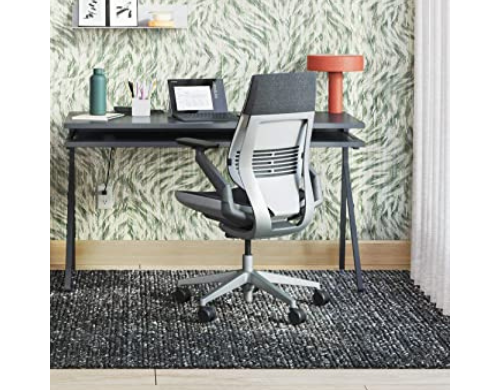 Costly purchase, but it is well worth it for those who sit for extended periods.
$1,314.49
Runner Up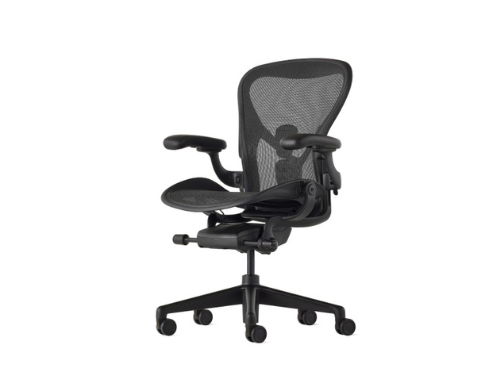 This chair boasts innovative Pellicle suspension material and PostureFit SL back support.
$1,959.99
Most Cost-Effective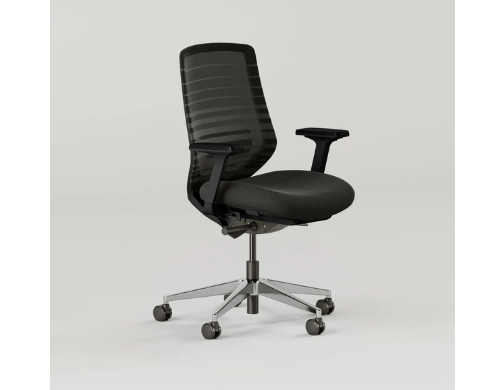 The double-woven nylon mesh back provides a soft, comfortable place to lean.
Who This Is For
The recommended ergonomic and adjustable office chairs are not necessary if you don't spend a lot of time at your desk. Chair preference or comfort level should not be a deciding factor if you only plan on sitting down infrequently to read through your mail or play games.
Most folks are content on a couch or in a dining room chair. However, those who spend their days sitting at a desk will find the recommendation of these chairs essential.
Differences between an office chair and a gaming chair
Even though they both serve as seats and support your lower back and other parts of your body, these two chairs look very different.
Both types of chairs usually come equipped with wheels, swiveling bases, armrests, padding on the seat, back, and/or armrests, and a number of different adjustments.
Visually, the two types of chairs couldn't be more different; while most office chairs tend to be functional and uncluttered, gaming chairs are often elaborate and fashionable.
The typical characteristics of a gaming chair are a high back, a bucket seat, and a high seat perimeter. Common features include armrests that can be moved in no fewer than three planes of motion, as are lumbar and head support cushions.
In addition to being able to recline more than a typical office chair, most gaming chairs can also rock and lock in a tilt position. In most cases, the armrests will only go up and down, and the reclining will be restricted by more rigid tilt locks.
Choosing whether or not to have armrests
Research studies have shown that armrests are useful and important in reducing the risk of developing musculoskeletal problems in the upper extremities. You don't have to worry about your posture getting worse if you use an armrest.
In contrast, a chair that has armrests is better for your back and neck. We need something to hold or support our arms while we work. That lessens the demand placed on your muscles and spine.
Why You Should Trust Us
To make this list, we had to review several office chairs, starting with popular brands and going down to others that are just on the rise.
We considered various criteria such as durability, material, breathability, and even cost before separating our picks into those that were too extravagant and those that provided their exact features at the right cost. After that, we considered the pros and cons of each chair and weighed them to make sure that the best parts were what you were paying for.
How We Picked
Adjustability
When shopping for an office chair, it's important to find one that can be adjusted to suit a variety of body types to maximize comfort and use. We favor office chairs with numerous adjustment possibilities, such as tilt, arm height, and seat depth. You should also be able to adjust the tilt distance and the amount of force needed to lean back in the chair.
Height
We considered the height of the chairs we selected, with the greatest plus being that most of them came in various sizes that allowed you to choose a height that could either be adjusted or that worked well enough for you.
Backrest
Sitting hunched over all day because of the absence of a backrest or a poor one was something we did not want you to go through. So when we made our selections, we made sure that they had sturdy backrests with ergonomic designs that offered great relaxation and helped you get the most out of your work.
Material
The type of fabric your chair is made of is often disregarded. However, there is a major contrast between mesh-backed chairs and leather ones. Vinyl, leather, mesh, and ultra (synthetic) leather are all popular options. Vinyl is a prominent material for office chairs due to its durability and cleanability. This makes it ideal for areas where dirt and germs are constantly being transferred, such as hospital or manufacturing floors.
Leather is opulent, durable, and simple to maintain. Although it will never go out of style, this material will not be the most comfortable to use for extended periods. Synthetic leather is more breathable and hypoallergenic than genuine leather, and it still looks great. The problem is that its average lifespan is shorter than that of its leather analogs.
In recent years, mesh fabric chairs have become more popular, especially in the market for ergonomic chairs. The primary advantage of mesh is its breathability because the entire backing is made of perforated metal or plastic. The mesh material provides comfort and ergonomic support when you sit, and it's also easy to clean.
Comfort
Finding the ideal, most comfortable office chair is a highly individual process that also takes into account factors such as the nature of your work, your size, and how you want to sit. We rated the chairs based on the comfort of the seat, back, and arms, and we also considered how our bodies felt when we got up from each chair.
Lumbar support
Individual differences in torso length and lumbar curvature make adaptability essential, but the majority of standard office chairs do not allow for any degree of customization with regard to lumbar or back support, making them "one size fits all." Experts in ergonomics recommend a lean back angle of between 100 and 110 degrees for proper sitting posture. Whether you are sitting up straight or leaning back 100-110 degrees, a sturdy backrest will provide the same level of support.
Adequate padding
A cushion can be created from a variety of materials and can have a variety of shapes to best meet the needs of the person using it. Depending on the desired level of comfort, most cushions are filled with either foam or another poly substance. You won't need anything more than a 50mm thick cushion for a seat pad's worth of comfort. Therefore, we made sure that our picks had enough padding to keep you comfortable all day long.
Breathability
We made sure that the different materials used to make the chairs we chose were made of parts that let air through and made the chairs comfortable overall.
Style/design
While functionality is our top priority, we recognize that many people working from home are turned off by the standard issue black and gray color palette of typical office furniture. The aesthetic value of each chair was judged based on things like the type of fabric, color, and other customizations that could be made.
Price vs. quality
When making a final decision on an office chair, the price will always be the most important issue. Buying a chair boils down to striking a balance between price, quality of construction, and the number of extras. We considered how quality and price influenced each other and settled on options that met both in the middle.
Size
There are generally three standard options for desk chair sizes. If space is at a premium in the workplace, a petite desk might be a good option for both shorter people and larger desks. A standard-sized product's typical user is between 5 and 6 feet tall. The last size available is the huge office chair, which is ideal for those who need more space. If you're over 6 feet tall, these should fit you fine, and they can handle an average weight of 500 pounds.
Depth and width
To ensure proper support for your posterior, lumbar, hip, knee, and ankle joints, the seat cushion should be wide enough to fit your entire body and thick enough to make sure it doesn't flatten out within a few years.
Ergonomic shape
Your lumbar spine and back need to be supported when you sit for long periods for your health to be at its best. Having a chair with enough back and lumbar support could help ease back pain by putting less strain on the spine. To alleviate these problems, ergonomic chairs are constructed to offer lumbar support.
Care and Maintenance
Clearing dust
The fabric, leather, or mesh upholstery on an office chair can affect how you clean it. You can keep dust, filth, hair, and other particles from settling into the crevices of your leather or mesh office chair by dusting it regularly with a microfiber cloth.
When cleaning the upholstery, don't forget to also dust the furniture's plastic or metal feet, armrests, and other components. If you have a vacuum with a hose attachment, you can use it to clear dust and crumbs off a fabric-upholstered office chair.
Dusting leather furniture is the first step in keeping it in good condition; leather conditioner can be used for that.
Tightening the chair
The first step in fixing a squeaky office chair is to figure out why it's making the noise. Verify that the chair is clean and lubricated and that all screws are securely in place.
Alternatively, a broken spring may need to be replaced. If a worn-out or slack spring turns out to be the problem, you can buy a replacement at several stores.
Spot cleaning with soap and warm water
If the stain cannot be removed by using water alone, combine a little amount of dish soap with cool water and apply it to a wrung-out sponge before blotting the spot.
It's probably not worth the risk of further setting in the stain if you refrain from pressing it, but you could end up damaging the fabric and causing it to pill if you do.
Some types of upholstery cannot be cleaned with water-based solutions. Use a dry cleaner, which can be found in either liquid or powder form, in this scenario. Apply the cleaner to a dry towel instead of the chair itself. To remove stains, rub the area softly but firmly.
To avoid damaging the furniture, wipe away any residue with a damp (not dripping) cloth. If you want your upholstery to last as long as possible, you should always check the tag for specific product advice.
Changing gas cylinder
The pneumatic or gas cylinder probably has to be changed if your office chair sinks. Gas lifts have a shelf life and will sink with time, or they can wear out early if you weigh more than the chair can hold.
The good news is that gas cylinders can be easily and cheaply replaced if yours breaks after the warranty has expired.
To start, flip the chair over on its side. To separate the chair's base from the seat, tap the base with a rubber mallet. Carry on until you can separate the base from the rest of the chair without much effort.
As a result, the cylinder will be uncovered. To turn the gas lift, grip the pipe wrench firmly around its top. Now lift the cylinder up and out of the way.
If you don't have a pipe wrench, you can take the mechanism off the chair by unscrewing the main bolts under the seat. Then, pry the mechanism out of the cylinder and the seat of the chair by tapping it with the rubber mallet.
The new hydraulic cylinder can be installed after the old one is removed. Set the cylinder's base in the middle of the chair's footrest. Carefully place the cylinder into the chair base to begin assembly; the remaining steps will be taken care of automatically.