The Best Nursing Pillows for 2023
With these comfortable and soft pillows, you and your little angel can both enjoy great support during nursing time.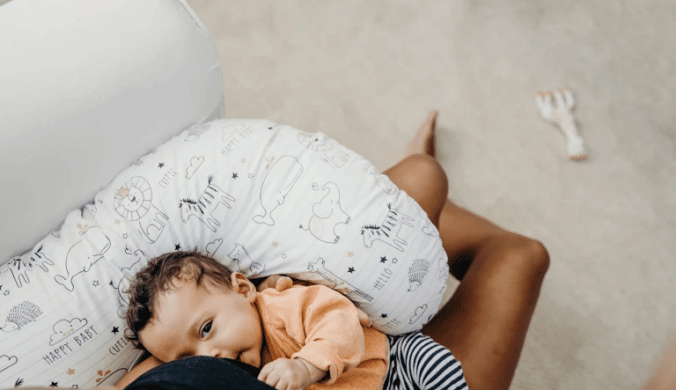 Breastfeeding is very important to the child as a nutritional source and to both the baby and the mother as a bonding activity, and this fact is reinforced over time. As many mothers know, this activity, though greatly rewarding, places a lot of strain on your muscles and joints because of the position you have to employ.
Most times, mothers plop a pillow down their back but still need to cradle their baby, and again, this posture is not very comfortable, particularly postpartum. This is where nursing pillows come in. They are used to position the baby while they breastfeed or receive their bottle. While this is their primary use, they can also be used to position the baby for tummy time after they have burped or as support for when the baby starts to sit. Nursing pillows are also essential in protecting a mother's stitches postpartum regardless of their method of birth.
We'll go over the best nursing pillows on the market in order to make your shopping experience as easy as possible, given the numerous options available. Alternatively, when you come across a nursing pillow on a baby shower gift list, you have a source of information to refer to — us.
How We Picked
Comfortable

The essence of the nursing pillow is to provide comfort during breastfeeding. As such, you don't want a pillow that's too big or too small. If the mother and the baby aren't comfortable then this defeats the purpose. The material should be cozy to the touch and gentle on the baby.

Easy to Use

Nursing pillows have a pretty straightforward design and using one shouldn't be rocket science mostly because of how often children breastfeed. And, it should come with easy-to-follow instructions.

Ergonomic

In order to perform as it should, the pillow needs to be ergonomic so as to correct the breastfeeding mother's posture. The more naturally her hands and back are positioned, the better for her and the baby.

Price

Good nursing pillows do not need to break your bank, especially because the baby still needs more items ever so often. We recommend that you purchase one that is within your budget and does not compromise efficiency.
Our Top Picks
Our Top Pick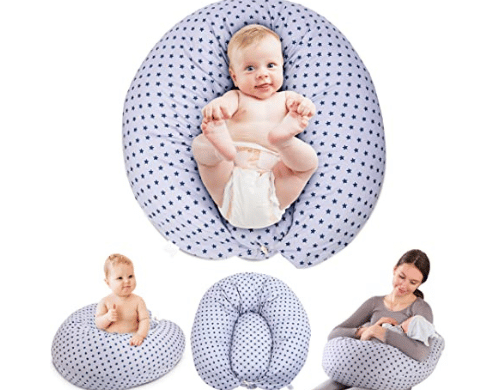 A multipurpose nursing and pregnancy pillow.
This pillow is not only suitable for a pregnant woman, but it is also suitable for the baby. These pillows provide excellent support and value for money. Its utility extends beyond the nursing stage and aids in the transition of your baby from the baby stage to the toddler stage.
If you are looking for versatility then this pillow is for you.
Our Runner-Up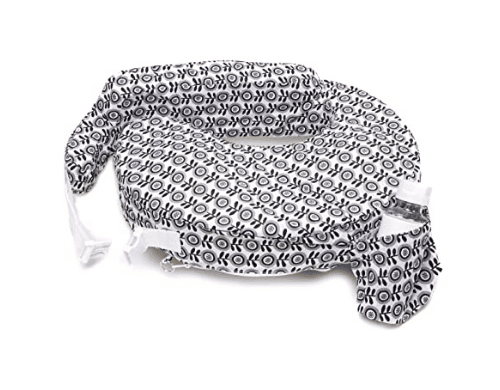 A Belted Nursing pillow with back support and pockets.
This is the most purchased belted nursing belt. The company has been in existence for years and is easily one of the best nursing pillows on the market. We love that it provides back support and even has a cute pocket that you can use to store the milk bottle or even pampers.
When you need the perfect belted pillow then this is ideal for all your nursing needs.
Most Cost-Effective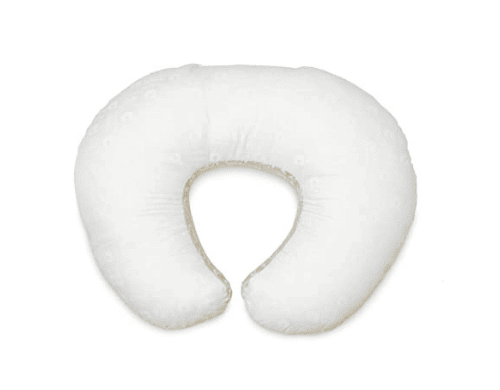 The original Boppy nursing pillow.
These pillows have such a huge fan base since they have been in existence for a very long time. Not only is the company reliable but the material and the design promise longevity of the pillow. We also love that it is an affordable pillow to purchase.
Are you looking for reputability and reliance? Then look no further.
Everything We Recommend
Our Top Pick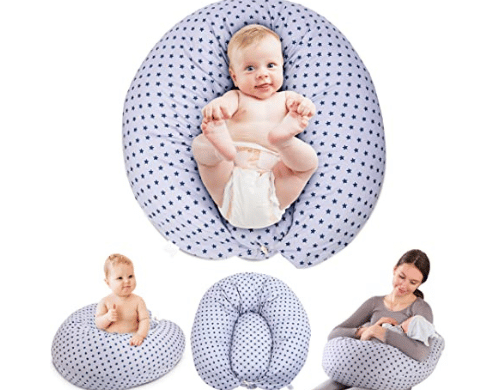 A multipurpose nursing and pregnancy pillow.
$39.95
Our Runner-Up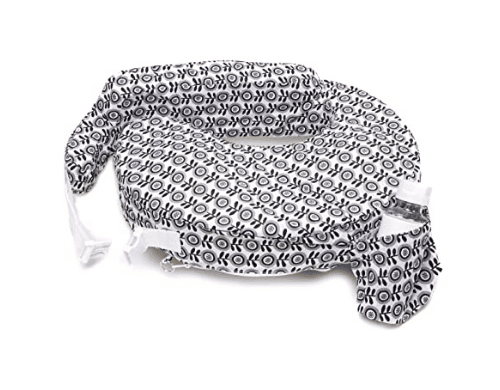 A Belted Nursing pillow with back support and pockets.
$44.99
Most Cost-Effective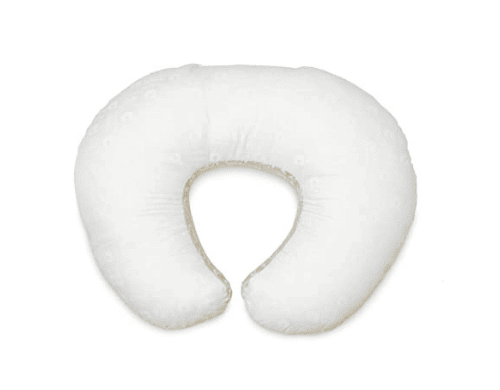 The original Boppy nursing pillow.
$34.82
Who This Is For
If you or someone you know is a recent mum then this is the perfect pillow. A nursing pillow is perfect for the few days after postpartum when the mother is still sore or even to prop the baby who needs help latching on for breastfeeding. Instead of using regular pillows and stuffed animals, these pillows are made to increase comfort for the mum and also to help prop up the baby. They correct posture so that the new mum doesn't suffer from stiff limbs and aches.
Is It Worth Splurging On? Can't I Just Use a Regular Pillow?
A regular pillow can be used instead of a nursing pillow, however, the convenience of assembling and using the pillow designed for nursing mothers and ease of use cannot be compared to regular pillows. Nursing pillows are orthopedic and this makes all the difference during feeding time.
Moreover, nursing pillows are fairly priced and different budgets can easily be accommodated therein. This is a purchase that is worth the indulgence because the benefits far outweigh the disadvantages.
Belted Nursing Pillows vs Lap Nursing Pillows
When shopping for a nursing pillow, you need to remember that your preference comes first. Belted nursing pillows are studier than lap nursing pillows and can accommodate bigger babies while lap nursing pillows can accommodate different-shaped mothers and can be used for many purposes such as supporting the baby during tummy time or even as a maternity pillow. Where the belted pillow is bulky because of its material, the lap nursing pillows are less firm. The choice, therefore, comes down to your preference.
Why You Should Trust Us
The health of mothers who have just gone through childbirth is important and so is nursing the newborn. If the discomfort associated with childcare can be minimized then we are here for it. We took time to comb through mother-child lifestyle publications and then went ahead to compile a list of the best-reviewed nursing pillows. We took care to ensure that this information came from trusted sources since we value your patronage. You can rest assured that we aim to make life easier for you by lessening your research process.
How We Picked
Because of the usage of nursing pillows, they must be easy to use and clean. The cover needs to come off easily and when needed, the pillow should be washable as well. You can use a towel to further protect the pillow from too many washes however the pillow as well should be easy to clean. A mother shouldn't need to struggle with the pillows' usage as well.
The pillow should be comfortable for the mother to wear and use so she can protect her limbs during breastfeeding. The cozier the pillow fits the mother, the better for usage since the child will not keep sliding off the pillow. Further still, the mother's limbs will be well protected.
A nursing pillow can only be used within a certain period of the child's life and as such, you need to be sure that it will last for that period and can even be used for other purposes such as support for a baby trying to stand or for tummy time.
Great materials have a soft surface where the baby lies and then the bottom bit is made of a sturdier material that allows for both durability and proper functionality. It should be just the right mixture of sturdiness and soft material which further reinforces the ergonomic nature of most nursing pillows so that feeding time is done from as much of a natural posture as possible.
There are various shapes and sizes of pillows and if you have an idea of what you want then it becomes easier to choose the perfect nursing pillow. The weight of one is dependent on the size and type of material that it is made of.
We recommend that you take into account the space that the pillows take up as they are generally bulky when in use; however, this should deter you from purchasing one because these pillows are generally diverse and if very durable, then maybe, you can hand it down to someone else!
Care and Maintenance
Given the usage of the nursing pillow, you can be sure that it goes through a lot! From milk spills to baby-related eruptions, a lot of dirt and odor can accumulate and the pillow rapidly becomes a breeding spot for germs. This has to be avoided at all costs!
Once you purchase your pillow, read through the user manual first to find out if it is washing machine safe. After using your pillow, make sure to remove the cover, zip it up, and then throw it in the washer. Make sure that the zip is closed to avoid any accidents during the cycle. Dry the cover then put it back on the pillow before use. We suggest that you use a cotton towel as a receiver so you place it under the baby to protect the pillow and to make clean-up easier. Taking the receiving cloth and throwing that in the washer is easier and can be done daily. You can also purchase extra pillow covers so that on wash day, you still have options.
You can also spot clean your pillow using water or once in a while, you can throw it in the wash and use cold water on the gentle wash. To avoid the cushion getting all messed up, place two golf balls or tennis balls or sneakers in socks then place them in the same washer as the pillow when tumble drying it. Be sure to add baking soda to neutralize any bad smells and vinegar to get rid of mustiness when adding soft detergent to the laundry. After tumble drying, also air dry the nursing pillow.
When spot cleaning, you can use a water mixture of soft and gentle detergent that will not harm the child and baking soda to neutralize any odors. Make sure to air dry the pillow after spot cleaning. Store the pillow in a well-aired room while clean if you will not use it for a while.
Sources and Research