The Best Non-Stick Pans of 2023
Non-stick pans are a must-have in any kitchen. Not only do they make the cooking process easier, they also make cleanup a breeze.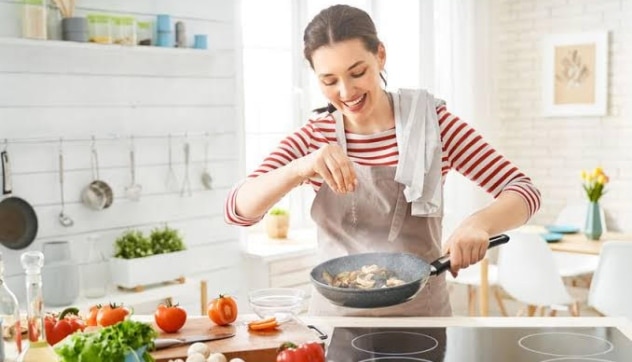 Cookware with a non-stick coating is all the rage now, and for all the right reasons. Thanks to the Teflon coating, you can cook food with or without greasing the pan, without worrying about it sticking to the pan.
There are several advantages, from easy cleaning to cooking without oil, non-stick pans bring many health benefits to the family. It's convenient to have at least one non-stick pan in your kitchen to fry eggs, fluffy omelets, tender fish fillets, and thin pancakes without the risk of the food clinging to the pan.
However, not all pans are designed equal, and there are thousands of pans in several price ranges, so sifting through marketing jargon to discover the best one can be difficult, which is why we've put together this review to make it easier for you to select.
How We Picked
Easy to Wash

On some days, just the thought of cooking might be a nuisance. The only sensible way to make cooking less of a bother on days when you're busy is to choose the ideal nonstick frying pan that is simple to use and quick to clean.

Material and Coating

When choosing a nonstick pan coating, there are several different nonstick coatings from which to choose. These include silicone coating, ceramic, superhydrophobic coating, PFOA, PTFE (Teflon), and enameled cast iron. Because Teflon is formed of molecules that might become unstable at very high temperatures, the best options are those that are PFOA and PTFE free.

Style/Design

When choosing a nonstick pan, aesthetics and design are crucial factors to keep in mind. A skillet that not only aids in meal preparation but also enhances the appearance of your kitchen is a plus. You can also select a preferred color finish to go with your interior design.

Cost-Effectiveness

Nonstick pans are pretty affordable and come at various price points. They are made of a variety of metals, including stainless steel and aluminum, and have nonstick surfaces for extended usage. High performance is ensured by high-quality materials, so we picked pans that offer great performance along with a reasonable cost.
Our Top Picks
Best Pick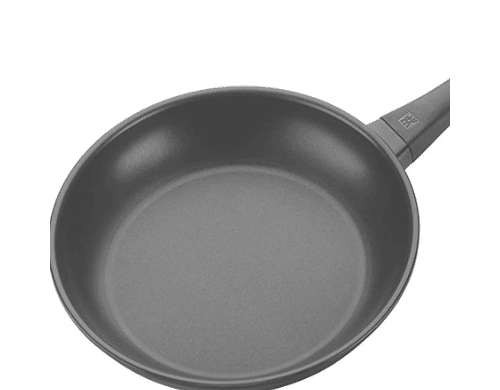 Compatible with induction and all other cooking surfaces.
Looks simple, but their design is very well thought out.

This pan is made of forged aluminum and combines the best of German engineering with Italian design. It is then treated with plasma spray for scratch resistance and covered in Duraslide granite, which is 40 times more resistant than PTFE.

It also has a stylish end cap in brass colored, highlighted with the ZWILLING logo, and an ergonomic, soft, keep cool, grey handle that is welded for durability.
Runner Up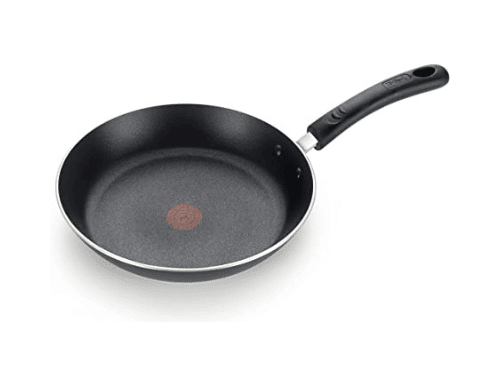 A near perfect skillet.
Designed with a tempered glass lid so you can cook without creating a mess.
Our runner-up, the Tfal Non-Stick Pan, combines convenience and style with a tempered glass lid that allows you to watch your food cook without having to lift the lid. The T-fal Ultimate's hard anodized satin gray appearance is preserved by the innovative external coating, which permits everyday dishwasher usage.
Most Cost-Effective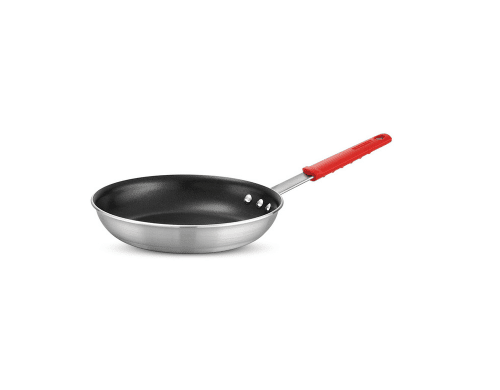 Offering the best value for a great performance.
Superior durability and an easy-gauge grip for effective, even conduction.
Despite the Tramontina Pro Fry Pan being so inexpensive, this pan is also dishwasher and oven safe, PFOA-free, and suitable for use with gas, electric, and ceramic stovetops. The unique and smart design maintains all the strength and durability of a conventional riveted handle while allowing for simple cooking and quick cleaning.
Everything We Recommend
Best Pick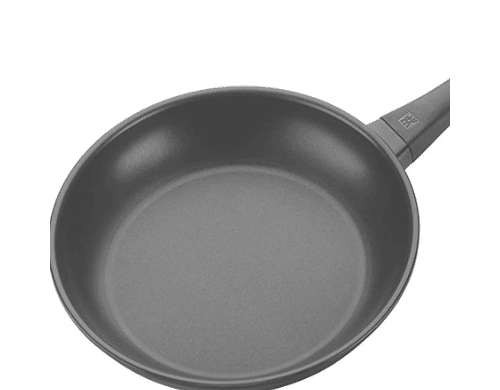 Compatible with induction and all other cooking surfaces.
$79.35
Runner Up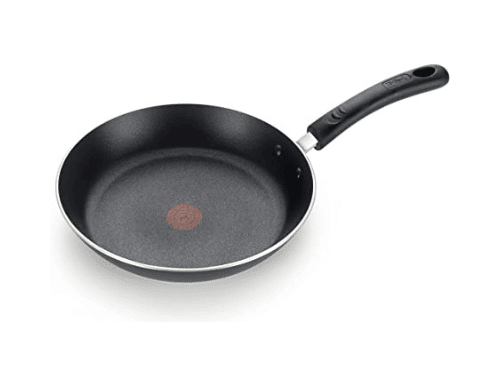 A near perfect skillet.
$101.01
Most Cost-Effective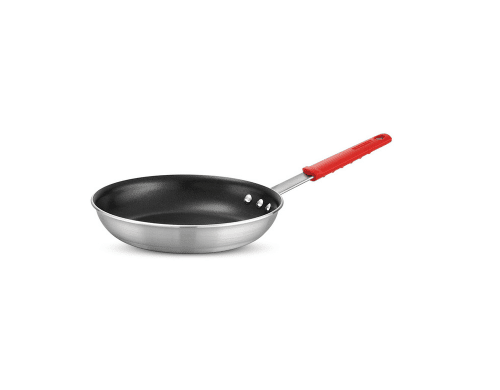 Offering the best value for a great performance.
$32.95
Who This Is For
The products reviewed are for those who want to have at least one non-stick frying pan in their kitchen for cooking eggs, fish fillets, or other delicate foods.
Non-stick frying pans are great for novice cooks and those who just want something easy to use and clean. The smooth coating allows you to use less oil, cook at just the right amount of low heat, and reduce the risk of ingredients sticking to the pan.
Is a non-stick pan better/easier to cook with?
Non-stick pans are easier to use and better than other pans because the smooth coating prevents food from sticking and is easy to clean later, making them easy to use and clean. Compared to other cookware, it uses less oil, so it is also healthier.
However, this convenient cooking aspect also comes with potential risks. In 2019, the FDA determined that some of the chemicals used to make Teflon are harmful to the environment and human health.
As a result, the Environmental Protection Agency urged crucial chemical manufacturers to phase out the use of PFOA in their products, and Teflon said that although PFOA has not been used since 2013, you should make sure to check the product before buying.
To use a nonstick pan easily, better and safer, you need to use it the right way. So, it is important not to overheat non-stick pans such as Teflon.
When Teflon pans are heated above 500°F the coating begins to decompose at the molecular level, releasing toxic particles and gases, some of which are carcinogenic. Another thing to watch out for is accidentally scratching the coating.
Avoid using metal utensils on the pan and hand wash regularly for durability.
Different styles of cooking pans
There are various types of cooking pans designed to suit different lifestyles and cooking preferences. Don't ever be apprehensive about combining pieces made of diverse materials. Listed below are some of the many types of cooking pans on the market.
Griddle/grill pan
A griddle is a cooking pan with a large flat or ribbed surface. A relatively small amount of oil can be used in breakfast dishes such as hash browns, pancakes, and eggs.
They can be square or round, but they usually don't have as long a handle as a frying pan. When trying to create those flawless grill marks, a griddle or grill pan with small ridges on the surface is best.
Fry pan/skillet
An essential workhorse in the kitchen, the fry pan or skillet is probably one of the most versatile pieces of cookware you will ever own. With the right skillet, it's easy to flip an omelet, stir-fry an andre, or make a pancake.
These pans have a flat bottom and curved sides, making them excellent for flipping food and cooking in oil. How hot they can get depends on the material your pan is made of.
A nonstick skillet needs to be over low or medium heat to conserve the coating, but high heat is fine for stainless steel. Frying pans and skillets come in a variety of sizes and usually don't have lids.
Braiser pan
Given the name, you'd think these pans are only promising for one thing, but they're astonishingly versatile, browning and slow-cooking just as easily as a pot stew.
The braiser features a flat, wide cooking surface and low sides with a heavy domed lid that allows you to place large roasts inside if desired.
Frying pans are usually made of stainless steel and can be used on glass stoves or induction cookers.
Sauté pan
The saute pan is for deep-fried food, so you can stir-fry while keeping the lid on. A saute pan is similar in design to a frying pan, with a flat bottom, but the main difference between a frying pan and a sauté pan is that the sides of the pan are straight rather than rounded.
Their uses include frying, baking, and cooking certain sauces like marinara sauce.
Wok
The wok has high sloping sides and is a famous multi-purpose Asian skillet. Traditionally, they are 14 inches in diameter and built with carbon steel. These pans have cold sides and a hot bottom cooking surface.
Additionally, the ability to move ingredients around the pan provides tremendous power and versatility over temperature. Woks are great for roasting, steaming, and frying.
Sauce Pan
The saucepan has a rounded bottom and high, flat walls. This implies that it is a very versatile cookware set and can be wielded to make all kinds of sauces and soups.
These pans can be used with or without lids to regulate evaporation, which is why saucepans are essential in any kitchen. Saucepans are also great for many other purposes, such as reheating leftovers, preparing grains, and boiling eggs.
Cast Iron skillet
Another type of skillet is the cast iron skillet. Cast iron pans are similar to frying pans but differ mainly in maintenance and materials.
Since these pans are cast iron, they can be quite heavy. If you've never used a skillet before, our best advice is to stop by and hold one before you buy it.
The only problem with these pans is that food sticks to them.
Why You Should Trust Us
There are lots of non-stick pans advertised on different webpages, each one designed with different features and coatings.
Due to the variation in brand, material/coating, capabilities, technology, and price of these skillets, it can be hard to select one, so we have conducted in-depth research to choose quality, stylishly designed, healthy, and reasonably priced non-stick pans just for you!
How We Picked
A good non-stick pan has the characteristics of a regular pan, even heating, classic enameled sides, well-balanced body and handles; and is coated with a smooth finish for dishes. Good non-stick pans make it easy for you and your loved ones to cook decent meals.
We've narrowed our search to most 10-inch nonstick pans, but we also included a set with different sizes of pans. If you just need a pan to fry omelets or a small pancake for brunch, 10 inches is a perfect size, and not to worry, most of our selections come in a variety of sizes.
We have divided non-stick pans into two categories, namely ceramic pans and traditional PTFE-based non-stick pans.
For surface strength claims and warranty information from each brand that we may use to support their claims. Flatness is vital because the non-stick coating on jagged surfaces allows butter and oil to slide to the lowest point, making an even coating on the curved pan almost impossible to achieve.
We choose aluminum pans because cast or anodized pans are cheaper, better heat conductors, and more durable. However, the 100% aluminum pan is non-magnetic and won't work with touch, so we checked other options as well.
Build quality is key when choosing a good nonstick pan. Thin pans with loose handles don't last long. What's the point of investing in a non-stick pan if it doesn't last long? As with traditional pans, non-stick pans with flared sides work best.
The wide shape allows for quick and precise turning without using a spatula. And even if you're more fin-leaning, the wide flare gives you more room to twist on your food than straight sides. The flared sides also allow for more evaporation, which means less water builds up in the pan and forms a golden crust on the food.
Pans that have their weight leveled between the grip and the body are the most reliable, and they sit evenly on the burner. The latter is particularly valuable when using induction or ceramic hobs, where ample contact with the burner is important. Balanced pans also make it easier to stir pancake batter and flip delicate foods.
But balance doesn't matter much if the handle is awkward to grip or at an awkward angle. A well-secured handle is a significant safety consideration to consider when selecting a good non-stick pan.
If the grip is not suitably or properly fastened, it will relax over time and it will be risky to cook in the pan.
We also check whether the handle is attached with flat rivets because non-flat rivets are harder to clean and can result in food debris getting stuck in the handle. This is an opportunity for bacteria to multiply. The surface of a brand new non-stick pan is the slickest ever before slowly becoming inefficient with use and wear.
Even with reasonable maintenance, a nonstick pan has a shorter lifespan than other cookware as the nonstick coating inevitably wears out.
In addition to the function, we evaluated how much work you have to put into maintaining the pan. Is it effortless to clean? Will it take up a lot of space due to the extended handle? Is it too hard to tip it with one hand? Was it a strain on the wrist?
We stuck with 10- to 12-inch diameter pans, because the cooking surface is even, but there were many differences in weight, shape, and handle length. We believe that $30 to $60 is sufficient to buy cookware that lasts three to five years.
Although many pans come with an exclusive lifetime warranty, these warranties do not cover wear and tear, e.g. surface scratches and gradual deterioration of the non-stick coating, mishandling, and abuse.
Care and Maintenance
To maintain your nonstick pan clean and free of rust and residue, hand wash and dry it after each use. Although all of our choices are dishwasher safe, we strongly advise hand washing sometimes to maintain lifespan.
Using a basic baking soda paste, you can get rid of tough residue. Take care when handling your pan, making sure to keep it away from abrasives and intense heat.
Don't scrape non-stick pans with abrasive sponges or harsh detergents because they are made with a specific coating that prevents sticking.
Use a soft cloth or sponge and a mild, gentle soap to clean your nonstick pan. After cleaning, rinse the pan with lukewarm water rather than hot water. Use a sponge or nylon or microfiber cloth to effectively remove dirt and grime.
If you simply wipe the pan with a towel instead of rinsing it, the residue could sticm and stain your food the next time you use the pan. Soak the pan in warm, soapy water to kill bacteria and dissolve grease and residue.
About a teaspoon of dish soap should be squirted into the pan and then put the pan in a sink that is closed off. And add warm water to it. After soaking the pan for ten to twenty minutes, hand wash it once more.
If necessary, use a paste made of baking soda to remove tough grime. To make a paste, combine water and baking soda in equal amounts. Gently brush the paste onto the pan's sides and interior using a non-metallic brush or sponge after dipping it in it.
Give the paste fifteen minutes to rest. To get rid of the paste, thoroughly rinse the pan. Never scrub your surfaces with steel wool or a metallic sponge. Avoid using baking soda to scrape or rub the interior of the pan since it is abrasive.
Following a regular wash,salt and oil should be heated in the pan. Add 2 teaspoons of oil made from vegetables to the pan and preheat the pan over medium heat. Add 3 tablespoons of salt to the pan, remove the pan from the heat, and shake it to spread the salt and oil evenly.
After the pan has cooled, wash your hands. If you have sea salt, use it. If not, use table salt instead. Dry your pan as soon as possible by hand, making sure your pan is totally dry before storing it to avoid rusting your pan by not putting it away while it's still damp.
Use a dishrag that is soft or paper towels. Pans' nonstick surfaces can be damaged by stacking them on top of one another and by putting another type of pan on top of a nonstick pan.
Pans can be stored with their coating protected by being sandwiched between paper towels, paper plates, or dish towels.
Stick to the best utensils for your pans: wooden spoons, and heatproof silicone spoons and spatulas, to avoid scratching and scraping on the nonstick surface. Tongs, silverware, and other metal objects should never come into contact with the pan's interior.
To preserve the nonstick surface of the pan while cooking on the stovetop, keep the heat at medium or lower. Check your owner's handbook before putting nonstick pans in the oven to find out the recommended maximum temperature or if the pan should go in the oven at all to prevent warping and safety problems.
If in doubt, err on the side of caution and refrain from using nonstick pans in the oven.
Always start at a lower temperature with a fat like oil or butter or with the food already added.
Avoid preheating nonstick pans on high heat without food. Pots and pans reach high temperatures fast when they are empty, and the coating may start to disintegrate if they are mistakenly heated above 348 °C (660 °F). At 204 °C (400 °F), butter, fats, and frying oils start to smoke.