The Best Nintendo Switch Controller for 2023
Either in handheld mode or console-docked, it is always game on with these top controllers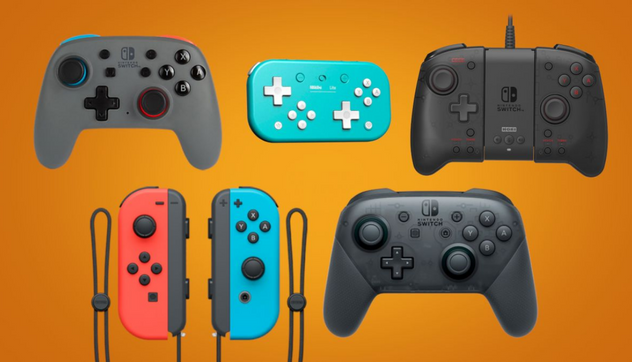 The Nintendo Switch is a very adaptable system, with a plethora of controller alternatives to fit your mood. Of course, nothing rivals the Joy-Con's ease when playing in portable mode. However, when playing the console on TV or in tabletop mode, several controller options might enhance your experience.
Choosing the finest Nintendo Switch controller for your requirements might be challenging, given the wide variety of officially licensed and third-party choices available. This is where we step in.
We've compiled a list of the finest Nintendo Switch controllers you can buy, including various third-party controllers and official Nintendo alternatives. If you're wondering if these new items are worthwhile, our review can be found just below.
How We Picked
Ergonomic Hold

Nintendo Switch controllers are available in a variety of sizes and shapes. Those with an ergonomic grip can help you avoid musculoskeletal problems. Since they prevent injuries and reduce weariness and pain, ergonomics play a significant role in deciding performance in various activities, including gaming.


Aesthetics

The design and style are equally vital, regardless of whether you're the person who needs a different vibe for every mood or prefers something with a hint of flair but not too much. Not only does it match and complement the colors, but it also contributes to the overall build and material of the controller.


Power and Battery Life

It takes power to play games, so a capable controller is a must-have. Even though charging your controller is easier than it sounds, purchasing a Nintendo Switch controller with long-lasting batteries can ease your worries about low juice and recurring charges.


Cost-Effectiveness

Nobody loves going over budget. But choosing a shoddy Nintendo Switch controller without considering the quality increases the probability that you'll need to make another quick buy. Thus, always look for a reliable, economical controller.

Who This Is For
There's a solid reason why the Nintendo Switch is among the all-time best-selling gaming systems. Its flexibility makes it incredibly versatile, and its vast game library includes well-known characters such as Mario, Zelda, and Kirby. If you're a casual player with a Switch, a controller would be an excellent buy because it can be used for home console and handheld gaming.
Maximizing your gaming experience requires choosing the ideal Nintendo Switch controller. If you frequently play in handheld mode, invest in a controller that enhances the system's mobile capabilities. Or, if you enjoy sprawling out on your couch when playing in docked mode, be sure to purchase a suitable controller to improve your experience while enjoying the best Nintendo Switch games.
Are there different controllers for the Nintendo Switch?
Numerous controllers are available for the Nintendo Switch, many of which are tailored for particular uses or games. There are Joy-Con and Pro Controllers, which are distinct despite sharing similar functions. They are compatible with every Nintendo Switch model, including the Switch Lite and Nintendo Switch OLED.
The Joy-Con controllers are cleverly made and suitable for casual gaming. Additionally, it can serve as two separate controllers for simple local multiplayer with any supported game. However, those hoping to make their Switch gaming experience more pleasant would prefer Nintendo's Pro Controller. It is a more conventional gamepad that is made to resemble an Xbox or PlayStation controller in both appearance and feel. This makes it ideal for intensive single-player or multiplayer gaming sessions. Additionally, it has a significantly improved grip for adult gamers and charges through a USB-C port.
Joy-Con vs Pro Controller
In general, the Pro Controller offers many advantages over the Joy-Cons. In addition to being more comfortable for your hands, the ergonomic design makes it simpler to complete challenges in games that call for greater agility and quicker reflexes. In addition, the analog sticks are more reliable than the Joy-Cons' "drift" issues. Due to the Pro Controller's size and design, you'll discover that playing shooters with it will let you make more accurate shots. The Pro Controller is what you need if you prefer to play competitive multiplayer games seriously or play solo and want more comfort with titles like "The Legend of Zelda: Breath of the Wild."
However, the Pro Controller is quite expensive, and if you want to spend the money on something other than additional controllers, the Joy-Con will suffice. It is also essential to consider how you intend to use your controllers. Since the Nintendo Switch includes two Joy-Cons by default, you won't need any extras if you use it more in portable mode. It's also important to note that each Joy-Con functions as a separate controller, giving you two usable gadgets straight out of the box.
Your final pick should be based on your playstyle and cost. If you want to acquire more controllers to play multiplayer games, Joy-Con will be easier to come by as they're more widespread. The drawback is that if you want to bring your controllers along, you'll need room for them. If you want those, you'll also need additional Joy-Con charging docks. The Joy-Con is unique in that when detached, it may function as two distinct controllers in multiplayer games, such as "Super Smash Bros." and "Mario Kart 8 Deluxe." As a result, they are excellent choices for keeping youngsters entertained on long car trips, organizing game evenings, or if you have a large group of family and friends that enjoy playing together.
Why You Should Trust Us
Finding a reliable, practical, and affordable product all at once may take some time. Picking the best one could require a lot of work. Various Nintendo Switch controllers are currently available on the market. After combing through the internet's best, we've compiled a list of the greatest controllers we've researched and those that have received overwhelmingly excellent customer comments.
How We Picked
Choosing the finest Nintendo Switch controller is more complex than you may assume since there are a few critical factors to keep in mind. The following are the main features that we looked out for in the controllers we reviewed:
Ergonomic Hold
Fortunately, there aren't many requirements to consider when buying a new Nintendo Switch controller; all that matters is comfort and the type of game you'll be playing. A big pad will be difficult to grip correctly, and you might find reaching some of the buttons uncomfortable if your hands are small. On the contrary, folks with large palms may want to avoid tiny pads because they will probably find the button arrangement quite cramped.
Aesthetics
If you place a great deal of emphasis on the appearance of your controllers, check to see if they can offer you the designs and colors you like. You may be looking for something resembling the Joy-Cons that come with the Switch or something more shaped like a PlayStation or Xbox controller. You may also want a wholly unique design to better fit your current games. Make a decision first, then go on.
Power
Devices like Switch controllers can function with or without a power source attached. Whether your controller is wireless or wired also makes a difference.
Battery Life
Any gaming session will be ruined if your Nintendo Switch controller runs out of power. Nothing is worse than noticing that your battery is running low, and your chance of playing your favorite Switch games is likely to be severely limited by that blinking indication on the screen.
Wired or Wireless
One of the significant points of contention in the argument between wired and wireless controllers is whether the wireless solutions have a lot of lag. Actually, the lag is not that bad as long as you have a good controller. However, a wired controller can be the best option for gamers who want to have every edge available when playing. Additionally, mobility is always a plus. A wireless controller you may use to move around the room makes things simpler.
Moreover, it is beneficial when you are playing those complex games. You will have to handle the cables themselves when using wired controllers. Some people choose wireless options because they dislike having cables running all over the room. Others believe that constantly charging a controller or changing batteries is a worse burden. It can also be more expensive unless you're using rechargeable batteries. When making a choice, consider which of these will be more of a hassle when making a choice.
Lights
Some accessory makers have produced new Nintendo Switch controllers, including one that employs LED lights to display a complete spectrum of customizable prismatic lights stored behind its transparent cases as you play. While these may be essential for some, others may find them insignificant. However, whatever controller you pick, ensure it fits your demands and budget.
Safety Wrist Strap
Consider using the wrist straps when using a controller disconnected from the Nintendo Switch system. This increases the comfort of holding the controllers and provides additional security. The wrist strap can be connected to a controller for use in games requiring motion control or active play. When attached, it also makes pressing the SL and SR buttons easier for the player. Both the left and right controllers are compatible with each strap.
Price vs Quality
When making a purchase, price is usually the most crucial factor. An item has to stay within a set budget, and occasionally we'd prefer to spend only what is necessary. However, choosing the less expensive option and narrowing your search to price alone can have an impact. Consistently going with the less expensive choice not only results in higher overall costs but also lowers the value of the product or service over time by sacrificing quality.
Material
Selecting a Switch controller made of the proper materials guarantees the highest possible standard for the product and the best gaming experience. The rails that the controllers slide into in some controllers are made of plastic rather than metal. These may lessen the smoothness of the sliding motion as well as the satisfying click of the object into place. For intense gameplay emphasizing button feel, conductive-pad style switches are also practically unbreakable and excellent. Make sure you only select controllers that feel solid, not fragile.
Durability
A product's certification guarantees that the producer has adhered to standards and best practices. In general, a high-quality item will endure longer. Also, purchasing a long-lasting item saves you the effort of having to fix or replace it and is also economical.
Care and maintenance
Ensure any controller you purchase is compatible with your Switch device
It is critical that your controller is compatible with the Switch device and that it can be installed in all of the operating systems that you consider necessary. Through compatibility testing, you can ensure that your controller's settings function as intended on various hardware and operating systems.
It is also essential to ensure the game can be played on your Switch. If your console continuously verifies whether software can be played, it may signal that you are not using the main console for the Nintendo Account that ordered the game(s). The only person who can launch a game on a non-primary console is the player who purchased it; everyone else will get error screens.
Connecting to your Switch device
The Joy-Cons are typically connected by sliding them on either side of the console. In this way, they ought to immediately connect. You can wirelessly connect your Joy-Cons to the Nintendo Switch in a few easy steps:
Navigate to the Controllers menu on the Switch Home
Go to Change Controller Grip/Order
On the Joy-Cons, if you're attempting to connect to the Nintendo Switch, press the Sync button
Press A once the controllers have connected to the Nintendo Switch.
Your Joy-Cons should now be connected to the Nintendo Switch and synchronized. This method connects up to four pairs of Joy-Cons to the console. To make sure your Nintendo Switch Joy-Cons continue to perform as intended, be sure you know how to update them.
There are various ways to connect your Pro Controller to the Nintendo Switch. If you have a wired Pro Controller, you will need to dock your console, but you can use either the two USB ports on the dock's left side or the one under the flap in the back that is close to the HDMI output and power input ports. To attach your Pro Controller to the Nintendo Switch, follow these steps:
Connect a USB-C cable to your Switch's dock, preferably the one included with your Pro Controller.
While the Switch is docked, attach the USB-C cord to your Pro Controller
Your controller ought to instantly connect, enabling you to play more comfortably.
Follow these instructions to wirelessly connect your Pro Controller to the Nintendo Switch:
Select Controllers from the Switch's main menu
Go to Change Controller Grip/Order
On the Pro Controller that you are attempting to connect to your Switch, press the Sync button
Press A once the controller and console have synchronized
Your Switch and Pro Controller must now be linked.
Ensure the controller is charged
Avoid leaving your Pro Controller unplugged from its USB cable or your Joy-Con controllers lying on a coffee table or in a regular grip. After you finish playing, place the Joy-Con controllers on your Switch or into a Charging Grip and connect the USB wire to your Pro Controller to ensure that you won't run out of juice as soon as you start up again. The Switch should also be docked when not in use to keep its battery charged for later usage. A row of flashing LED lights will appear on the dock when you connect the controller. When the controller displays an orange light, charging is underway.
Can I use my controller while it's charging?
To put it succinctly, yes. Remove the charging wire from the dock and put it directly into the console to charge the controller while still playing a game. This will charge both the Switch and the controller. Open the side flap on the dock and pull out the cable labeled "AC Adaptor" to remove the power cable. The controller will begin charging once you plug it into a nearby wall outlet and the USB Type-C into the Switch's bottom. Naturally, this only functions while the player uses the Switch in handheld mode. It's more difficult to charge the controller in full TV mode to play a game without using the Switch. You'll need to buy a separate charging grip for this to function.
The Pro Controller and similar models are an excellent investment if you play with your Nintendo Switch docked and connected to a TV because it has a good battery life but still needs to be recharged after roughly 40 hours of play. Though the wire is too short in some configurations, you can still use the controller while it is charging. Charge the controller without docking the Nintendo Switch. While the controller is charging, you can take it out and play handheld.