The Best Network Attached Storage for 2023
Be extra sure of your data's security with the most trustworthy NAS servers' connectivity and storage capacity.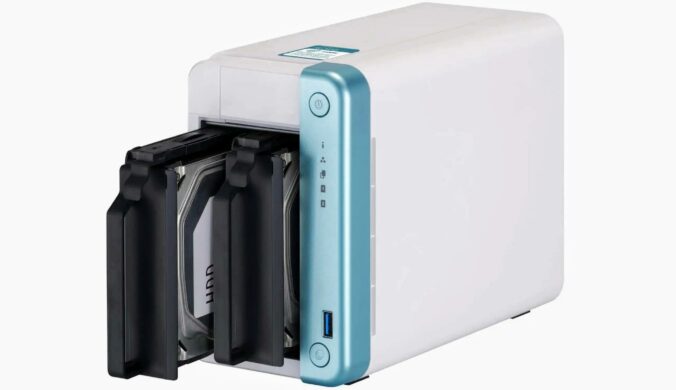 Have you ever experienced poor connectivity, lost data, or a storage device suddenly breaking down while at work? These are common occurrences associated with data storage and while many users do not deem it important, such experiences may continue to repeat themselves if the storage device itself isn't changed for a better type. This is where Network Attached Storage comes in.
A Network Attached Storage, or NAS, is a storage device that is connected to a computer, allowing data shared from the computer to the NAS to be accessed by the user or anyone else connected to the NAS anywhere in the world. This is useful for businesses that need to keep data in sync across multiple locations.
Network Attached Storage can also be used as a backup solution for your computer system at home or other devices that you use regularly. This feature makes Network Attached Storage a great option for businesses and remote workers that have large amounts of data stored on their network and need to ensure that they have an up-to-date copy of all their files somewhere else.
How We Picked
Capacity

The capacity of the NAS is an important feature to consider because it determines how many devices you can connect to the NAS, and how much data can be stored and retrieved on the NAS.

Connectivity

This feature allows you to connect to a network and save your data in a central location, that is, your NAS. The best Network Attached Storage has fast connection speed and reliable connection.

Security

This feature determines how secure your data is. A secure NAS ensures that your sensitive data is protected from unauthorized access and is not compromised by hackers or viruses.

Cost-Effectiveness

Most Network Attached Storage servers are not as expensive as some other forms of storage, so they are an economical choice for companies that need to store large amounts of data. The Best NAS fulfills its purpose and gives you the value of its price.
Our Top Picks
Our Top Pick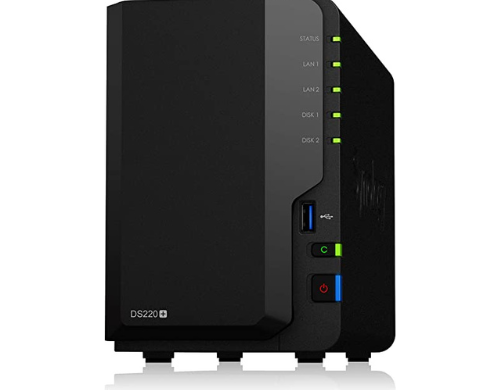 Powerful and reliable build quality
Synology DS220+ Network Attached Storage is the perfect device for high power. It features a speedy boot-up process and swift connectivity. It guarantees the safe transfer of files and the protection of stored data. With this NAS, you cannot go wrong with confidently storing your data.
Popularly known as the best Network Attached Storage on the market, this device doesn't disappoint and lives up to its hype.
Our Runner-Up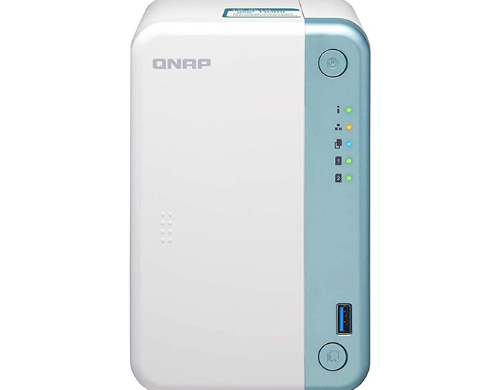 Unique design and fast connectivity
Powerful and loved by many, the QNAP TS-251D-4G-US Network Attached Storage is the US pride. It boasts immense strength and fast connectivity. Compared to our other black picks, this NAS is easy on the eyes with aesthetically pleasing colors. It is popular among Small-Medium Businesses across the globe.
A powerful pick to enable you to store files as backup or original data for retrial anytime and anywhere!
Most Cost-Effective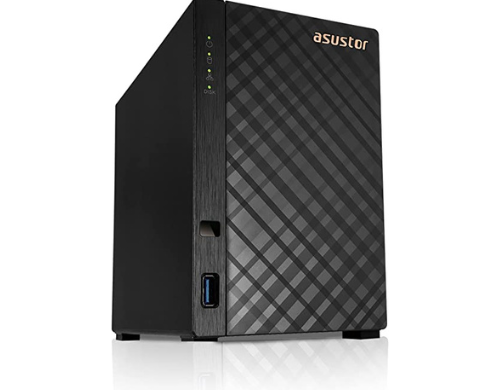 Very budget-friendly and consistently up to the task
Cost-effectiveness meets power with the Asustor Drivestor 2 AS1102T Network Attached Storage. Well-rated on popular retail sites like Amazon, this NAS is common in homes and small business establishments. Praised for its efficiency and extensive running time, the Drivestor 2 AS1102T NAS is the neighborhood's most trusted storage device.
Not only is this selection great at storage, but it is also our most budget-friendly pick that gives you quality for less.
Everything We Recommend
Our Top Pick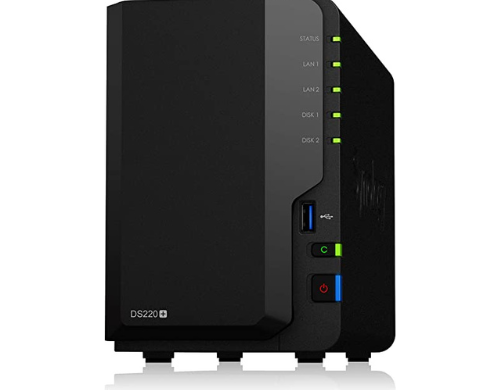 Powerful and reliable build quality
$299.99
Our Runner-Up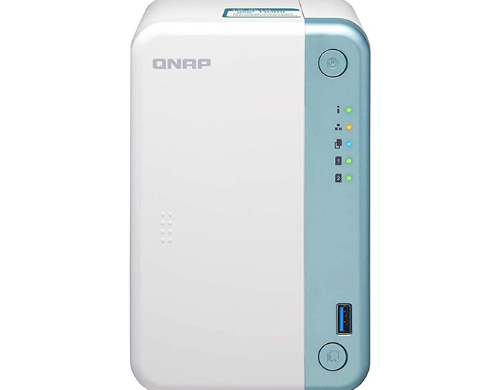 Unique design and fast connectivity
Most Cost-Effective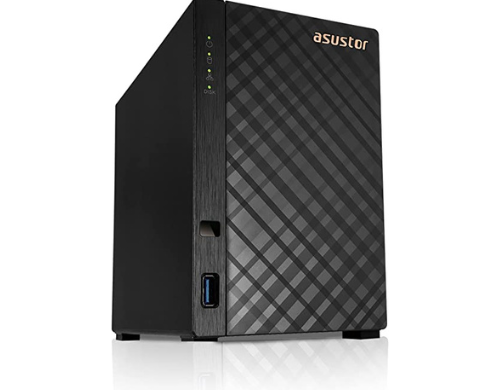 Very budget-friendly and consistently up to the task
$179.00
Who This Is For
The Network Attached Storage devices advertised here are a great way to increase the efficiency of anyone's home or office network — especially if the user is running a media server or file-sharing system — because they are easy to set up and use, and don't require any complex wiring connection.
What is a Network Attached Storage (NAS), and How Does It Work?
Network-attached storage (NAS) is a type of storage device that connects to your network via cable or wireless. A NAS can have one or more hard drives installed inside it, which hold your files and data. The drive can be connected directly to your network or a router. You can access files on the NAS using software on your computer or mobile device.
NAS offers many benefits over traditional computer hard drives: you can use the same server for storing files from multiple computers, share data between multiple devices without duplicating it on each device, and access files from anywhere in the world at any time.
NAS is ideal for businesses because it's affordable, easy to set up, and secure — your confidential data won't fall into the wrong hands if someone steals the NAS itself. Plus, NAS doesn't require a lot of space or power — which means you don't have to buy expensive new hardware just so you can expand your business!
Some NAS servers are usually accessed through the web browser on a computer so you don't have to worry about installing special hard drives inside them, and because they are connected to the internet, you can access your files from anywhere in the world!
NAS works by converting the data into a computer-readable format, then transferring it to the NAS device. The device will then store it on the hard drive(s) inputted in the hard drive slot(s) until it is needed again.
Three Types of NAS
The three main types of NAS include enterprise-level NAS, Small-Medium Business (SMB) NAS, and Consumer-level NAS.
The Enterprise-level NAS servers provide higher storage capacity, virtualization, scalability clustering, RAID-support options, and more additional features than the SMB NAS and Consumer-level NAS. This type of NAS is mostly used by large companies and enterprises with international branches that share data amongst themselves.
The Small-Medium Business (SMB) NAS servers consist of a few computer users that share one printer and the same internet connection. Compared to the Consumer-level NAS, they provide better scalability, RAID and virtualization support, and storage capacity. However, unlike the Enterprise-level NAS servers, the clustering of the SMB NAS setups is not supported. This type of NAS is found in small or medium establishments.
The Consumer-level NAS servers are the cheapest Network Attached Storage. They are designed for home use and provide the bare minimum network connectivity, low scalability, and user-friendly features such as media server capabilities and printer servers. They do not support RAID functionality and cloud backup.
Why You Should Trust Us
There are many different Network Attached Storage servers available on the market, but not all of them are reliable, made with high-quality materials, and secure. In fact, in most cases, only a selected few NAS setups are worth their prices. We understand that your business depends on the connection, storage, and security of your data. This is why we have created this list of the best Network Attached Storage Servers to help you choose the perfect system for your needs.
How We Picked
In the course of our selection process, we researched and tested a few highly-rated and most-sought-for Network Attached Storages on the market and took a few important features into account to choose our favorite picks.
Capacity
This is the most important feature to consider when choosing your Network Attached Storage because it determines how many files you can store on the device. If you want to store lots of files, then you should choose any of our picks that boast high storage capacity.
Connectivity
This refers to how easily you can connect your device to your network and access its content thanks to its connection capabilities. The better your Network Attached Storage is, the easier it will be for you to connect the storage device to your network and access its content.
Security
The primary concern of most businesses is data security and privacy, and the best Network Attached Storage can help you keep your data private while providing easy access to it through its network connection. Your stored data must be protected from hackers, viruses, and other types of cyberattacks.
Price vs Quality
To ensure you get the best out of your Network Attached Storage, it is usually advised that you get the top high-quality storage at a price that fits your budget so that you don't have to purchase new hardware often.
RAM
RAM plays a role in how quickly your NAS operating system can access data, which ultimately determines how quickly your NAS can perform tasks. The more RAM your NAS has, the faster it will be able to store and connect data
WiFi Connectivity
This feature allows you to connect with your Network Attached Storage via wireless networks, such as Bluetooth or Wi-Fi hotspots. This means that you can access files and other forms of data stored on the NAS without having to connect it directly to your own computer's hard drive. The best Network Attached Storage has quick WiFi connectivity and allows fast data transfer between the NAS itself and the connected computer.
Power
This feature refers to how fast your Network Attached Storage boots and how long it lasts during usage. The best NAS has high power, resulting in great reliability, longevity, and processing speed.
Memory
The memory of the NAS is also an important feature to consider when choosing the best Network Attached Storage. This is because it allows for more efficient storage and retrieval of data, which means that you're able to store more data on your NAS at once without having to worry about running out of space.
Energy Consumption
This feature affects how long a Network Attached Storage can run on its battery or external power source before dying. It is important to note that the higher the storage capacity, the more energy it uses, and the more electricity it requires. This is why we considered the energy consumption of our selections with their storage capacities as it ultimately affects their power and average working time.
After considering these features, we chose our top picks that provide the best of each feature with perfection and ease.
Care and Maintenance
To use your new Network Attached Storage, you need to set it up first. For the setup process, you will need a computer, Ethernet cable, NAS device, and login credentials for your wireless network. Using an ethernet cable, begin by plugging the NAS into an available port on your switch or router. Plug the other end of the cable into the ethernet cable on the NAS. Then connect the power cord to the NAS and plug it into an available outlet. Next, you'll need to install the software for your new NAS.
On your computer, open a browser window and navigate to where the manufacturer has stored its software. If you don't already have an account on the site, you'll need to create one. You'll be prompted to enter an email address and choose a password. When you're finished, click the 'Continue' button displayed on the screen. Then click 'Find My Device'. Depending on your NAS, you might also have to enter a code that is included in the 'Quick Install' guide. Next, some instructions will be displayed for opting in and sharing. Choose the option that's best for you, and download the app. Once the download is complete, the shortcut icon will appear on your desktop so you can access your NAS anytime.
Using a Network Attached Storage is a great way to save and share files locally or around the world. However, you should be aware of some limitations or cons of using a NAS. Some NAS servers are not always as secure as you might think, and because they rely on software instead of hardware, there are some security issues too. These security issues include spoofing or impersonation (where someone tries to gain access by pretending they're someone else), denial-of-service attacks, and privacy concerns (where someone can use your information without your knowledge).
Another limitation is that some versions of Linux are not compatible with this type of server. For example, some versions of Linux don't support NFS (Network File System), which is commonly used for network-attached storage systems. Additionally, some versions of Linux do not support SMB (Server Message Block), which is a common protocol used for file sharing on servers.
It is important to check your NAS server's connectivity regularly. If your Network Attached Storage is not connected to the network, it cannot access data stored on other computers or servers. You'll also need to check whether the network itself is functional and working properly. The best way to check the connectivity of your NAS is to run a ping test from your computer. This will tell you whether or not your NAS is online and accessible. You can also use the web interface of your NAS to see whether or not it is connected to the internet.
Creating a storage backup is one of the best ways to protect your data. With your NAS, it's easy to do. Just use the NAS software to back up all the important files on your device and save them to an external hard drive or cloud service. You'll probably want to make sure that the files you're backing up are in a format that's compatible with your cloud service of choice. If not, you can reformat them in your preferred format. Once you've got everything backed up, take a few minutes to confirm the backed-up files as it is vital that no file gets lost.