The Best Napkin and Tablecloth for 2023
Want to spice up your life a little bit while also preventing mess and protecting your dinner table? A tablecloth and matching napkins are a must-have in any household.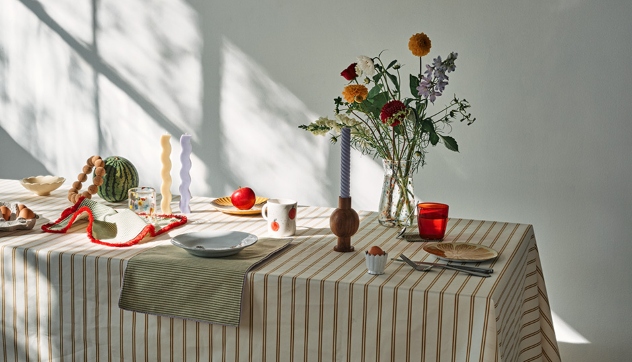 We're all familiar with the endless tradition of sitting and eating dinner at a dining table, let it be for a special occasion, a birthday, a holiday, or just simply out of habit. And we all know that after hosting a party or cooking up a delicious feast, there are always those crummy little food bits and wine glass stains left on your beautiful wooden antique dining table.
We suggest getting yourself a tablecloth and napkin set to bring a pop of color and culture into your home. Not only are napkins a great accessory for the table, they're also more durable than paper serviettes and last longer. Furthermore, a tablecloth is an essential addition we can recommend to any home. It's great for covering up an old table that may not be very aesthetically pleasing, preventing mess and unwanted glass stains, and is a great decor addition for any occasion, including everyday use.
There are thousands of options on the web for tablecloth and napkin sets, and we know searching through all these options can be quite anxiety-inducing. To make this experience easier for you, we've compiled a list of various tablecloth and napkin sets for your selection.
How We Picked
Size and Shape

When choosing the right tablecloth, it's important to find one that covers the entire table. The size and shape of your tablecloth will define the ultimate look of the table, so you'll want to find one that doesn't taper too far down the edge for a seamless look.



Material - Softness and Thickness

We've taken into consideration the differences in synthetic vs. natural materials, and the softness and wrinkling of the fabric to ensure you have a comfortable tablecloth and napkin set that you can rely on.



Reusable or Easy to Wash

Fabric napkins are great because of their reusable and easy-to-wash design. We've outlined only the most durable and well-designed napkins and tablecloth sets out there.



Cost-Effectiveness

A cost-effective tablecloth and napkin set can be quite hard to find. It's quite a demanding and frequently used product. Nevertheless, we've outlined multiple cost-effective tablecloth sets that meet all your budgetary needs.


Our Top Picks
Best Pick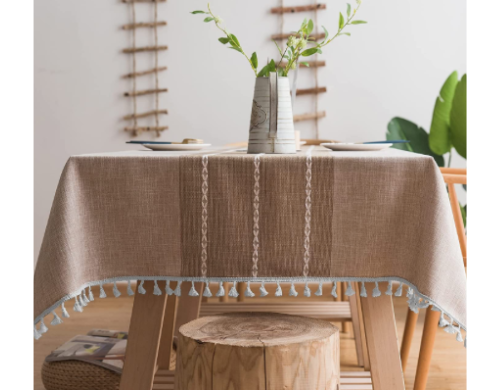 These two products together are a great fit and are highly recommended for any household!
This rustic tablecloth and detailed napkins will bring a breath of fresh air into your home.


The Laotiou Rustic Cotton Tablecloth is stylish, waterproof, and machine washable. This tablecloth comes in a variety of sizes, is stain-resistant, and is easy to clean. In addition, we have chosen the Linen Flax Dinner napkins as a matching accompaniment. The lace trim around the edges of the napkins compliments the embroidery and tassels on the tablecloth, giving you a harmonious and beautiful look in your dining room.

Runner Up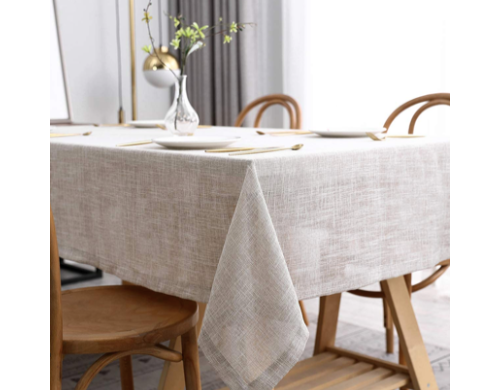 This tablecloth and napkin set is made from sturdy fibers for a long-lasting experience.
These two products matched together perfectly, and we recommend adding them both to your cart.


This faux linen tablecloth has a natural linen look, besides being made from synthetic fibers. The tablecloth has been woven from high-quality polyester, giving it a wrinkle-free and low-maintenance design. It pairs beautifully with our selection of the low-cost Utopia Kitchen Cotton napkins, which are reusable, long-lasting, and absorbent. Both the tablecloth and white cloth napkins are machine washable and stain resistant and will bring a peaceful and natural atmosphere into your home.

Most Cost-Effective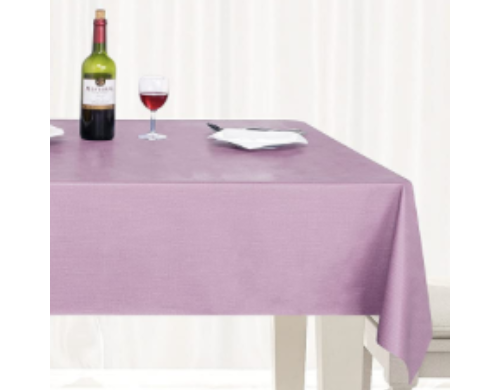 This tablecloth is certainly the hardiest product on our list and the most cost-effective as well!
Not only is this tablecloth waterproof and stain-resistant, it also comes in various colors to choose from!


Besides coming in a wide variety of colors, the Sancua Waterproof PVC tablecloth is oil-proof, spill-proof, and multifunctional! It's great for outdoor activities, dinner parties, camping, and everyday use. This product is 100% waterproof and stain-resistant, wrinkle-proof, and very easy to clean. Amazon customers have noted that this product is extremely durable and a great value for money.

Everything We Recommend
Best Pick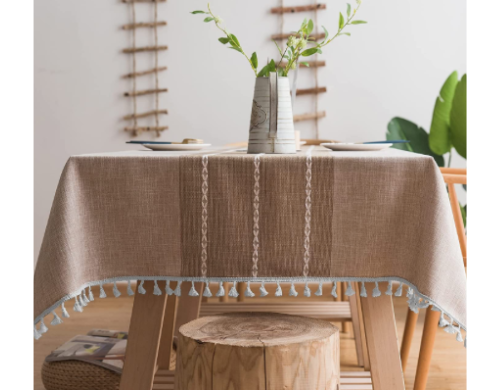 These two products together are a great fit and are highly recommended for any household!
$24.99
Runner Up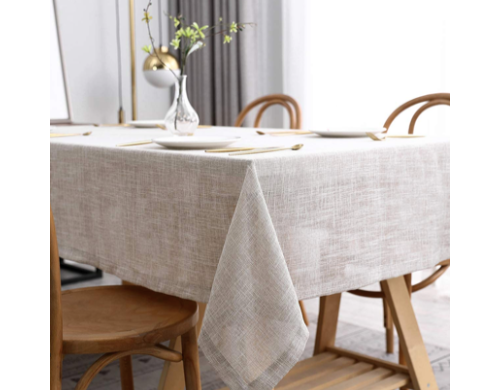 This tablecloth and napkin set is made from sturdy fibers for a long-lasting experience.
$23.99
Most Cost-Effective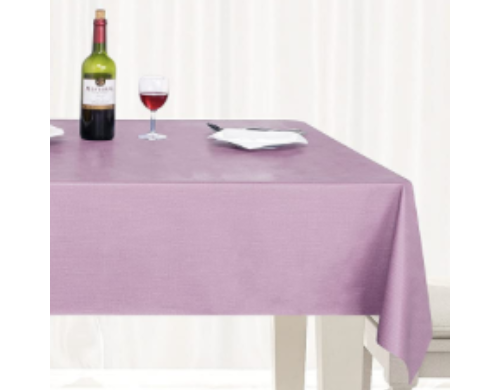 This tablecloth is certainly the hardiest product on our list and the most cost-effective as well!
Who This Is For
A tablecloth is a basic essential that we can recommend for any home. Tablecloths are most commonly used for protecting your table from spills, stains, and those pesky food bits that are left after dishing up. On the other hand, tablecloths and napkins are also used as major decor accessories and are great for those wanting to bring a splash of color and creativity into their homes.
How big should my tablecloth be?
According to our research, the best way to get the right size tablecloth is to measure your table and add 12 inches to each side to find your minimum tablecloth size. If you want your tablecloth to taper down lower, we recommend adding 20 inches to get your maximum tablecloth size. Then you can choose a length that falls between these two measurements.
Can you reuse napkins?
Cloth napkins are great due to the fact that they are reusable and end up being more cost-effective in the long run. Not only are you reducing your waste by using cloth napkins, you're also helping the environment by not buying single-use paper napkins. We always recommend choosing a reusable product over a disposable one when possible. 
Difference between napkins and tissues?
The one major difference between tissues and napkins is that napkins are often woven material squares made from a natural or synthetic fabric, which is used to wipe the face after eating, it is machine washable and reusable. Tissues are paper-based serviettes that have the same function, but cannot be reused and have to be discarded after single usage.
Why You Should Trust Us
We have spent time investigating a number of factors to bring you the best experience when shopping for tablecloths and napkins. One consideration we took was cost-effectiveness. It was surprisingly tricky to find a cheap tablecloth set that met our high standards, that's why our list has a variety of priced items for whichever budgetary requirement you need.
We also considered not only functionality in our research, but aesthetics, style, and design. All the products we have listed have multiple color options to choose from for a unique and personal shopping experience.
How We Picked
The first consideration we took was looking into the various fabrics that are offered. Linen is an organic weave with a slightly textured look that softens with time. We've learned that linen tablecloths can lead to shrinkage and wrinkling if not cared for correctly, thus it's not the highest choice on our list. Cotton is a softer and more popular fabric that is a bit less absorbent than linen, and it's also more affordable. Cotton tablecloths are machine washable, and less likely to wrinkle, making them great for everyday use.
Polyester is one of the more cost-effective options and responds well to machine washing. Polyester can often be mixed into other natural fabrics such as cotton to create a poly-cotton mix. Many polyester tablecloths are stain resistant and have anti-wrinkle properties. Lastly, PVC or Poly-vinyl tablecloths are the toughest and waterproof styles available and although they aren't washing machine friendly, they can be easily cleaned with a wet cloth.
When choosing a tablecloth it's crucial to ensure the size and shape of the fabric exceeds the size of your dining table and hangs at least 12 inches over each edge. We've outlined a number of reusable and easy-to-wash tablecloths and napkins, and made sure to find products that are durable and absorbent for everyday use. Lastly, we've only considered tablecloths and napkin sets that are hypoallergenic, functional, stylish, and at a low-cost.
Care and Maintenance
Size matters, and according to the size of your table we recommend adding at least 12 inches to each side so that the tablecloth will have a drop. You can add or subtract from this number depending on your personal drape preference, but the important part is ensuring the cloth will be wide enough for your table.
Depending on which type of fabric your tablecloth is made of, that will tell you how to wash it most appropriately. For cotton, polyester, and polyester blends, we suggest putting them through your washing machine on a cold wash. For harder materials such as PVC, machine washing is not recommended, but can be easily wiped with a cloth to remove all dirt and spills. It's important to check the care tag and find out if your product is compatible with the washing machine or not.
To remove tough water or food stains out of cotton or softer fabrics, we suggest spraying it down with a mix of white vinegar and dishwashing liquid. For those pesky red wine stains, you'll need baking soda, salt, and some hot water.
Be careful not to spread the stain and dab gently (never rub) until the mixture has soaked up most of the spill, and repeat! Lastly, we recommend washing your tablecloth at least once a month. Fabric napkins should be washed directly after use, or at least once a month if not in use.