The Best Monitors of 2022
By using one of these amazingly modern monitors, you can massively upgrade your workspace and entertainment setup.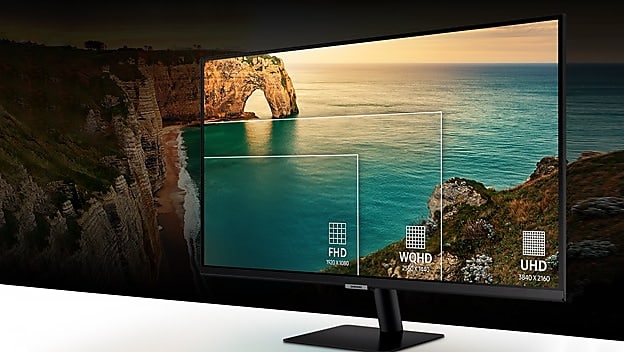 Monitors have been in use for several decades now. Traditionally, they were only used to display information from a CPU. This has since changed due to the multiple advancements in technology. Today, you can use a monitor for various activities and in different settings. You can connect your monitor to your phone, laptop, or tablet to mirror the screen on a larger display. It can also be connected to a console and used for gaming, among other tasks.
However, there are different monitors of different designs, sizes, and various features on the market. Therefore, it is essential to determine the specific tasks you need to perform with your monitor. Consequently, get one with all the necessary features. Here, we have provided all the relevant information and listed the best monitors to go for.
How We Picked
Size

The size and width of a monitor are dependent on the size of the station. While a large monitor may not fit in your small space, a small monitor will look too tiny in a large space. Also, consider your preferences when choosing the size and width of a monitor.

Pixel Resolution

The number of pixels a monitor has determines the clarity of the picture it displays. The higher the number of pixels, the clearer the picture quality, and vice versa.

Fast Response Time

Response time is the time a pixel takes to transition to a different color. The ideal response time for a monitor should be 5 milliseconds or less.

Cost-Effectiveness

The ideal monitor should match your budget. It should not be too expensive to force you to dig too deep into your pockets. However, remember that a good quality monitor will cost more than a poor quality one.
Our Top Picks
Our Top Pick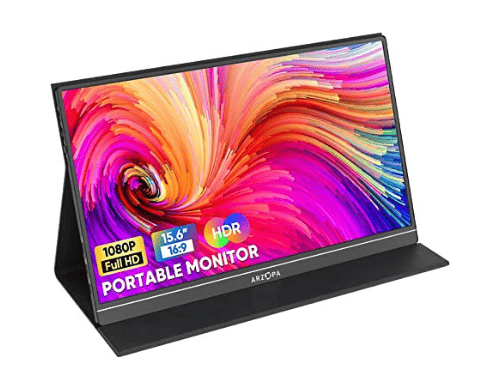 This viewer-friendly monitor features an eye care function that reduces the number of blue rays reaching your eyes.
The Arzopa monitor is easy to set up and does not require complicated and exhausting installation processes. It contains full-functioned USB C ports that you can use to share data and media. You can use one USB-C cable for both ports. You do not, therefore, need to buy separate cables unless you need to use them simultaneously.
Choose the best size from the four sizes available to meet your requirements and preferences.
Our Runner-Up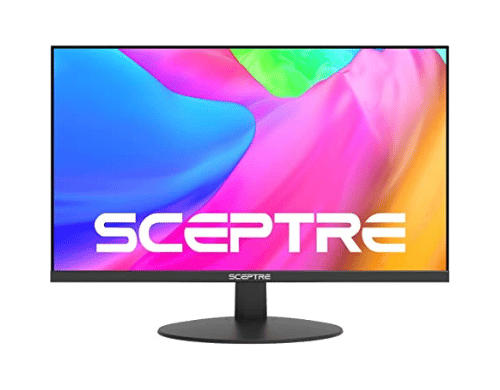 The 99% sRGB provides a wider color gamut with deeper colors and more defining features.
The Sceptre E278W-FPT contains multiple ports that allow you to connect your other electronic devices using different modes. The two HDMI and one VGA port provide a high 75HZ refresh rate that refines the picture quality. You, therefore, get to enjoy clear pictures, making your leisure more entertaining. It also has a headphone slot where you connect your headphone jack to enjoy your media without causing disruptions.
Enjoy smooth audio for enjoyable leisure thanks to the built-in speakers that produce high-quality sound.
Most Cost-Effective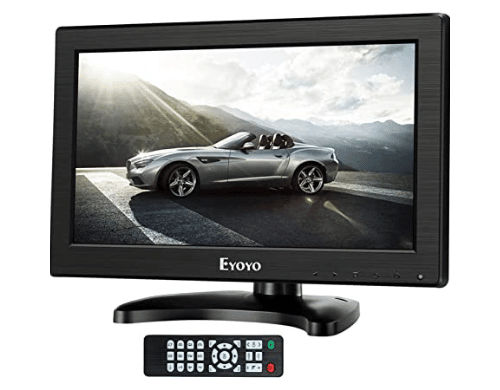 The small size and lightweight structure make this monitor easy to carry and use in different locations.
This monitor comes with a remote control that allows you to control it from the comfort of your seat. The inbuilt high-quality dual speakers provide an immersive audio experience. It also supports earphones to allow you to listen to content discreetly even in public places. You do not, therefore, need to wait until you are in private to enjoy your day.
Carry and use this monitor in different places, thanks to the small-sized and lightweight structure.
Everything We Recommend
Our Top Pick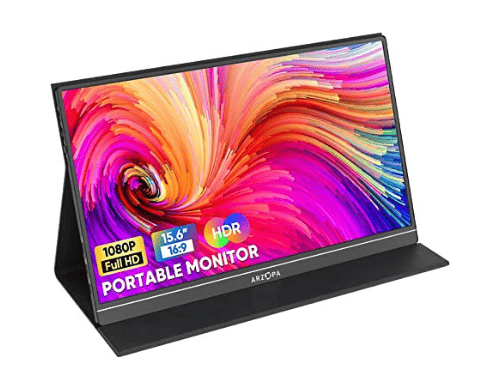 This viewer-friendly monitor features an eye care function that reduces the number of blue rays reaching your eyes.
$188.99
Our Runner-Up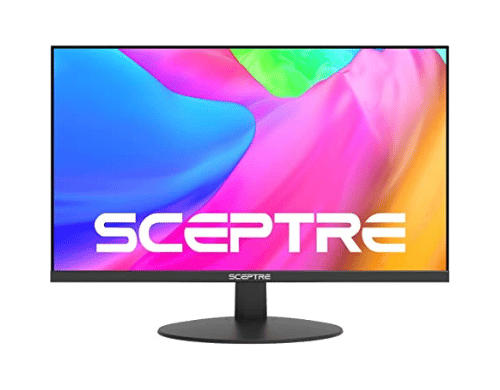 The 99% sRGB provides a wider color gamut with deeper colors and more defining features.
$158.00
Most Cost-Effective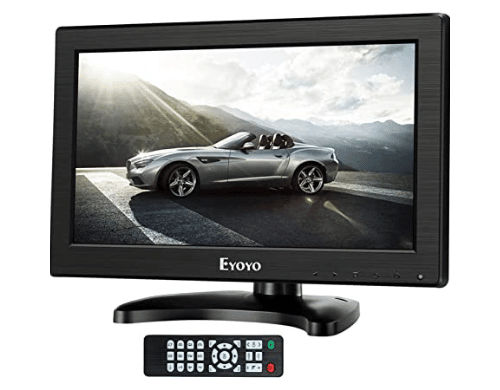 The small size and lightweight structure make this monitor easy to carry and use in different locations.
$98.99
Who This Is For
The monitors picked and reviewed here are ideal for use by any person with the relevant basic knowledge. Some are small and portable, while others are large and hard to move from place to place.
Curved vs. flat monitors
Curved monitors are quickly overtaking flat monitors. They involve a newer technology where the screen is slightly curved in a concave design. Flat monitors, on the other hand, replaced the older version of convex screens.
Curved monitors are more immersive than flat monitors and replicate real-life images with ocular perception. They also eliminate distortion and produce fewer blurry pictures than flat monitors. Additionally, curved monitors provide better comfort for your eyes than flat monitors. The curvature allows your eyes to take in the entire picture at once with no strain. They also feel larger and have a wider field of view than flat monitors. Therefore, you can view the monitor from different locations in your house.
What is the best resolution for a computer monitor?
Monitors of different sizes need different numbers of pixels to provide the best resolution. The best monitor should have the highest possible resolution for its size to produce the sharpest image reproduction. The measure used to measure detail resolution is PPI (pixels per inch), which is also called pixel density.
The best resolution is determined by the size of the monitor. The best resolution for a 32-inch monitor is 3840 by 2160 pixels. For a 27-inch monitor, the best resolution is 2560 by 1440 pixels in wide quad high definition. In ultra high definition, the best resolution is 3840 by 2160 pixels.
For a 24-in monitor, the best resolution is 1920 by 1080 pixels in full high definition. On a widescreen ultra extended graphics array (WUXGA), the best resolution is 1920 by 1200 pixels. For a 23-inch monitor, the best resolution is 1920 by 1080 pixels in Full High Definition. On widescreen ultra extended graphics arrays (WUXGA), the best resolution is 1920 by 1200 pixels.
Why You Should Trust Us
We pick and review the best products on the market based on their quality and reviews from previous users. None of our picks are sponsored and have all been put through the same scrutiny and evaluation. Therefore, you can be assured that regardless of the option you go with, it will be high-quality and effective.
How We Picked
We evaluated different factors to find our best picks. All our picks have different sizes to meet the preferences of different users. While some monitors are big and not easy to move around, others are small and easily portable. They also have different widths to fit in different spaces of different sizes. All our picks have different thicknesses. However, none of them is too bulky or cumbersome.
They all have impeccable picture resolution, thanks to a large number of pixels. They, therefore, provide clear and almost real-life pictures for the best viewing experience. The fast response rate enables our picks to transition from one color to another in less than 5 milliseconds.
No matter the option you go for from our picks, you never have to worry about uncomfortable brightness levels. They all have adjustable brightness levels that you can set to a comfortable level depending on your preferences. Since a monitor is easily visible, it can either complement or ruin your room decor. Therefore, we have picked monitors with stylish designs that will add a touch of elegance to your space.
Additionally, all our picks are sturdy and durable and will serve you for a long time. They also have reasonable buying and maintenance costs to help you save your money. You also get to connect different devices, such as smartphones and tablets, through different connection ports such as VGAs and HDMIs.
All our picks are modern and have all the features necessary for smooth gaming. You can, therefore, get any of our picks for gaming at home or in a gaming parlor. Some of our picks have a touchscreen that allows you to operate without having to use a keyboard. If you desire a touchscreen monitor, ensure that you go for a model with such capabilities.
Care and Maintenance
Different monitors are installed differently. Your monitor will not work as it should if you install it the wrong way. They also require you to set them up differently each time you need to connect different types of devices. Therefore, read the manual of your specific monitor to go about the installation process correctly and safely. However, most modern monitors have at least one HDMI slot where you can connect an HDMI cable to connect to your device.
From time to time, monitors get dirty and require cleaning. Being an electronic device, it needs vigilance to avoid ruining its components or getting electrocuted. First, turn off and disconnect the monitor from the power outlet. Get a clean, soft microfiber cloth and dampen it with clean, distilled water. Wipe the monitor gently to get rid of dust and other dirt on the screen and the outer frame. Use a soft microfiber cloth to wipe the monitor dry before plugging it back into power. Alternatively, you can use a screen cleaner to clean the screen and then wipe it dry with a soft, clean cloth. Avoid using harsh cleaning chemicals to avoid damaging the screen and the outer frame.
The connector ports on a monitor often need cleaning. They gather dust over time, which can compromise device connectivity. Remember, however, that exposing them to liquid can cause electric shocks. Therefore, do not clean them with water or any non-volatile liquid. Rather, dip cotton in isopropyl alcohol and then use it to wipe off the dirt in the ports.
Whenever you need to wipe the screen, use a soft cloth to avoid scratching the screen. If you notice any breakage, examine it to find out if there are any exposed wires or internal components. They replace the broken part. If the screen cracks, replace it immediately to keep the monitor functional.