The Best Monitor Arms of 2023
Monitor arms will save you valuable desk real estate while allowing you to enjoy an ergonomic workstation.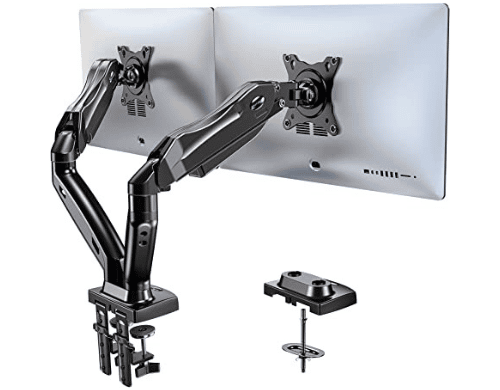 A monitor arm is a viable investment geared towards making your workspace more comfortable. There are several benefits to buying monitor arms, but it's important to understand what you're looking for before making a purchase.
The most effective monitor arms provide you with complete control over your display's height. That's very important if you want to prevent back pain and strained eyes that plague anyone who has a workstation that's not ergonomic. In this case, a high-quality model is something you should consider spending money on.
Our Top Picks
Our Top Pick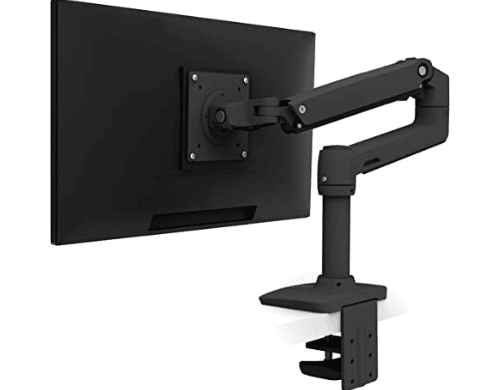 The LX Desk Monitor Arm will help you find the optimal viewing angle while freeing up valuable desk real estate.
$189.00
Our Runner-Up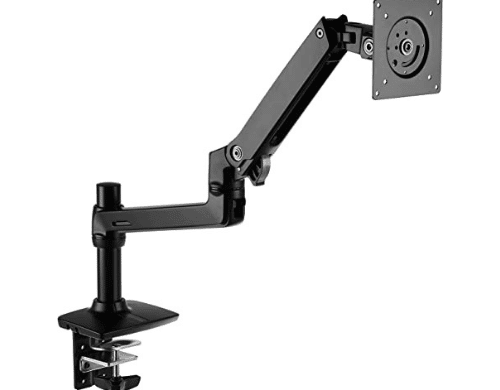 Reduce eye strain and save workspace with the Amazon Basic Single Monitor Stand. The easy extending and collapsing of the arm allow for quick and simple modifications.
$109.99
Most Cost-Effective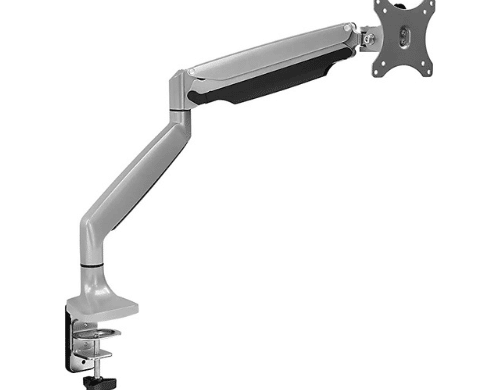 The Mount-It! is a modular monitor arm system that can be configured to fit any office and help you declutter your workspace.
$71.99
Who This Is For
A monitor arm is a helpful addition to any office that values ergonomics. This frees space on your desk for additional necessities, such as a split keyboard or a laptop and tablet stand that doubles as a document holder, allowing you to type without straining your neck or back. Because of this, you'll have more room on your desk for any ergonomic lights you may need if you do your best work in dim settings.
What are monitor arms, and what are they used for?
Monitor arms can alleviate the strain on your neck, back, and eyes that come from always looking down at a screen. Workplace productivity is greatly improved when a monitor's height, depth, and angle can be adjusted to accommodate a user's height and preferred sitting or standing posture.
What is VESA compatibility?
The term "VESA compatibility" refers to the mounting holes on the back of your TV. These mounting hole positions adhere to the family of standards developed by an international organization named VESA and are implemented on the vast majority of contemporary flat-panel TVs and monitors. You can figure out where to drill holes for installation by utilizing the width and height dimensions, both of which are expressed in millimeters. The mount's minimum and maximum settings are listed for the user's convenience.
Why You Should Trust Us
There are several considerations you should make when purchasing a monitor arm, including mounting concerns, size, and weight. Thus, we have discovered that the best monitor arms are those that enhance ergonomics and provide more desk space.
How We Picked
Choosing the best monitor arm might be confusing due to the overwhelming number of options accessible online. To facilitate the procedure, we researched customers' prior experiences with various monitor arms and compiled their feedback on the items' usefulness. One common theme was the need for a fully adjustable monitor arm that allowed for many comfortable viewing angles. In addition, it shouldn't need any screws in or out to be easily moved. First-hand accounts like these should give you confidence in our procedures as you search for the ideal set of monitor arms.
We'd prioritize options where the arm could support a lot of weight. Furthermore, it must provide a secure attachment to your desk, eliminating the possibility of it moving or falling. So, the arm must be easily detachable. Because of this, a sturdy vice clamp is the way to go, since it can be attached firmly and detached quickly. Setting up your screen at the right distance can alleviate strain on your neck and back and lower your chances of acquiring Computer Vision Syndrome (CVS), a condition brought on by prolonged screen usage and inappropriate set-up. Also, the VESA mount on your monitor should be compatible with the one on the monitor arm you're thinking about buying, particularly if you're planning on using one of the extremely big displays on the market today. To save you money without sacrificing quality, we scoured the web for the best offers and bargains on monitor arms.
How We Picked
Articulation

Articulating arms can be easily pushed forward or pushed back, moved up and down, and swiveled. This allows you to manipulate your monitor, which is especially useful if you combine standing and sitting positions.

Strength of Arm vs Weight of Monitor

If the monitor is too heavy for the arm, the leverage will lower the arm, make the tilting function ineffective, or prevent the display from staying in position. It's important to have arms that support much more weight than the monitor.

Arm Configuration

Monitor arms can be wall or desk-mounted depending on your preference and workspace setup. The arm configuration allows for a variety of height adjustments, rotation and panning, and even the ability to flip the display into a hemisphere shape.

Cost-Effectiveness

When buying a monitor arm, you want to make sure that it's of good quality to prevent looseness after a few rotations and tilts. We also made sure to review decently priced arms.
Care and Maintenance
To clean monitor arms, use a little detergent, warm water, and a clean, soft cloth to disinfect and wipe down. Tightening the clamp at regular intervals will keep everything locked and loaded.
If you need to deal with stiff arms or ensure that the monitor is stable and fully secured, there are hex keys in the hardware package that may be used to alter the tension of the counterbalance spring. Turning the hex key or wrench counterclockwise toward the "-" sign will relieve the tension, which should be done if your displays are popping up too high. When the screens on your monitors are sagging too low, move the knob counterclockwise toward the "+" sign to increase the tension.
For those who don't have such space constraints, wall mount systems are an alternative to desk-mounted monitor arms for those who don't. The weight capacities of several of these alternatives will exceed those of gas/spring arms. Tilt and panning functionality may be built differently by manufacturers after a particular screen size is reached. In most cases, the arm will evolve into a design that resembles that of TV wall mounts.