The Best Mixing Bowls for 2023
Get yourself a lifelong companion in the kitchen by way of the perfect mixing bowl.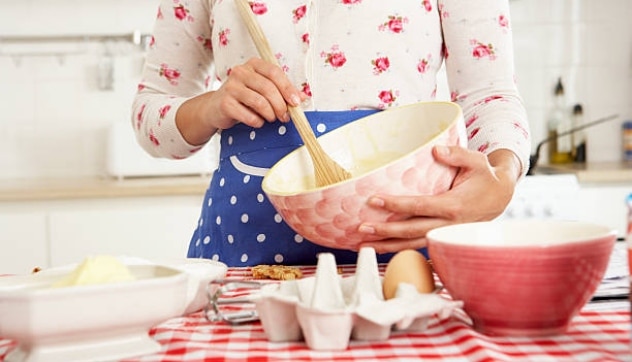 When you enter the kitchen, what is the first thing you think about? Food, the fridge, the pantry, but I can guarantee that you don't ever think about the mixing bowl.
Although obscure to some degree, the mixing bowl is the one utensil that can help feed family and friends at a moment's notice.
Whether it's baking a cake, brownies, or cookies, mixing a tasty salad, or making a hearty loaf of homemade bread, the mixing bowl must have the ability to make that food-making process a breeze. In this article, we will explore the best mixing bowls on the internet. We're quite sure there's one to fulfill your needs.
How We Picked
Material

The material of the mixing bowl will impact the type of experience you have with it. While steel mixing bowls are hard to damage, plastic bowls could be a lighter and cheaper alternative. The material of the bowl will also determine how maneuverable it is while using it with your hands.



Size and weight

Most mixing bowls range between one and six quarts. If you want an extra large bowl, you can purchase an eight-quart. One quart is equivalent to 32 ounces. Regarding weight, the weight of mixing bowls will also differ depending on the material. While plastic and stainless steel bowls will be lighter, ceramic mixing bowls tend to weigh more.

Easy to Clean

Mixing bowls are utensils that go through a lot of force and deal with many ingredients. Cleaning a mixing bowl after use only requires placing it in the dishwasher, if dishwasher friendly, or using warm water, dishwashing liquid, and some elbow grease to clean thoroughly. Also, have a drying cloth handy.

Cost-Effective

The price of mixing bowls will depend on whether or not you are purchasing a single bowl or a set. Pricing will also be impacted by additional features like lids, ergonomic handles, pouring spouts, and other useful additions.
Our Top Picks
Best Pick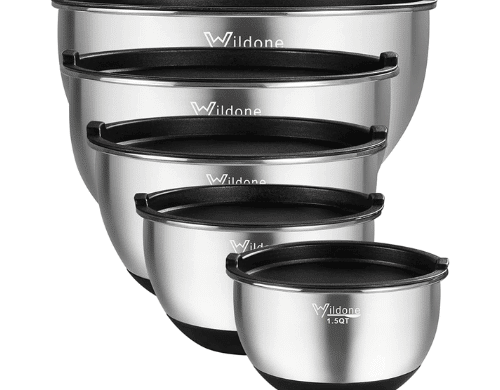 Great for expert cooks and bakers.
The Wildone stainless steel mixing bowl set is stackable and rust-resistant.
The Wildone Stainless Steel mixing bowl set is the most comprehensive option on our list, and for good reason. Stainless steel mixing bowls are often hailed as the ideal option due to their overall strength, lightweight, and the fact that they are easy to clean and residue cannot seep into this material.

Overall, the Wildone, with its five-quart size options and space-saving design, is one of the reasons why this set is at the top of our list.
Runner Up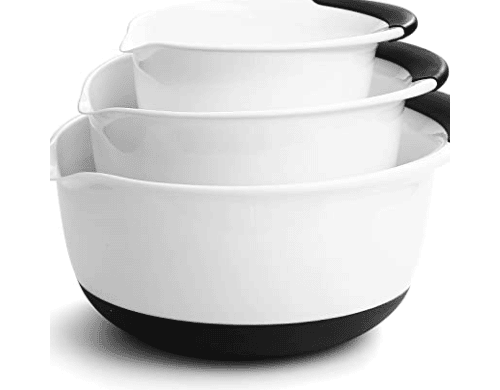 The Spring Chef Mixing Bowl Set is easy to use and maintain.
Sturdy and comes with stabilizing non-skid rubber.

The Spring Chef mixing bowl set is ideal for frequent bakers and home cooks. Although this set is made from plastic, its non-skid rubber on the bottom ends and on the handle areas makes overall use easy and efficient.

The other great feature of this mixing bowl set is the pouring spout, which allows you to save on cleaning time by greatly reducing the chance of you making a mess in the kitchen.
Most Cost-Effective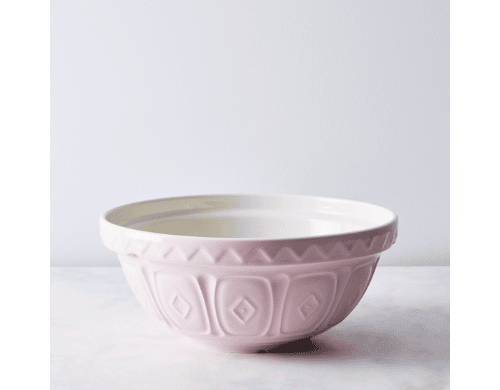 Traditionally designed and excellent for first-time movers.
This pretty bowl is dishwasher safe!
This specific Mason Cash mixing bowl does not come in a set. Its unique design not only makes it ideal for preparing food but for displaying and serving desserts and salads.

These ceramic mixing bowls are great for beginner cooks and are not ideal for families. The Mason Cash mixing bowl saves space and is robust, but not unbreakable.
Everything We Recommend
Best Pick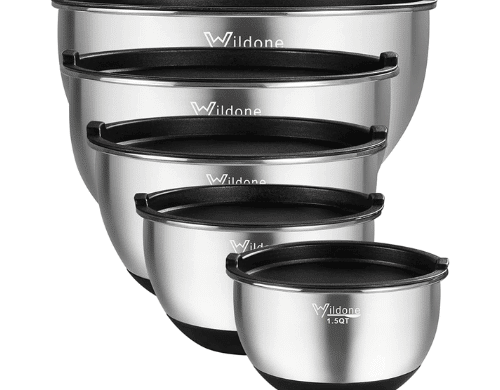 Great for expert cooks and bakers.
$37.99
Runner Up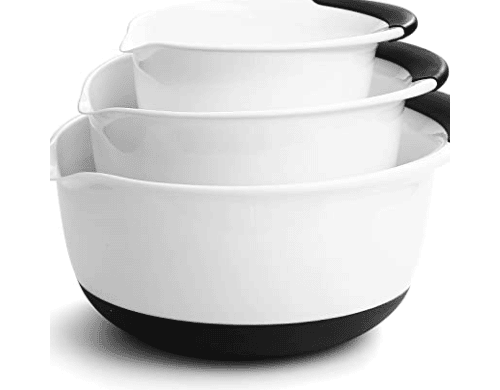 The Spring Chef Mixing Bowl Set is easy to use and maintain.
$26.97
Most Cost-Effective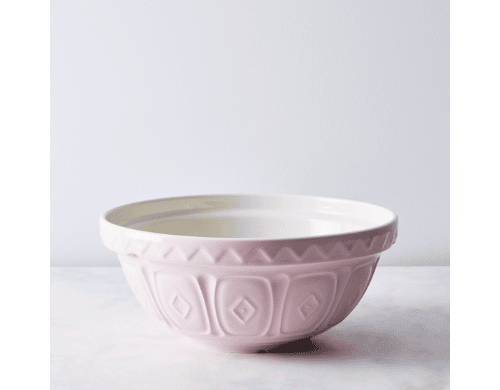 Traditionally designed and excellent for first-time movers.
$44.75
Who This Is For
Mixing bowl sets are products that can be used for a host of different purposes, depending on who you are. Experienced home cooks could use mixing bowls frequently to cook, prepare, and bake all kinds of foods.
They could prefer larger bowls that are microwave and dishwasher-friendly, bowls that they can manipulate easily, are safe around children and are not fragile. While less experienced mixing bowl users might go for smaller and cheaper options — not necessarily to use for cooking but to eat snacks like popcorn, M&Ms, or potato chips.
Mixing bowl vs. just using a regular bowl. Is it worth it?
Although the chief purpose of a bowl is to hold or carry food, different types of bowls are designed for specific reasons. Regarding the use of regular bowls, most use them for eating purposes. Many regular bowls which are generally made from ceramic or plastic material, are used to eat food in qualities and temperatures comfortable for you to hold, without feeling burdensome.
Many normal bowls also hold flavors for longer, are microwavable, and are easy to store and wash due to everyday use. The average size of a cereal or rice bowl sits between eight and ten ounces.
However, preparing food in normal bowls is possible, but can be troublesome, particularly if you intend to mix and combine ingredients. The size of these bowls does not lend themselves to lots of mixing, and you are more prone to making a mess by using smaller-sized bowls.
Mixing bowls, although based on the same concept with the primary purpose of containing and carrying food, the size of the average mixing bowl is much larger.
However, for that, you'll get exactly what mixing bowls do for you and your cooking experience.
Unlike regular or cereal bowls, mixing bowls are designed to hold large quantities of food. The size allows the user to not only store or eat in these bowls, but to mix and prepare them for cooking or serving.
The better mixing bowls give the cook the ability to use the product without fear of spilling food or breaking the bowl itself, especially if it is made from plastic, Tupperware, or stainless steel.
The end verdict is yes. It is worth it to get a mixing bowl because of all its features, and getting one in a size suitable for your living space is advisable.
Why You Should Trust Us
The right mixing bowl can literally last you a lifetime if you choose wisely. Mixing bowls should never be a household item that keeps you up but needs to be ready at a moment's notice.
We made sure to pick a wide variety of mixing bowls from different companies, with different designs and different materials. It's important to know that these options have every kind of homebody in mind, whether you're a single guy or gal looking to buy your first mixing bowl and experiment, or you're a veteran cook or chef, and you need a set to prepare more meals.
We've thoroughly searched and scoured the internet to find four of the best and most price-efficient options on the market. With us, there is no need to worry about quality and options, because we've got both.
How We Picked
We evaluated our options in a number of ways. With many mixing bowls, size matters. Although the average mixing bowl sits between 1 quart and 6 quarts, we picked mixing bowl sets that reach 8 quarts and carry large amounts of food with ease.
Regarding material, most mixing bowls are made from one of three materials, plastic, stainless steel, or ceramic.
Depending on which material type you choose, will determine whether or not it's microwave-friendly, dishwasher-friendly, easy or tricky to use, and how much damage it can absorb. And regarding weight, materials like ceramics are generally heavier to use than plastics or Tupperware but might look more stylish and have a certain charm about them when serving food.
Many modern mixing bowls are ergonomically sound, easy to use, slip-resistant, and easy to grip and manipulate.
The price of every mixing bowl hinges on its overall user-friendliness, whether or not it comes as a single bowl or a set, and the materials used in its design. Added extras like airtight lids often come in handy when home cooks want to preserve flavor and lock in freshness.
The pouring spout can also be a useful addition, making things less messy and reducing the risk of spillage.
In terms of mixing bowls with spoon handles, these types of bowls are not as common, but are available, and make the food-making experience even easier.
Care and Maintenance
Because mixing bowls generally have a heavy workload, keeping them in good nick is vital to ensure your food comes out fresh every time. It isn't good enough to rinse it with water and expect all the residue to be cleaned up.
If your mixing bowl is dishwasher-friendly, place it in the dishwasher. If, after the cycle, the mixing bowl still has residue, give it a simple wash by placing it in hot water and using some dishwashing liquid.
If the mixing bowl is not dishwasher-friendly, place it in hot water, add dishwashing liquid, let the bowl soak for a few minutes, then hand-wash it until clean.
You shouldn't leave the mixing bowl to dry on its own. There might still be a few residue granules that need a whip so that no permanent odor or lingering taste seeps into the material.
So, once washed, dry it with a dry cloth. Once dried, place it in a safe, cool area like a cupboard. Create enough space for the mixing bowl to not get damaged, chipped, or scrapped by other kitchen utensils.