The Best Men's and Women's Underwear for Travel for 2023
Comfort is key when traveling. Check out the best underwear to carry on your next adventure.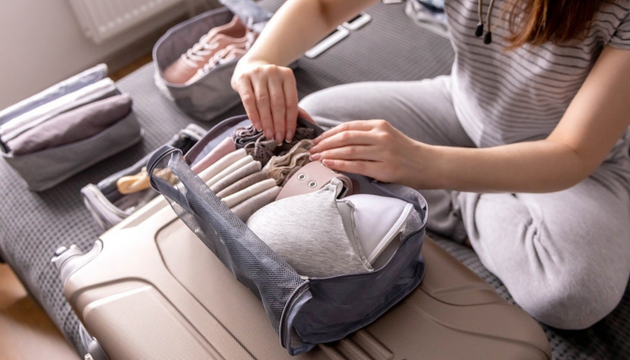 If you travel a lot, investing in breathable underwear is a good idea. It should be comfortable, practical, and functional. In addition, the underwear should be easy to wash by hand, dry fast, and fit well. We evaluated many pairs and focused on fabric, material, odor retention, and breathability. Check out our selection of the best underwear for your next business trip, hike, or gym visit.
How We Picked
Size

Size is important when you choose your underwear. If it's too small, you feel uncomfortable and squeezed. If it's too big, the pants won't stay in place and will be baggy.

Material - Comfort and Breathability

Good underwear should come in a comfortable fabric with good breathability. You want to stay fresh all day without sweating or smelling. Cotton underwear is always a great choice.

Style/Design

Different styles and designs offer different levels of comfort and confidence. But, the bottom line is that, regardless of the design you choose, it should be comfortable for all your travel activities.

Cost-Effectiveness

Travel pants are expensive, but you get value for your money. You can go for value packs if you're on a budget. You can also choose to buy one whenever you have extra cash and add it whenever you can.
Who This Is For
Traveling underwear is for anyone who needs to pack light, has comfortable draws, and enjoys convenience. Traveling pants wick away moisture, dry quickly, and reduce chafing. They should also be comfortable, lightweight, and take up less space in your bag. You should also consider activities like climbing, hiking, exercising, or wearing on planes, trains, and other forms of transport. Thus, we had to try different brands to come up with the best underwear for this list.
Do I need different underwear for travel?
Yes. Regular underwear like a thong, G-string, and other lingerie may work best when you're at work and home. But when you travel, you may need to spend hours in transit without a possible change of clothes. If your underwear is uncomfortable, you'll suffer nonstop for hours. If the underpants are made of heavy fabric, like double-layered cotton, they will be heavy and take up space. In addition, when you'll need to wash it, it may take longer to dry. This means you'll have to carry wet pants or extra clean ones to avoid washing while traveling.
Why You Should Trust Us
We took our time and tried different types of underwear from all the popular brands in the stores and online, comparing the ones we found interesting. Then, we wore the pairs consecutively for a week to see how the pants behaved. We also wore them when traveling, cycling, hiking, and running, and we even slept in them to get familiar with their abilities. In doing so, we realized that perfect fit, comfort, lightweight, and drying time were some of the main things that made some underwear stand out.
How We Picked
Size
Size is everything, whether you're traveling or not. A small pair of briefs will be uncomfortable throughout the day and can cause bruises. If the pants are too big, they will also feel loose and start dropping at the most inconvenient time. The waistband should not roll into you when you have the underwear on. Also, around the crotch area, the fabric should fit comfortably without feeling like everything is on fire. You need to know your size and always purchase the right ones.
Material
Quality underwear does not need constant adjustment. The material should stretch and allow you to move freely. The best material should maintain its shape all day without rolling, sagging, or loosening up after washing. It should also be soft and not scratchy or itchy. Also, check for pants with removable tags or good seams to avoid them scratching against your skin.
Breathability
Good underwear should have good breathability to ensure no foul odor comes from there after a long day. There should be mesh fabric around the crotch for fresh air circulation. Typically, we all sweat, especially during hot seasons, but the odor would be worse with the wrong underwear. You don't have time to refresh when traveling, and the funk could be worse.
Style of underwear
Traveling doesn't mean you should grab ugly undies. You also have to take note of your dressing style for the trip. For instance, if you travel to a tropical country, you may need to show off your underwear when going for a swim. It's a great idea to carry a bikini or other briefs, but what if there's no time to rush back to collect a clean pair? Instead, pick underwear that can work as emergency swimwear without shocking people around you.
Price vs. quality
Travel underwear is never cheap, but the quality is worth it. You can buy value packs or splurge on your favorite travel underwear whenever possible. You can buy one and add others later before your travel day approaches.
Easy to clean
It's recommended to always travel light by reducing the number of clothes, including underwear. You might be tempted to pack extra, but with a few lightweight pants that dry quickly, you don't have to. In addition, you can wash your pants before you go to school, or sleep, and they will be nearly dry in the morning.
Durability
If you buy good pairs of underwear, they should last for a while. Your travel underwear is not everyday wear. You can wear your regular pants when working, in school or at home but spare the travel ones in good condition. Always wash and dry them properly before storing them.
Care and Maintenance
Before you decide to clean your underwear. It's essential to read the instructions on how to care for the underwear. Check if the underwear has a good-quality lining. Also, ensure the pair is safe for machine washing and drying to avoid destroying the fabric.
 If the pants are lightweight and dry quickly, you can wash them without worrying about how long it takes to dry. Make sure your pair is long-lasting and can withstand repeated wear and washing. If the material is high quality, it should last longer, and the thickness or elasticity should remain. 
Avoid washing any pair of underwear in hot water to avoid damaging the elasticity. In conclusion, if you are careful with your underwear, it will last longer and become your new traveling best friend.