The Best Measuring Spoons for 2023
Make sure you have precise measurements every time you cook or bake with these helpful kitchen measuring tools!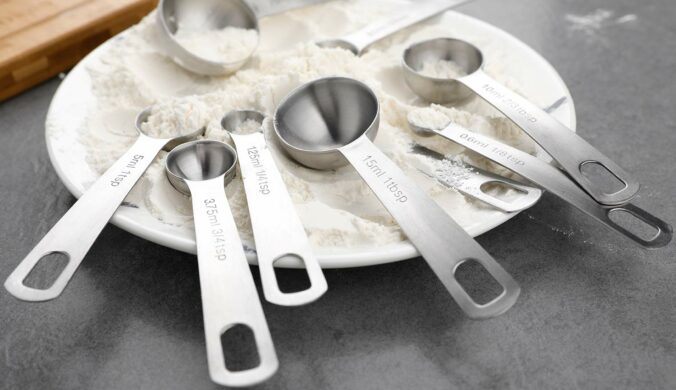 You may not think of this when you first start cooking; but if you are trying to cook something that requires precise measurements, like baking or making sauce, then having a set of accurate measuring spoons is essential.
Measuring spoons are often used in recipes where you need to make sure that the right quantity of dry and liquid ingredients like spices, salt, oil, or sugar is added to your food, batter, dough, or mixture. In addition to using them in cooking, measuring spoons are also useful during science and art projects where precise measurements are needed.
These spoons come in a variety of shapes and sizes, depending on the quantity and type of ingredient you need to measure. If you're looking for an exceptional set of measuring spoons, then we have a few picks that might interest you!
How We Picked
Range of Sizes

A good set of measuring spoons should have multiple different-sized spoons to accommodate all sorts of different cooking needs, including measuring small amounts of ingredients that are more difficult to measure with a traditional tablespoon or teaspoon.


Material

When choosing the best measuring spoons, you'll want to pay attention to the type of material used for the spoons because this can affect usability and durability.


Anti-Stain

Cooking ingredients, particularly spices, tend to stain utensils. To avoid unsightly marks after a few days of use, we chose stain-resistant spoons.


Cost-Effectiveness

It is critical to find measuring spoons that will not easily break, bend, or become damaged. When making a purchase decision, you should also consider the product's price to ensure that you get the best value.

Our Top Picks
Our Top Pick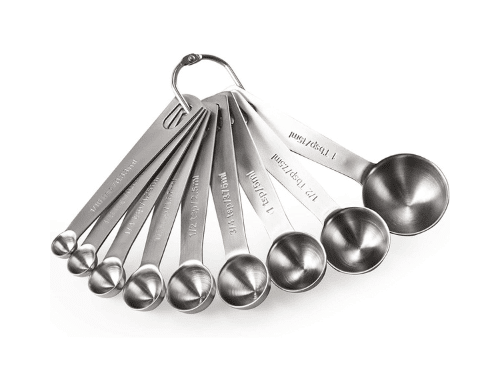 This set is very accurate and durable.
U-Taste 18/8 Stainless Steel Measuring Spoons is a nine-set measuring utensil that lives up to its hype and boasts great quality, accuracy, and dependency in achieving precise measurements for all ingredients. It guarantees your confidence in following recipes to the latter.


This selection is the go-to set of measuring spoons for the everyday cook or baker.

Our Runner-Up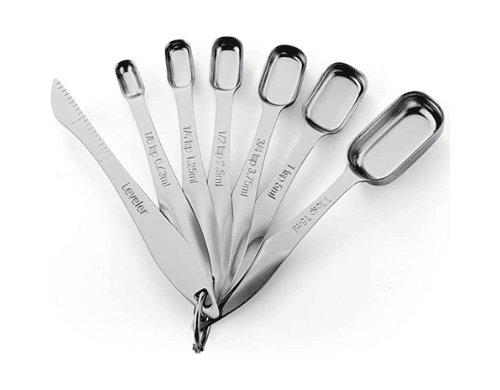 This pick is popular for its accuracy and sturdy design.
The Spring Chef Heavy Duty Stainless Steel Metal Measuring Spoons brag a competitive measuring accuracy ability, great quality stainless steel material type, and durability. This set of six spoons is one of the top leading measuring utensils on the market.

If a great widely-recognized and sought-after set of measuring spoons is what you're looking for, then this pick should catch your eye!

Most Cost-Effective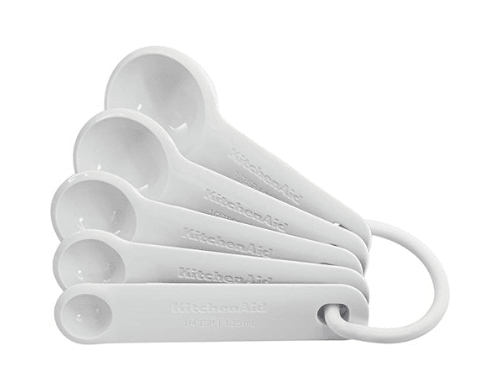 These well-made plastic measuring spoons are affordable and great for kids.
Popularly known as the best budget-friendly measuring spoons set, this accurate selection is a smart choice for its price. KitchenAid scored a people's favorite with their plastic measuring spoons, and we believe it can become your favorite too!

This affordable and infamously cherished set has been praised for its very budget-friendly price and surety of getting the job done.

Everything We Recommend
Our Top Pick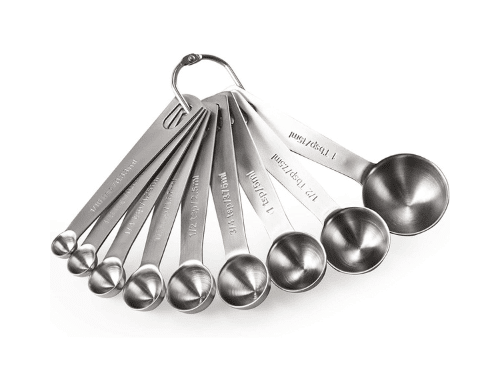 This set is very accurate and durable.
$15.49
Our Runner-Up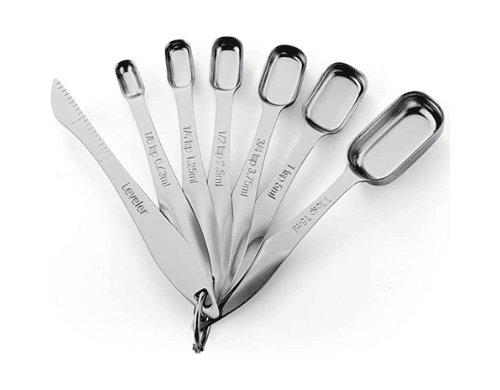 This pick is popular for its accuracy and sturdy design.
$11.97
Most Cost-Effective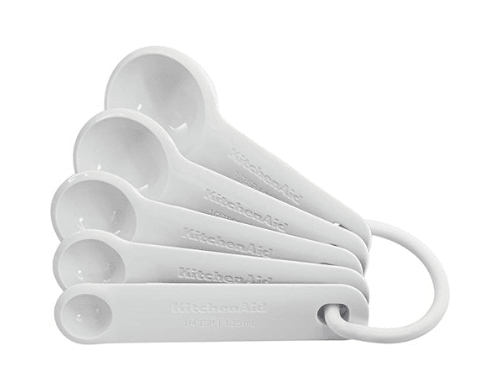 These well-made plastic measuring spoons are affordable and great for kids.
$5.99
Who This Is For
Measuring spoons are for everyone and anyone who needs them. They are used by anyone who is cooking and needs to measure out ingredients.
They are used by cooks, bakers, and other food-prep professionals. Measuring spoons can also be used in schools and laboratories to help students learn how to measure accurately. They are also a good gift for anyone who likes to cook. Measuring spoons come in a variety of different sizes and styles, but they all serve the same purpose: to help you measure out specific amounts of ingredients so that they can be added correctly to dishes or baked goods.
Do I really need measuring spoons?
The answer is yes! With the growing popularity of cooking and baking, measuring is essential to get the right amount of ingredients. Measuring spoons are one of the main tools for cooking, and unless you have exceptionally accurate eyesight and a steady hand, you must have the proper tools to ensure that your food is cooked just right.
If you're new to cooking or just looking for a way to spice things up in the kitchen, then measuring spoons is a great investment. Using them will help you achieve consistency in your recipes, which means less wasted food and more money in your pocket. This is especially good news if your primary goal is saving money on groceries!
Measuring spoons are also useful for creating recipes at home. The ability to measure ingredients accurately will make sure that they don't overflow onto other ingredients or burn when they're added during cooking time. Measuring spoons are also handy when baking cakes or pastries because they allow you to gauge the right level of ingredients before adding them to food.
Measuring spoons vs. measuring cups
Measuring spoons and measuring cups are both ways to measure dry ingredients when cooking. While there are some differences between the two, they can be used interchangeably for most recipes.
Measuring spoons come in a variety of shapes and sizes, from small to large. They can be used for adding spices to baking or making sauces and other liquids. Measuring spoons are usually made out of metal or plastic, but some can be made from ceramic or glass. Measuring spoons come in sets of different sizes, depending on how much you need to be able to accurately measure. For example, a set of one-table-spoon measuring spoons would work well for most baking recipes.
Measuring cups come in different sizes as well, from 1/4 cup up to 8 cups! They can be used for making dry ingredients like flour and sugar into liquid form. Measuring cups are usually made out of glass or stainless steel, but some brands use plastic instead. Measuring cups come in sets of cups and ounces; however, these can only be used with liquids or dry ingredients that have an equal amount of liquid and solid components (such as flour.)
The best way to know which type of measuring utensil is right for your recipe is by reading through its instructions carefully before beginning. It's also a good idea to know how much liquid is needed for your recipe so that you can properly measure out your ingredients in advance (this will help avoid any possible spills or messes).
Why You Should Trust Us
When you're looking for the best measuring spoons, you want to know that you're going to be getting the most accurate measurements possible. You might be looking for a new set of measuring spoons, or you might just want to replace your old one. Either way, we're here to help with the selection process! We'll give you the scoop on measuring spoons so that you can finally get all your recipes just right.
We scoured the internet in search of the most efficient measuring spoons and evaluated a lot of them. At the end of our research, we narrowed our selected products down to the top picks, and we are confident that your next best set of measuring spoons is one of our picks.
How We Picked
To choose the best measuring spoons, we evaluated the product features and their associated benefits. We used a combination of qualitative data analysis and quantitative data analysis. We considered certain features during our evaluation to determine which measuring spoons fit your needs and check out boxes. The features we considered include:
Range of sizes
The first thing you should take into account when purchasing your measuring spoons is their size range. It's not just about finding the right size; it's also about finding one that can accommodate all your measurements. The size range should be between 1/4 teaspoon and 1 tablespoon. The different sizes of measuring spoons are used for different purposes, and it is important to have a wide selection available so that you can find one that fits your needs.
Material type
The material used in a measuring spoon can have an impact on its durability and lifespan. The material type can be anything from stainless steel to plastic and even wood! Stainless steel is one of the most common materials used for this purpose, as it is very durable, lightweight, and easy to clean.
Durability
This is an important feature to consider in choosing the best measuring spoons because it will help you determine how long you can use the set of spoons without having to replace them. You want to be sure that the spoons will last, so you can trust them to do their job without breaking, bending, or losing their effectiveness.
Hygiene
The hygienic qualities of a measuring spoon are also important to consider because these tools should always be kept clean and sanitary. If you're using a dirty spoon, it might transmit bacteria or other harmful substances into your food and cause food poisoning — which could lead to serious health issues. Hygienic measuring spoons are made from materials that are easy on the hands and won't cause stains or unpleasant odors.
Anti-stain property
Anti-stain is a coating that is applied to the body of the spoon to help prevent stains from forming on it. The anti-stain coating can be made from polypropylene or zinc oxide. If you choose a spoon with an anti-stain coating, it will be able to hold any food or liquid that you put into it without getting stained or discolored, so it is important to choose a Set of measuring spoons that is effective at keeping measuring and can be stain-free.
Labeled sizes
With this feature, you can know exactly which spoon will work for what size task because each spoon has been labeled with its size designation. The size text printed on each spoon should be clear and easy to read.
Easy readability
Considering accurate, easy-to-read measuring spoons is a necessary feature when choosing the best ones. The best measuring spoons have inscribed measurements that are easy to read, so you can easily discern how much of each ingredient you are adding to your recipe. This is important because it makes it easier to ensure that you're getting the right amount of each ingredient.
Easy washability
You also want your measuring spoons to be easy to clean or wash after use to make them free of oil, spices, and other leftover ingredients stuck on them.
Weight
The weight of a measuring spoon is an important feature to consider in choosing the best measuring spoon. A heavy spoon can make it difficult to measure ingredients, which will affect how accurate your measurements are.
Measurement accuracy
Accurate measuring spoons make sure that you get an accurate measurement every time. The spoons should be able to measure accurately, without any problems or spills. If your measuring spoons are off by a fraction of an inch, it will make your baking or cooking more difficult and less accurate, and ultimately mess up your recipe.
The shape of the spoons' heads
The shape of the spoons' heads is an important feature to consider in choosing the best measuring spoons. Not only does it affect how well they'll fit into different containers, but it also affects how easy they are to use and how accurate they are. If a spoon's head is too wide or too narrow, then it will be more difficult to get accurate measurements.
After evaluating these features, we picked our favorite and top-ranking measuring spoons. Our recommendations have been independently chosen after a close assessment of each product's performance in the features stated above and amazon customers' reviews online.
Care and Maintenance
It is no news that a kitchen can be a messy place, but it is important to keep yourself and your tools clean. Cleaning your measuring spoons after every use is one of the best ways to keep them in tip-top shape. Once you've finished using your measuring spoons, take them apart and wipe down each component with a dry soft cloth — this will help clean off any last remnants of food particles that could cause stains later on down the line! However, if the ingredients you measured with the spoons can cause a smell, leave a dry stain or leave an oily trail, wash the spoons with warm water and mild detergent — no soap or other abrasive chemicals! Rinse with warm water or wipe the spoons clean with a dry cloth or let them air-dry completely.
You should also make sure that you get rid of any old food spills on your measuring spoons before using them again. Not only will you be able to get rid of any leftover food or other substances that might have been stuck in them, but you'll also be able to prevent stains and odors from forming on the surface of the spoon itself. With proper cleaning, your measuring spoons will be shiny and new again!
The best places to keep your measuring spoons include; in a set of closed containers (like a ceramic bowl), in a drawer, or on the side of your pantry. This will allow you to easily access the spoons when you need them, and it will also help them stay clean and organized. Ceramic bowls are more durable than plastic and can be washed in the dishwasher without damaging the surface of the spoon. If you don't have a ceramic bowl or other containers to store your measuring spoons in, try storing them in a drawer that is lined with some kind of mesh material, like a tea towel or paper towel. You can also use plastic bags instead of mesh bags (which aren't as good at keeping dirt out).
When it comes down to it, if you take care of your measuring spoons, they'll take care of your cooking efficiently!
Sources and Research