The Best Measuring Cups for 2023
With the help of these useful measuring cups, you can stop eyeballing your ingredients.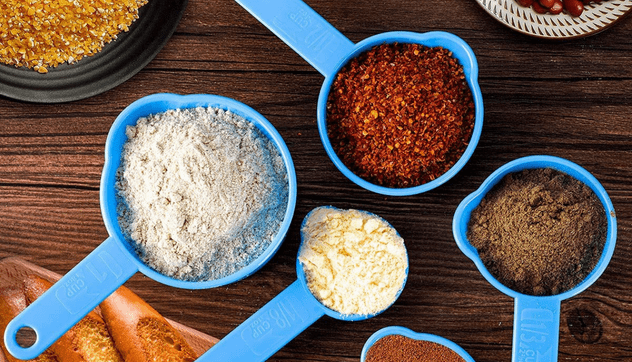 Have you ever had a craving for cake at 1 AM on a Wednesday night and wondered how quickly you could bake one? Maybe you haven't, or maybe you are like us and have. Well, getting to the kitchen to find you have the ingredients for a basic chocolate cake but no way to measure them will definitely put a damper on your plans. Of course, this is not a bad scenario. The worst case is when you promised your friends that you would bring the pie for your last picnic before winter, but you mess it up and bring nothing. Why? Because you have no measuring cups. This exact scenario is what motivated us to review over 20 measuring cups to find the best ones.
How We Picked
Accuracy

Having a measuring cup that makes it harder to get a recipe right because it's inaccurate is not exactly practical. We wanted to only recommend accurate measuring cups

Type of material

The strength and durability of the material are very important. There is no need to keep buying measuring cups every few months. One working set should last you a few years, even if you use it regularly.

Capacity + clearly labeled

Buying one measuring cup is a waste of money, so we wanted to recommend only measuring cup sets that were clearly labeled for ease of use. This way, you are encouraged to use them more often.

Price

Measuring cups are a staple for any kitchen, and there is no need to break the bank to own a set. We wanted to recommend reasonably-priced measuring cups only.
Our Top Picks
Best Pick
This comprehensive, 20-piece measuring cup set is perfect for every home.
The measuring cups and spoons are clearly marked on the outside, and they fit seamlessly into each other, making them easy to store.
The set has both liquid and dry measuring cups, a leveler, a conversion chart, and even measuring spoons. This set is reasonably priced for the number of utensils included and is extremely durable. The dry measuring cups are made of stainless steel, and the liquid measuring cups are made of BPA-free plastic.
Runner Up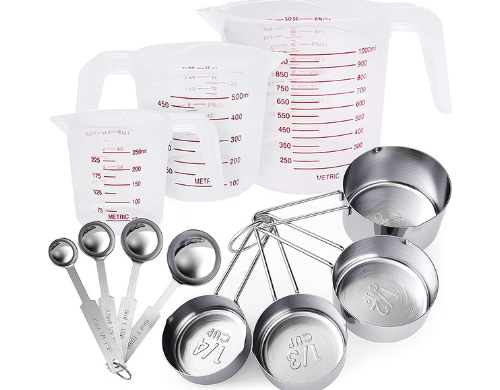 The cups are simply but elegantly designed and can match the aesthetics of any kitchen.
Control Kitchen ensured that the cups and spoons have a nesting design, making them easy to store.
This 11-piece measuring cup set is great for occasional bakers. The set has multiple-sized cups made of stainless steel and BPA-free plastic. It is affordable and durable and comes with measuring spoons as well. The simple design makes it easy to match with other kitchen appliances and utensils.
Most Cost-Effective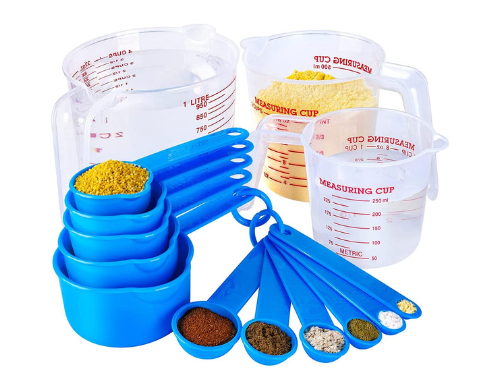 A cheap 13-piece measuring cup set that is perfect for everyday use.
These measuring cups and spoons have an ergonomic silicone handle that makes them easy to use.
An incredible budget-friendly bargain measuring cup set with 13 pieces made of BPA-free plastic, the dry measuring cups come in three colors, and the liquid ones are clear. They are well-marked for easy usage and are very durable.
Everything We Recommend
Best Pick
This comprehensive, 20-piece measuring cup set is perfect for every home.
$34.99
Runner Up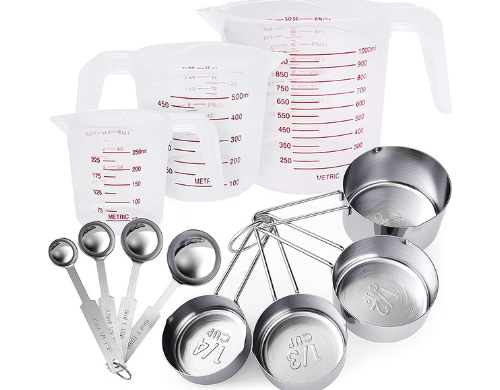 The cups are simply but elegantly designed and can match the aesthetics of any kitchen.
$19.99
Most Cost-Effective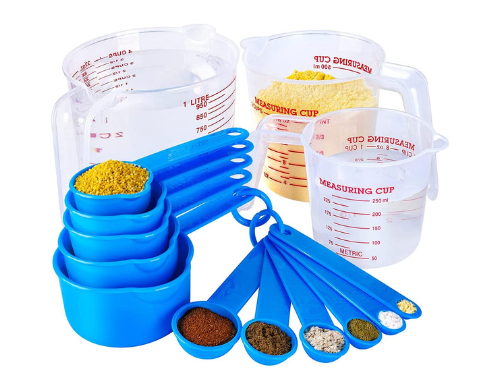 A cheap 13-piece measuring cup set that is perfect for everyday use.
Who This Is For
In our opinion, measuring cups are an excellent investment for any kitchen. Whether you like to bake and cook or not, you will most probably need a measuring cup at some point. Ideally, avid bakers should get both dry and liquid measuring cups. Those who like to cook can get a set of either, and every kitchen should also have a set of measuring cups. They can be used to measure cleaning products and other items; just be sure to store them separately from kitchen utensils after that.
Dry measuring cups vs liquid measuring cups
Dry measuring cups are what come to mind when you hear "measuring cup." They are designed to measure flour, sugar, solid butter, berries, etc. They usually come in sizes ranging from a quarter cup to one cup.
On the other hand, liquid measuring cups usually look like jugs and are often used as such. They are designed to measure liquids like water, melted butter, and milk and are made of glass or plastic.
Technically speaking, both liquid and dry measuring cups measure the same volume. They can be used interchangeably, especially if the liquid measuring cup has markings for cup volumes. However, it is advisable to use dry measuring cups for dry ingredients and liquid measurements for liquid ingredients to ensure accurate measurements.
Do I really need one?
It really depends on your needs. If you cook anything, you definitely need at least a dry measuring cup. If you bake regularly, getting both dry and liquid measuring cup sets would be beneficial. For fitness enthusiasts, measuring cups will make it easier to stick to and attain your goals. If you ask us, every home needs a set of measuring cups. They come in handy for cooking, baking, DIY, and homework projects. Just make sure you keep the measuring cups used for DIY projects away from the kitchen.
Why You Should Trust Us
We made it our goal to find the best measuring cups for the upcoming holiday season. As the weather cools, the chance to bake delicious desserts increases. As dessert lovers, we wanted to be prepared to try and bake edible desserts. Having accurate measurements is the first step toward having balanced desserts, so we were dedicated to finding good measuring cups. We spent time scouring the internet for recommendations, reviews, and suggestions until we found measuring cups that fit our criteria.
How We Picked
Our criteria for the perfect measuring cup were quite simple. We looked at several factors to decide which measuring cups were worth buying:
Accuracy
There is really no need to have a measuring cup if it won't give you accurate results. While volume cannot always be accurately measured, we wanted to measure cups that had accurate measurements. If it says "1 cup," it should measure up to 1 cup accurately.
Material/Durable
Measuring cups come in many materials. While we were not adamant that they should be made of a specific material, we wanted them to be made of a material that was safe for food use and hypoallergenic.
We were also looking for measuring cups made of strong, durable material so that they could last a long time. We wanted our measuring cups to be able to withstand constant use if you use them every day.
Stain resistant
Measuring cups are used to measure a lot of things. Some ingredients, like dark berries, can stain some materials. We wanted stain-resistant measuring cups simply because they are easier to clean and will retain their aesthetic appeal for longer.
Capacity + clearly labeled
We were looking for clearly labeled measuring cup sets that came with an array of capacities. Buying one measuring cup is not practical or beneficial, so we wanted to only recommend those that could measure a variety of volumes.
Price
The price of the measuring cups had to match their value. Measuring cups with more features could potentially cost more, but not frivolously so. Our aim was to recommend measuring cups that fit most budgets and help you not break the bank.
Care and Maintenance
Most measuring cups are machine-washable, so unless stated otherwise, you can wash them in your dishwasher. After you are done using the measuring cup, rinse it with water and place it in the dishwasher. Once the dishwasher is full, run the full cycle.
You can also wash your measuring cup by hand using dish soap and water. If you used it to measure oil or a greasy substance, use warm water. If not, cold water works just as well. To dry, use a clean, dry dish towel or place it on a dish rack.
Store your measuring cup in the set it came with after it dries. You can then place the complete measuring cup set in a clean, dry kitchen drawer with other measuring utensils. Another option is to place them in a clean, dry storage container that slides into an open kitchen cabinet. The most important thing to avoid is getting dust, grease, or moisture on them when they are not in use.